Henry David Thoreau, Tree-Hugger
On the Philosopher's Obsession with a New England Oak Forest
In the fall of 1860, trees were at the center of Thoreau's life. His long interest in how they live, grow, and propagate intensified after his lecture on succession on September 20, the acclaim for which gave him a rare bit of outside encouragement. He threw himself into forest history, measuring trunks, counting rings, and digging up the roots and shoots of trees with almost the same youthful zeal with which he had fathomed the bottom of Walden Pond years earlier. His enthusiasm for this left little room for anything else. As he rushed around to record findings and test insights about trees from October 1 to November 30, he poured out a torrent of words in his journal, nearly 900 a day on average—but said not one about the election of the gangly but promising senator from Illinois as president on November 6.
Thoreau classified local forests by age. The oldest was first-growth, "a primitive wood" untouched by man. "We have none," he said. He examined the older trees in Concord for any that might be the next generation, or second-growth, but concluded that these were almost "extinct" too. On November 2, he was pleased to find some 150-year-old oaks in Daniel Wetherbee's small five-acre woodlot, noting that they imparted "an unusual dignity to the earth." A few more oaks a century or more old turned up three days later on another woodlot, and he was thrilled to count 160 annual rings in one stump. "This will probably do for a specimen of a primitive oak forest hereabouts," he wrote, adding almost wistfully, "Such probably was the size and aspect of the trees."
On November 9, however, his assessment changed. Thoreau went to Boxborough (as the name of the town is now spelled), two towns over, to check out a neighbor's report of an old wood. After taking the train to West Acton and walking a couple of miles, he was stunned to find, eight miles from his home, a vast forest of old-growth oak "waving and creaking in the wind." It was Inches Woods, a 450- to 500-acre tract that straddled the Harvard Turnpike (Route 111 today) just over the Boxborough line. It was part of a larger forest, an original land grant from the English crown, that was acquired around 1800 by Henderson Inches, a merchant and selectman in Boston. Inches logged portions and sold off small lots until his death in 1857. Thankfully, Thoreau noted, Inches stuck to his prices and wouldn't break up his lots, such that in 1860 most of the oak forest remained unsold and uncut. "It is a primitive oak wood," Thoreau declared, "and said to be the most of one in Massachusetts."
He stood under trees untouched for centuries in an oak wood nearly 100 times larger than Wetherbee's lot. The woods consisted mostly of white, but also black, red, and scarlet oak. Some were as wide and spreading as pasture trees, but most were straight and tall, with trunks three to four feet in diameter. Clearly awed, Thoreau commented on looking up at "the great mass of gray-barked wood that fills the air."
Thoreau saw no wagon tracks or other signs of farming or logging, which he thought afforded a view of what the landscape looked like to the Pilgrims—"a full-grown oak forest stretching uninterrupted for miles," filled with trees "whose interlacing branches form a complete and uninterrupted canopy."
Inches Woods was as fine as any oak forest in the state, maybe all of New England, Thoreau said. For a naturalist who didn't want to leave Concord, it was the best of both worlds: an uncharted continent of trees eight miles from his front door. Thoreau knew that his estimate of Inches Woods was not widely shared, however. "That grand old oak wood is just the most remarkable and memorable thing in Boxboro," he wrote the day after his first visit, "and yet if there is a history of this town written anywhere, the history or even mention" of Inches Woods is probably omitted, "while that of the first (and may be last) parish is enlarged on."
Two weeks later, Thoreau found a letter that contained just such a history. It had been written in 1767 by the minister of Stow, Massachusetts, which then included Boxborough. In his journal, Thoreau quoted the Reverend John Gardner as saying that Stow had the fewest "remarkables" of any town in the area. The only thing "worthy of publick notice" that Gardner could think of, Thoreau recounted, was the grave of a local man who had been Oliver Cromwell's clerk of the exchequer. Gardner did not know whether or not this unnamed man came to Stow to escape the English civil wars, since it was not clear if the 1652 amnesty in England had protected him from Cromwell's enemies. "Whether he was excluded from the Act of Oblivion or not," the Stow minister wrote, "I cannot tell." To which Thoreau replies dryly, "I can assure Mr. Gardner that he was not excluded from the act of oblivion."
By early 1861, Thoreau foresaw a worse fate for Inches Woods than simple neglect. It was "likely to be cut off within a few years for ship timber and the like," he wrote on January 3, one month into his bout with bronchitis. Again, Thoreau's fears were realized. The approaching Civil War raised the price of oak wood sufficiently that Inches's heirs decided to sell the forest to John Trickey, a New Hampshire lumber king and government contractor. In 1861 and 1862, Trickey cut the old trees, milled them into ship timber and sold them to the Union Navy.
*
After his discovery in early November 1860, Thoreau lavished praise on Inches Woods in his journal, portraying it (not altogether accurately) as a saving remnant of what nature was like before white men set foot in New England. According to Walter Harding, he was as "ebullient in his enthusiasm as a child with a new toy." Thoreau matched his high praise with high purpose, however. He used the ancient forest as an example of riches that are unseen or unappreciated—and which therefore slip through our fingers. He wanted to use his writing about Inches Woods to conclude his longer "Wild Fruits" project, but he did not live to do so. Since placed there by scholars, the passages, which include some of Thoreau's strongest calls for preservation, make a fitting ending. Each town, he wrote, should have a primitive forest of five hundred to a thousand acres, he wrote, "where a stick should never be cut for fuel, nor for the navy, nor to make wagons, but stand and decay for higher uses—a common possession forever, for instruction and recreation."
The symbolic link the old oaks offered to the past was especially important to Thoreau. A tree whose years spanned centuries reminded him that he, too, like Homer and Virgil, descended from a "heroic race of men of whom there is tradition." Thoreau's second visit to Inches Woods was on November 16. A few days later, he was sent a cross-section of an old white cedar trunk that had been used to make railroad ties, or "sleepers." He was astonished to count 250 growth rings. It was the oldest, as well as the slowest-growing, tree whose annual rings he had personally counted. Adding a few years for the tree to reach the height from which the cross-section came, Thoreau figured that the cedar sprouted before Jamestown was settled in 1607. "Thus the cars on our railroad, and all their passengers, roll over the trunks of trees sleeping beneath them which were planted years before the first white man settled in New England."
Thoreau knew well that few people shared his esteem for old trees. "We cut down the few old oaks which witnessed the transfer of the township from the Indian to the white man," he wrote in his journal in January 1861, "and commence our museum with a cartridge box taken from a British soldier in 1775!"
Inches Woods also reinforced Thoreau's view of nature as a public treasure. "Precious natural objects of rare beauty should belong to the public" in America, as the crown gems do in European countries. The problem here, as he understood, was getting Americans to recognize their gems. "I do not believe there is a town in this country which realizes in what its true wealth consists," he wrote. As a result, the most beautiful landscapes may remain unknown to others because those who live nearest them "do not value nor perceive them."
Thoreau makes his point with a map. Between the squiggly lines that represent roads, there may be a small blank square or triangular space and another one close by that looks just like it. "Yet the one may be covered, in fact, with a primitive oak wood, like that of Boxboro, waving and creaking in the wind, . . . while the other is a stretching plain with scarcely a tree on it. The waving woods, the dells and glades and green banks and smiling fields, the huge boulders, etc., etc., are not on the map." They may not be, but, thanks to Thoreau, Inches Woods is. His sometimes awestruck, sometimes indignant words about it made it "worthy of publick notice." Thoreau wanted pines, elms, maples, and other trees as well to be represented cartographically and, more broadly, to enter the public mind. Even the planting of an ordinary row of elms "deserves to be recorded." Many years hence it may be the most interesting "relic of the past" in a town.
Thoreau's immediate return on his efforts was poor. Before long, it was as if Inches Woods had never existed. Trickey, the timber mogul who bought it, was ruined in a postwar financial panic. The Union ships made of Boxborough oak wore out or were scuttled. Thoreau, who died in 1862, did not live to see it, but his prediction that a "dense white pine wood" would rise up after the oaks were cut was correct. Most of that pine forest was cut down in the early 1900s for timber, packing crates, and matches, and the rest was cut fifty years later to make way for bland tract houses. Today, one street in that Boxborough subdivision is Inches Brook Lane, an honor that Thoreau would have considered as dubious as putting the pine tree on a shilling. On a recent visit, a few very tall, spindly white pines towered here and there over the small houses. These lonely survivors of the pine forest in which they rose had so few branches below their tops that they looked like palm trees.
A curious footnote to the story of Inches Woods occurred on January 21, 1864. Senator John P. Hale of New Hampshire introduced Trickey to Abraham Lincoln at the White House that night, proudly telling the president that his constituent had "furnished more timber for the Navy since the rebellion commenced than any other person." Lincoln, shaking his hand, was said to have replied, "Then you must have a big timber lot, Mr. Trickey." It is a mercy that Thoreau was not alive by then—and not just because of the insult to the oaks. He would likely have been incensed that it was the New Hampshire senator who made the introduction. Hale had been a founder of the abolitionist Free Soil party, in whose cause Thoreau had enrolled Concord's elms in 1856.
*
In light of this uninspiring outcome, I thought it my duty to try to find some saving grace, a historical trace, however small, of the great oaks that inspired Thoreau. I researched and researched. Nothing. My hopes rose when I found some newspaper reviews of an alternative jazz-rock fusion band that played in the Chicago club scene in the 1990s. It was named the Henderson Inches. Pay dirt, I thought. The group's leader is probably a direct descendant of the owner of Inches Woods, perhaps a ring-nosed recipient of an oak forest annuity.
No luck. The band, too, was extinct.
__________________________________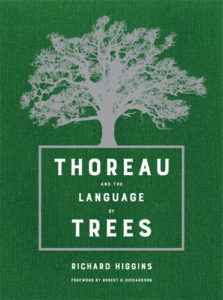 From Thoreau and the Language of Trees. Used with permission of University of California Press. Copyright © 2017 by Richard Higgins.
---