Hemlines and Court Lines: On the Evolution of Women's Tennis Clothes
Kimberly Chrisman-Campbell on Suzanne Lenglen—Tennis Pro and Fashion Icon
In 1919, twenty-year-old Frenchwoman Suzanne Lenglen made her Wimbledon debut in a shockingly skimpy ensemble: a V-neck dress with short sleeves and a calf-length pleated skirt. A floppy hat covered her cropped hair. She rolled her white silk stockings above her knees because garters would have constrained her legs. She didn't wear a corset. She didn't even wear a petticoat.
Though the press called her outfit "indecent," Lenglen went on to win the tournament, becoming the first non–English speaker to do so. It marked the beginning of a bracing new era for Wimbledon, which had been on a four-year hiatus during World War I, and for women's tennis in general. Lenglen would dominate the international tennis scene until her withdrawal from amateur tennis in 1926, winning five Wimbledon championships as well as two French titles and three Olympic medals. Her winning streak made tennis history, while also altering the course of fashion history.
At a time when female players typically wore the same ankle-length skirts and high-necked, long-sleeved blouses on and off the court, Lenglen's attire was as revolutionary as her overhand serve and penchant for chugging cognac between sets; never before in Western history had women's legs been on display.
As the teens turned into the twenties, her short-sleeved dress gave way to sleeveless dresses, and her linen hat to a much-copied headband, dubbed "the Lenglen bandeau." Instead of lace-up boots with shapely heels, she wore flat, rubber-soled "Lenglen shoes" of white doeskin. Originally chosen for comfort on the tennis court, these chic, practical styles soon spilled over into women's everyday wardrobes.
At the height of her career, Lenglen was the most famous female athlete in the world, a mainstay of the sports pages, the gossip columns, and the fashion magazines alike. By 1926, when Queen Mary presented her with a medal to mark the fiftieth anniversary of the Wimbledon Championships, it was the young athlete—dressed in a sleeveless white dress with a short pleated skirt, a green sweater-vest, "Lenglen shoes," and cropped hair anchored by her trademark bandeau—and not the venerable lilac-clad queen who was the global fashion influencer.
Perhaps more than any other sport, women's tennis seems to attract (and provoke) fashion drama. That's partly because it has such a long history; the All England Lawn Tennis and Croquet Club, which hosts the Wimbledon Championships, was founded in 1868. The sport clings to its time-honored traditions, and nowhere more so than at Wimbledon, where you can always count on finding strawberries and cream, ad-free courts, royal spectators, and a game-free Middle Sunday. The "gentlemen" and "ladies" still play on grass, as they have since the birth of the modern game in 1873.
This reverence for heritage also applies to dress. The concept of "tennis whites" dates back to the game's Victorian origins. White was thought to keep players cool and hide unsightly sweat stains; if it presented laundering challenges, they were of little concern to the leisured elites who played the game. When the All England Club first opened, women were not allowed to play there, and the only sartorial guidance was: "Gentlemen are requested not to play in their shirtsleeves when ladies are present." But when women began to compete in the Wimbledon Championships in 1884, the question of what to wear took on fresh urgency.
To this day, Wimbledon has the most stringent dress code on the pro tour; even some spectators are subject to outfit guidelines. In 1963, as traditions of all kinds showed signs of crumbling, Wimbledon instituted a "predominantly white" dress code, revising it to "almost entirely white" in 1995. It also stipulated that players should wear "suitable tennis attire"—a much more subjective and slippery rubric.
In a sport long associated with country houses and country clubs, the very notion of 'suitability' was bound up with social class and race as well as gender.
In a sport long associated with country houses and country clubs, the very notion of "suitability" was bound up with social class and race as well as gender. (Many of those clubs banned Black and Jewish members; not only the clothes were white.) Tennis wasn't a man's game that adapted to admit women; from the beginning, "it was revolutionary in having women and men participate together, actually playing on the same arena and hitting the ball at one another."
Since the days when "suitable tennis attire" for women consisted of bustles, corsets, gloves, and sun hats, female players have struggled to strike a balance between performance and propriety. A tennis manual of 1903, Lawn Tennis at Home and Abroad, advised female players to look their best, "for all eyes are on them. Many an onlooker understands nothing about the game, and the next thing generally is to criticize the player and her looks."
The tennis court was also one of the few places where single men and women could socialize unchaperoned; Major Walter Clopton Wingfield, who patented the modern rules of lawn tennis, promoted the game as a venue for courtship of the romantic variety. Looking good was essential to making a love match.
But even as women's tennis clothes diverged from their everyday dress, female players came under increased scrutiny. Maud Watson, who won the first ladies' championship in 1884, raised eyebrows with her ankle-length skirt. The 1887 champion, Lottie Dod, got away with a calf-length skirt because she was just fifteen years old, but she was expected to wear her skirts longer as she grew up. "I don't think that our old-fashioned dresses were as much of a handicap as people now suppose," she remembered in her seventies. "But it was difficult to run backward to volley a high ball as one feared treading on one's skirt."
When American player May Sutton bared even more leg in 1905, she was forced to lower her hemline before being allowed to play; her short-sleeved blouse also caused comment. Her sister and fellow competitor Violet Sutton complained: "It's a wonder we could move at all. Do you want to know what we wore? A long undershirt, pair of drawers, two petticoats, white linen corset cover, duck shirt, shirtwaist, long white silk stockings, and a floppy hat. We were soaking wet when we finished a match."
____________________________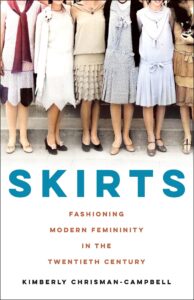 From Skirts by Kimberly Chrisman-Campbell. Copyright © 2022 by Kimberly Chrisman-Campbell and reprinted by permission of St. Martin's Publishing Group.
---