Welcome to the Book Marks Questionnaire, where we ask authors questions about the books that have shaped them.
This week, we spoke to H Is for Hawk and Vesper Flights author Helen Macdonald.
*
Book Marks: First book you remember loving?
Helen Macdonald: A collection of Sherlock Holmes stories. I was so tiny I could barely read, but a Basil Rathbone film on tv had sparked a very early obsession with Holmes, and I pleaded with my parents to buy me the book, even though it was for grown-ups. I managed to read nearly all of it, despite not knowing the meaning of every fifth or sixth word. What was a Turkish slipper? What was Afghanistan, or a medical alkaloid? It didn't seem to matter; I was entranced.
BM: Favorite re-read?
HM: Tinker Tailor Soldier Spy by John Le Carré. I've read it so many times I know great stretches of it by heart.
BM: A book that blew your mind?
HM: Ed Yong's book about the human microbiome, I Contain Multitudes. Truly life-changing.
BM: Last book you read?
HM: Dashiell Hammett's Red Harvest—I had a huge love for hard-boiled detective fiction when I was a teenager and recently decided to revisit the books again. I've not been disappointed.
BM: A book that made you cry?
HM: I'm an extremely sentimental soul, and cry a lot. Borne by Jeff VanderMeer had me in absolute pieces.
BM: What book from the past year would you like to give a shout-out to?
HM: Jay Kirk's Avoid the Day. Complex and difficult and raw and heartbreaking, and astonishingly brave in about a million different ways.
BM: A book that actually made you laugh out loud?
HM: Confession: I cry at the drop of a hat, but I can't remember ever laughing out loud at a book. There must be something wrong with me.
BM: What's one book you wish you had read during your teenage years?
HM: I wish I'd not read On the Road.
BM: Favorite book to give as a gift?
HM: For a while now, it's been Elena Passarello's Animals Strike Curious Poses.
BM: Classic book you hate?
HM: On the Road.
BM: Classic book on your To Be Read pile?
HM: How have I never read Bleak House?
BM: What's a book with a really great sex scene?
HM: None. All the great sex scenes are to be found in internet fanfiction.
BM: Favorite book you were assigned in high school?
HM: Is it too awful to confess I can't remember any? Wait—no, we definitely read Silas Marner, which is my least favorite George Eliot but had the advantage of being sufficiently short to hold the attention of a class of not-very-interested students.
BM: Book(s) you're reading right now?
HM: I'm very much enjoying a proof copy of Charlie Gilmour's Featherhood, a memoir that is equally as sure-footed on the subject of extremely problematic fathers as it is on the care and rearing of orphaned magpies.
BM: Favorite children's book?
HM: A Wizard of Earthsea by Ursula Le Guin.
BM: Book you wish would be adapted for a film/tv show?
HM: I'd love to see a modern adaptation of Brat Farrar by Josephine Tay. It's so, so good. As if Raymond Chandler had decided to write a series of Downton Abbey. Only better. Evil horses! English country houses! Subterfuge! Long cons! Murder!
*
Helen Macdonald is a writer, poet, illustrator and naturalist, and an affiliated research scholar at the Department of History and Philosophy of Science at the University of Cambridge. She is the author of the bestselling H Is for Hawk, as well as a cultural history of falcons, titled Falcon, and three collections of poetry, including Shaler's Fish. Macdonald was a Research Fellow at Jesus College, Cambridge, has worked as a professional falconer, and has assisted with the management of raptor research and conservation projects across Eurasia. She now writes for the New York Times Magazine.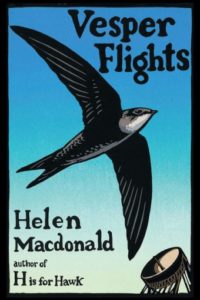 Helen Macdonald's Vesper Flights is out now from Grove Press
*