Héctor Tobar on California Smog (Literal and Metaphorical)
Or, How Los Angeles Made Air Pollution Cool and Chic
In my earliest childhood memories of Los Angeles, I see an incinerator. My family and I lived on a dead-end street in East Hollywood, and the incinerator was a stout brick tower occupying an open space between our duplex and the next one. When I grew tall enough to open the iron hatch in its belly, I saw old trash and leaves, unburned. Like every other household incinerator in Los Angeles, it had not been used—legally—in a decade.
During L.A.'s boom years in the first half of the 20th century, property developers installed incinerators in backyards as a cheap way to dispose of refuse. Angelenos burned paper and vegetables in them, and the sticky sweet smoke curled up into the still air above the bungalows and the television studios near my home, becoming a layer of soot floating over the Walk of Fame on Hollywood Boulevard, and then falling bits of particulate matter that dusted the jade plants, the birds of paradise, and the palm trees.
Los Angeles officials had banned backyard incinerators on October 1, 1957, in an attempt to cure Southern California's air pollution problem. Elsewhere in Southern California, local agencies instituted new regulations that stopped farmers from burning oil to keep their orange trees from freezing on winter nights. But the smog did not go away.
The years when air pollution became a serious and chronic problem in L.A. also happened to be the years when new freeways were being opened and filling with automobiles. Not everyone saw the connection. The first activists and scientists to blame cars for L.A.'s smog also urged strict controls on vehicle emissions, but they were shouted down by the same people who would later deny there was any such thing as climate change.
We Angelenos did not invent smog. The word is a British coinage, used to describe the air in London and other cities at the tail end of the Industrial Revolution. The Brits' version of smog was coal-fed, mostly, and a true killer: as many as 12,000 people died in the Great Smog of 1952. But we Angelenos perfected a smoggy lifestyle that was modern and chic. We made smog with our fit, suntanned, beach-bum habits; with sleek and sexy gasoline-fed V-8 Fords and Chevys driving to backyard barbecues.
Our smog crisis grew worse in the '70s, the years I stretched out into an adolescent. Air pollution was my teenage normal. I played blacktop baseball and street football underneath a sky the color of a diarrheic expulsion. Like most other Angelenos, I knew cars were mostly to blame. This did not stop me from wanting a car of my own.
"I have two sons born in Southern California, both of whom went to junior and senior high school here. They have no idea what a Smog Alert is."
Car-loving Los Angeles was booming and sprawling. My friends longed to own a Ford Mustang, or a Datsun 280Z, a kind of poor-man's Porsche. I wanted a Jaguar, or an MG, but settled instead for a used, 1972 Volkswagen Beetle. My stepfather bought an AMC Pacer, a sedan that reeked of obsolescence even when it was brand new. My mother drove a Pinto station wagon with faux wood panels on its doors. All these vehicles fed carbon monoxide, nitrogen oxide, and sulfur compounds into the air, a mix that became cooked by the sun into ozone. Southern California smog was prevented from escaping into the jet stream by a quirk in the local ecosystem called an "inversion layer," a term I heard again and again on the news growing up. The inversion layer caused the air higher in the atmosphere to be warmer than the air closer to the ground, thus creating a thermal seal over the otherwise pleasant Mediterranean ecosystem below.
When the newly created South Coast Air Quality Management District announced a "Smog Alert" (there were 121 days with Smog Alerts in 1977), I felt the carbon-heavy air in my chest as I sprinted over second base toward third. The smog became a low-grade pain building in the bronchi of my lungs, reaching upward into my trachea, a little fire inside me that I stoked with each breath of air I took.
The smog got worse, much worse, when we moved from our apartment in East Hollywood, to suburbs farther away from the ocean. First to Montebello, and then to South Whittier, by the oil derricks of Santa Fe Springs, places that had been subdivided into little American Dream plots for humble working families like mine.
In South Whittier, we parked our smog-producing cars on driveways next to lawns that were seeded with drought-hardy, thick Saint Augustine grass, and when we fed those lawns with sprinkler systems the lawns grew tall and we trimmed them—with gasoline-powered mowers that spewed steel-gray clouds of smoke, feeding more carbon into the atmosphere.
On summer days I woke up in the morning and headed to the swimming pool, at my high school, Sierra, a name derived from the fact that the San Bernardino Mountains, 15 miles away, were once visible from the campus. By the time I arrived there in 1976, the San Bernardinos were a mere silhouette in the distance, a kind of topographical ghost that disappeared entirely after 10 a.m. I swam and my skin turned red in the sun, and as the day passed the smog swallowed more of the visible world. By the middle of the afternoon I could see eight blocks in the distance. Then six. Then four. The smog became a wall, a living, looming thing.
Air pollution obliterated our final connection to Southern California's natural landscape. The street where I lived was named Safari Drive, a term laden with irony, given the complete absence of native fauna. The local streams had long ago been bulldozed and cemented over into storm drains. My neighbors and I lived in the watershed of La Cañada Verde and Coyote creeks, but we did not know these waterways by their true names, only as "the ditch," or "the channel." On a few, memorable winter days, these concrete creeks filled with waves of smog-tinged acid rain.
When the smog covered us completely we lived in the kind of space you see in dystopic movies, where the lethal air has left humans alone amid fields and streets devoid of any living thing. For us unlucky denizens of South Whittier, the natural world existed in an encyclopedia, in the World Book in the school library, with its pictures of the Amazon and the Kalahari. Forests and mud-lined rivers were unknown to us, and the frogs we dissected in high school biology were shipped in from some remote wetland where the skies were blue, the clouds white, and the rain uncontaminated and pure.
"We Angelenos perfected a smoggy lifestyle that was modern and chic. We made smog with our fit, suntanned, beach-bum habits; with sleek and sexy gasoline-fed V-8 Fords and Chevys driving to backyard barbecues."
In my senior year, I plotted my escape. I studied the catalogs of the University of California system and chose the Santa Cruz campus for its pictures of redwood trees, open meadows, and ocean vistas. I drove my Volkswagen Beetle north there, passing through downtown L.A., the Cahuenga Pass and the San Fernando Valley, making one final contribution to the L.A. smog as I did so.
In Santa Cruz, I celebrated my first Earth Day. I met Environmental Studies majors, and people who biked everywhere, vegetarians who explained how McDonald's cattle ravaged the rain forests, marine biology students who worried about plastics polluting the ocean; people who wore hiking boots as their day-to-day footwear and who wandered into the trees on a whim to sit and think. They were the vanguard of a green army whose nature-loving spirit was slowly sweeping through the United States, changing the country's laws and regulations.
Some decades later, when I returned to Southern California and raised a family there after the beginning of the new millennium, I discovered the air had improved significantly. Thanks to the South Coast Air Quality Management District and to the scientists who invented the catalytic converter; thanks to the environmental lobbyists who worked to force auto makers to install those converters; and thanks to the new ritual to which every California vehicle owner is eventually subjected, the Smog Check. The fight for clear air is by no means over, or won: As I write, our demagogic president and his minions are trying to undermine the Clean Air Act, with Earth-friendly California officials poised to resist them.
And yet, today, I can walk a few feet from the front door of my hillside Los Angeles home in the Mount Washington district and see the clear silhouette of Catalina Island, 52 miles away. I see the insect-like shapes of the container cranes at the Port of Los Angeles, and with binoculars I can make out the thin arc of the Vincent Thomas suspension bridge, 25 miles away. The air for the locals down there isn't great or free of contaminants, unfortunately, thanks to the oil refineries nearby; but at least I can see them, even on hazy summer days. I can walk a bit and take in the view at Sea View Lane. The street was named in the pre-smog 1920s, but when the Age of Air Pollution arrived, that name became a sad anachronism, because the only view it had was of the rail yards directly below the hillside homes there. But today, more often than not, when I stand on Sea View Lane I see the sun shimmering on the waters of the Pacific, just past the stubby towers of Century City. There is something otherworldly about being able to do this, as if I were peering at a museum diorama of the city Los Angeles, and not the dirty, imperfect city itself.
I have two sons born in Southern California, both of whom went to junior and senior high school here. They have no idea what a Smog Alert is. (There has been just one day with a Stage One alert in Southern California since 1998). During the dusty years of the recent drought, they rarely failed to see the sweeping vistas of the Southern California we residents of Mount Washington enjoy. On clear days, they can see some 85 miles away, to the faint shadow of the San Jacinto Mountains, which loom over Palm Springs. After their youthful exertions, my sons and my daughter breathe freely. They play softball, they go rock climbing, and when they do these things, even on the hottest days of July and August, their lungs do not hurt from the smog.
Yet Los Angeles is still a difficult place in which to live. Traffic is worse than ever. There is more inequality in the Los Angeles of today than in the city of my childhood. I was born into a city where the plural noun "the homeless" was not in common usage; now my hillside neighborhood is surrounded by homeless camps. Our figurative horizon might not look so rosy, but the literal horizons are, for now, clear and crisp.
__________________________________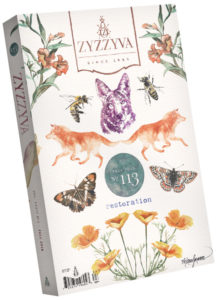 From Zyzzyva: No. 113 Fall 2018. Courtesy of Zyzzyva. Copyright 2018 by Héctor Tobar.
---