Havoc: A Cynical (and Personal) Portrayal of Alcoholism
On Tom Kristensen's Novel of Cocktails, Chaos, and Dancing
"A toast to the infinitude of the soul."

Havoc should come with a health warning. Tom Kristensen's novel, about a thirty-something literary critic who loses himself in a maelstrom of drink, jazz, and sex, is one of the most disturbing and absorbing accounts of self-destruction in modern European literature. Surely no one who reads it would think to disagree with the narrator of Per Petterson's novel I Curse the River of Time, who says that Havoc "terrified me so the first time I read it that I promised myself and the god who did not exist that I would never ever touch alcohol." Stretching to just over 500 pages, it is a Danish Inferno, a tortured descent through every circle of hell—and then some. Unlike The Divine Comedy, however, Havoc does not track the soul's return to God; it is, rather, the story of a soul's bewildering journey into itself.
The soul in question belongs to Ole Jastrau, or "Jazz," a once-promising radical poet turned respectable man of letters. On the surface, he leads a life of enviable bourgeois comfort: he has a wife, Johanne, and a young son, Oluf; a prestigious job as the literary editor of the major newspaper Dagbladet; and a comfortable, spacious apartment on Istedgade, a short walk from Copenhagen's Town Hall Square.
But something is amiss. As the novel opens, the atmosphere in the apartment is unmistakably suffocating. There is a mounting volume of review copies waiting to be read, a telephone that won't stop ringing, and a son angling for his father's attention. Then, suddenly, there are two unexpected visitors: the young Communist critic Bernhard Sanders and the crude, bohemian poet Stefan Steffensen. Wanted by the police for their political agitations, they seek refuge in Jastrau's apartment, hoping the following day's elections will favor the Social Democrats under whose government they expect to receive amnesty. Sanders and Steffensen need Jastrau to help them, and yet they openly mock him for his political complacency and for being a sellout, while Jastrau proves oddly powerless before them. After all, they are younger than him, they have not yet abandoned their youthful ideals, and one of them— Steffensen—even writes poems, good ones. They represent everything Jastrau believes he has sacrificed for a life of comfort and security. To his wife's displeasure, he resignedly lets them spend the night.
And so it begins. Later that same evening, Jastrau pays his first of many visits to the Bar des Artistes, conveniently located a few doors down from Dagbladet's offices. There, behind the heavy red portieres and blue clouds of tobacco smoke, amid a whirl of cocktails and highballs and bottomless glasses of whiskey, Jastrau slips out of respectability and into the deepest, darkest recesses of his own being. Improbably, he claims to know just what he is doing. He seeks, he says, the infinite soul. But the journey will cost him everything: his family, his job, his home, his reputation. Not that the price really matters. Only the jazz records playing on the phonograph, the clink of ice swirling in the cocktail shaker, the evening's encroaching darkness—only these things matter. In the Bar des Artistes there are no nagging wives or impatient children, no looming deadlines or ringing telephones. "It's always night here," Jastrau tells Steffensen, "and there's always the sound of music. You don't get a chance to feel there's such a thing as emptiness. Now we'll very quietly—and very slowly—go to the dogs."
*
Havoc occupies an unusual place in Danish literary history. Beloved by cultural anarchists and literature professors alike, it has achieved both cultlike veneration and canonical status. Since its publication in 1930, it has never been out of print. As recently as 2015, it was reissued in an authoritative new edition by the Society for Danish Language and Literature. In 1977, it was made into an acclaimed film with a screenplay by the novelist Klaus Rifbjerg, and in 2014, adapted for the stage by the Royal Danish Theatre. To this day, it is still possible to sign up for a walking tour of Ole Jastrau's Copenhagen, as faithfully evoked as Leopold Bloom's Dublin.
"On more than one occasion, [Kristensen's] nighttime exploits landed him in a cell at the local police station, where it was joked that Kristensen didn't have enough blood in his alcohol content."
Upon its publication, however, Havoc was less enthusiastically received. The novel's candid portrayal of alcoholism, adultery, and syphilis was deemed excessive and cynical, even nihilistic. Reviews were by and large dismissive, and Kristensen's publishers warned that projected sales ahead of the Christmas season did not bode well.
Still, the novel was eagerly discussed and gossiped about by Copenhagen's literary and cultural elites, not least for its supposedly incriminating portrait of the author himself.
Kristensen was, by then, a well-known poet and journalist. He'd debuted in 1920 with the poetry collection Fribytterdrømme (Pirate Dreams), which catapulted him to the forefront of the disillusioned post–World War I literary generation. His poem "The Land Called Atlantis," with its expressionist imagery of chaos and destruction, was taken to be the rallying cry for a new generation of writers:
Thus is the land of our longing, Atlantis,
where every harmonious prejudice fails.
Colors are ruptured and forms burst asunder,
and beauty is built upon ruthless contention.
In chaos I raise up my gun
towards beauty's bright star and take aim.
Before the decade's end, Kristensen had written two novels and five poetry collections, translated Theodore Dresier's Sister Carrie, and traveled extensively through Europe and Asia. He'd also become one of Denmark's foremost young critics: in 1923 he was hired as the literary editor of Politiken, the country's leading center-left newspaper, where he would go on to write about James Joyce, Sigmund Freud, T.S. Eliot, and D.H. Lawrence, among others.
Yet by the late 1920s, Kristensen's celebrity, such as it was, had less to do with his literary activities than with his excessive drinking. On his return from a trip through Spain in 1925, he became, in the words of one biographer, a passive spectator of himself. Soon, he was an all too recognizable figure in Copenhagen's nightlife. More often than not, he could be found in the dimly lit depths of the bar at Hotel Kong Frederik, guzzling cocktails with other thirsty journalists from Politiken or crisscrossing the Vesterbro district, in a barely ambulatory state, with the novelist Jacob Paludan. On more than one occasion, his nighttime exploits landed him in a cell at the local police station, where it was joked that Kristensen didn't have enough blood in his alcohol content.
Then came the particularly calamitous night in the spring of 1928 when Kristensen struck another man with a bottle. He was escorted to his parents' house in Valby, and after a few hours of sleep decided in consultation with his mother (alcoholism ran on her side of the family) that it was time to sober up. He quit drinking that same day and soon helped found a short-lived group of literary teetotalers, Frimandsbevægelsen (The Freeman's Movement), with the writers Aksel Sandemose and Anton Hansen. In the summer of 1928, he even moved with his lover, Bitti, out of Copenhagen and into the countryside, an hour north of the city. It was there, while strolling through Hornbæk Plantage, that Kristensen knew he would have to commit his experience to the page. It would be his third, and final, novel.
*
From early on, Kristensen was resolved that his newfound (and, alas, all-too-brief) status as a teetotaler should have no influence on his novel. No preaching and no moralizing would sully its pages. Havoc is not an alcoholic's confession cloaked in fictional robes. On the contrary, contemporary readers will likely be struck by how exquisitely crafted the novel is. For all the excess it depicts, there's hardly a superfluous word or pointless digression in it. Everything is precisely where it should be. Kristensen, who met James Joyce in Copenhagen in 1936, was among the earliest Danish writers to respond to the massive, quickening example of Ulysses, and though they differ stylistically, it is clear that Havoc has benefited from Kristensen's attentive visits to the Joycean toolbox.
"Why does Jastrau drink? What makes Havoc such an unsettling novel is that we never really find out."
Because he also admired the blasphemer in Joyce, Kristensen was likewise careful to ensure that Jastrau's fall not be a redemptive one. The real scandal of the novel may be just how wonderfully absorbing it is in its depictions of the pleasure of being drunk. Kristensen makes it seem effortless, even a little desirable, to go to the dogs. "Ah yes, there was something religious about drinking oneself into insensibility," Jastrau thinks to himself. "A person filled the room with his boisterous, babbling, drunken self—filled the entire room." At times, indeed, Jastrau's downfall seems something like a vacation, a letting go of the things that anchor a person to the everyday world: routines, relationships, responsibilities. Drunk, Jastrau is unbounded. Limitless. Time and space dissolve, the busy humdrum world fades away, and the twilight hour gently extinguishes the day. Kristensen's descriptions of drunkenness are themselves intoxicating in their disorientation:
And then the human proximity came on in waves until it was like a sea, an element in which it was natural to embrace each other. Friendship. Oh, that precious feeling. Whiskey. Whiskey. Immerse yourself in whiskey and have faith in your friends—unlimited faith. Jastrau's arm was around Little P.'s shoulder. They sat on high stools with their backs to the bar and stared as if hypnotized at women dancing with each other—oh Sappho!—at flesh-colored legs and dapper shoes that flashed across the carpet in surely executed dance steps, heels in, heels out, acute angles, obstuse angles, the toes cutting innumerable incessant figures.
But the exuberance comes at a price, and when he is not knocking back gin and absinthe at the Bar des Artistes, Jastrau is a walking wreck, bloated and pathetic. His clothes are stained with egg yolk, his face is dirty and unshaven, and the large apartment—long since vacated by his wife and son—is a shambles. And yet Jastrau never wavers in his resolve to drink. He endures even the most repulsive and off-putting experiences—sex with a syphilitic prostitute, that first bottle of cheap port in the morning—with something akin to contentment. "I want to be at ease with myself," he says, "and observe what comes to the surface from deep down inside me."
*
One of Havoc's earliest champions was the Norwegian Knut Hamsun, a winner of the Nobel Prize in Literature. Shortly after reading the novel, he wrote to Kristensen to express his utmost admiration. "I don't know that I've ever been so preoccupied with a book before in my life," Hamsun wrote. "A stroke of genius and a major work . . . there's no book like yours."
Hamsun's praise is appropriate, for Ole Jastrau is surely one of literature's great self-unravelers, a distant cousin of Dostoyevsky's Underground Man and the narrator of Hamsun's Hunger. Why does Jastrau drink? What makes Havoc such an unsettling novel is that we never really find out. "There is something I want," he tells a colleague's wife, "and when I drink I sometimes feel for a moment that I've captured it." That something is the infinite, a quality Jastrau once sought in his poetry. But between a family, an office, and a telephone, there simply isn't time for poetry. "You can't write poetry when you're pressed for time," Jastrau explains. "You have to loaf around awhile before you write it, and you have to know that you'll be able to loaf again after you've written it. Laziness? No, that's not what I mean. Cosmic idleness—that's what one has to have time for."
And so he seeks the infinite in the bottom of a glass. Along the way, he is challenged by the various characters he comes into contact with at the bar or at Dagbladet, all of whom try to influence his search for the infinite—from the Catholic Vuldum and the conservative Kryger to the amoral Steffensen. Yet no political ideology or divine revelation seems to suit Jastrau. "I'm really interested only in myself," he at one point rebuffs a Catholic priest. "And consequently, in psychology, too, which is the basis for an understanding of one's self. Yes, and I'm also interested in how one constructs a real world—finds reality." Later, in one of the novel's most famous scenes, Jastrau and Steffensen seek out the same priest in the middle of a nocturnal bender, only to find the church closed. "What the devil," Steffensen exclaims, "is God's house locked up at night?"
Jastrau seeks the infinite but all he finds is repetition. "It was the same thing over and over—a constant recurrence," he thinks toward the end of the novel, with a wink to Nietzsche. "It was hell." That repetition is personified by one of the drunken regulars at Bar des Artistes, "the eternal Kjær"—so called because he lives in the hotel above the bar and is carried upstairs every afternoon at 4:30 by the staff to sleep it off, only to reemerge later in the evening, groomed and formally dressed, to begin the cycle all over again. "My life's purpose," Kjær calmly explains, "has always been to be a quiet, heavy drinker, and that I've achieved."
"Like other major works of the modernist period, Havoc serves as a portrait of the moral and spiritual malaise of the interwar era."
But repetition is not only a theme in the novel; it is also a defining formal device. Words, scenes, and objects echo throughout, from the telephone and the cocktail shaker, to the title of a book Jastrau reviews (Wherefore Hast Thou Forsaken Me?), and Oluf's voice on the phone—a childish paraphrasing of Jesus on the cross: "Where have you and Mother been all this time?" And then there is the remembered image of the mother who died young, the recurrent figure of the absent father, and finally, the image of Jesus himself. "The more I drink and dissipate," Jastrau says, "the closer He is to me. He is resurrected inside me in the midst of all this havoc—here, inside me."
Kristensen's use of these religious and philosophical categories, his invocation of Nietzsche and Jesus, is what finally makes Havoc stand out as something more than a story of alcoholic dissolution. Beneath all the jazz and cocktails, the sex and dancing, are premonitions of disorder and chaos. "I have longed for shipwrecks, / For havoc and violent death," as the famous poem attributed to Steffensen reads. Like other major works of the modernist period, Havoc serves as a portrait of the moral and spiritual malaise of the interwar era. The breakdown of traditional values, the knowledge of the war's mechanized slaughter, the rise of mass society—all of these developments are sewn into the fabric of the novel. "Life is so dull," a voice exclaims at the Bar des Artistes. "We need a new world war, damn it!"
Jastrau's downfall is partly a reaction against the speed and organization of modern life; an existence dominated increasingly by the demands of the workplace. (The Austrian feminist Rosa Mayreder called offices "coffins of masculinity.") Everything around Jastrau thrums with purpose and direction. Standing on a busy street corner in Copenhagen during morning rush hour, he sees only "a curtain with pictures of buildings, shops, show windows, pavements, pedestrians, and bicyclists—a curtain drawn in front of reality." Curtains, masks, facades—what hope is there of finding the infinite in such a controlled and regulated society? Jastrau's decision to go to the dogs is, at least, a decision he arrives at himself. Everything else in his life has already been decided for him, from the reviews he's allowed to publish to the furniture in his apartment. Drinking is a choice, his choice, an act of pure, free will. "Did he want to go to the dogs?" Jastrau thinks. "He wanted—yes, he had to. The thought gave him a wholesome feeling—a sense of liberation. Then he could reveal himself as the person he was, get on intimate terms with himself."
And yet, and yet . . . At the novel's end, does Jastrau find the infinite? Is he free, liberated from the grasp of modern society, or simply enslaved to one of its many vices? Alas, no answer is forthcoming. Havoc's ending is one of the most contested and controversial conclusions to a novel in Danish literary history, argued over by generations of readers and critics. (In 2000, the late Klaus Rifbjerg, that grand old man of Danish letters, decided to take matters into his own hands and published an alternate ending to the novel.) Does Jastrau end up like the eternal Kjær, a permanent lodger at the hotel above the Bar des Artistes? Or does he seize the opportunity offered to him by a colleague and go to Berlin to work as a secretary for a respected economist? Or can we imagine him returning to poetry, or even politics, and living up to the expectations of his longed-for youth?
The reader will ultimately have to decide for herself where Jastrau does or does not end up. But as we finally lose sight of him—pale, pudgy, sweating, and smarting in the gleam of the low afternoon sun—we may well recognize ourselves in his desperate search for intimacy. In an age when you are never truly disconnected from your employer, when even the heavy red portieres blocking out the daylight do not prevent you from being online and available, when the standards for human companionship are decided by social networking companies—do we not recognize in Jastrau's misguided search for meaning something of our own predicament?
Jastrau . . . inhaled deep draughts of this fragrance of human proximity and felt happy. A woman's fingers ran up his thigh as if playing a piano. Oh, there was no emptiness here. A woman's silk-covered breast brushed against his nose and pressed against his eye, shutting off his vision. Oh, the fullness, the exuberance of it! Fullness, abundance—that was all that was eternal. That and the proximity of human beings. Closeness to human beings. The only thing worth living for.
__________________________________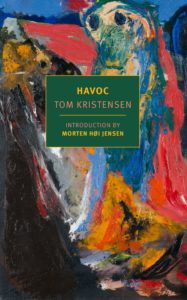 From the introduction to Havoc. Used with permission of New York Review Books. Copyright © 2018 by Morten Høi Jensen.
---