Harvey Fierstein on the Best Late Night Hosts He Ever Worked With
The Hairspray Star Recounts His Tell Alls, from The Tonight Show to 20/20
Can we talk? As the most economical way to sell tickets, books, or careers, talk shows are an inescapable tool of the biz. Most are silly wastes of time. Hold up your tell-all—show a clip from your movie—deny the rumors of your death—and hope to escape with your dignity. The guest pays the host back with an item of gossip or a silly bit of nonsense. It's entertainment to sprawl by. There's no need to mention, let alone remember, most talk shows or their hosts; but there were some…
The best of the best, anyone who's ever mounted a couch will tell you, was Johnny Carson. I appeared on The Tonight Show a mess of times with Joan Rivers and Jay Leno hosting, but only once with Carson himself, and there was no comparison. He was the greatest audience. He cared only about making you look good, which he accomplished by effortlessly appearing to have the best time with you. No one thought you were funnier or more interesting or more important than he did. Most hosts ask a question and then, as you begin answering, they are already looking at their cheat cards for their next question. Carson made you feel he was with you 100 percent of the time, and for a performer who improvises, that is nirvana. I remember saying something to him to which he remarked, "Oh. So you're gay."
And I ad-libbed, "You couldn't tell from the socks?"
It was a totally senseless remark that sent him into a fit of laughter that I recall to this day.
A funny thing happened on the way to The Tonight Show stage one afternoon. Joan Rivers was hosting and another guest on that episode was that star of 1930s and 1940s musical Hollywood, the one and only Ginger Rogers. I'd been a fan of hers since those Million Dollar Movies in my bedroom, so when I heard she was there, I snuck down the hallway in search of her dressing room. The door was partially open, and I could see a segment producer speaking with her. Waiting politely outside the door, I heard her tell him that she wanted to be offstage when I was introduced.
"Oh," he said, "do you have somewhere you need to be?"
"No," she answered.
"In that case, Joan loves for all the guests to stay after their interviews. It makes for a more partylike atmosphere."
My second favorite host was Arsenio Hall and not just because he gave out the best gift baskets.
"I understand," she confided, "but this guest after me… he's a homosexual?"
"That's true," the producer confirmed.
"I can't chance that. I'm not saying he has it, but I can't chance catching AIDS."
The producer, duly embarrassed, said he'd bring her off during the commercial break. I can't describe the shade of red he turned when he saw me standing in the half-open doorway. I smiled and entered, rushing to Miss Rogers's side, where I took her hands in mine and planted a huge kiss on her cheek. "Miss Rogers, you'll never know how many hours of pleasure you have given me over the years. I only hope I can give you back something in return."
She thanked me and asked, "What's your name, dear?"
"I'm Harvey Fierstein, the guest following you. I'm sorry we won't be sitting together, but at least we've had this moment to connect. A moment that will always be part of me."
*
I'm going to preface this next story with an excuse—I was drunk. It was Johnny Carson's final appearance on The Tonight Show. Loving him the way I did, I was a blubbering mess before he even stepped through his multicolored curtains. During the show he included a joke about gays. I bolted straight up in bed, No. Please, no. I adored and worshipped this man. He couldn't go out that way. He couldn't. I picked up my telephone, dialed information—I kid you not—and got the number for NBC Studios in Hollywood. I dialed it, asked for the Carson stage, and got through to a PA, whom I asked to please put me through to Carson's producer, Freddie de Cordova. With the wrap party blaring in the background, Fred got on the phone and said, "Harvey, what can I do for you?"
"Please, Fred. I beg you. The West Coast broadcast hasn't aired yet, please take out that antigay joke. Please don't let Johnny finish with that as part of his legacy. This episode will be aired and studied long after we're all dust. It's already a cultural landmark. Please don't let that joke remain. I beg you."
Fred listened to it all and said, "Thank you for calling," before putting down the phone.
I've always felt like an asshole for making that call. And as much as it's been aired, I've never been able to watch Carson's final show again.
*
My second favorite host was Arsenio Hall and not just because he gave out the best gift baskets, although I still have three or four of his embroidered bathrobes in my closet. Arsenio was another true gentleman who labored to make his guests feel welcome and special and supported. He would actually lean into you while you spoke, never losing eye contact. It was almost like being on a date with him. A lovely man.
I was performing The Haunted Host Off-Broadway in 1991 when a call came inviting me to appear on the show. It meant I'd have to fly out from New York to LA that night. Lawrence Lane, my producer, practically shoved me onto the plane, but with such short notice I had nothing appropriate to wear on a national TV show. In one scene of Host I wore a kimono. We had picked up a few to choose from and the extras were still racked backstage. I chose the most beautifully elaborate one, black satin with a huge gold dragon embroidered on the back. I figured that I'd at least be colorful wearing it as a jacket over my shirt and slacks.
Our onscreen interview was going very well until I mentioned, as I was apt to do, that I was gay. The audience, almost as one, groaned their disapproval and there were even a few boos to be heard. Arsenio turned on them, blasting them, saying something on the order of: "Harvey is my guest, and you will treat him with respect. You are also guests in my home, and I expect you to act better than that."
We finished the episode and I thought that would be that. But Arsenio had me back to do his show, flying me in from New York, two or three times a year until he went off the air. I became part of his TV family and it was wonderful.
Of all of my TV appearances, I am most often asked about doing 20/20 with Barbara Walters.
But that ain't the end of this story. Arriving back in New York the next day, I got a phone call from Lawrence saying that the organization Queer Nation did not like my appearance on the show. It wasn't what I said; they objected to my wearing the kimono. They judged it a gay stereotype and called for a boycott, complete with picket line, against my Off-Broadway performance. I was speechless. An organization that called themselves Queer Nation thought I was too gay. It was only activist and reporter Andy Humm's speaking out as the voice of reason that canceled the protests. I still find it remarkable. A men's kimono worn over men's slacks and a button-down shirt had activists taking to the streets. So much for the loving support of my community.
*
My only TV appearance to be banished was a profile that Lesley Stahl put together of me for 60 Minutes. It was produced around the time of Hairspray's explosion on Broadway. She and her producers did their usual stellar job of gathering materials and information and clips in preparation. My brother was fine about giving an interview, but my mom was so nervous that Lesley had to take her and her friend Roz out to dinner to convince her to go on camera. I remember Lesley and I walking and talking around the streets of Broadway together while theatergoers called out their greetings. She jokingly dubbed me the Mayor of Broadway during that shoot. We settled down for the meat-and-potatoes interview, which I remember went quite well.
Some weeks later I was told that Lesley was apologetic but the piece had been killed by executive producer Don Hewitt. He'd originally okayed it as a light-entertainment spot about that guy who ran around the stage in dresses, but when he saw a rough cut and realized how politically immersed my work actually was, he pulled the plug. Despite Lesley and her producer reediting it three times, he shelved the piece during his last weeks with the show. Lesley tried to revive it, but the moment had come and gone.
*
Of all of my TV appearances, I am most often asked about doing 20/20 with Barbara Walters. That thing has been online since there was a line for it to be on, but just in case you can't find it, here's the tea. La Cage was the hot ticket in town. Torch Song was packing them in a few blocks away. Legendary broadcaster Barbara Walters scheduled me for a feature. They shot the usual B-roll backstage and on the street before we settled down on the set of Torch Song for the interview. I went into this shoot relaxed, as I'd known Barbara socially and, having done a ton of press over the past few years, I was armed with a slew of "off-the-cuff" comments I could fall back on. Roll tape, I'm ready.
But as soon as we began, Barbara questioned me as if I were an interstellar alien. I was no longer the Harvey she knew. She was interviewing some creature she'd never met before. What is this thing called homosexuality? I was dumbfounded. If you watch the tape, it's clearly visible on my face. Who the fuck is this woman and what did she do with my friend Barbara? Although shocked, I was never speechless, as I clearly and methodically explained the world to her as if to a five-year-old: Love, commitment, and family are human words. They belong to all people. Monogamy is as prevalent a disease in homosexuality as heterosexuality.
She innocently queried, "What's it like to be a homosexual?"
"What's it like to be a heterosexual? I'm just a person. I assume everyone is gay unless told otherwise."
Once upon a time there was a comedian who took himself way too seriously.
But the kicker was when she asserted, "A few years ago I would not have been able to do an interview like this and put it on the air."
To which I answered, "You could have done it, and you should have done it."
Mic drop.
Whatever brought it on, the experience was totally unexpected. Furthermore, I had no idea how it would play in America. I guess the fact that it's still talked about 40 years later says more than I can about its impact. I suppose we'd done an important thing. When people tell me how good I was in that interview, I always make the same point: Credit Barbara Walters. She could have edited that interview to make me look like an asshole and for her to come off as a brilliant reporter. Instead, she made me look great, while she appears uninformed. She aired a discussion that to us seems conventional but back then was groundbreaking. I am grateful when considering the generations of children and adults who've watched that interview and finally discovered that they are not alone. From the volume of mail I've received over the decades I'd say that millions found comfort and strength in that conversation with Barbara. We can all learn a lot from that lady.
*
Once upon a time there was a comedian who took himself way too seriously. He had a fun show on basic cable called Politically Incorrect, during which a lively panel of four comics, politicians, or exposure-seeking celebs would sit in a circle and discuss the latest news. I confess to appearing a bunch of times and enjoying myself. Well, it was basic cable, so you didn't have to be polite or even truthful. As long as you were subservient to the host, Bill Maher, you were always a welcome guest.
Time came when the show moved to network TV—late-night but network. It might have been my first appearance on this iteration, I don't recall, but the guests were my friend actress Lynn Redgrave; ex-punk-rocker Johnny Rotten; conservative radio mouth and adopted son of President Reagan, Michael Reagan; and me. A discussion of AIDS got heated and, sick of listening to Michael Reagan defend his father's criminally negligent record, I blurted out, "You know what? Fuck you and fuck your father!"
This would have been nothing but a naughty glitch on cable, but here we were on Disney-owned ABC. Maher summoned me to his dressing room for a dressing down. I didn't see the big deal, as the show was pretaped and bleeping those few words would take under a minute's time. Anyway, I apologized and flew home. Overnight the shit hit the papers. Hollywood Reporter reporter Army Archerd called me for the scoop. It seems Michael Reagan had gone on his radio rant and called for a complete boycott of me. Furthermore, Bill Maher claimed that I cost the show and network a fortune because they had to reedit the episode. I spilled my side of the story, which Mr. Archerd found amusing, and that was that. There was no boycott. I wasn't banned from TV. Nothing. On the night of the broadcast I tuned in. (I don't usually watch myself on television—it adds 50 pounds.) I was curious to see how they cut those words out. Well, no big deal, they simply bleeped the two seconds.
But as I watched, I saw a much bigger edit to the show. During that taping Lynn Redgrave, another frequent guest, had accused Maher of being a male chauvinist. Maher always had four guests. She complained that the majority of them were always men. She said that she had never seen the show when all four of the guests were female, while there were plenty of times that all four guests were men. And she'd never even seen a show with three women and one man. Women were always the minority, because even when he hosted two women and two men, his sex threw the balance to male. She held this as proof that Maher was indeed sexist. Well, guess what was cut out of that show! Mr. Liberal Standard Maher censored Lynn's entire accusation. Gone with his whim. I assume Maher told ABC that the editing costs were due to my mouth, but they were actually to save his own ego from critique. For the record, they've called and invited me to appear with him a few times since, but I said I'd only do it if he'd fess up. I have no plane reservations in waiting.
______________________________________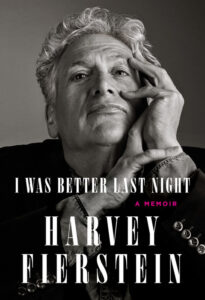 Excerpted from I WAS BETTER LAST NIGHT by Harvey Fierstein. Copyright © 2022 by Harvey Fierstein. Excerpted by permission of Alfred A. Knopf, a division of Penguin Random House LLC. All rights reserved. No part of this excerpt may be reproduced or reprinted without permission in writing from the publisher.
---