Haruki Murakami on the Year Dave Hilton Debuted for the Yakult Swallows
"It felt as if the spring sunlight shone more intensely around him,
and him alone."
This piece was edited and translated by Philip Gabriel.
I originally wrote this essay for the October 5, 1980 issue of the Japanese sports magazine Number. So it's quite an old piece. I found it again when I was going through some old files and papers at home. It brought back good memories, and I made a few corrections and included it in the present essay collection. I had always thought that Sotokoba was the Hiroshima Carp's starting pitcher in the opening game of the season, but actually it was Satoshi Takahashi. There were a couple of other small factual errors in the original essay I've corrected—there wasn't any Wikipedia back then—but I've left the essay as it was, to catch the flow of the original. —Haruki Murakami
*
It was a wonderful season. The Yakult Swallows in 1978.
What a lineup they had then—Hiraoka as manager, Matsuoka their star pitcher, and Wakamatsu their power hitter. And Charlie Manuel, who hit a towering homerun at Korakuen Stadium that bounded off the uppermost decks, plus the team's catcher, Ohya, a veritable iron wall protecting home plate.
At the beginning of that year I moved near to the Swallows' home stadium, Jingu Stadium (the only reason being that the place was near the stadium), and whenever I could find the time, which was almost every day, actually, I went there to watch a game from the outfield. As a young boy I'd often attended games at Koshien Stadium, the famous home grounds of the Hanshin Tigers, and compared to that stadium, Jingu Stadium certainly didn't look like the home of a professional baseball team. It came across more like some rundown bullfighting arena. There weren't any seats in the outfield area, just a slope of grass, half of it bare ground. On rainy days this field turned into a field of mud, while on windy days flying grains of sand would get in your ears. For all that, on windless fine days, the outfield seats at Jingu Stadium were the most comfortable, the most soul stirring, in the eastern hemisphere. There'd often be a few crows perched, looking bored, on top of the hand-drawn scoreboard, and whimsical kids in their Swallows caps rolling down the slope.
I had just turned twenty-nine, and from that spring had started writing novels (or something like novels). This was the first time in my life I'd ever written a novel, or anything that resembled one. The Yakult Swallows, too, were in their twenty-ninth season since the team was founded, without ever once winning the Japan Series. Of course, there was no connection between these two things. It was mere coincidence.
It felt as if the spring sunlight shone more intensely around him, and him alone.
And there was one other 29-year old young man there at the time. What I'm about to tell here is his story. Maybe not exactly a story, I suppose, since I don't know all that much about him. More like a snippet, a fragment of his life. A fragment of his soul excised by the sharp-edged blade of the baseball season. I imagine that after wandering through people's minds for a while—at least through my mind—it will inevitably lose its brilliance and be swallowed up in the overpowering flow of time.
*
Let's go back to 1978, to the first of April.
It was a bright, sunny day.
The opening game of the season at Jingu Stadium. The game started at 1 pm, and I was sprawled out as usual on the outfield seating area, and had just taken my second sip of beer. Hiroshima Carp's pitcher was Satoshi Takahashi, and the first Yakult Swallow to bat was him. Perhaps a few of the people watching laughed when they saw him. And perhaps a few others felt a sort of invigorating premonition. The reason some laughed was, of course, his odd batting stance. He hunched way over, almost awkwardly, in the batter's box, twirling his bat straight up, glaring at Takahashi's glove as if half challenging him, and half fearful. Maybe this place really was a kind of bullring, I thought.
It also struck me, later on, that there was another kind of bracing premonition hovering there in the air, but not something I could easily put into words. This slim, stooped over foreign player was indeed something fresh and new, but how could one link him up to any premonition? Maybe this is overstating it, but if a premonition is the momentary gleam of light on one whom God sheds his love on, surely that grace was there, at that very moment. It felt as if the spring sunlight shone more intensely around him, and him alone, as if a fragment of his soul he'd brought over all the way to Tokyo, from what was probably a small town in Arizona, was now glowing in the early spring sun.
*
It was a superb hit. The ball split the line between second and third and into the outfield, and by the time Adrian Garrett and Koji Yamamoto caught up with it, he was on second with a standup double. The team's very first hit of the 1978 season.
His name, of course, was Dave Hilton. That year he was selected for the Best Nine Award, cited as best second baseman of the year, and until late in the summer maintained the highest batting average. I imagine you might still remember his name, since the 1978 season was all his, and it took place only two years ago.
Every time he hit the ball that season, he raced down the baseline with all his might, sometimes even attempting a desperate head-first slide into a base. One newspaper (not one of those sports papers) used a whole first page column to sing the praises of this kind of daring play. In the fourth game of the Japan Series that year, when the Swallows had their backs to the wall, he made an unbelievable swing, smashing a curve from Yutaro Imai for a home run, right into the so-called "lucky zone," an open area between the stands and the fence in left. And I know of no other player who so diligently made sure to shake all the fans' hands as the team made their way from the players' exit to the clubhouse.
That young man from Arizona, with his gentle eyes, the same age as me, vanished in the shifting sands of time that was that very special season.
To me, though, the image I retain of Dave Hilton is of a not-so-affluent looking American guy in a well-worn sweater, lugging a paper bag from a supermarket.
This was on a cloudy Sunday at the beginning of October, right before the Japan Series began. Evening was coming on, and a fine, almost invisible early autumn rain was starting to turn the sidewalks wet and slick. My wife and I were just leaving a supermarket in Hiroo when I spied an American couple with a small child near a bus stop, trying to flag down a cab. This young American, on the smaller side for an American player, had his little son up on his shoulders, and was clutching a paper bag of groceries in his left hand. The boy was giggling, smiling at his young mother standing beside him, while she beamed at her husband, and the father, with his light blue eyes, smiled and gazed up at his little boy.
Something about the scene struck me. The same premonition was there, the same one I'd felt back during that very first game. And I felt like I'd never in my life witnessed such a pure and happy scene. They were just a humble looking, ordinary, casual American family, with not a trace of anything other than joy in their faces. Their smiles lit up everything around them, as if a ray of sunshine had broken through the crowded, rainy, early evening scene. They seemed somehow truly special. I imagine what struck my heart was the somewhat sweet, touching sense of happiness found in the midst of that light.
Here is his autograph I got at the time.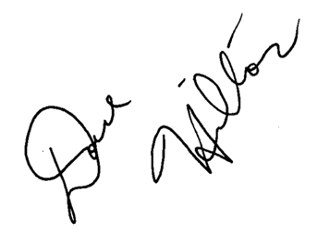 Dave Hilton… The handwriting is a little shaky, but that's only to be expected since he was carrying both his little son and a paper grocery bag at the time, trying to flag down a taxi in the rain.
The 1978 season ended, and everything changed. That amazing season never came around again. But who can I (or you) ever complain to about it? That young man from Arizona, with his gentle eyes, the same age as me, vanished in the shifting sands of time that was that very special season. It was simply that, and that alone.
Farewell, Dave Hilton.
__________________________________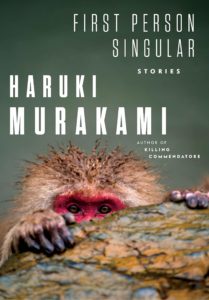 This version of the essay was included in Haruki Murakami's essay collection, Zatsubunshu [Miscellanies] published in 2011. Murakami's newest book, First Person Singular, is available via Knopf.
---