Hands On at PEN World Voices
Of Bookmaking and the Empathy of Illustration
Day 2 at PEN World Voices
10am-1pm
While much of the media focused on PEN American's controversial Toni and James C. Goodale Freedom of Expression Courage Award, bestowed upon Charlie Hebdo, I spent the second day of the PEN World Voices Festival doing small, quiet things.
For three hours in a dark wood-paneled bar at the Public Theater Library, fifteen souls tried to perfect one stitch in the art of bookmaking, at Katrina Kiapos's "Introduction to Bookmaking." Kiapos, our patient and soft-spoken tutor, is a professional paper conservator and bookbinder, an endangered species in the ever-expanding canon of digital literature. For her, and for others sitting around the table, we handled the bookmaking materials—a bone folder, X-acto blade, cutting mat, awl, thread, paper—with something like reverence.
Kiapos taught us to pull a three-play thread through a needle large enough to skewer a five-page signature and knot the thread by stabbing the center of its short end and looping it through itself. Sounds simple, but it's a careful deliberation missing from so many things in our modern world often mediated by technology.
We practiced a few times before adding a cover of handmade or Japanese paper. After stacking and jogging the paper, we used the bone tool to put a sharp crease in it. Then, we made three evenly spaced holes in the center of the fold, cut an arm's length of thread, made our simple studied knot, and took to the task with a tailor's mien. Two dressmakers, sisters from Guatemala, were particularly adept at the precision and artistry required for the act.
Jenny Douglas, who operates a "collective for creative experiences" in Brooklyn came because she "wanted to lay a stake more firmly than ever in celebration of the very thing that's become extinct before our very eyes." She spoke for all of us hunkered around the table, those who sought discipline in a tactile, sensual form.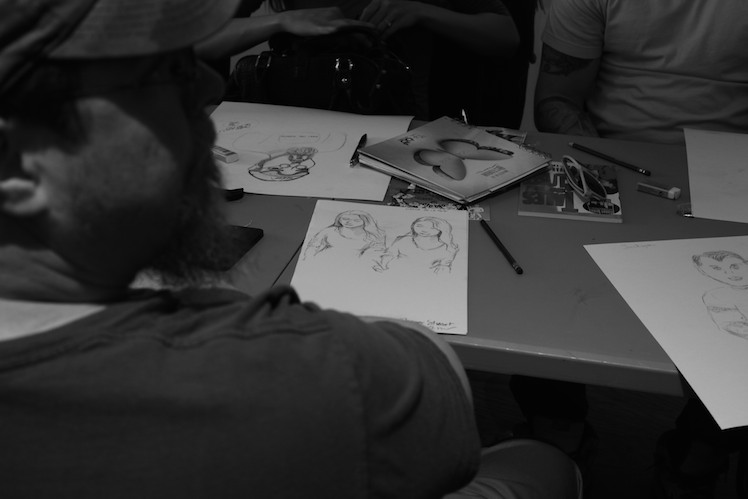 1pm-6pm
Ram Devineni can't draw but he led the "Build Your Own Comic Workshop" on day two of the PEN World Voices Festival. His deficit in drawing skills inspired the fourteen workshop attendees who consisted mostly of writers, actors, and teachers. Devineni himself was inspired not by any artistic renderings either, but by the 2012 gang rape of Jyoti Singh Pandy as she traveled on a private bus in South Delhi.
Devineni spoke to a police officer after the incident. The officer said, "No good girl walks home at night alone." After that dubious interaction Devineni devoted himself to finding a way to address gender based sexual violence in a cultural, rather than a legal context. In response, he created "Priya's Shakti" a multimedia comic that illustrates prevalent attitudes about sexual violence but also an "alternative narrative" of empowerment encapsulated in its heroine, Priya, who experiences a rape and its concomitant isolation and social stigma. The comic book spurred Devineni to generate a curriculum "Comic Books for Social Change" (free at priyahshakti.com) that teaches people how to create stories that can tackle such social issues. It was this curriculum that fueled the workshop.
Ivan Velez Jr., a cartoonist who addresses gay, lesbian, and transgender issues in his work, was on hand to guide our artistic inexpertise. He first asked us to come up with a short list of social issues that motivate or challenged us. My group of three (a creative writing teacher, a French PEN intern, and myself) generated five: sexual abuse, female body dysmorphia, ageism, unseen environmental toxins, and the loss of human interaction through technology. Velez wanted us to then think about specific problems these characters could encounter; for instance, ageism (my category) I confessed I dyed my hair specifically to make myself more marketable for job interviews. In thinking about the characters who could inhabit the phobia brought on by the social issues, Velez had us draw the person across from us. Steve drew me, a messy haired woman with circles under her eyes; he was not inaccurate. The point of the exercise is that drawing someone—whether fictitious or not—is an act of intimacy and empathy. He said that to draw someone who is, say, attacked with acid or physically abused, can affect the way you think not only about the person, but the processes of social awareness.
I couldn't stay for the entire session, but the class went on to script and draw a one-page comic based on confronting a social issue, and turned it into an animated film using Mozilla's Popcorn Maker software, thus the term "Augmented Reality" to describe the end product. Velez and Devineni put no value on the quality of our work, but stressed the importance of the enjoyment of the process, and in the potential for comics to change the world we live in.
---