Hacking It As a Creative in the Tech Vortex
Colin Winnette on Immersing Yourself in the Flaws of Your Characters
As a member of San Francisco's Dolphin Swimming & Boating Club—a small open-water swim club located on the edge of Aquatic Park—I swim each time with a heavy ball bearing of fear in my gut. One of the club's long-standing members extols the virtues of the "Endorphin Cocktail," a specific blend of euphoria-inducing hormones dispensed in reward for our unique combination of exercise, extreme fluctuations in body temperature, and mortal terror. It's the kind of cocktail you can only drink when your bar is a mile-wide stretch of protected bay water populated with jellyfish, seals, and sea lions, that sits somewhere between 45- and 55-degrees Fahrenheit, depending on the time of year.
One morning, I was returning from a swim in these cold and hazardous waters, when I encountered a series of tweets by the social media platform's billionaire co-founder and former CEO Jack Dorsey. In them, Dorsey detailed a recent 10-day no-music, no-talking, no-eye contact birthday meditation retreat in Myanmar. He described a vigorous meditation routine comprising 17 hours of silent meditation beginning at 4 am each day, and he included a photo of a spartan room furnished with a cot-thin bed, an anemic stretch of grass and concrete he walked for "45 minutes a day," and the lower half of a pockmarked and raw-looking thigh (his own).
The mild injuries on his leg were sustained during a prolonged period of meditation in a Mandalay cave, where Dorsey says he endured over 117 mosquito bites before the light in the cave finally burned out, an experience charted in minute physiological detail by the heart monitoring app on Dorsey's Apple Watch (also photographed, noted as being placed in airplane mode). Reflecting on his goals for the trip, Dorsey said this "extremely painful" method of meditation was meant to "hack the deepest layer of the mind and reprogram it."
At the time, I was deep in the writing of what would become my new novel Users, and I was trying to unpack the unique blend of self-absorption, muted ambition, and willful self-deception that goes into the lightning-fast decision-making that seems to shape the landscape of tech development in San Francisco. I was struck by the irony of seeing the leading personality behind one of the noisiest places to exist online make such a meal of the rigorous and self-flagellating pursuit of silence, but it also made me nervous.
It's an uncomfortable feeling when the fears you have about the kind of person you might be becoming take shape in a character you'd initially set out to critique.
As a young writer who fell in love and moved to San Francisco in 2011 to work at an independent bookstore—but who over the course of the last decade has found himself paying the bills (and affording memberships to swim clubs) by doing creative writing for a variety of tech companies—the irony of Jack Dorsey's photos forced me to confront the possibility that the criticisms I was leveling at the characters I was writing in Users were more complicated and personal than I'd initially thought. It's an uncomfortable feeling when the fears you have about the kind of person you might be becoming take shape in a character you'd initially set out to critique.
I've always been drawn to writing characters with obvious flaws, but whose decisions are of great consequence. In my novel Haints Stay, two contract killers are charged with the survival of a young boy of mysterious provenance. In The Job of the Wasp, an obsessive and paranoid outcast finds himself at the center of a deadly, and potentially supernatural, conspiracy. And in Users, we witness the rise and fall of Miles, a VR creative who feels pressured by the mounting resentments of his user community (and accompanying death threats) to hastily develop a solution that will turn that community back on itself, forever altering the ways in which the people subjected to his increasingly unavoidable tech will experience and influence one another.
Writing these kinds of characters, I grapple with questions of how much I am like the flawed people I'm describing. Where do my sympathies align and where do they reach their limits? For better or worse, comparative thinking is an inescapable part of my writing process. On the one hand, asking to what degree I'm like the characters I'm writing can add depth and humanity to those I might otherwise over-abstract in initial drafts. On the other, this way of thinking inevitably leads me to ask: in what ways am I different? It's often in the particular answers I find to that question that I'm able to add tension and definition to a piece of writing.
It does feel a bit like the thing my therapist has been trying to get me to do for years: turning thoughts and feelings into observable objects, rather than behavioral mandates.
I started swimming at the Dolphin Club largely out of curiosity. As an experientially motivated person, I wanted to know what it felt like. And what it felt like—and still feels like each time I approach the edge of the cool, dark water—is a cresting wave of fear that breaks only upon entry, where it is quickly replaced by absolute tranquility. I never want to get into the water, but as soon as I've done it, it's rare I'm able to stop myself from declaring with utter sincerity, "I can't believe we get to do this," to my swim partner.
The peace I find in the hypothermic waters of a stunningly beautiful patch of San Francisco does more than quiet the endless churning of an anxious mind. It allows me to uncouple thought from action (or the desire to act), and occasionally gives me the distance necessary to consider my thoughts, critically and generously, rather than simply feel them. It's not exactly hacking the deepest layer of my mind to reprogram it, but it does feel a bit like the thing my therapist has been trying to get me to do for years: turning thoughts and feelings into observable objects, rather than behavioral mandates.
Dorsey's posts forced me to consider how comparable my endorphin-inducing and epiphanic early morning plunges were to a tech mogul's structured efforts to obliterate the world his actions had forever changed. To what degree did some of the details in my life mirror the behavior of the kind of person I'd initially set out to satirize, and was that impulse motivated by something more than social commentary?
I wouldn't say the book's completion led me to a definitive answer. I discovered similarities that make me uncomfortable, and it's on me to change or reconcile them. But there are also key distinctions that give me hope for the future, perhaps articulated best by the reader of an early draft. Over spongey squares of greasy Detroit-style pizza at Pizza Hacker in the Mission, my generous friend slid those nervous pages back to me with a wry smile, saying, "It's nice to see the tech stuff you've been doing has finally amounted to something."
___________________________________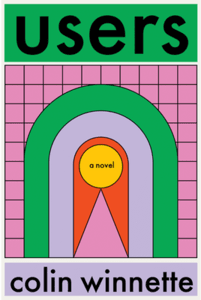 Users by Colin Winnette is available now from Soft Skull.
---