From Ghostbusters to H.P. Lovecraft: A Cultural History of Slime
Susanne Wedlich on the Manifestation of Paranoia in Film and Books
An abandoned corridor in a New York hotel plays host to a close encounter of the more unsavoury kind when ghostbuster Peter Venkman, still a rookie on the job, finds himself knocked down by a Class-5 Full Roaming Vapor and covered in green goo. This slimy showdown from supernatural comedy Ghostbusters, released in I984, emerged at a time when almost every film with a hint of spookiness was swimming in gunk.
Cinemas everywhere unleashed a great tide of slime, swamping a happily revolted public. The American journalist Daniel Engber views this tsunami of slime as an expression of a volatile era, one in which humanity's survival seemed under threat from radioactive contagions.
These fears found numerous manifestations in popular culture, sometimes, according to Engber, as luminous slime. Perhaps the Ghostbusters goo was vague enough to serve as a surface on to which diffuse emotions of all kinds might be projected, from a fear of radiation to a perennial aversion to slime itself. Yet the backdrop of history isn't the only reason why Peter Venkman's encounter with the slimy Class-5 Entity is so effective: even if you watch the cult classic today, it is nauseating.
There's something about slime that keeps us glued to the screen. It seems to be an unwritten rule of horror: slime sells! Zombies ooze, while mutants, aliens and other beasts are made of goo or leave, at least, a trail of slobber to get their audience gagging. As Jane Austen didn't quite say, it is a truth universally acknowledged that a monster with a nice leading role must be in want of some slime.
The toy industry understands this perverse allure too. It has well and truly put its money on the goo, the slimier and more disgusting the better. It may be little more than rubbish in the eyes of adults, but that is precisely its appeal for children; it's about creating a distinction between their world and the world of adults. In recent years, whole generations of children, from primary-school age to teenagers, have boosted the production of shimmering, glowing or outright toxic-looking slimes of all kinds. The thrill is in the taboo, in crossing a line, in grabbing it with both hands.
It's similar on the page, as the horror writer Stephen King freely admits. After terror and horror, the "gag reflex of revulsion," he writes, is the final facet of the goose-bumpy genre which he inflicts on his audience: "I recognize terror as the finest emotion and so I will try to terrorize the reader. But if I find that I cannot terrify, I will try to horrify, and if I find that I cannot horrify, I'll go for the gross-out. I'm not proud."
Perhaps the Ghostbusters goo was vague enough to serve as a surface on to which diffuse emotions of all kinds might be projected, from a fear of radiation to a perennial aversion to slime itself.
Of course, Stephen King didn't invent the doctrine of disgust. That occurred long before he took up the pen or green ectoplasms slunk on to our screens. The creations of H.P. Lovecraft (I890– I937) set the standard for slime in literature. The American author achieved little success during his lifetime, only publishing his stories in cheap pulp magazines. It's something of a tradition: slime continues to make an appearance in the apparently lesser fields of Gothic fiction, as well as in children's books, comics, computer games and pop culture of every stripe. Lovecraft is now regarded alongside authors like Edgar Allan Poe as one of the forefathers of fantastical horror-writing. Stephen King himself was inspired by "the twentieth-century horror story's dark and baroque prince."
Lovecraft's writing is populated by monstrosities spawned from an especially dark imagination, like the amorphous shoggoths in At the Mountains of Madness. These creatures are not much more than deep-black slime, out of which limbs can be formed: "a shapeless congeries of protoplasmic bubbles, faintly self-luminous, and with myriads of temporary eyes forming and unforming as pustules of green light all over the tunnel-filling front that bore down upon us…" Storylines are woven through Lovecraft's novellas and short stories which centre on the legend of Cthulhu, a kind of winged deity with tentacles on its face.
Cthulhu itself sleeps in his lair, the "green, slimy vaults" in the underwater "corpse-city" of R'lyeh, dreaming of his return—when the stars align. The Call of Cthulhu gives the reader a taste of this, when the powerful creature is torn from its slumber by a passing ship's crew: "Everyone listened, and everyone was listening still when It lumbered slobberingly into sight and gropingly squeezed Its gelatinous green immensity through the black doorway into the tainted outside air of the poison city of madness."
"Lovecraftian" has become a synonym for cosmic horror, a genre which sees ancient creatures from outer space or obscure gods living among us. They attempt to take over the world, abetted by wilful ignorance when humans turn a blind eye, allowing evil to take root and thrive in our midst. Lovecraft continued to reformulate this tried-and-tested horror motif time and again and inspired many of the more recent classics of the genre. His influence is particularly striking on the big screen, where our planet is overrun again and again by creatures from the depths of outer space, that is to say, from the depths of our subconscious: these are our fears made manifest. And at the center of it all is slime.
It's something of a tradition: slime continues to make an appearance in the apparently lesser fields of Gothic fiction, as well as in children's books, comics, computer games and pop culture of every stripe.
The ectoplasmic escapades in Ghostbusters are triggered by the return of the Sumerian god Gozer to Earth. He finds a temporary home in the form of Sigourney Weaver, who would soon go on to encounter yet more drool in another iconic scene in Alien. But slime's first big break on screen was as the deep-red Blob from outer space, which crash-landed on Earth in I958 and proceeded to hunt a young Steve McQueen and other earthlings. Run, don't walk, the trailer warned, decrying the "red menace," presumably symbolizing communism.
While the ghostbusters were slimed by ectoplasmic fears of nuclear waste, modern killer slimes, as conceived by the American writer Jeff VanderMeer, spring from biotech labs or Mother Nature's overheated mutation engine. Slimes go with the times, offering up a blob for every era and its attendant paranoias.
Stanisław Lem's philosophical novel Solaris is another great work of science fiction which has escaped any explicit interpretation. In the story it is humans that infect an extraterrestrial planet, ruled by an all-encompassing ocean of gel, which creates structures of mysterious beauty kilometers high. For decades, every attempt to communicate with this strange and totally indifferent intelligence fails.
The fictional mission does, however, achieve some, if painful, success. According to the famous astrophysicist and author Carl Sagan, ventures into the cosmos always hit rather close to home: "The quest for extraterrestrial intelligence is, in essence, a quest for ourselves." If so, then Lem testifies to human limitations.
Our own weakness is also the subject of H.P. Lovecraft's novella The Shadow over Innsmouth, with the protoplasmic shoggoths in a cameo role. They serve amphibious fish-people who live in the depths off Devil's Reef near an isolated little town in New England, passing on a toxic legacy to its inhabitants. Escaping the curse is impossible, as the hero of this nightmarish story is ultimately forced to accept. It is probably a fictional echo of the author's real-life fears. Born in Providence, Rhode Island, Lovecraft's childhood and youth was overshadowed by his father's long illness and early death. The elder Lovecraft was taken to an insane asylum and is believed to have died there of the effects of late-stage syphilis.
Men who suffer from the disease are able to infect their wives, who might in turn pass the pathogen on to their unborn child. Did Lovecraft's mother Sarah Susan search for signs of her husband's "degeneracy" in her son? All we know is that she swung between showering him with love and describing him as "grotesque" and "disfigured." It is perhaps no surprise that H.P. Lovecraft developed into a night-walking loner. His mother died, like her husband, at Butler Hospital in Providence, though it remains unclear as to whether she too had contracted syphilis.
Slimes go with the times, offering up a blob for every era and its attendant paranoias.
The couple's son, however, had found solace in books from an early age. Alongside the horror classics of Edgar Allan Poe were articles on astronomy which may well have provided Lovecraft with the inspiration for outer space as a source of all-powerful monsters. Their biologistic, slimy appearance might be traced back to an awareness of evolutionary biology, which was becoming increasingly established among the public at the time.
Ernst Haeckel, the leading German Darwinist, was especially influential. Many of the undulating lines and exquisite details of art nouveau designs of the time are, as we have seen, indebted to his biological drawings. But his accomplishments as an illustrator do not permit us to forget his work on the origin of man, which he based on breeding and selection and led him to categorize humans into "species" and "races," with some inferior to others and even doomed to extinction.
The Fly was a success, but also marked the end of the cinematic orgy of ooze. The tide of slime which had washed over the big screen seemed to retreat as abruptly as it had come.
He also seemed to suggest that disabled people were an unsupportable burden on society.Whether he carried a thought experiment through to its bitter climax or was writing with conviction remains unclear and is ultimately irrelevant. His work was among that which formed the theoretical basis of twentieth-century eugenics.
Haeckel found a keen student in Lovecraft, who romanticized himself as the noble descendant of the New England aristocracy, born in the wrong period of history. Lovecraft rejected modernity. The then-dawning American Century and the First World War appear as little more than background noise in his fiction, which he historicized in almost comically stilted language. What perhaps began as eccentric retrophilia on Lovecraft's part, however, had a much darker side as well. Racist and anti-Semitic, he was repelled by a mix of ethnicities. That which was foreign could not be assimilated in his view. There is an often-quoted letter from the I920s about the inhabitants of the New York slums whom, in lines dripping with poison and disgust, he calls a "nightmare of perverse infection":
The organic things—Italo-Semitico-Mongoloid—inhabiting that awful cesspool could not by any stretch of the imagination be call'd human. They were monstrous and nebulous adumbrations of the pithecanthropoid and amoebal; vaguely moulded from some stinking viscous slime of earth's corruption, and slithering and oozing in and on the filthy streets or in and out of windows and doorways in a fashion suggestive of nothing but infesting worms or deep-sea unnamabilities. They—or the degenerate gelatinous fermentation of which they were composed—seem'd to ooze, seep and trickle thro' the gaping cracks in the horrible houses…
In Lovecraft's fiction, as in other horror stories, it is usually hard men, most often scientists, who come face to face with cosmic killer slimes. Their boundless curiosity and hubris are what uncovers nature's dark secrets in the first place and unleashes horrors which should have been kept under lock and key—or eternal ice.
In I95I, in the eponymous movie, Norwegian polar scientists stumbled on screen upon the Thing from Another World amid the unending Antarctic ice, where it was hibernating in its spaceship. Like the shoggoths, once awakened this alien can shape-shift, impersonating the men themselves with beguiling accuracy. From then on, the scientists must fight a monster which walks among them, assuming a familiar face.
The drippy evil residing inside us gets even more personal in the David Cronenberg film The Fly from I986. Here, scientific hubris brings about the downfall of Seth Brundle, a scientist, who transforms into a grotesque, oozing human-insect hybrid after an experiment gone awry. Like the inhabitants of Lovecraft's Innsmouth, Brundle metamorphoses, changing from a larval-stage human into a degenerate monster. The Fly was a success, but also marked the end of the cinematic orgy of ooze. The tide of slime which had washed over the big screen seemed to retreat as abruptly as it had come.
"The end of the millennium heralded the closing of a cycle," writes Rebecca Bell-Metereau, a media studies scholar, in an essay on slime, sexuality and the grotesque in 2004, continuing: "Audiences seemed to lose their fascination with gross and slimy fare. Apocalyptic fears and terrorist attacks dampened viewers' desires for images of the grotesque. Supplanted by a crop of war pictures, these slimy, disgusting movies passed out of fashion for a time … but they will be back." From today's perspective, Bell-Metereau's assessment has proved exactly right.
Alien never really went away, new versions of The Blob and The Fly are planned, and Ghostbusters recently returned to screens with an all-women team hunting down slimy Class-5 Entities. Even some more of Lovecraft's hard-to-adapt stories are supposedly in the works to appear on screen. And slime goes small nowadays by streaming right into our homes.
The Expanse on Amazon is a series set in a future that has all but forgotten timeless Lovecraftian lessons. Human factions fight each other over a luminous gel that turns out to be a highly infectious alien slime with a mind of its own: "Take that, blue goo!" On Netflix, on the other hand, the inhabitants of small-town Hawkins, Indiana equally don't get much choice but to fight the black slime oozing its way in from a scary "Upside Down" world—Stranger Things indeed.
_____________________________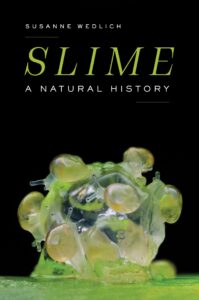 Excerpted from Slime by Susanne Wedlich, available from Melville House
---