Growing Up Queer: A Coming-of-Age Reading List
Richard Mirabella Recommends Kaitlyn Greenidge, Zak Salih, and More
Queer coming of age is much more than a character discovering or accepting their queerness and moving on. It's an ongoing struggle toward feeling life, toward celebration of self. My novel, Brother & Sister Enter the Forest, can be seen as a coming-of-age story, but to me it's really about the disruptions many of us face on our way to growing up, and how sometimes we don't come-of-age at all, but remain in a middle place, pulled in two directions, toward the past and future. In these novels, the transition from youth to adulthood is rocky.
Here are books about children learning about the troubles of the world, young adults trying to find their place as queer people in a straight society, and a few adults who don't quite fit into the mold of expected adulthood, who are still trying to shake off the skins of their former selves. I chose these books also because they portray queer life in original and truthful ways, not idealizing them, or making them strictly tragic; they cover a spectrum of experience.
*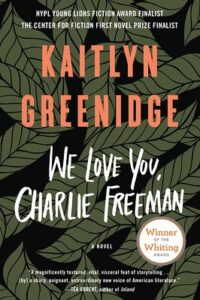 We Love You, Charlie Freeman by Kaitlyn Greenidge
An intelligent, heartfelt novel about family, racism in the sciences, sisters, and self-discovery. If you follow her on Twitter, you already know that Greenidge is astute and erudite, unafraid to tell the truth about our culture and political climate. Her first novel works on every level, the personal, the political, historical, emotional. The Freemans of the title move to a research facility to participate in an experiment where they will live with a chimpanzee that was abandoned by his mother.
Simultaneously, we learn the racist history of the institute itself. Within this complex tapestry is our guide, Charlotte, the soul of the book, a teenager dealing with a strange situation, who is also, we discover, queer. The awkward, painful beginning of her life as a queer woman is handled deftly by Greenidge. A sensitive and loving portrayal.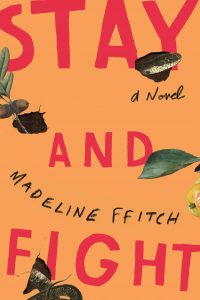 Stay and Fight by Madeline ffitch
In this exciting and quirky book of voices, ffitch introduces us to a new kind of family, the queerest of the queer. Outsiders trying to live honestly, the hard way. Can they make it? Will they give up, or will they stay and fight? When Helen's boyfriend abandons her just as they were supposed to be setting up a home in the wilds of Appalachian Ohio, she meets a couple, Lily and Karen, who are expecting their first child and losing their home. Helen invites the family to create a new home with her, and what ensues is a riveting tale of the struggle to resist the power of the outside world, and of relationships that break from convention.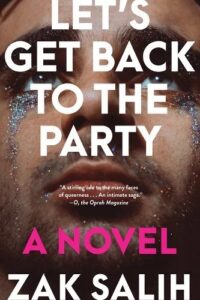 Let's Get Back to the Party by Zak Salih
A coming-of-age novel which finds the characters already grown, but not able to let the pain and trauma of their early lives go. I don't recall reading a novel which so specifically details a particular delayed adulthood in gay men of a certain age, those who grew up during the AIDS crisis, who encountered the fear mongering and shaming of that time, the trauma of watching men, possible future versions of themselves, dying. Oscar and Sebastian are each dealing with this in their own way: Oscar with partying and lamenting what he sees as the death of gay culture, resisting assimilation, and Sebastian with a desire to connect and settle down. He also envies his young queer students, who are living openly, in a way he couldn't at their age. This is an uneasy and singular novel of gay life. I found myself laughing and crying with recognition. I don't need to see myself in a novel, and prefer not to, honestly, but here it was exhilarating.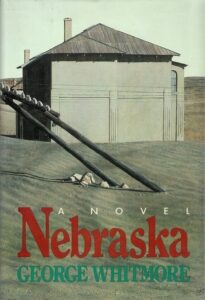 Nebraska by George Whitmore
"You would never listen to me and now look what happened!" Mama fainted dead away. The next thing I knew I woke up with my leg gone.
Where to begin with this novel. It has meant the world to me. Written by George Whitmore, who would die of AIDS a year after its release, it is funny, dark, brutal, audacious, and finally graceful. Though the moment of grace at the end comes with a dash of the taboo, which recalls some of the works of James Purdy. Nebraska tells the story of Craig whose Uncle Wayne, a mysterious and dashing young man, comes to stay with the family after Craig is injured in an accident. The arrival of this attractive man sparks something in Craig, causing trouble for him and the family, and shame that echoes through Craig and Wayne's lives. A novel that refuses a simple recovery or coming-to-terms with past mistakes and traumas. It should be a gay classic, and I hope it's reprinted in the near future.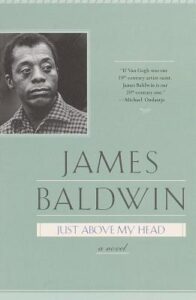 Just Above My Head by James Baldwin
What makes this novel so abundantly queer is this concept: The brother, Hall, who is straight, telling the story of his queer brother, Arthur, but not only that, living within him in the telling of his tale. Loving other men, feeling the experience of his queer sibling. On the surface it's the story of Arthur's rise as a gospel singer, but Hall's consciousness, and therefore the novel, spreads out to capture the lives and tales of the people Hall and his brother know and love. It is tremendously moving and boundary breaking like so much of Baldwin's fiction. Here is a novel as epic and political as it is intimate and delicate. Like Another Country, the relationships are fraught, and there are long scenes of socializing, food, fabulous clothes, joy, music, and heartbreak.
__________________________________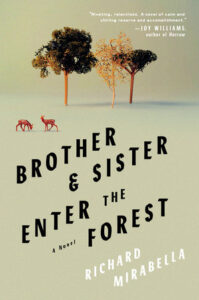 Brother & Sister Enter the Forest by Richard Mirabella is available from Catapult.
---