Growing Up Gay in a Proud Southern Family
"The Thing I Feared Most in Myself Would One Day Be My Greatest Joy"
When I was six, we moved across town to a nicer neighborhood called Budleigh, where our new L-shaped ranch house aspired to colonial charm with dark-green shutters and a superfluous cupola like one you might find on a Howard Johnson's. With the leftover lumber my father built a playhouse in the backyard that was big enough to hold all three of us kids. For me, it was also a playhouse in the theatrical sense, since there was a porch along one edge that worked wonderfully as a stage. Above the porch, above everything, Daddy had emblazoned a message with my mother's red nail polish: SAVE YOUR CONFEDERATE MONEY! THE SOUTH WILL RISE AGAIN. I already knew this was not especially suited to a production of Jack and the Beanstalk, but I was determined to make the best of what I'd been given.
My brother and sister were too young for the theater, so my costar was Freddy Fletcher from down the street. I played Jack, and Freddy played the bean seller and the Giant. Freddy couldn't act worth a damn, but he offered other advantages. His father was in show business—an announcer down at WRAL Radio—so, amazingly, the Fletchers had their own mimeograph machine at home. Freddy and I cranked out flyers by the dozens and got giggly drunk on the sweet purple fumes as we passed them out door-to-door on Gloucester Road.
One afternoon, Mr. Fletcher came by our rehearsals after his morning at the station. He was bald and smoked cigars and reminded me of Dennis the Menace's next-door neighbor in the Sunday funnies. We played our beanstalk scene for him, the one where I climb a bamboo pole to the roof of the playhouse, and he seemed impressed. The next day, though, Freddy showed up with a strange proposal.
"I'll give you five bucks for something."
I told him he didn't have five bucks. I knew this because Freddy and I got the same allowance, and I didn't have five bucks either. I had probably already spent my last quarter on a matinee of Rear Window and a box of Red Hots at the Village Theater. We were both paupers. We didn't run around with that kind of money.
Freddy corrected himself. "My daddy will give you five bucks." He pointed to my father's message above the playhouse. "If you'll get rid of that."
When I asked him what was wrong with that, he just shrugged and went home. I wondered if his father thought the inscription was disrespectful of the South, but that was stupid, since nobody respected the South more than Daddy did. It was just for fun, anyway, like Daddy's cartoon in the bathroom: the grumpy old Rebel soldier with a Confederate flag and the caption that said: "Forget, Hell!"
That night I told Daddy about Mr. Fletcher's offer. He was sitting on a stool at the counter between our kitchen and family room, where, almost every night, he sipped bourbon on the rocks and scarfed Triscuits and cheese from a wooden salad bowl. When he heard my story, his face balled up like a big pink fist.
"Fred Fletcher said that? That he would pay you?" I shrugged. "That's what Freddy said."
"Did he say why the hell why?"
I shook my head warily. Daddy's scattershot anger could be unnerving. Even when he wasn't mad at you, he sounded like he might be.
"How did he even know about the goddamn thing?"
I told him. Mr. Fletcher came by to watch our rehearsal. "Presumptuous sonofabitch!"
I hesitated a moment before asking: "Are they Yankees or something?"
"Hell, no." Daddy thrust a Triscuit into his mouth and chewed ferociously. "They're from Fuquay Springs. They're just common."
Common was worse than Yankee in Daddy's book. Some Yankees were fine, he said—the genteel ones from New England—but common was just plain common.
Mr. Fletcher's offer—his "five-buck bribe," as Daddy described it to Mummie—was never discussed again. The nail-polish manifesto stayed intact, and Mr. Fletcher didn't come to Jack and the Beanstalk when it opened the next day. His wife, Marjie (whose name did sound a little common once I'd thought about it), arrived on her own with a tray of Rice Krispies treats. I wondered if she'd be upset, but she smiled at me pleasantly as I waited by the playhouse for my entrance. I was costumed in Rit-dyed green tights and one of Daddy's old white shirts, cinched at the waist with my webbed Boy Scout belt. I was trying to go over my lines, but I was distracted by Daddy as he yelled at my mother about Mr. Fletcher. (Mummie referred to this as "addressing the jury," though never to Daddy's face.)
". . . sonofabitch thinks he can pay my son to renounce his heritage!"
"All right, darling, lower your voice." Mummie knew that Marjie Fletcher was seated nearby, and Daddy, of course, knew it, too. He wanted her to hear this.
"You ever listen to that goddamn thing? 'Tempus Fugit!' He can tempus my fugit."
I recognized the name of Mr. Fletcher's radio program.
"It's goddamn ridiculous. Fairy tales for grown-ups. Does all the voices, too. Calls himself the Fairy Tale Man. Nobody takes him seriously."
"Sounds sweet," my mother offered.
"It ain't sweet. It's propaganda. You know what that means? Tempus fugit? Time flies, that's what. Nothing remains the same. That's Communist right there!"
My mother caught my eye, hoping for a way out. "Look," she said brightly. "There's Teddy! Doesn't he look stalwart?"
Daddy would not be silenced. "I don't listen to the damn fool thing, but Hank Haywood heard it down at the Sphinx Club. All these forest creatures rompin' around in harmony . . . but it ain't about that at all. It's about lettin' niggers in the schools."
"Be quiet, Armistead!" My mother's forefinger shot to her lips like a scarlet-tipped musket raised in warning. She didn't approve of that word. Not in public, not with Marjie Fletcher sitting within earshot. Once, down at a cottage at Wrightsville Beach, I used the word in a row with our maid's daughter, a skinny girl three years my senior. My mother overheard it and yanked me away by the wrist.
"You do not use that word, Teddy. Ever."
"She took my steam shovel."
"I don't care. You don't use that word. You hurt her feelings."
"Daddy says it all the time."
"It doesn't matter," she said. "He's your father." That was her explanation for so many things.
I banned the N-word from my vocabulary, but there were further intricacies to be learned about race, and my mother set me straight on those as well. When I referred to someone as a "colored lady," she corrected me gently: "No, darling, she's a colored woman. There are no colored ladies. Only white ladies are ladies."
It was all so complicated.
*
When grownups talked about Daddy they often liked to use the word unreconstructed. For a long time I didn't understand what that meant, historically speaking, but it sounded like someone who had been taken apart and never put back together. Unreconstructed. Most folks used the word with humor and affection, but sometimes they would inject a disdainful note as if Daddy had somehow gone too far. I figured them to be Yankee sympathizers—or, like my Maupin cousins up in Cincinnati, actual Yankees—so I paid no mind to them. Yankees didn't get it.
I had sort of hoped that Freddy would turn out to be a Yankee.  I myself had been accused of that, so I would have enjoyed turning the tables. Since I had been born in Washington, D.C., while Daddy was skippering a minesweeper in the Pacific, some of the kids at Ravenscroft School said that made me a Yankee. (Washington, after all, had been the capital of the North.) I had no choice but to take my accusers to our living room and show them the portrait over our Roman brick fireplace.
"That's Grandpa Branch. He was a Confederate general who died at Antietam. A Yankee sniper shot him off his horse when he was talking to General Lee. They put his body on display downtown in the Capitol. Mimi still sleeps in his bed."
Then I would take them to my grandmother's room and show them the bed itself, a sleigh bed with a chipped mahogany veneer that exposed the pale, dry bones beneath. "It's very old," I would tell them. "It was made by slaves in our family."
That's how my father always put it: slaves in our family.
I had copied his language because I thought it made us sound genteel but compassionate, the sort of kindly slaveholders who embraced their human property as family. Exactly where we held the slaves—or even where that bed had been made—was not entirely clear to me, but no one ever challenged the claim. Grandpa Branch's house, a gratifyingly white-columned mansion with its own North Carolina historical marker, still stood down on Hillsborough Street, but it was nowhere near a cotton field. When I tried to picture house slaves doing whatever they were supposed to do, the image failed to materialize, since I'd never even been inside the house. It was a funeral home now, and a shabby one at that. It catered to Baptists and Holy Rollers, Daddy said, so none of us was ever likely to be found there, dead or alive.
This was disappointing, since my grandmother had told me so much about this house. General Sherman, she said, had been quartered there on his bloody March to the Sea. The Yankee general had been a friend of Grandpa Branch back when they were both in the U.S. Army, so he had accepted the kind hospitality of Grandma Branch and placed guards around the house to protect it from his own plundering troops. (I've often wondered about the sleeping arrangement—it was not the sort of thing I would have asked Mimi—but who could have faulted the hapless widow for being "hospitable" when her life and home were at stake.)
This was Mimi's own grandmother, so the story felt thrillingly current every time she told it, as if she herself had heard Sherman and Grandma Branch swapping pleasantries over hotcakes at the breakfast table before he went about his daily pillaging. Mimi always ended the story by saying that the weathercock on the steeple of Christ Church was the last poultry left in town after Sherman's army left.
I loved telling friends about the time Mimi rode on Jefferson Davis's catafalque. I wasn't completely clear on what a catafalque was, but I imagined it to be a sort of coffin-on-wheels with a platform for passengers. The Confederate president had been dead and buried in a New Orleans cemetery for almost four years when his widow decided he should be moved back to the Capital of the Confederacy. So, nearly 30 years after the South had fallen, the remains of its president were transplanted slightly to the north in a grand public spectacle that was part funeral procession, part whistle-stop tour. Mimi, by virtue of her slain Rebel grandfather, was invited to ride on this sacred box of bones when it passed through Raleigh. She was five years old. What she remembered, from the middle of the next century, was a starchy dress and the way her mother had scolded her when she smiled and waved merrily to the mourners along Hillsborough Street.
There was still evidence of this history in Mimi's room, most of it contained in a chest of drawers that looked like the big-shouldered sister of Grandpa Branch's sleigh bed. Even as a boy, I was allowed to explore this treasure trove in the name of family research. I found sepia photographs mounted on cardboard and letters from Civil War days, one of which—I forget whose—I took downtown to the Hall of History for lamination before returning it to the dresser. The bottom drawer held shoe boxes of typewritten letters bound with crumbling rubber bands. I found them less interesting than the others, since they were all from the 1930s, barely a decade older than I was. They were mostly testimonials from local organizations on the occasion of Mimi's husband's death: what a fine man he had been, what a fine husband and father, what a sterling citizen. They were so laden with bland civic hyperbole that I lost interest in them, never considering what might have motivated such overstatement. Besides, I had no face for my grandfather. We didn't talk about him; there was no portrait of him over the fireplace.
Mimi was a sweet, bent-over little thing, uncomplaining as the day was long, with a hearing aid in her slip as clunky as a bar of Ivory soap. She got increasingly shaky and doty as I moved toward my teen years. That's how my mother put it: shaky and doty, delicate shorthand for Parkinson's and Alzheimer's. When Mimi's mind played tricks on her, it usually did so before bedtime, so my father, alerted by my mother, would storm off to Mimi's room to fix things. Behind the closed door you could hear only Daddy's half of the conversation, but that's all you needed.
"Goddammit, Mama, they are not investigating you! . . . I don't care what you heard, that's ridiculous. . . . When? Who said that? . . . The goddamn Christ Church prayer group is not investigating you, Mama. . . . All right, the Women's Auxiliary, they aren't investigating you either! This is crazy talk, Mama. Nobody's doin' any such thing." I knew my father was right, but I never stopped to think about why Mimi's nocturnal terrors made him so angry, why he seemed to take them personally. One night, after a trip to the kitchen for Bosco and milk and a sandwich, I heard an odd sound coming from Mimi's room. I stopped at the end of the hallway and listened. The sound came and went, an intermittent squeak, like that little noise dogs make when they're dreaming. It took me a while to figure out what Mimi was doing, right there in Grandpa Branch's big sleigh bed, and it was deeply unsettling.
Old ladies were not supposed to cry in their sleep like little children.
*
I got off easily, I guess, as Southern boyhoods went, since my father never insisted on guns or sports. He rarely ever talked about either, in fact, explaining that the pistol in his bedroom was intended only for protection from intruders. This suited me fine, since I was humiliated by the compulsory ball games at recess, and I could fall into guilty despair if I killed so much as a fly in a windowsill. I didn't even like fishing. The sight of a fish flapping and gasping on a dock, dying alone, away from its family, was cause for great anguish. My delicacy in this regard cannot have gone unnoticed by my father, but I don't remember him ever remarking on it; maybe he thought it would eventually recede with the arrival of testosterone.
He had to summon new reserves of strength when, in my teens, I decided I needed a stained-glass window for my bedroom. I had seen the windows at Ye Blue Tartane, a "European-style" motor court in Petersburg, Virginia, and wanted the same Olde Worlde charm for my bedroom. My father, with only a trace of a sigh, agreed to take me to Raleigh's sole purveyor of stained glass, a workshop in the country where an old man in suspenders made windows for Baptist churches. I chose various textures of green, red, and purple glass, then told the glazier exactly how I wanted the squares and rectangles arranged. Daddy watched this process in silence, frowning a little now and then. What must he have been thinking?
"My youth would be like that, the slow decay of cherished myths—about politics and race, about love itself—until nothing was left but compost from which something authentic could finally begin to grow."
I was in the middle of a crafty period back then. I concocted natural vegetable dyes on the stove in the kitchen, turning skeins of yarn gold and purple with onion skins and bark and berries. I loved the whole process: waiting for the colors to turn out, then fixing them with alum and admiring the results when the yarn was dry and soft and bunched up again. I couldn't knit, so I never actually made anything with the yarn. But I pinned the skeins to a piece of stiff cardboard with labels, like a rock collection, and submitted it to the Broughton Science Fair. They told me it didn't quite fit any of their categories and I should think about submitting it to the Arts Fair. The Arts Fair told me roughly the same thing, only they suggested I try a Sewing Fair, at which point I decided it was probably safer to enjoy my pretty yarn in private.
It's not like Daddy didn't like beautiful things himself. He built a bamboo bridge over our muddy creek and a lych-gate at the bottom of the garden. His azaleas were the envy of the neighborhood. On the way back from the beach he would stop and buy specimen plants at the nursery at Orton Plantation, a bona fide piece of the Old South that could easily be transplanted to Raleigh. Following his example, I harvested a tangle of Spanish moss from an oak tree behind an Esso station and brought it home with visions of an antebellum transformation in our backyard. Daddy was dubious, but I was determined to show him. I draped the stuff among our dogwoods like Christmas tinsel and waited for it to flourish, fluffing it a little from time to time, sprinkling it with the hose. It took weeks for the gray-green strands to shrivel into black filaments, so I never knew the exact moment of its death, just the unfixable fact of it. My youth would be like that, the slow decay of cherished myths—about politics and race, about love itself—until nothing was left but compost from which something authentic could finally begin to grow.
*
Which is not to say that I didn't love being Southern as a child. I loved it as much as anything, as much as the Hardy Boys and fountain Cokes and Rosemary Clooney in White Christmas. I read and reread a book called Tar Heel Ghosts, true North Carolina stories of eerie lights along railroad tracks, and faces reappearing in windows, and a perfectly circular path in the pinewoods where nothing grew and objects left on the path before midnight would be gone by dawn. I loved the idea that the landscape itself was part of the story, a surviving portal into the past that you could see and touch. I was especially enchanted by an old lead mine on the edge of town, a muddy tunnel barely wide enough for a boy to wriggle in on his belly, where graphite had once been dug for use in Rebel gunpowder. My patriotism alone demanded I explore it. The tunnel turned out to be only a dozen feet long, but it was a wonder those dripping pencil-gray walls never swallowed me up like Little Kathy in the well, a candidate for some other kid's letter of consolation. (Daddy would surely have told the press that at least I had died the way I would have wanted, entombed in Confederate gunpowder.)
I was just as enthralled by Christ Church, the neo-Gothic stone pile on Capitol Square that our family had attended since before the Civil War. It was my own version of the House of Usher, smelling exotically of musty velvet and lilies and linseed oil. It was there that I earned my God and Country Award as a Boy Scout, religiously squeezing Elmer's Glue into the cracked spines of prayer books. Sometimes my friend Clark and I snuck into the bell tower or crawled under the floorboards looking for Bishop Ravenscroft, who was said to be buried beneath the altar.
You could still see my father's tooth marks in Pew 17, where, as a small boy, he had gnawed on the wood in boredom during long communion services on his knees. I learned about those tooth marks when Daddy cited them as proof of our dominion over Pew 17. We had always been in Pew 17, he said, and everyone knew that except those common-as-pigs'-tracks newcomers who had brazenly sat in our pew one Sunday when we stayed home. The old man had heard about this from Miss Nell and Miss Elizabeth Hinsdale, the spinster sisters who occupied the pew in front of us, each adorned with an entire dead creature—furry head, tail, paws, and everything. Once we knew of the pew invaders, our church attendance improved dramatically, and the mood at home grew more urgent on Sunday mornings.
"Goddammit, Diana, get 'em in the car. That goddamn house painter is gonna beat us to the pew."
My parents were not especially religious. They would not like to read that here, but they weren't. It was just something we were supposed to do. My father had given me a prayer book for my confirmation, one his own father had given him, but it was more of a familial ritual than anything to do with a private God. My mother was famously kind and loving, an innately good-hearted person, but the guidance she whispered in my ear during church largely focused on my appearance. Look reverent, was what I heard most often, which irked me, since I knew I was great at looking reverent. I was an acolyte, personally trained by Reverend Sapp. I knew how to look plenty reverent when snuffing out a candle. Brides-to-be, in fact, sometimes requested me by name for their weddings.
Reverend Daniel Sapp was a gentle, willowy man who was beloved for spending hours at the bedsides of the sick and dying. Most folks, out of affection and familiarity, mashed his first and last names into a single word: Dansapp. The fact that he had a wife and children was usually enough to absolve him from the widespread suspicion that he might be "that way," though there was reason for such speculation, given his fondness for camp. When greeting his flock after the service, Dansapp referred to his cassock as his "dress," especially if it was something in raspberry. He got a kick out of inviting new parishioners to his office to see his "collection of cocks." There, to their great relief, they would behold his array of rooster figurines, an affectionate nod to the historic weathercock on the steeple.
My mother's concerns about my demeanor in church escalated in my early teens when I decided to ditch ordinary Episcopalianism for the High Church version. I began crossing myself with such casual aplomb that I might have been doing it for years. This brought puzzled sideways frowns from Mummie, but she let my unilateral act of rebellion pass without comment. I'm sure she knew it would not last long, and it didn't. I got totally hung up on transubstantiation, the part about the wafer literally turning to flesh in my mouth. I would address this concern 20 years later in More Tales of the City, when I invented a group of High Church Episcopalians who took their faith so seriously that they ate actual body parts—stolen medical waste—on a catwalk high above the altar in San Francisco's Grace Cathedral. In another 16 years, when the More Tales miniseries was filmed, I would be asked to play the priest in that scene. My deficiencies as an actor made this moment awkward enough, but the severed rubber foot that was dropped on me bounced absurdly when it hit the altar. Our French-Canadian director had no sympathy when I confessed to feeling queasy about the scene. "You wrote it," he said with a Gallic shrug.
Until the day she died my mother never stopped worrying about how I appeared to the world. When I was in my early teens she sat me down and told me gently that I shouldn't see so much of my friend Eddie. At first I thought this was because Eddie was a Yankee (by way of Minneapolis and Miami) who vehemently disapproved of the Confederate monument on Capitol Square and whose parents had Danish modern furniture in their house. But then she spelled it out for me: Eddie was "a little bit sissy," and if we were close friends, "people might get the wrong idea." I had never had that idea myself; I just thought he liked movies.
I know my mother thought she was worrying in my own best interest, as she did with all of us. When acne arrived, as promised, she saw my despair (and my early abuse of Clearasil as a concealer) and taught me to clear my face of oil with a splash of Mennen's Skin Bracer on a quilted cotton pad. Then she went on lengthy reconnaissance missions, hunting blackheads like a mother monkey hunting fleas, popping them with her nails and holding up the waxy proof of her labors. "Look, darling. We got him good. Wait a sec, don't move. There's one more teeny one here on your neck." The process was humiliating, and often unnerving. Sometimes, when we were talking, I realized she wasn't looking at me at all, just patrolling my pores for the enemy. She could pounce unexpectedly, too, forcing me to swat her away with gangly mortification.
She also fretted over the way I walked, sort of slew-footed with my feet turned out like a duck—very much the way I still walk, as a matter of fact. There was nothing physically wrong with me, she said; it was just a bad habit I could break by consciously turning my feet straight until it became second nature. She had lots of time to test this theory when the family spent a week at Shrine Mont, an Episcopal retreat in the mountains of Virginia. On the way to the dining room or the slimy-green swimming pool, my mother would linger a few paces behind. "Turn 'em straight, darling," she would call like a cheery drill sergeant; or sometimes, "Much better!" just to keep my spirits up. I was unconvinced. Nothing about this awkward exercise would ever become second nature to me. If you want to feel even more like a duck, try walking like a pigeon.
It was maybe a year later that our doctor noticed something amiss in the cleft of my butt, up at the very top, near the bottom of my back, a dimple of sorts that apparently was the vestigial remnant of the glands birds use for preening their feathers. Lots of perfectly normal young men had these, my mother assured me, but they could sometimes become infected. And, since tens of thousands of servicemen had been hospitalized during the Second World War with "Jeeps Disease" (so named because it was thought to be caused by bouncing in a Jeep), my "pigeon preener" (as my mother cheerfully called it) would automatically exempt me from service. This distressed my father, who had big plans for me, military-wise, when the time came.
Not to worry, said the doctor. He could perform a simple operation in his office, just a few stitches with the shades drawn, and no one would be the wiser. I knew already that there was another way to be disqualified for military service, but that would not betray me unless I waited too long to get married. My father got married when he was 26, so I figured that was how long I would have before anyone became suspicious. In the meantime, I took my cues from Dear Abby, who had recently told her readers that parents should be concerned if their 16-year-old child had never kissed a member of the opposite sex. That was all the expert advice I needed. I took a girl I barely knew to Roy's Drive-In and gave her desultory kisses while the windows fogged up. It felt like earning a merit badge.
I knew I was mentally ill. I had read it somewhere in a magazine. I'd heard that there were ways to treat it, too, if a psychiatrist was alerted early enough. But I couldn't bring myself to tell my parents, even if it could save me from permanent insanity. There were mornings when I woke up thinking, Tonight I'll tell them. After supper, maybe, or after Gunsmoke, when Tony and Jane and Mimi are in bed. But I never found the nerve. (Had I done so, I would no doubt have other stories to tell you now, ones about homoerotic slide shows with electroshock devices that attached, ever so correctively, to my genitals.)
I decided that one way to thwart my inevitable shame would be to become paralyzed from the waist down. If I couldn't use that part of me, no one, including my wife-to-be, could have unrealistic expectations. I would have lots of sympathy, too, as well as an air of nobility. Exactly how I was to achieve paralysis was never clear to me. A car wreck, perhaps, if it wasn't a really bad one. Polio might work, too, though people rarely got that anymore; we had had the shots.
I can pinpoint the day when I knew there would be no fixing me. It was a muggy summer afternoon, and I had just dropped Mimi off at the beauty parlor in the old Carolina Hotel on Nash Square. Killing time, I wandered into the newsstand—the "blind stand," as they were called back then, since they were traditionally staffed by blind people. There, prominently displayed on a rack, was a magazine called Demigods with a blond, bare-chested man staring at me from the cover. I had seen photos of shirtless men before—in the Sears catalog, for instance—but this guy was not there in the name of haberdashery. He was lolling in bed amid a tangle of satin sheets, and, quite clearly, he wanted me.
Since the blind cashier was the only other person in the room, I could easily have flipped through that magazine. Hell, I could have bought the damned thing. I could have told him it was Time or Field & Stream, left a few coins in his dish, and sailed out of the room with my prize. But I knew that the blind had other senses that were highly developed. What if the mere sound of my footfall had betrayed my exact location and object of my lust? What if he could smell me loitering there?
I fled the magazine and the newsstand with a feeble Thank you, sir just to make it clear to him that I hadn't been shoplifting, and sought refuge from my panic in my new car, a cherry-red VW bug that enveloped me like a blast furnace when I unlocked the door. I turned on the radio to collect myself, only to hear a song called "Walk on the Wild Side," which seemed the perfect soundtrack for the moment, since it proclaimed with sultry trombones that I had already begun my slide into hell. (This was not the famous Lou Reed song but an earlier one of the same name, written for a movie starring Jane Fonda as a New Orleans hooker.)
"This was my own dark forest, bristling with hideous demons; this was the very man I did not want to be."
How could I argue with that? I had seen the abyss now, and it was blond and bare-chested. Apparently, there were whole magazines out there devoted to my secret mental illness—or, as the state of North Carolina had officially phrased it, "the unspeakable crime against nature." I knew that term already because of my trigonometry teacher, a man I still think of as the meanest teacher I ever had. On the very first day of class he appeared to delight in our confusion over our daunting new subject and threatened to flunk us all if we didn't get a grip on it, and quick.
I remember how overwhelmed I felt, how completely at his mercy. And I can still feel the flood of relief that came a week later when another teacher showed up, unannounced, to replace him. Most of us assumed his dismissal had to do with his sadistic teaching methods, until an item appeared in the morning paper. He had been arrested for crimes against nature in William B. Umstead State Park, on the edge of town. When the word spread around class, I remember making a flippant joke about defacing trees, but it was no joke to me. This was my own dark forest, bristling with hideous demons; this was the very man I did not want to be.
When I returned to the Carolina Hotel that muggy afternoon, I steered clear of the blind stand. I went straight to the beauty parlor, where Mimi was already waiting for me, her thin, mouse-colored hair artfully arranged above her sweet, plain face. I told her how pretty she looked and asked if she wanted to go for a drive. So we went to Oakwood Cemetery, where, at the nursery greenhouse just outside the gate, I bought myself a potted cactus as I often did on our weekly Sunday visits. (I had many such cacti in my bedroom window, a phalanx of telltale phalluses facing the world in stoic silence.) In the cemetery Mimi stood by her husband's grave for several minutes, looking her best for him, until the weighing-down heat of the afternoon finally got too much for us.
We stopped for milkshakes at the Krispy Kreme on our way home. Even as a teenager I loved doing things like this with Mimi. We went to see Lili at the Village Theatre, bonding over it so completely that we might have been on a date. To this day I can conjure Mimi up by singing the song that Leslie Caron sang in the movie, the one about love and how sad it is. Mimi, I realize, must have found that all too true.
Forty years after that disturbing moment at the blind stand, I told that story to my friend Nick Hongola. Nick had served as caregiver for an elderly gay man, who, having no further need for his circa-1960s porn, had bequeathed his collection to Nick. "That name rings a bell," Nick said with an impish smile, and the next day he showed up at my house with an old issue of Demigods magazine. It wasn't just any issue, either—it was the very one—and my secret cover boy was just as splendid as I'd remembered (the arms, the chest, the rakish curl across his forehead), though his name, Larry Kunz, left a little something to be desired. As for those satin sheets, they proved not to be sheets at all but a plastic shower curtain wrapped around his waist. He was not even in bed, in fact—that was the edge of a bathtub he was sitting on.
I was well into my fifties by then, but I tore through that magazine like a kid under a Christmas tree. Sadly, there were no other photos of the unfortunately named Mr. Kunz, but there were lots of other strapping young bucks decked out in sailor caps and pendulous posing straps. Their names were sexier, too, though possibly suspect—names like Troy Saxon and Mike Nificent. I got a kick out of the page of exotic mail-order gifts, items seemingly indispensable to the manly household of 1962: an Indian pith helmet; an antiques dealers' handbook; a 21-inch imported Italian pepper mill; a musical cigarette box that played "Smoke Gets in Your Eyes." It was like one of those pages in my old comic books where sea monkeys and joy buzzers and X-ray glasses lured gullible children with the promise of power and popularity.
But what struck me most about that fading artifact was how profoundly innocent it seemed to me in late middle age. I was hard-pressed to remember how the very sight of Demigods had once scorched me with shame and dread, invoking that awful war chant of a word—ho-mo-sex-u-al—that I'd been trying so hard not to hear. How could I have guessed then that the thing I feared most in myself would one day be the source of my greatest joy, the inspiration for my life's work.
__________________________________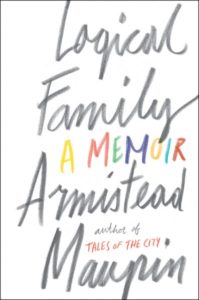 An excerpt from the book Logical Family © 2017 by Armistead Maupin, published by HarperCollins on October 3, 2017.
---