Great Women Through the Ages: A Historical Fiction Reading List
Katherine J. Chen Recommends Hilary Mantel, Lauren Groff, Colm Tóibín and More
I remember when the idea to write about Joan of Arc first occurred to me, I felt very hesitant about it, intimidated before I had even begun. Without needing to check, I knew that thousands of works existed on her. In hindsight, I believe I didn't so much set out to write about her as I did to try to understand her. The very first biography I opened on Joan, I made no promises to myself. I would try, I thought, to get a sense of her. I would see what impression she made on me, how I felt, what feelings she roused, if any. Would I simply feel sorry for her? (I didn't think pity was the best kernel from which to grow a novel.) Would I connect with her, find her believable? Or would I be excited, thrilled, and stirred to action? Looking back, I'm so glad to say it was the latter.
I think now that the most important ingredient in writing this book was time. A number of life events occurred while I worked on Joan, and as I grew and matured, so did the growth and progression of the novel. The journey Joan goes on, the developmental arc of the years covered in the book, puts me in mind of the journey the famous historical women in these novels take, whether physical, spiritual, or both. Some grow and grow. Others rise, aiming for the heavens, only to fall. While still others simply wish to speak their truth. If you haven't read these novels already, I hope you will enjoy them and admire them as much as I do.
*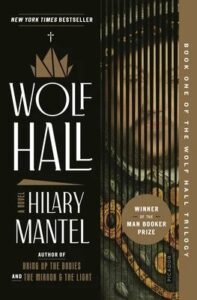 Hilary Mantel, Wolf Hall
You may be surprised to see this title on a list of books about historical women. After all, the character of Thomas Cromwell is what holds this larger-than-life work together: the Putney boy who rose and rose in power and influence, who is told to "get up" in the first, unforgettable line of the novel. But of all the female characters who make their appearance in this seminal work, the most brilliantly crafted is Anne Boleyn. What I find truly extraordinary is how all other portrayals/renditions of Anne seem to fall away, seem to simply collapse like the artificial landscape of a theatre backdrop, and surrender to Mantel's version of Anne, which has become, for me, the version. When Anne enters a scene, I sit up, I lean forward, I take note and watch her carefully, both fascinated and a little cowed, as if I, too, were one of her many admirers at court. The immediacy of Mantel's prose, the pace and rhythm of her dialogue is masterful, no less than Hans Holbein's portraits transmuted into words.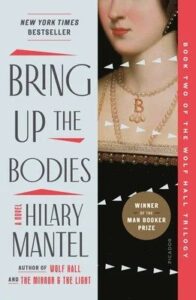 Hilary Mantel, Bring Up the Bodies
If Wolf Hall delineated Anne's rise in court, then Bring Up the Bodies is devastating for how it traces, blow by blow, Anne's fall. Perhaps the real miracle of the work is this. We all know what will happen. We all know what awaits. Logic dictates that we should read the final pages with a sigh, perhaps even a shrug. What is the point of telling a story whose end is common knowledge, one might ask, whose events we have seen played out again and again with great dramatic flourish on TV, in film, in various and numerous historical documentaries?
Yet the reality was this: I read the end of Bring Up the Bodies afraid to even blink. Mantel gives no respite to the reader. It is like a spectacle one can't look away from, even as the sweat is breaking out on the back of one's neck, as one's hands are literally shaking. The first time I read the end of this novel, I didn't realize until too late that I was holding my breath until I felt a painful pressure in my chest. Then I was so blown away, so subdued by the sublimity and beauty of the last few lines and what I had just "witnessed" that I cried and cried.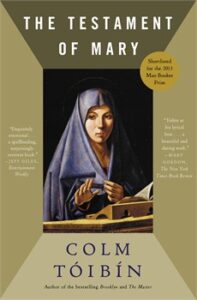 Colm Tóibín, The Testament of Mary
I like to tell this story of having read most of The Testament of Mary, Tóibín's short and brilliant novel on Mary, mother of Jesus, on a subway platform. I was on my way to a job interview in summer, and the truth was, though I didn't acknowledge it at the time (at least not consciously) that I didn't really want the job. It was hot. When I exited the subway and stepped onto the platform, I realized I was far too early, so I took one of the available seats on the platform, and started reading this book. I read and read, ended up probably leaving too little time to reach the actual location of the interview, finished what was a very unmemorable and, in retrospect, unpleasant experience, and continued reading on the way home, knowing I had wasted both bus and subway fare.
On seeing me, my mother asked, "Well, how did the interview go?" I replied that I didn't know (and didn't care) but that I had finished an extraordinary book. Needless to say, I didn't get the job. And I was, in fact, so enthralled by this book and how much it accomplished in such a short span of pages that I even brought the book up in conversation during my next job interview, which I didn't get either.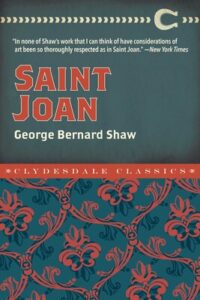 George Bernard Shaw, Saint Joan
I read this play years ago and remembered generally liking it but not falling head over heels in love with Shaw's rendition of Joan of Arc. What I was truly enraptured by, however, and what stayed with me, was Shaw's excellent introduction to the work, which I think (strange as it may sound) far exceeds the quality of the play itself and which I found much more thrilling to read. The preface includes such gems as these: "[Joan] was a thorough daughter of the soil in her peasantlike matter-of-factness and doggedness, and her acceptance of great lords and kings and prelates as such without idolatry or snobbery, seeing at a glance how much they were individually good for."
As well as: "And she was not a melodramatic heroine: that is, a physically beautiful lovelorn parasite on an equally beautiful hero, but a genius and a saint, about as completely the opposite of a melodramatic heroine as it is possible for a human being to be." While the play has its shortcomings, I do think it successfully captures something of the spirit of Joan. One can hear the radiant, almost buoyant energy of her voice, and marvel at the natural, one might even say, God-given eloquence that pervades all her lines.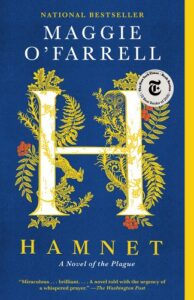 Maggie O'Farrell, Hamnet
It is a marvelous sensation, and possibly not something I've experienced before reading O'Farrell's Hamnet, to fall in love with a character at the precise moment another character does. But as soon as Agnes stepped out of the woods with her kestrel on her arm, I felt my heart quicken. I remember my mouth feeling quite dry the first time she and the Latin Tutor (Shakespeare) spoke to each other. What a woman, I thought. What a glorious, wonderful woman. And what a difference this book made to my impression of a person, who has always stood in the shadows, a hazy and unformed individual, who I have always passed over in favor of the overpowering genius and sun-bright radiance of Shakespeare. Now, thanks to O'Farrell, I see Agnes in high-definition. I hear her voice; I can visualize her "full red mouth," and feel every bit of joy, grief, and love she feels.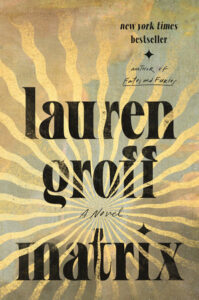 Lauren Groff, Matrix
I have a theory that I've always entertained to myself, and which I sometimes believe and on other days don't quite endorse, that the best historical fiction comes of authors who are literary writers. Here, Groff seems to prove my theory right. I was surprised by this novel and had only vaguely heard of Marie de France prior to opening this book. But Matrix is a work that made me, as I did with Joan, consider and ponder upon the impact, the consequences of female leadership, of a woman really owning and realizing her power, especially when that power seems to be as embedded in her, as natural as the gifts some people possess for playing a particular instrument or for a sport. This was a transporting book that compelled me to think of the line that exists between surviving and thriving for women, how precarious one's hold is on authority, and where empowerment and ambition both overlap and diverge.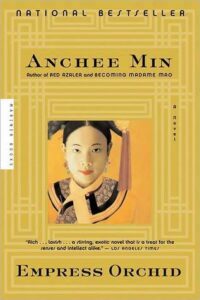 Anchee Min, Empress Orchid
If I had one word and one word only to describe this book, I would say it was "sumptuous." I endeavor (to the best of my ability) not to spend too much time watching the decadent costume dramas and TV serials that prove so addictive and time-consuming (whole hours, then days seem to simply pass by as soon as I latch on to a particular show). Min's Empress Orchid offers the same pleasures as any of these costume dramas with a strong, enterprising woman leading the narrative, and I don't feel half as guilty poring over Min's books as I would gawping for hours at a television screen. Dense yet highly readable, Empress Orchid is, like the other books on this list, a cultural experience and stunningly immersive in the attention it pays to detail and description.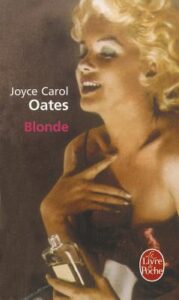 Joyce Carol Oates, Blonde
As different as Joan of Arc seems, on the surface, from Marilyn Monroe, I thought of this book a lot as I was writing Joan. Probably my favorite of the handful of Oates' novels I have read so far, Blonde never once felt like a straightforward retelling of the life of one of Hollywood's most recognizable and iconic women. There is so much more to this novel than the elusive and tragic character who exists at its beating heart. Like any epic work, it successfully captures both the greater landscape of the time, the culture of the film industry and the politics, while plumbing the depths of the deeply personal. It is both a terrifying and eye-opening prospect to enter into the mind of Norma Jean, but that is the audacious feat Oates pulls off in this hefty book.
What I appreciated most, however, was what Elaine Showalter describes so well in her excellent essay in The New Yorker from two years ago. She writes, "Blonde is a work of fiction and imagination, and Oates plays with, rearranges, and invents the details of Monroe's life in order to achieve a deeper poetic and spiritual truth." This speaks a lot to what I think biographical fiction should accomplish, in general, which is not necessarily replicating the efforts of the historian or biographer but finding a way to capture the "deeper poetic and spiritual truth" of a subject.
__________________________________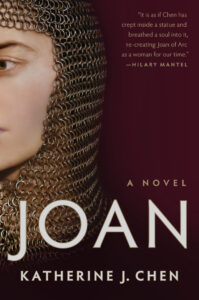 Joan by Katherine J. Chen is available from Random House, a division of Penguin Random House, LLC.
---