Gossip, Sex, and Redcoats: On the Build-Up to the Boston Massacre
Don't Let Anyone Tell You Revolutionary History is Boring
While his comrades in the Twenty-Ninth Regiment were camping on the Boston Common or meeting their new neighbors, Private William Clark was spending his time with literature: his own. Two months after his arrival in Boston, Clark announced that his play, The Miser. Or The Soldier's Humour. A Comedy of Three Acts, was available for purchase by subscription. The broadside announcing the subscription included a brief and nearly correct Latin tag: Non possunt placeto omnibus, "I can't please everyone." Presumably, Clark acquired enough subscriptions to publish his play, since the following February, the printer Ezekiel Russell advertised in all the Boston papers that he had just published The Miser and would sell it, with a blue paper cover, for eight pence. Sadly, no copies remain for us to read today. Russell may not have printed many. The short run was likely read until it fell apart and then, like many cheaply printed pamphlets, reused as toilet paper. Such a fate might have been particularly appealing to some Bostonians. In the winter of 1769, not many residents were likely eager to read about "the soldier's humour."
*
Private William Clark seemed to have a flair for drama off the page as well. In May 1769, he had a shouting match with the Boston watch. When stopped on the street, he threatened to burn down the town workhouse and all of Boston with it. As the watchman arrested him and brought him to the local lockup, Clark swore he'd have his revenge on the entire town.
It took Clark only a month to stage an even more melodramatic scene with Boston locals. One June day in 1769, 75-year-old Joseph Lasenby was shocked, upon entering his married daughter's house, to find Clark in bed with his 20-year-old granddaughter, Mary Nowell. The elderly Son of Liberty ordered Clark out of the house, but the insouciant soldier declined to leave. He had every right to sleep with Mary, Clark asserted. After all, she was his wife, he told the astonished old man, and he was going nowhere without her.
Clark may have been stretching the truth a bit. Mary said they had been married one evening "by a person who was drest as a priest." In fact, they were not married until four months after being caught in flagrante. But married they were, much to the distress of Mary's parents. So devastated were they, the Boston Evening-Post claimed, that the news of the affair "much impaired their health." Two weeks after the marriage, Mary's father had a showdown with his new son-in-law. Clark shoved a loaded pistol into Joseph Nowell's chest, Joseph pressed charges, and after many adjournments, in April 1770 Clark found himself in jail until he could pay a 40-shilling fine.
William Clark's marriage meant more than family scandal; it became political fodder for Boston's Sons of Liberty. In fact, the story of Joseph Lasenby finding Clark in his granddaughter's bed was reported in newspapers sympathetic to the liberty party. Nodding to a sense of propriety, especially about sexual matters, the press usually replaced many personal names in its stories with dashes. But Bostonians obviously knew something of the Clark story before it was printed. When the shopkeeper Harbottle Dorr read the account in the Boston Evening-Post, he carefully annotated the article, recording that the young woman in question was Mary Nowell and her grandfather "Mr. Lasenby."
Mary Nowell was not alone in falling for a soldier. Boston's young women found the arrival of troops thrilling.
Boston's newspapers rarely printed accounts of sexual scandal for their salacious details alone (such earthy stories were much more likely to show up in fiction or in rhymed doggerel). The Journal of the Times used the story to point out the political implications of this illicit marriage, urging its readers to reflect on the inevitable impact of troops on Boston's families: "that the most dear & tender connections must be broken & violated." The ultimate blame for this seduction, the article concluded, must fall on those imperial officials "who have been the authors of those scenes of public and private distress." The old man stumbling in on his favorite granddaughter was only the preface to the primary protest: the "quartering of a standing army in times of peace." The author argued that in the world of occupied Boston, "public and private" affairs of the heart were one and the same.
It seems unlikely that Clark had thought of his seduction in terms of politics; he spent his time in prison imagining his next literary work. In August 1770, he took out another advertisement, this one for his new memoir, A True and Faithful Narrative of the Love Intrigues of the Author, William Clark, Soldier in his Majesty's 29th Regiment of Foot (and this is only the beginning of the extensive title). Clark's "love intrigues" exposed an 18th-century soap opera, complete with cameo appearances by various Sons of Liberty and British army officers, in settings ranging from prisons to bedrooms.
He clearly meant his 60-page narrative to be a tell-all, and perhaps also a means of revenge, targeting his in-laws; unlike the Journal and other newspapers, Clark named names. The long title of his memoir concludes with these words: in which is Given a Faithful Account of his Courtship, Marriage and Bedding with Mary Nowel, Daughter of Joseph Nowel, Boat-builder at North End Boston; with a Description how much he suffered on said Account.
The memoir has not survived, so we can only imagine how Clark might have told his version of being found in bed by his lover's grandfather. We can assume from the title—and from its emphasis on Clark's suffering—that his version would depart from the narrative in the Sons of Liberty's Journal. The villain of Clark's story is his father-in-law, called out by name. This flippant young man was not troubled by the politics of the British Empire and its impact on his wife's family or hometown. Instead, his was the age-old story of young lovers and disapproving parents.
One imagines A True and Faithful Narrative to be the sort of tale that George Wickham, the charming rake of Jane Austen's Pride and Prejudice, might have written, had he been a literary soul. Seduction, clandestine marriage, and angry guardians were the main themes for both. Both in Austen's telling and in Clark's, the actual military work of the army is quite irrelevant: soldiers were lovers, not fighters.
Many Boston women and military men felt the same way. Mary Nowell was not alone in falling for a soldier. Boston's young women found the arrival of troops thrilling. White women outnumbered men in town by almost five to four, and the influx of eligible young men offered delightful possibilities. Young women across the social spectrum were eager to make conquests among the soldiers.
One middle-aged Massachusetts woman watched her young friends' attempts at courtship with a sympathetic eye. Seizing a quiet moment with her young ward, Charity, Christian Barnes did try to temper "the great raptures she expressed for the officers and soldiers." Barnes ruefully admitted that other young women, including Charity's older sister Dolly, might have undercut her advice. She wrote to the girl's aunt, "I am greatly mistaken if Miss Dolly is not as much pleased with the soldiers as her little Sister [Charity] is." Dolly herself seemed to be torn between her current love interest, a young cleric, and her attraction to the soldiers. Barnes wondered if she was trying to have it both ways by trying to persuade her clergyman beau to join the army. Barnes mused to Dolly's aunt that "I think it almost time to inquire whether she has yet boiled her lobster," a vivid image of the minister exchanging his black coat for a red one. In the end, however, Barnes decided that the relationship was still too delicate to withstand her prying, and stated that there was "enough said." In fact, both Barnes and Dolly's aunt were disappointed in the eventual outcome, Dolly's match with the clergyman, but found themselves helpless to say anything.
__________________________________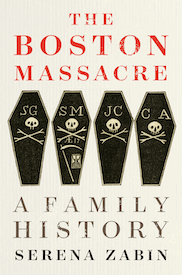 Excerpted from Boston Massacre: A Family History by Serena Zabin. Copyright © 2020 by Serena Zabin. Published and reprinted by permission of Houghton Mifflin Harcourt. All rights reserved.
---