Exciting archival news: University of Kentucky professor Herman Farrell recently discovered a letter from Tennessee Williams to Eugene O'Neill, previously only rumored to exist. Farrell unearthed the letter in a collection of O'Neill-related documents at Yale's Beinecke Rare Books and Manuscript Library and, as he told The Eugene O'Neill Review, "immediately recognized that it was a new discovery."
The letter is essentially an impassioned fan letter written to O'Neill shortly after the premiere of O'Neill's play The Iceman Cometh. Though Williams couldn't make it to the show, he read the script and loved it, calling it "a unique dramatic achievement" and deeming it one of his favorites of O'Neill's works: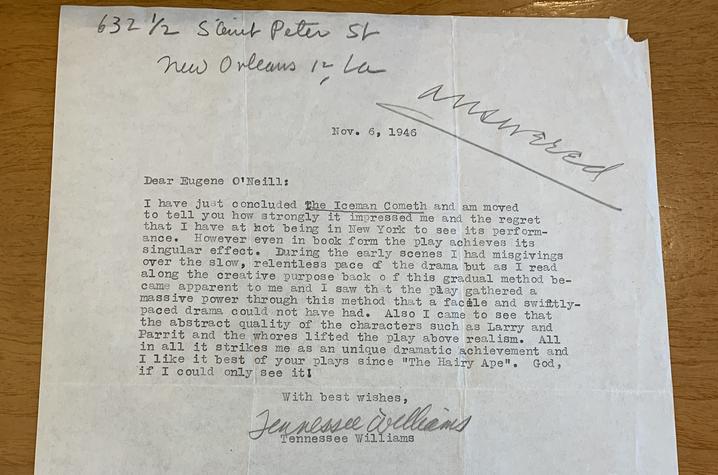 This letter, though brief, was poised to make a particularly large impact on O'Neill, as at the time he was reeling from the negative reception of The Iceman Cometh. Reviewers found it tedious and ill-suited to the moment; they were particularly irked by its length, one reviewer writing that "someone really ought to buy [O'Neill] a watch." Williams's praise of the length of the show, coming after the successful run of Glass Menagerie (which rendered his praise quite valuable), bolstered O'Neill's spirits at a low moment.
The word "answered", written on the letter, indicates that O'Neill wrote back—and that's corroborated in O'Neill's 1960 biography, which mentions O'Neill responding to Williams and saying that his letter had come just at the right moment, as O'Neill was "down in the dumps." So: send your favorite artists fan mail! It might cheer them up when they need it—you know, if you're respectful, they're in the mood, and you're both famous playwrights.
[via UK Now at University of Kentucky, The Eugene O'Neill Review]