Georgia Pritchett Recounts a TV Industry #MeToo Experience in Three Acts, with No Closure
"It was almost funny, except it wasn't."
Hashtag
It can be difficult working in a male-dominated industry. It can also be absolutely fine. And I have never known anything else. But there are times when you are overlooked, your work is scrutinized and criticized in a way your male colleagues' isn't, and your appearance, clothes and relationship status are also discussed and evaluated in a way that doesn't happen to your male colleagues.
Occasionally, I have been treated with outright hostility. One producer who made it very clear he didn't want me on the show "bumped" into me when we were alone in a corridor and sent me flying. And then there are the other experiences.
Every single woman I have ever met has at least one #MeToo experience. Here's one of mine. I was twenty-five at the time. And I got asked to work on a show with a sixty-year-old man. He was one of my comedy heroes and had worked on a lot of shows with a lot of other comedy heroes of mine, so I was very excited.
The filming was happening outside of London, so the whole crew were staying in a hotel. As is often the case with filming, the hours were very long, so we would work all day and then go back to the hotel just to sleep.
On the first night, I got into the lift to go to my room and He got in with me. As soon as the doors closed, he grabbed me, pushed me against the wall and stuck his tongue down my throat. His hands were everywhere. I froze in shock and fear. When the lift doors opened, I just about had the presence of mind to wriggle free from his grip and run to my room and lock the door.
As I stood, leaning against my door, feeling horrible and guilty and ashamed, the phone rang. It was Him telling me he was in his room, naked and waiting. I hung up.
I couldn't eat or sleep. I didn't want to go back to work and face him, but I didn't know what else to do.
The next day I went into work and acted as though nothing had happened. At the end of that day, I got into the lift alone. Just as the doors were closing, he jumped in. The same thing happened again.
I was furious with myself and felt like an idiot.
Again I stayed awake all night, wondering what to do. The next day, I went to the female producer and, utterly mortified, said I didn't want to talk about it but if I got in the lift and He got in the lift too, could she get in the lift with me? I fled, humiliated and embarrassed as she stared at me in horror.
That night, I said I was going upstairs to bed and He said he was going to do the same. I turned to the producer I had confided in that morning. She very pointedly turned and looked the other way.
And that is the perfect metaphor for what the whole industry did for decades.
*
Closure
Twenty-five years after it happened, I was at home when the phone rang and it was Him. I hadn't heard his voice since the incidents all that time ago—but immediately I started shaking. To my amazement, he apologized for what he had done. And to my fury, I heard myself saying it was fine and it didn't matter. That night, I couldn't eat and I couldn't sleep. I was consumed with self-loathing and confusion. But I tried to tell myself that at least he had apologized. Maybe that was some kind of closure.
*
Not closure
A week later, the phone rang again. Now in his mid-80s, he was clearly losing his memory. He had no recollection of our previous conversation and he apologized again. He did so the next week and the next week and the next week and the next week. Not so much closure as a constant reopening of an old wound. It was almost funny, except it wasn't.
__________________________________________________________________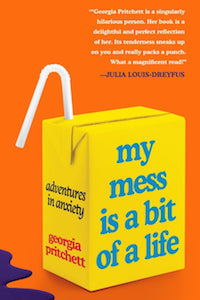 Excerpted from My Mess Is a Bit of a Life: Adventures in Anxiety by Georgia Pritchett, reprinted with permission by HarperOne, an imprint of HarperCollins Publishers. Copyright 2022.
---