Gene Smith's Documentary Obsessions
A Look inside the Prolific Photographer's Domestic Chaos
In 1977, on the sidewalk outside his loft on 23rd Street in Manhattan, the 58-year-old W. Eugene Smith watched from a wheelchair as some two dozen volunteers—mostly young photography students paying homage—loaded his life's work into two shipping trucks. Twenty-two tons of materials were packed and driven across the country to a new photography archive called the Center for Creative Photography at the University of Arizona. When the shipment arrived in Tucson, it filled a high school gymnasium and spilled into outlying rooms. The piles were waist-high from wall to wall with aisles cleared for walking space. Most of the boxes were unmarked and everything was covered in New York City loft grit that had accumulated for decades.
Included in the shipment were 3,000 matted and unmatted master prints; hundreds of thousands of meticulous 5 x 7 work prints; hundreds of thousands of negatives and contact sheets. There were hundreds of pocket spiral notebooks and thousands of 3 x 5 note cards with scribbled notes; maps and diagrams from all over the world; and hundreds of boxes of clipped magazine and newspaper articles. Smith wrote hundreds of 15-page single-spaced letters to family, friends, and people he barely knew, and he mimeographed copies before mailing them. There were dozens of cameras, various pieces of darkroom equipment, trash cans and boxes full of loose lens caps, rubber bands, and paper clips. Smith also had 25,000 vinyl records and 3,750 books. The shipment also included 1,740 dusty reels of tape containing, we now know, around 4,500 hours of audio recordings Smith made—surreptitiously, for the most part—in his previous loft, on Sixth Avenue and 28th Street, in the wholesale flower district, between 1957 and 1965.
This loft building was a legendary after-hours haunt of jazz musicians such as Thelonious Monk, Zoot Sims, Roland Kirk, Paul Bley, Roy Haynes, Chick Corea, Lee Konitz, and Alice Coltrane, as well as classical musicians such as Steve Reich. Also dropping by the nocturnal scene were the likes of Doris Duke, Norman Mailer, Anaïs Nin, Diane Arbus, Robert Frank, Henri Cartier-Bresson, and Salvador Dalí. But for each famous person there were dozens of obscure musicians, pimps, prostitutes, drug addicts and dealers, dropouts, hustlers and thieves, beat cops and building inspectors, photography students, frame makers, fire extinguisher technicians, and countless other figures.
The tapes contain absurd oddities such as eight continuous hours of random loft sounds in 1964—Smith puttering around doing not much of anything, making paranoid phone calls, street noise floating through the windows, the constant trickle of water from his darkroom sink.
Smith recorded myriad sounds from TV and radio, too: James Baldwin, MLK, and Malcolm X on a panel; MLK giving speeches in Birmingham; JFK's election and assassination; Walter Cronkite reading Cold War news; the Cuban Missile Crisis; the 1960 World Series between the Yankees and the Pirates; Cassius Clay's first fight versus Sonny Liston; Dorothy Parker reading her work; Leontyne Price singing Verdi's Requiem; late-night Long John Nebel talk shows with callers talking about UFOs and alien abductions; Ed Sullivan; Mr. Magoo; Beckett's Waiting for Godot and Krapp's Last Tape; and Jason Robards reading Fitzgerald's "The Crack-Up"; among many others.
In Tucson, when this shipment arrived, the ill, damaged Smith rolled around the gymnasium in a wheelchair, complaining that things were missing, and expressing suspicion toward the university officials who were trying to make sense of the chaos.
In pictures from this time, Smith looks like a man three decades older. The lectures he gave as part of the university's acquisition of his archive were recorded, and on these tapes one can hear him dying. He mumbles, slurs words, and struggles to breathe. But he's still making wisecracks. I never make jokes at the beginning of my lectures—(pause, deep breath)—because I usually manage to get plenty of laughs without trying (laughter in the room). A doctor's report from two years earlier indicated that Smith had diabetes, cirrhosis of the liver, severe hypertension with an enlarged heart, and chronic lower leg and dermatitis problems due to bad blood circulation. The doctor wrote "NO ALCOHOL" on the report and underlined it. When Smith gave his lectures in Tucson, students noticed that he sipped glasses of vodka or scotch and ice.
In addition to alcohol, Smith was addicted to amphetamines and prescription and over-the-counter pills, for most of his adult life. The pills fueled marathon sessions in the darkroom; three, four, five days in a row without sleeping. There is evidence he used something injected through a needle (probably a more potent amphetamine) during his loft years.
Less than a year after Smith and his archive arrived in Tucson, he was at a convenience store buying food for his cats when he collapsed. A rescue squad took him to the hospital.
His next-door neighbors in Tucson fed his cats while he was hospitalized, and the condition of his house was so awful they were compelled to photograph it. The pictures are gross—stomach-turning, some of the worst living conditions I've ever seen—and sad. Mounds of moldy dishes, filthy clothes and linens, garbage everywhere, and cats doing the best they can. The pictures of this house make Smith's legendarily messy, funky New York loft look livable.
Smith died a few days later. His death certificate read "stroke" but, as was said of the immortal jazzman Charlie Parker, Smith died of "everything." He was flat worn out. He'd given up. He left 18 dollars in the bank, and 44,000 pounds of materials.
*
After 20 years of research—24 cross-country visits to Smith's archive, and more than 500 interviews in 26 states and Japan—I finish writing my book about Gene Smith in Durham, North Carolina, standing at my bar-high desk made from his eight-foot stainless-steel darkroom sink, the same sink he installed in his Sixth Avenue loft in the late 1950s. Behind my desk sits his custom-made heart-of-pine light board that he used to inspect negatives.
Smith's son Patrick, the toddler holding hands with his little sister, Juanita, in the iconic 1946 photograph The Walk to Paradise Garden, sold his father's equipment to me in 2006 when he and his wife, Phyllis, were cleaning out their basement in Pleasant Valley, New York. The deal is, he told me, you have to take all of it. You can't cherry-pick the valuable things. And if I ever want it back, you have to sell it to me at the same price. A few weeks later, Pat and his son Link loaded a truck and drove the equipment down to Durham.
I wanted Smith's darkroom sink to become useful for me, too, but not in his original manner of using it. It's resting in a metal frame made for me in 2012, a desktop formed by a sheet of security glass resting on top of the basin, held in place by rubber bumpers. If somebody wanted to use it as a darkroom sink again, the integrity of the original object is maintained.
*
Smith's astonishing darkroom effort—the careful shading of his tones and the warm texture of his prints—is an archival marvel to experience. But more than his photographs, I was motivated by his mysterious, inexplicable, invaluable tape recordings made in the isolated squalor of his "jazz loft," where Life executives and photography officials and other more reasonable associates reckoned Smith had retreated once and for all to lose his mind. They weren't entirely wrong.
Smith's loft years were marked by his sink, a deep fall into addictions and quixotic documentary obsessions and, ultimately, self-destruction. In the process, he produced some of his strangest and most alluring work, which, taken together, measured by time and the quantity of materials, outstrips the rest of his life's work combined, capturing the beautiful and haunted and troubled lives and times inside and around the loft building in a neighborhood that was desolate by night, bustling with shops peddling perishable flowers by day, all of it a mirror and symbol of his inner turmoil.
Smith's journalistic practice of going out into the world to document assigned subjects in places foreign to readers of Life magazine and returning with a story (on the front lines of combat in World War II, a rural doctor in the Colorado Rockies, a rural African-American midwife in South Carolina, Albert Schweitzer in equatorial Africa) was turned around in the loft, where he didn't go anywhere. He used the same obsessive passion, perhaps even more of it, to document everything right around him. The results offer a reflection more intimate than his journalism, his focus more telling when not on assignment.
Somewhere along the way I realized I was getting a clearer picture of Smith by averting my focus slightly to the side of him, the way you can see stars in the sky more clearly by doing the same thing, the results here an experiment in this wide-angled vision.
__________________________________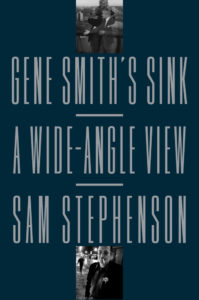 From Gene Smith's Sink: A Wide-Angle View. Used with permission of Farrar, Straus and Giroux. Copyright © 2017 by Sam Stephenson.
---