Gary Shteyngart: Three Simple Tricks for Writing Your Novel FAST!!!
Walk! Nap! Write!
The following first appeared in Lit Hub's Craft of Writing newsletter—sign up here.
*
I was able to compose a first draft of my new novel Our Country Friends in just over six months time, a near-record for me! How did I do it?
I began writing the novel at the end of March 2021. I was sheltering in place at my home in upstate New York (just like the characters in Our Country Friends — hey, write what you know), and, especially at the start of the pandemic, there were few people to get drunk with. Being sober improved my productivity by at least 50 percent, and I was able to write three draft pages a day, instead of the usual two.
Secondly, I used a patented technique called WNW, which I will now share with you at no charge. WNW stands for Walk, Nap, Write. Follow these steps, be mindful of your time and deliberate about taking it, and you too can write a reasonably decent novel in a reasonably short span of time.
First, Walk. I would take two-and-a-half-hour walks every day down a country road. The characters in my book, all of whom are stranded at a small country estate during the pandemic, do the same. This is when they talk and commiserate and flirt with one another. As I walked, I imagined all of the dialogue they would share. Since I was often alone, I began talking to myself, taking on all of the different characters' voices. I was the son of Korean industrialists, a failing Russian novelist (okay, that didn't take too much imagination), a fiery Southern essayist. I passed the same sheep farm my characters did (baaah!) and rummaged through the same spooky abandoned children's camp.
When I returned home from my walk, exhausted after six miles of country rambling, I would take a two-hour Nap. During this nap all kinds of strange, exciting (sometimes even "sexy," whatever that means anymore) ideas would converge upon my noggin. I know Freud is kind of problematic these days, but damn, dreaming is still a goldmine for a writer.
With the Walking and Napping out of the way, I would undertake the third and arguably most annoying part of my regiment: the actual Writing. What can I say? After six goddamn books, it still hasn't gotten any easier. But peep this — I write in bed! Just like Proust and countless others. Writing in bed means minimal physical exertion, and you can segue into the typing right after you come out of your beneficial Nap.
I know WNW won't work for everyone, and it really helps not to have a job (luckily, I was on sabbatical from teaching at Columbia University's MFA program). But for those with full-time jobs, feel free to shorten the routine to one hour of walking, napping, and working. Or slot it in for the weekend. Good luck, fellow writers! And remember… I love you!
*
Read more on writing quickly:
Mateo Askaripour on writing a lot now and fixing it later.
Olivia Campbell on art, parenting, and priorities.
Meg Elison on cutting out distractions during drafting.
Emily Cooke on retreating to the California coast.
*
3 Recent Favorite Novels
RECOMMENDED BY GARY SHTEYNGART
Taffy Brodesser-Akner, Fleishman Is in Trouble
Raven Leilani, Luster
Imbolo Mbue, How Beautiful We Were
__________________________________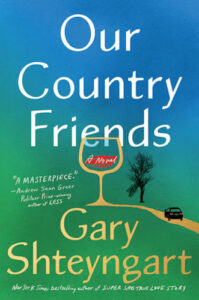 Our Country Friends by Gary Shteyngart is available via Random House.
---