From The Satanic Verses to Scientology, Pamela Paul's Foray in Bookselling
Ripping the Covers Off Books and Other Dodgy Business
Senior year, I arranged my schedule so that my classes ended at one o'clock. Skipping lunch meant I could rush off to whatever store or restaurant job was on my schedule that day. There was little time for extracurricular activities; Ericka and I founded the school's Coalition for the Poor and Homeless, but our efforts sputtered out after a few protests and one visit to a nearby soup kitchen. I felt increasingly untethered from the social world of high school, biding my time until I was free.
Finally, armed with a driver's license, I was able to find the kind of work I sought. Twenty minutes from my house, at the upscale Americana shopping center, was a branch of the B. Dalton bookstore chain—and they hired me.
Now this was a job! I was the only high schooler who worked there, a monumental achievement and a source of fierce pride, even if you considered there wasn't much competition. All the other employees were actual grown-ups, some of whom saw the job as a calling, others who could just as easily have been working in the produce section at the A&P.
Dan, the manager, was one of the former, a short, sweaty man in his mid-thirties with sparse tendrils of black hair clinging hopefully to his pate, and a mind brimming with knowledge acquired the hard way. He greeted my enthusiasm and ignorance with tolerant dismissiveness. He had informed opinions.
But I was determined to learn. I would know exactly what to read and what I would read next. My Book of Books would reflect this clear path forward. Here, at B. Dalton, I could keep my pulse on the passions of the nation; I just had to pay attention. I quickly noticed, for example, that whenever a book broke out in a big way, someone from management ordered rising swirls of that title that spiraled up majestically from the floor. Only senior employees knew how to build and maintain these symmetrical assemblages. Regular sales clerks like me were not allowed to touch them.
Massive cardboard displays—known in the trade as "dumps"—loomed over the aisles, where they signaled the defining cultural events of the day. Over here, pillars of Bonfire of the Vanities. Over there, an imposing tower of Stephen Hawking's A Brief History of Time, which everyone in the we're-sophisticated suburbs just had to have. I would caress this slender volume longingly, imagining that if I owned it, my true place in the universe would make itself known. I envied the people who could just stroll in and purchase a few hardcovers off the important towers with the swipe of a credit card.
Somewhere along the main aisle stood a commanding dump of Dianetics. These must be important, I mused, leafing through a copy during an idle moment.
"What do you think you're doing?" Dan barked.
"Just curious," I said guardedly. "What is this?"
"You don't want to know," he muttered with a quick wave of his hand. I put down the L. Ron Hubbard in a state of unquenched curiosity, too nervous to get caught going near it again. There were so many mysteries that eluded my beginner's grasp of the world of letters.
"What's this?" I inquired, holding up one of Joseph Campbell's books on mythology. Who was Joseph Campbell and why was he so important?
"I became nearly delirious in my desire to sell The Satanic Verses, spellbound by photographs of Rushdie's daunting eyebrows and pungent gaze."
"What's this?" I asked, pointing to a swirl of Clan of the Cave Bear with the mermaid from Splash inexplicably crawling across its cover. How did this book get to be a movie and what did that mean? So many books indicated something significant yet inscrutable. Authors seemed to have reputations I couldn't quite deconstruct. Stuart Woods dominated an entire shelf—a monolith of contemporary letters? Ann Rule, master of criminal justice?
Then, the threat of crime itself came to B. Dalton. In 1989, when Ayatollah Khomeini in Iran issued a fatwa against Salman Rushdie for his novel The Satanic Verses, my colleagues and I were swept up into what felt like a mission of global import. The only time I'd given thought to Iran prior to this was during the hostage crisis, when someone graffitied "Fuck the Ayatollah" on a building near Main Street School, where it remained for the rest of my grade-school education. Every time I looked at it, I thought, "The world is full of mysterious danger."
But this current danger was exciting. I became nearly delirious in my desire to sell The Satanic Verses, spellbound by photographs of Rushdie's daunting eyebrows and pungent gaze. The tapping of cash register buttons was swiftly upgraded into a campaign to save literature from the forces of darkness. I blazed with excitement.
Each day my coworkers and I reported for duty to get the latest instructions, direct from corporate headquarters. Copies of Rushdie's book were to be kept near the cash registers. No, behind the cash registers. No, now in the back of the store, the stockroom, where only management could tread. Employees who did not feel safe selling the book were allowed to be taken off the schedule, no repercussions. People were bombing bookstores!
Suburban customers who couldn't for their lives tell the difference between Iran and Iraq (I counted myself among them) flocked in droves to our store, whether out of curiosity, for political purposes, or simply to feel part of something. They skulked up to the cash register, saying—in the hushed tones of a John le Carré character—they wanted to buy The Book. "If somebody asks whether we stock it or not, think carefully before you reply," we were told. "Answer on a case-by-case basis."
"What's the book about?" I asked Dan.
"Nobody knows," he replied.
In any case, it was a hardcover. Non-managerial employees received a five percent discount on merchandise, the barest acknowledgment of our contributions. The closest B. Dalton came to giving workers a free book was during inventory. On these evenings, the store stayed open late and in the cloak of darkness stripped those mass-market paperbacks deemed unsellable and shipped them off to be pulped. Under Dan's supervision, we tore their covers off, lobbing the denuded copies into a dumpster.
The whole thing was upsetting. Books were sacred objects, something I wouldn't dream of throwing away. Well trained by the library, I considered the idea of defacing a book, even with thoughtful marginalia, a punishable offense. I couldn't believe an item of such import could just be torn apart, its carefully designed cover ripped ruthlessly from its guts, and jettisoned to a place where no one would read it.
We weren't supposed to take these rejects, though Dan uncharacteristically gave me a pass. The trouble was, shorn of their casings, whatever allure these books may have once held—and there was little; they were, after all, trashed for a reason—was lost in their newly abused state. I felt sullied in the process, as ripped off as the books themselves.
My B. Dalton career, in the end, only whetted my appetite. What were all those books about, why were people buying them, and when could I?
Meanwhile, upstate where he and my stepmother escaped the confines of their middle-income housing complex, my father had developed a library-sale habit, scooping up reams of former bestsellers for pennies. These books, though used, somehow felt found rather than lost. He gathered old James Micheners, well-worn histories of the Catskills, any book about the Spanish Civil War, photographic collections of military hardware, and what felt like more than enough copies of John Dos Passos's U.S.A. trilogy. He had a weakness, which I contracted through osmosis, for books that had enjoyed a moment of wild popularity decades earlier and then managed to fade into obscurity. (My brother Roger inherited this same tendency, assembling a Library of the Absurd in his living room, which included such treasures as the complete oeuvre of Phyllis Schlafly.)
__________________________________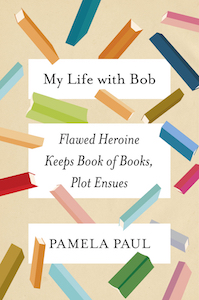 From My Life With Bob: Flawed Heroine Keeps Book of Books, Plot Ensues by Pamela Paul, courtesy Henry Holt & Co. Copyright 2017, Pamela Paul.
---