From Rarefied to Beloved: The Path from Molly Ivins to Joan Didion
Brooke Kroeger Traces the Rise of Journalism's Star Female Reporters
From Minnesota in this period, young Molly Ivins of The Minneapolis Tribune was radiating heat. She had graduated from Smith in 1966 and finished graduate journalism school at Columbia in 1967. Just a year into this first full-time job, the paper was running boxed promotions to draw attention to her stories, incongruously wedged into a section of the paper where they seemed to be far off topic. One ran with her headshot on June 1, 1968. The promo read,
What happens when four of Minnesota's top political bosses shut themselves up in a smoke-filled room? They play, the "Mr. President" game, that's what. Molly Ivins, a staff writer for the Tribune, will tell all about it this Sunday in the Homes and Recreation section.
At around the same time, Ellen Willis, with a single essay about Bob Dylan in the pop music magazine Cheetah, began her tenure as a rock music critic for The New Yorker, a position she held from 1968 to 1977. "No other pop critic has ever seemed so unbiddable," wrote a later rock critic five years after Willis's death in 2006, Sasha Frere-Jones. "There was no 'liking' a performer or an album—everything on the table was an idea or a feeling or a project that Willis wanted to measure, to assess which bits worked and which didn't. The variables were of more interest to her than the people or the recordings."
As for Pauline Kael, competitors regarded her as the pioneer of an entirely new writing aesthetic, someone with more positive influence over film in the United States than anyone else in the preceding 30 years. To The New York Times's critic A.O. Scott her work was both "enthralling and infuriating," often read "for the pleasure of disagreement, and the resentment she was able to provoke—in critical targets and rival critics." Roger Ebert called her "the most powerful, loved, and hated critic of her time."
In Washington in 1968, Meg Greenfield joined the staff of The Washington Post. She had trained in New York at The Reporter under Max Ascoli, "an equal opportunity oppressor" who "embodied pre-regulation America." In her memoir, she described him as a man who evolved from the use of "big bitch" and "little bitch" to "darling" as pet names for the two women on his staff. "But for all his faults," she wrote, "he had a genius in editing. He put women in jobs as no one else did without self-consciousness or contrived good purpose. He didn't see why he should not." By twenty-first-century standards, "Ascoli was a walking human rights violation," she wrote. "I never wish I'd sued him. I even miss him."
At the Post, Greenfield, who won her Pulitzer for commentary in 1978, became a member of the rarefied group of woman reporters "who had been granted passes to function outside the female compound," which in no way implied full equality. Washington, she said, was a place where at dinner parties wives and woman reporters alike were still expected to repair to a separate room after the meal.
On assignment, Greenfield and others in her position "intuitively adopted a kind of Vietcong mentality: complicity to at least passive exploitation of what we could fairly assume they assumed about us." She said she never pretended to be a "dumb broad," but she also never went out of her way to "disabuse them of the conclusion to which so many had freely leapt on their own the minute you entered the room." Hired as an editorial writer, she advanced to become deputy editor of the editorial page the following year, then editor of the page, a position she held for two decades.
The accumulation of more than a century's worth of examples from the1840s to the 1960s demonstrates that in terms of hiring, promotion, and choice assignments, the most ultra-ambitious, ultra-talented, ultra-driven women encountered fewer obstacles than others, especially when they also had vast knowledge or sophisticated prior training, or niche expertise. Or, they were exceptionally gifted thinkers and writers with a singular style. Those most successful women had excellent prospects in journalism, even in the earliest days, especially when their talents included deft newsroom maneuvering.
It is a generalization, but a true one, to say that men by and large needed "just enough" apparent talent and capability to get ahead, which worked even better when enhanced by the right schools, clubs, and connections. Men on the rise never seemed to require the years of experience demanded of women with like ambition.
In fairness, women who became mired in jobs they found unsatisfying might have had the talent but lacked the overdrive that women needed, or the will or disposition to position themselves politically for more. Others might have lacked the background or ambition to reach higher. Some could not or did not want to go abroad as correspondents or undertake what was required in such a competitive field to get their names out front and kept out front.
Knowing the odds against them, they might have considered it pointless to pursue a leadership path outside the women's sphere. Perhaps unspoken aspects of their personalities or personal lives precluded such ambition. Perhaps in their minds, journalism was no more than a great place to wait until the train to marriage and family pulled up.
Or perhaps—and this was a major contention of the women's caucuses that would soon form—having never been nurtured or groomed or conditioned to consider themselves worthy of advancement in such an exciting, competitive, hardscrabble field, they lacked a sense of their own potential and never formed the expectations.
Of all the measures of how well women were doing in the 1960s, the best is enduring value, the rare pieces or bodies of work that have defied journalism's disposable nature. Women in the 1960s produced at least four seminal works. Atop the list is Rachel Carson's Silent Spring, which The New Yorker excerpted in three issues in 1962.
In 2012, upon the book's fiftieth anniversary, Carson posthumously drew moving commemorative appreciations in the press and a declaration from E: The Environmental Magazine that she had ushered in the modern environmental movement and "changed the world." In her own day, the alarm she sounded against the pesticide DDT and its deleterious impact on the bald eagle and other birds garnered eight prestigious awards plus finalist status for the National Book Award.
Hannah Arendt's "Eichmann in Jerusalem" consumed the better part of two issues of The New Yorker and received similar attention in its half-centennial year in 2013, including academic conferences and panels in its honor at Yale, Wesleyan, and Harvard.
That same year, the Schlesinger Library at Radcliffe built an exhibit around a look back at the feminist revolution unleashed by Betty Friedan's Feminine Mystique 50 years earlier. Janet Maslin, the critic for The New York Times, expressed regret that she had not read the book closer to its publication date, even though she would have been only thirteen then. "I have a photograph of myself with Betty Friedan," she wrote in a retrospective musing. "We were together on a radio show. I was there because I was a critic for The New York Times and I arrived at the Times because of opportunities her book created. I wish I had known how much I owed her."
Michelle Bernard in The Washington Post acknowledged the book's significance but objected to Friedan's exclusion of the issues specific to the lives of Black women. Bernard pointed out how that neglect made the work unimportant to the women of her community and "unintentionally set us down a path that divided us as sisters."
On that score, the suffrage movement and first wave feminism had done even worse and, at times, with deliberate rather than unconscious intent. Other commentary took note of these omissions and others, as well as how dated the book had become. There was no such caveat attached to the canonization of Joan Didion. Neither her star in the firmament nor that of her book Slouching Towards Bethlehem has ever dimmed. The essays the book contains, first published in The Saturday Evening Post, Vogue, Holiday, and The American Scholar, have invited reverence since the book first appeared in 1968.
As recently as January 2021, Nathan Heller would tell New Yorker readers that it "has claims to being the most influential essay collection of the past sixty years." A year before she died, Hilton Als wrote in The New York Review of Books of "the metaphorical power of great fiction" present in her nonfiction, and how her work from the 1960s to the 1990s "anticipated the deeply troubling politics of today."
At her death at 87 in December 2021, the outpouring was inestimable. In The New York Times, the cultural critic Katie Roiphe said Didion created "a perfect conjunction of the writer with the moment." The book reviewer Parul Sehgal added that what Didion elicited was not mere admiration. "It is love."
__________________________________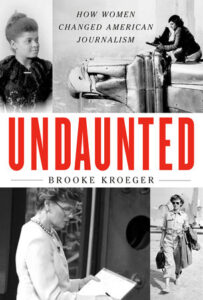 From Undaunted. Used with the permission of the publisher, Knopf. Copyright © 2023 by Brooke Kroeger.
---