5 Book Reviews You Need to Read This Week
"Why did a man who is probably our leading national pipsqueak decide that promoting manliness was his ticket to political power?"

Our quintet of quality reviews this week includes Gabrielle Bellot on Nana Kwame Adjei-Brenyah's Chain-Gang All-Stars, Alexandra Jacobs on Brandon Taylor's The Late Americans, Rebecca Onion on Josh Hawley's Manhood, Kevin Power on Nicole Flattery's Nothing Special, and Jeremy Lybarger on Ian Penman's Fassbinder Thousands of Mirrors.
Brought to you by Book Marks, Lit Hub's "Rotten Tomatoes for books."
*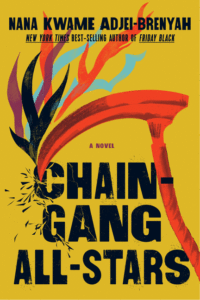 "The novel suggests that the logical next step in a world that monetizes and cheers on violence is to turn the incarcerated—many of whom are already treated in America today like slaves—into multimedia entertainment for the masses. It is a testament to Adjei-Brenyah's.; idiosyncratic talents as a satirist that this premise, which initially seems outlandish, feels disquietingly plausible by the novel's end … Chain-Gang All-Stars also occasionally diverts attention to the activists protesting the CAPE program, whose stance leaves them in the cultural minority…Although these protests shape the story's arc, the novel spends too few chapters fleshing out the activist characters, making the brief moments when they do reappear feel like interruptions of the more compelling main narrative …
Lest the sci-fi tech and over-the-top elements lull you into thinking that this is all just fiction, Adjei-Brenyah has included footnotes that relay grim statistics about the carceral system, weaving together reality and lurid fantasy. These footnotes sometimes feel disruptive, transforming the text into a kind of creative-nonfictional activist manifesto. But perhaps this is inevitable; to write a satire of the American prison system may well be inseparable from listing its facts. … Despite the book's bleak vision, Adjei-Brenyah suggests that no matter how desensitized people become to violence, trying to change hearts and minds is still worthwhile … To quiet the ovation is no easy feat—but there is indeed a brief hope in the notion that spectators so inured to suffering can wake, even for a moment, from this mass-media dream and see the phantasmagoric nightmare before them."
–Gabrielle Bellot on Nana Kwame Adjei-Brenyah's Chain-Gang All-Stars (The Atlantic)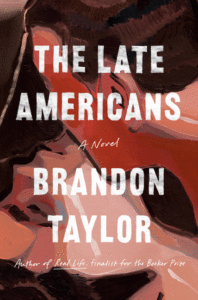 "Taylor's first novel, Real Life (2020), was shortlisted for the Booker Prize, but the collection of linked short stories that followed, Filthy Animals (2021), was arguably stronger. Debuting with the novel, he told MJ Franklin of The New York Times, was 'so that people will let me write short stories in peace.' And you can feel this favored form under the novel-skin of The Late Americans, like kittens kicking around in a catsuit … A flow chart would be handy to keep track of all the overlapping relationships, career changes and ethnicities here; some gown, some town, some teetering in between. Yet the arbitrariness of opportunity and vocation—who gets to make art? who has to dig ditches?—is clear and pointed …
As the title suggests, The Late Americans is suffused with nihilism: a sense of a society nearing its end. The hospice patients are obsessed with the extinction of tortoises and other species. The ash trees of Iowa City, planted to replace elms felled by Dutch elm disease, are now succumbing in turn. The young adults struggle in a gig economy, weighed down by student loans or the guilt of trust funds, fantasizing about law school … Taylor has written a bleak book with flashes of beauty, circling a hothouse of young people on the brink of transplantation into the harsh outside world. His ear for dialogue is exquisitely sensitive. Even if he calls it a novel, I hope he's working on a play."
–Alexandra Jacobs on Brandon Taylor's The Late Americans (The New York Times)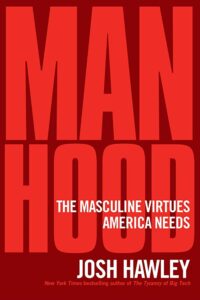 "Josh Hawley calls influencer Andrew Tate onto the carpet in his new book, Manhood: The Masculine Virtues America Needs, the latest salvo in the Missouri senator's campaign to make himself relevant to anyone—anyone at all…But to judge by this strange and ineffective book, Tate is, apparently, the only actually bad man in the world. Everyone else—every miserable man in America, of which there are plenty—just needs to read a book like this, full of dense Bible stories, sentimental tales about Hawley's Midwestern childhood, and potted right-wing histories of the French Revolution, and he'll be fine … like almost everything Hawley does, the book is an epic disaster. Why did a man who is probably our leading national pipsqueak decide that promoting manliness was his ticket to political power? …
You will not be surprised to hear that Josh Hawley wants to claim true 'manhood'—a state embodied, for him, by the Biblical archetypes of husband, father, warrior, builder, priest, and king, each of which get a chapter in the second part of this book—as the province only of the right wing … This culture-warrior perspective on manhood is so bizarre to read, knowing Hawley's political indebtedness to the consumerist, gimme-gimme, consequences-be-damned MAGA vibe that currently dominates the Republican Party."
–Rebecca Onion on Josh Hawley's Manhood: The Masculine Virtues America Needs (Slate)
"The contortions of self-scrutiny (the world as a 'demented' mirror) and of self-presentation, a cultivated glamour subtended by grubby material facts—these are central concerns of Flattery's novel. It is a book that tells you that the world, controlled as it is largely by men, is crazy. It tells you that the camp, silver future designed by these alleged underground geniuses is made of tacky, peeling paint. Wear your best dress; Andy Warhol's art will ruin it … A now-standard move for writers formed by feminism: find the uncredited women, tell their stories. And in one sense, to say that Nothing Special is a novel about Andy Warhol and the Factory is to miss the book's true subject, which is young women's self-scrutiny in a culture defined by male looking and male listening. Warhol himself appears only in cameo … Mae reflects that the Factory most resembles 'a doll's house, with girls arranged everywhere, spread on every surface.' Who is playing with these dolls? Andy, of course; the great absent presence of Nothing Special.
A doll's house is a backdrop, a simulacrum; we don't expect to find life there, and the dolls of Flattery's Factory—the Superstars, the hangers-on—don't especially come to life. Yet a doll's house is a kind of psychological theater in which the dramas of adult life are rehearsed … Twice Warhol's gaze is figured as animalistic, predatory. That gaze, magnified, stands perhaps for the gaze of the world, the gaze we feel surveilling us when we go online—hostile, curious, demanding; definitively male; finally unappeasable. In that gaze we are both potentially exalted beings and nothing special. Wear your best dress, though the silver paint is flaking off the walls. The world expands before you, but in the end, as Mae points out, 'Somebody has to do the typing.'"
–Kevin Power on Nicole Flattery's Nothing Special (The New York Review of Books)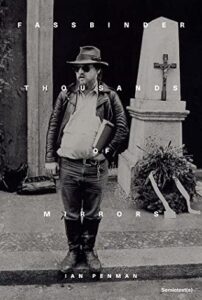 "There are only two ways to begin an essay on Rainer Werner Fassbinder: with sex or with death. Everything else is scenery. This one begins with death … Penman's book isn't so much about Fassbinder as it is a memoir of living alongside his films. Not a fan's tribute, then, not a critic's buttoned-up appraisal, but something with the gnawing compulsiveness of victim testimony … Penman first conceived of the book in the early days of the pandemic lockdown. (Yet to be written is a study of how quarantine downsized literature, rendering it more insular, more nostalgic, coquettish with ghosts.)
He had the understandable urge to rewatch most of Fassbinder's forty-four films, notebook in hand, but quickly abandoned that ordeal in favor of a text that's 'dissolute' and 'utterly partial.' He completed a draft in about three months—roughly the amount of time it would have taken Fassbinder to film seven or eight movies. (The Merchant of Four Seasons was shot in eleven days.) Composed of 450 numbered fragments, the book reads like biography dropped from a high window: smithereens of that cataclysmic German life strewn with Nazi ruins and Penman's own punk and drug-dazed requiems … For Penman, Fassbinder is a kind of behemoth phantom poised between modernism and whatever came after … 'Why exactly is it [Fassbinder] has been so dishonored by not being turned into a monument?' Penman asks.
Perhaps one answer has something to do with the pleasure-to-pain ratio in Fassbinder's vast catalog. Few other filmmakers of comparable mystique can be as spectacularly tedious … Penman is right to note the lurid artificiality of Fassbinder's films. West Germany was a manufactured state crawling with grifters and whores, everyone lying to themselves, leeching off an impossible dream of normalcy. An atmosphere of banal violence and petty chicanery prevailed. It was a country in denial about its own villainy and so embraced a culture of benign industriousness, blinkered euphoria."
–Jeremy Lybarger on Ian Penman's Fassbinder Thousands of Mirrors (The Baffler)
---