From Poison Control Statutes to Pope Pius IX: The History of Anti-Abortion Law
To Say Abortion is Not "Deeply Rooted" in American History is Wrong
Supreme Court Justice Samuel Alito's assertion, in the Dobbs v. Jackson Women's Health Organization, that abortion was not "deeply rooted" in American history, was wrong.
For centuries, women of all classes, races, and faiths have ended pregnancies with abortions, which had long been both commonplace and legal. The common law, which British colonists imported, allowed abortion until "quickening," the feeling of the fetus moving, around twenty weeks or five months of pregnancy.
Performing an abortion after that point was considered a misdemeanor. Women controlled the process: only pregnant women felt fetal movement and only midwives provided remedies. Abortions were usually induced with herbs like pennyroyal. As medical care supposedly became more scientific around the time of the American Revolution, male doctors lobbied for laws requiring training and licensing, from which they could bar midwives. Nonetheless, women continued to be treated primarily by women.
The country's first anti-abortion regulations were poison control statutes. In 1821, Connecticut banned the use of poisonous herbs to induce an abortion after quickening; the punishment was a life sentence. "Abortifacients" were widely advertised. It was Susan B. Anthony's refusal to run these ads in The Revolution that prompted an anti-abortion group to claim her name. Anthony did not condemn abortion or infanticide among desperate women. She opposed quack remedies, which put women's lives at risk.
In 1845, Massachusetts made any form of abortion or attempted abortion illegal, a law it eventually modified but failed to repeal until 2018. In 1857, the newly formed American Medical Association coordinated a national drive to outlaw abortion and midwifery, both to ensure women's safety and to eliminate competition for obstetrical patients. By 1900, every state had laws forbidding abortion by drugs or surgery. Almost all also had therapeutic exceptions, allowing physicians to use their discretion, putting a woman's decision whether or not to be pregnant in the hands of men.
Even celibate men: in 1869, Pope Pius IX issued a dictum forbidding abortion at any stage of pregnancy. Previously, Catholics had allowed abortion until "ensoulment," similar to quickening. Protestant churches, worried that Catholics would out-propagate them, joined the opposition. None of these pronouncements actually ended abortion. One of the reasons Sanger was so adamant about the need for birth control and sex education was that self-induced abortions were killing hopeless mothers, but the Catholic Church continued to rail against birth control.
In 1951, Pope Pius XII used the phrase "right to life" for the first time in a papal encyclical, directing midwives globally not to interfere with pregnancies. Catholic doctors, nurses, lawyers, and housewives launched the modern anti-abortion movement. In 1967, the National Council of Catholic Bishops provided funding to form the National Right to Life Committee. To avoid charges of papal interference, NRLC sought allies among conservative Protestants. Small and geographically dispersed, local branches focused on state laws.
In 1951, Pope Pius XII used the phrase "right to life" for the first time in a papal encyclical, directing midwives globally not to interfere with pregnancies.
Restrictions created an abortion black market. The 1953 Kinsey Report asserted that 90 percent of premarital and 24 percent of married pregnancies were aborted. There were always ways to circumvent the law: back-alley quacks, bribed professionals, an abortion ring, or DIY procedures involving coat hangers and bleach. Privileged women could get a "D&C," dilation and curettage of the cervix, a procedure usually performed following a miscarriage. Others went abroad. Doctors used their judgment in cases of rape or risk to the mental or physical health of the mother. If two psychiatrists and one physician agreed, a woman could have a therapeutic abortion.
Actual numbers of abortions and deaths from attempts were impossible to tabulate accurately. Unless they were botched, with women ending up in emergency rooms, illegal abortions were not reported. The National Center for Health Statistics listed 235 deaths from abortion in 1965. The Centers for Disease Control did not tabulate abortion-related mortality until 1972, counting twenty-four deaths from legal abortions and thirty-nine from illegal procedures. With improved antibiotics and safer procedures, mortality declined.
Demand for abortions increased in the 1960s. Thalidomide, a sleeping pill, caused thousands of birth defects and an outbreak of German measles produced stillbirths and babies born with abnormalities. Calls for a woman's right to safe and legal elective abortions increased. In 1962, Patricia Maginnis, considered the first American abortion rights activist, organized a symposium for doctors and lawyers. She founded the Association to Repeal Abortion Laws (ARAL), the predecessor of NARAL Pro-Choice America (since 1973, the National Abortion Rights Action League). The American Law Institute drafted a "Model Penal Code for Abortion," legalizing abortion under several circumstances.
In 1965, University of Chicago student Heather Tobis helped a friend's sister find a doctor willing to do an abortion. Soon she was deluged by requests. She organized the Jane Collective, a network of women who posted signs inside bathroom stalls and advertised in underground newspapers, offering abortions, counseling, safe houses, and aftercare, all at anonymous locations.
The Jane Collective was a network of women who posted signs inside bathroom stalls and advertised in underground newspapers, offering abortions, counseling, safe houses, and aftercare, all at anonymous locations.
When the Janes discovered that a provider was unlicensed, they learned to do the procedure themselves, administering anesthesia, inducing miscarriages, and performing twelve thousand abortions between 1969 and 1972. That year, police raided an apartment where Janes operated and arrested the "Abortion Seven." The Supreme Court legalized abortion before their case went to trial. A veteran of Freedom Summer, Tobis married SDS activist Paul Booth and founded The Midwest Academy to train community organizers. A feminist and progressive, she is still protesting. Before she ran for office, when Elizabeth Warren (D-MA) asked how to organize a consumer rights movement, "I was told two words: Heather Booth."
In 1967, Colorado decriminalized abortion in cases of rape, incest, or the disability of the mother. California followed, an act signed by then-Governor Ronald Reagan. Twelve states, including Alabama, Mississippi, and New Mexico, liberalized their laws between 1967 and 1970. Hawaii was the first state to legalize abortion in 1970. New York and Alaska decriminalized abortion. By 1973, abortion was legal in some circumstances in seventeen states. It was not yet a national issue.
In December 1971, the Supreme Court heard oral arguments in two cases challenging restrictive state abortion laws, one from Texas, Roe v. Wade, one from Georgia, Doe v, Bolton. In both, lower federal courts had declared the statutes unconstitutional. Recognizing that its decision would be controversial and consequential, the court paused, scheduled a second round of hearings, and conducted independent research into the medical and legal history of abortion in America.
The decision, announced on January 22, 1973, did not lead the news. The headline was the death of former President Johnson. Voting 7-2, the Supreme Court concluded that the right to an abortion was protected by the Constitution. Writing for the majority, Justice Harry Blackmun acknowledged the "sensitive and emotional nature" of the topic between sides with "deep and seemingly absolute convictions." Blackmun relied on the right of the right of privacy found in Griswold v. Connecticut (1965), which allowed doctors to prescribe birth control to married couples. "We do not need to resolve the difficult question of when life begins," he added, "[if] those trained in . . . medicine, philosophy and theology [cannot]." The only Catholic on the court, Justice William Brennan, a Democrat appointed by President Eisenhower, opposed abortion but believed in separation of church and state.
Although Roe appalled Catholics and social conservatives, it was not a campaign issue in 1974. In 1975, the Council of Catholic Bishops issued a "Pastoral Plan for Pro-Life Activities." The ;parties and their presidential nominees equivocated in 1976, promising to uphold Roe but endorsing the Hyde Amendment, which prohibited federal funding for abortion. In a subsequent case, Justice Brennan condemned cutting funding as "distressing insensitivity to the plight of impoverished pregnant women."
Both sides had political action committees by 1978. In 1980, the antis defeated twelve liberal senators and elected a Republican Senate majority. Journalist Anthony Lewis concluded that more than gun control or bussing abortion would have "the largest impact on American politics for the longest time." With all the high court's actions leading up to the Dobbs decision, it seems the clock is still ticking.
___________________________________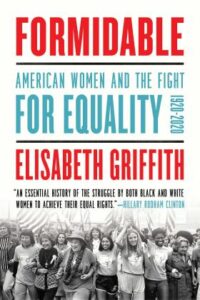 An adapted excerpt from Formidable: American Women and the Fight for Equality: 1920-2020 by Elisabeth Griffith.  Used with permission of the publisher, Pegasus Books.
---