From Jean-Luc Godard to Bong Joon-ho: Joyce Chopra on the Films That Have Influenced Her
Lessons from a Lifetime of Making Art
When I was about twenty-two or so, I purchased a Bolex film camera and never once dared to use it. It just sat on a tripod in the corner of my room, staring at me reproachfully. Becoming a movie director had taken a firm grip on my imagination, but I hadn't the vaguest idea of how one managed to do that. There weren't any film schools that I knew of, and, even more problematic, I couldn't picture myself in the director's role since I had never seen a movie directed by a woman. Even the film history books that I collected to educate myself never mentioned a single one. It didn't strike me as odd; it was 1958, and that was the way the world was.
I would have been astonished if anyone had told me that a French woman exactly my age, Alice Guy, was the first person to direct a one-minute movie with actors in 1896 in Paris, or that twenty years later, an American woman, Lois Weber, would become the first person to direct a feature-length film, an adaptation of The Merchant of Venice, for the newly formed Universal Studios in Hollywood.
I would have been equally amazed to be told that another woman I never heard of, Dorothy Arzner, directed major films all through the 1930s starring the likes of Katharine Hepburn and Joan Crawford, having begun her own transition into the new world of "talkies" along with the silent movie star Clara Bow. Miss Bow's fear of microphones was so intense that it prompted Arzner to invent the boom mike by attaching a microphone to a fishing pole that followed the actress around the set where she couldn't see it.
But none of these accomplishments would be recognized until many years later when scholars began to uncover women's roles in the early days of moviemaking. It's frustrating to think that I knew nothing of their work at a time when it would have helped me to feel less insane to think of such a career for myself. But even if I had known that other women had once been successful film directors, I would have been dismayed that their success didn't last. By the 1940s, when Hollywood became a very corporate world, not one woman could be found sitting in the director's chair except for the actress Ida Lupino, who survived by forming her own production company and hiring herself.
The first time I fell madly in love with a movie happened while living in Paris in 1955.
Like Lupino, I too had started my own business—Club 47, a folk music venue in Harvard Square—that drew a devoted audience from the day it opened. But once the club was up and running, I became restless and unable to stop myself from obsessing about making movies. I even started a weekly film series on the nights we were closed so I could see films I had only read about, and then watched them a second time to take notes on how they were shot.
In a way these private viewings were harmful; the more I learned, the more convinced I became that I was deluding myself. How could I possibly think I could be part of such magic? I also doubted that I had the courage to leave my familiar world behind to venture into the great unknown. It took a year, but obsession finally won out. I gave my treasured Bolex to a friend who I hoped would actually use it and sold my share in the club to my partner Paula. With fifteen hundred dollars in my wallet and a backpack, I set out to find my way.
I wish I could say that I found that yellow brick road that magically led to my longed-for destination. When asked, especially by young women, how I finally managed to make numerous documentaries and feature films in spite of the often hostile road I had to travel on, I've never been able to give a useful reply. But I can easily summon up some films that heavily influenced my way of thinking about them.
The first time I fell madly in love with a movie happened while living in Paris in 1955. It was Marcel Carne's voluptuous, Les Enfants du Paradis, and I must have seen it at least a dozen times. Made during the Nazi occupation of France, the film overflows with the life of actors, musicians, swindlers and the decadent rich, each one of them a truly living character. It was also the first time I saw the mime, Jean Louis Barrault, and sought out his teacher to learn the basics of that art.
High on my list of movies that influenced me is Jean-Luc Godard's Breathless. It was both shocking and thrilling to see his use of documentary-style hand held cameras and jump cuts along with a total disregard for the standard master shot and close-ups. Goddard's frenetic style perfectly mimicked the film's putative hero, a small-time gangster who idolizes American crime films and yearns to be Humphrey Bogart.
The Academy Award-winning Parasite, the 2019 film directed by Bong Joon-ho, is unquestionably one of the greatest films I've ever seen due to its daring narrative and extraordinary settings. It's impossible to say how it influenced my own filmmaking as it's so beyond my own talent other than to be more daring with what I make next.
__________________________________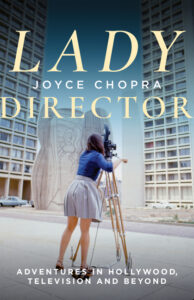 Lady Director: Adventures in Hollywood, Television and Beyond by Joyce Chopra is available via City Lights Books.
---