From Indigenous Practices to Protecting Oceans: Climate Readings for October
Some Hopeful Recommendations from Amy Brady
This year, the United Nations and the Convention of Biological Diversity published the fifth edition of the Global Biodiversity Outlook report, an authoritative overview of how nature is faring worldwide. The report's conclusion? Nature is not faring well. Not at all. Of the ten global biodiversity targets set by the UN in 2010—targets that include addressing climate change, protecting biodiversity, and enacting plans for long-term food security—a total of zero have been met as of the 2020 deadline. It's a sobering read that illustrates the wrong-headedness of humanity's relationship with nature.
Well, most of humanity, that is. For generations, Indigenous peoples have held far more harmonious and healthier relationships with nature and animals—the kind that the rest of us would do well to learn from. This month, there are two books hitting shelves that encourage readers to do just that. Also out this month is an optimistic work of fiction about the future of climate change, a solutions-oriented read about the dire state of our oceans and how we can better protect them, and a collection of some of the finest essays ever written about climate. Taken together, these books are some of the most hopeful that I've read in some time. And given the state of the world at present, we can use all the hope we can get.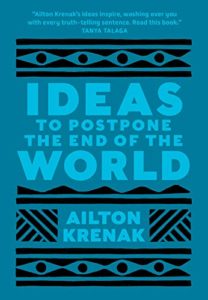 Ailton Krenak trans. by Anthony Doyle, Ideas to Postpone the End of the World
(Anansi International)
Born in Minas Gerais, Brazil, where mining has greatly impacted local ecosystems, Ailton Krenak is an   environmental activist and campaigner for Indigenous rights, as well as the organizer of the Alliance of Forest Peoples—a collective that unites the Indigenous communities of the Amazon. In Ideas to Postpone the End of the World, Krenak argues that climate change, extreme weather, pandemics, and other disasters result from humanity's misunderstanding of our place in the world and among all living things. Via Anthony Doyle's adept translation, he offers alternative ways of imagining our relationship to nature that are based in part on the practices and beliefs of Indigenous peoples.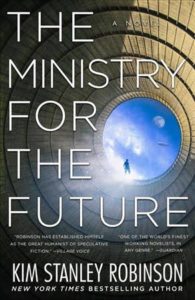 Kim Stanley Robinson, The Ministry for the Future
(Orbit)
Called "our greatest political novelist" by The New Yorker, Kim Stanley Robinson has long written about climate change in his fiction. His 2004 novel, Forty Signs of Rain, imagines the complex political machinations that arise in an America on the verge of climate-related catastrophe, and his 2017 knockout, New York 2140, depicts a Manhattan partially submerged by the sea and on the cusp of revolution. In his latest, The Ministry for the Future, Robinson takes up the subject once again, this time with a more experimental touch: the book comprises a series of fictional first-hand testimonials that explain how humanity survived the worst of climate change—and ultimately arrived at a more just and sustainable future.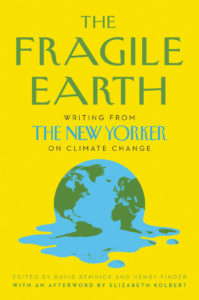 Ed. by David Remnick, The Fragile Earth: Writing from The New Yorker on Climate Change
(Ecco Press)
Like fans of Saturday Night Live, readers of The New Yorker all have their favorite era. But one through line of the magazine's long history is its devotion to climate coverage. In The Fragile Earth, editor David Remnick gathers some of the best of that coverage, including pointed essays by Elizabeth Kolbert, Kathryn Schulz, Bill McKibben, and Jonathan Franzen, that touch on a range of subjects: the causes of climate change, its economic and cultural impacts, and some personal stories about how climate change manifests at the level of a life.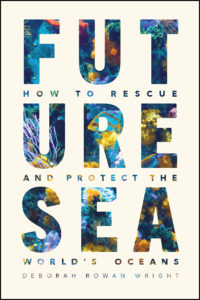 Deborah Rowan Wright, Future Sea: How to Rescue and Protect the World's Oceans
(University of Chicago Press)
Books about climate change are often rife with doomy predictions, but Future Sea brims with hopeful stories of communities around the world that are working to protect and conserve our oceans. Our seas face many threats, including climate change, pollution, and overfishing, but this book is solutions-oriented. A marine-policy researcher, Deborah Rowan Wright puts forth a sweeping—if somewhat radical—plan that offers total protection of all oceans on Earth and all of their living inhabitants. The book also includes actions individuals can take right now to be better stewards of the seas.
Linda Hogan, The Radiant Lives of Animals
(Beacon Press)
In The Radiant Lives of Animals, Indigenous writer and environmentalist Linda Hogan closely examines the lives of wild animals that live near her home in Colorado and its surrounding regions. The book is filled with essays, poetry, and illustrations that draw on Indigenous traditions and stories about how wild animals can lead to stronger spiritual connections to the natural world. Hogan's writing is both elegant and thoughtful, an excellent and much-needed addition to the contemporary oeuvre of nature writing.
---