From Gutting Fish to Making Pastry, 12 of the Fall's Biggest Cookbooks
Sure, Food is Great, but Have You Tried Reading?
A confession, but one I am comfortable making: when it comes to cookbooks, I'm in it for the reading.
Yes, I cook from these volumes, too. However, I'm happiest when a book about food intertwines recipes and information with stories. That doesn't mean they have to be complicated or verbose. Think of the late, great Anthony Bourdain's Appetites: A Cookbook. Every page, even those with just a few sentences, tells you more about ingredients and technique and personality than some other writers could manage with several chapters.
Which is all to say that this fall's big cookbooks, from fish butchery to pastry art, share stories: stories of personal journeys, stories of cuisines, stories of feeding and being fed.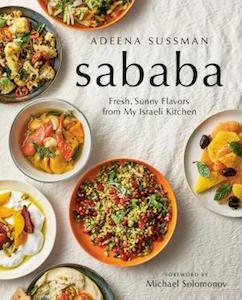 Sababa: Sunny Flavors from My Israeli Kitchen by Adeena Sussman (Avery, Sep. 3)
Author, Sussman, moved to Israel in 2015, for love, and her relatively newlywed joy shines through in this cookbook. "Sababa" is Arab-Israeli slang for "everything is awesome," and Sussman applies that to the fresh produce and spices she has found in her local open-air markets. You may have tasted watermelon-feta salad with mint before, but she wants to encourage you to make it with local fruit, herbs, and fresh cheese—revelation! Properly made sesame paste shines in a Tahini Caramel Tart, while vegetables and grains also have their moment in the sun, from a shakshuka featuring zucchini to corn made Israeli-street style with yogurt and za'atar.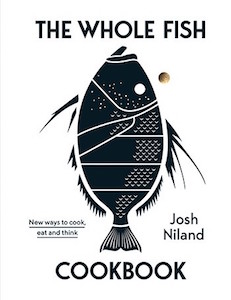 The Whole Fish Cookbook: New Ways to Cook, Eat and Think by Josh Niland (Hardie Grant, Sep. 17)
Sydney's Josh Niland, founder of its superb Saint Peter fish restaurant, continues to challenge everyone's ideas of how ocean-sourced proteins can function in the human diet. You may have heard of nose-to-tail eating; Niland wants you to think similarly with seafood, a sort of "fin-to-scale" approach in which parts that are usually discarded, including fish offal, are fashioned into delicious broths, salads, and spreads. When it comes to bigger cuts, Niland has bigger ideas, too. He believes in using time-honored meat techniques like dry-ageing and curing to bring out the best textures and flavors—but also to keep chefs from wastage. Some of this groundbreaking book's best reading lies in Niland's thoughts on how we should source and conserve the bounty of the sea.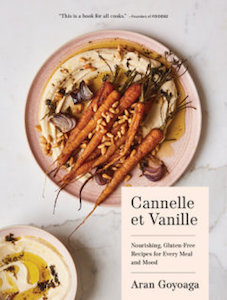 Cannelle et Vanille: Nourishing, Gluten-Free Recipes for Every Meal and Mood by Aran Goyoaga (Sasquatch, Sep. 24)
Basque-born author Goyoaga's two-time James-Beard-Award-winning blog "Cannelle et Vanille" highlights her attention to detail in both meal and table preparation. She believes that thoughtfulness on both sides results in true nourishment, and looking at her beautiful place settings (which often use natural elements, like fruits and plants) and serene finished plates (just try and look at her Perfect Steak with Garlic and Red Chilli Flakes without salivating). Yes, these recipes are gluten free, but you won't even notice; they're simply delicious ways of preparing real food. The very names of the recipes will tempt you: "Rhubarb and strawberry tartlets scented with orange flower water and vanilla bean"; "Roasted broccoli rabe tostado with avocado, fried egg and chimichurri"; "A Quinoa Salad Full of Spring."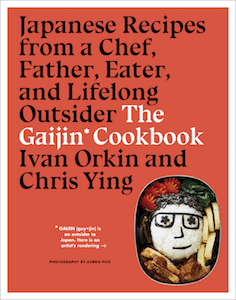 The Gaijin Cookbook: Japanese Recipes from a Chef, Father, Eater, and Lifelong Outsider by Ivan Orkin (Rux Martin/HMH, Sep. 24)
Growing up on Long Island rarely leads to opening two acclaimed authentic ramen restaurants first in Japan, then in Manhattan—but Ivan Orkin has been obsessed with Japanese food since his teen years. Still, even after living in Japan, Orkin knows he's still a "gaijin," or foreigner. He's decided to make his outsider status work for him by absorbing everything authentic about cooking in his adopted country that he possibly can (and, as a Culinary Institute grad, can do with professional flair). While Orkin's other cookbooks focus on that authenticity, in The Gaijin Cookbook he's come out to play, offering the kinds of mash-up meals he serves his family, from Japanese Spaghetti with Tomato Sauce to Tofu Coney Island (fried, with a chili made of mushrooms) to Bagels with Shiso Gravlax. Think of it as Jewish-Japanese soul food.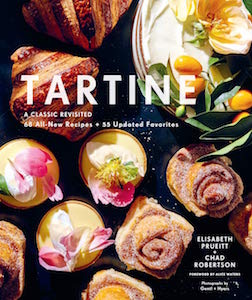 Tartine: Revised Edition: A Classic Revisited 68 All-New Recipes + 55 Updated Favorites by Elisabeth M. Prueitt and Chad Robertson (Chronicle, Oct. 1)
Tartine Bakery, which now also includes Tartine Manufactory, as well as an outpost at LAX, is arguably the most famous bakery in the US—and co-founders (as well as spouses) Prueitt and Robertson continue to wow customers and colleagues alike with the perfection of their all-time favorites like the Morning Bun and the envelope-pushing of new treats, like Einkorn Doughnuts and Teff Carrot Cake (Prueitt is devoted to gluten-free options, especially for pastries). While a list of the new recipes could fill this space nicely, a shout-out must be given to the team of Gentl & Hyers, whose gorgeous photos prove what Alice Waters describes in her Introduction, saying that watching Prueitt in her once-tiny bakery stacking tarts took her breath away. A kitchen essential.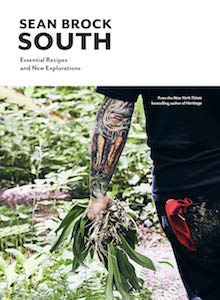 South: Essential Recipes and New Explorations by Sean Brock (Artisan, Oct. 15)
If you've never eaten at Sean Brock's Charleston-based Husk, you've missed out: They put pork fat in the butter they serve with their bread baskets! It might sound curious, but it tastes amazing, the lard somehow lightening the dairy, helping you to understand why a pastry crust made with both is so delicious. That's Brock, constantly educating palates and minds at once. I mean, on the cover of his first book, Heritage, you see Brock's hands holding a collection of beans grown from his own grandmother's heirloom seeds. He cares about provenance and conservation because he knows that real food, cooked with care, nourishes every part of a human being. Come for the sour corn bread, stay for the fried bologna with pickled peach mustard. Seriously.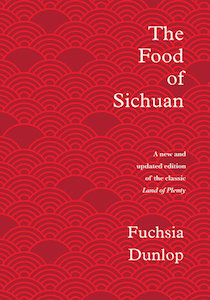 The Food of Sichuan by Fuchsia Dunlop (Norton, Oct. 15)
Another updated cookbook, this one a revision of Dunlop's 2003 Land of Plenty, shows that classics never go out of style. In a way, Fuchsia Dunlop is to Chinese cuisine what Julia Child is to French cuisine—an outsider whose fascination with and affection for an adopted land led to a career in adapting that land's rich culinary history for Western kitchens. Dunlop was the first-ever Western student at the Sichuan Institute of Higher Cuisine in Chengdu, where she learned how to make "Strange-Flavor Chicken" (in the West, often called "Bang Bang Chicken"), Hot and Sour Soup, and many other traditional dishes. With 23 flavors and 56 cooking methods (still detailed at this book's end), Sichuan cuisine can be complicated. However, Dunlop's unfettered joy for its possibilities is infectious, and may lead you to try this—and that, and that—at home.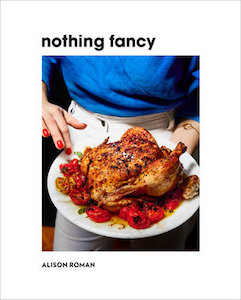 Nothing Fancy: The Art of Having People Over: A Cookbook by Alison Roman (Clarkson Potter, Oct. 22)
Alison Roman's first cookbook was called Dining In, so I think it's safe to say she is dedicated to fuss-free food. The New York Times and Bon Appetit columnist knows the virtues of a simple grilled onion and sweet butter sandwich, but she also is willing to highlight tonier ingredients (pomegranates, Gorgonzola, candied fennel) if they make a difference, or "make" the dish. Upping the ante this time around, Roman urges home cooks to bring guests to their tables. Just don't call it "entertaining," or you might frighten yourself away from what should be easy and relaxed. While she had me at "DIY Martini Bar," you might need a longer ramble through these recipes until you find just the one to convince you to send a few texts and get the gang together. How about coconut-braised chicken with tomatoes?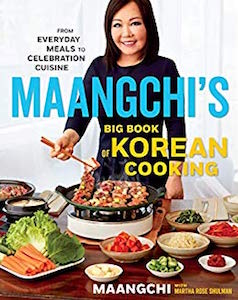 Maangchi's Big Book of Korean Cooking: From Everyday Meals to Celebration Cuisine by Maangchi (Emily Kim) (Rux Martin/HMH, Oct. 29)
"Maangchi" means "hammer" in Korean, a nom-de-blog Emily Kim adopted for her avatar in the online roleplaying game City of Heroes—and kept when she decided to start a cooking site in 2007. She's been called "YouTube's Korean Julia Child," and her fans know that when she mentions "KFC," she's talking hot-spiced Korean Fried Chicken, not the Colonel's bland counterpart. While Maangchi's Real Korean Cooking centered on the basics, like kimchi made from bok choy and scallion pancakes, this new cookbook includes more complicated recipes, as well as types of food Americans won't find in stateside Korean restaurants. Think temple meals, celebration feasts, children's lunch-box treats, along with detailed instructions on various forms of kimchi, stews and hotpots, and rice-cooking methods.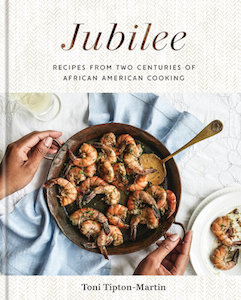 Jubilee: Recipes from Two Centuries of African-American Cooking: A Cookbook by Toni Tipton-Martin (Clarkson Potter, Nov. 5)
Toni Tipton-Martin's James Beard Award-winning The Jemima Code was about the ideas that lay beneath the lines of three centuries of African-American cookbooks. In Jubilee, she adapts recipes from those cookbooks for the modern kitchen, and in so doing shows that the world of African-American cuisine goes beyond soul food. It's about food for different occasions, food from different regions, food developed by different social classes, and so much more. From humble standards like Southern biscuits and Creole gumbo, from Champagne cocktails inspired by a country-club to a farm-family favorite salad, Tipton-Martin's expertise and curiosity enliven every page of this gorgeous book—which would make an excellent wedding gift.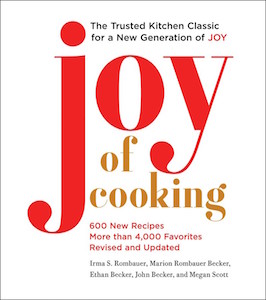 Joy of Cooking: 2019 Fully Revised and Updated Edition by Irma S. Rombauer, Marion Rombauer Becker, Ethan Becker, John Becker, and Megan Scott (Scribner, Nov. 12)
In 1931, Irma Rombauer had a huge self-publishing success, selling 3,000 copies of The Joy of Cooking. That success has led to a stunning legacy of 20 million copies of what generations called "The Joy"; this 2019 edition removes its definite article (and I'd like to speak with someone about that). John Becker, Irma's great-grandson, and his wife Megan Scott, have looked under the classic cookbook's hood and thrown a few things out, added six hundred new recipes, updated others to include gram weights, and added sections on new techniques, ingredients, and ideas—including a chapter on streamlined cooking that helps home cooks waste less time and food.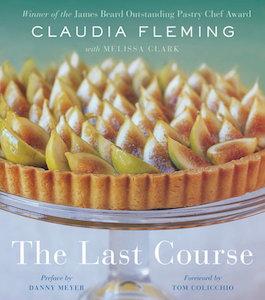 The Last Course: The Desserts of Gramercy Tavern by Claudia Fleming and Melissa Clark (Random House, Nov. 12)
Another cookbook revision? I couldn't leave this one out, especially since Bon Appétit refers to it as "the greatest dessert book in the history of the world," and, if you've had the privilege of dining at Danny Meyer's Gramercy Tavern, you'll know its desserts, developed by James Beard Award-winner Fleming, are world class. In this final list entry, I can let the recipe names speak for themselves: Raspberry–Lemon Verbena Meringue Cake, Blueberry–Cream Cheese Tarts with Graham Cracker Crust, Cherry Cheesecake Tart with a Red Wine Glaze, Concord Grape Sorbet, Apple Tarte Tatin, Chestnut Soufflés with Armagnac-Nutmeg Custard Sauce, Buttermilk Panna Cotta with Sauternes Gelée, Warm Chocolate Ganache Cakes. It's another volume that deserves a place on your permanent kitchen bookshelf, because these elegant finales are carefully tweaked for home preparation.
---