From Burning Man to Industrial Rome, Gift-Giving as Ritualized, Collective Offering
Lewis Hyde on the Anniversary of His Bestselling Book The Gift
It was summertime in Sitka, Alaska, and I was out for a walk with a Tlingit elder. She told me that she very much liked my book on gifts and art; of its portrait of tribal gift economies, however, she said, "I wish you hadn't written about my people in the past tense."
Many years later, as if to help me repair that embarrassing lapse, a documentary "inspired" by this book was released. That film, written and directed by Canadian filmmaker Robin McKenna and simply titled Gift, follows four cases in which gift exchange itself is alive and well in the present moment, one of these being an elaborate gift-giving celebration, a potlatch, held by the 'Namgis Nation of the Kwak-w_ak_a'wakw of Alert Bay, British Columbia. In earlier editions of this book, I explained that "at its simplest a potlatch was a feast lasting several days given by a member of a tribe who wanted his rank in the group to be publicly recognized . . . Status and generosity were always associated: no man could become a man of position without giving away property." I've revised all that now. As the film makes clear, a potlatch is a feast, and status and generosity are always associated.
In the documentary, Marcus Alfred is the man intent on demonstrating his generosity. Early on, while the camera pans slowly over the expanse of Alert Bay—mountains in the distance, a bird flying low over still waters, a bald eagle perched on a post—Marcus's father, Wayne Alfred, explains that the Kwakw_ak_a'wakw have a word meaning "a gift from the supernatural, a gift from the creator" and that "many people have these supernatural gifts. Some are great hunters, some are great fishermen." As for his son, Marcus, whose chieftainship is about to be celebrated, he is a skilled carver of masks and totems, which he sells through commercial galleries, setting aside a portion of each sale, "saving for the potlatch."
Says the father, "My son was born with those gifts. He used all his gifts to get this far." Marcus himself speaks in a similar fashion: "How thankful I am for the gift that was put on me," he says. Later he offers a short history of  Kwakw_ak_a'wakw potlatch: "It was about us giving every last dime that we had, so that our pockets were hanging out. When white people showed up, they tried to stop us from potlatching. I don't think they understood it: we were giving away everything that we had to become wealthy. My grandfather was sent to jail because of potlatching."
In gift exchange, the brevity of individual possession serves to preserve the longevity of the collective.
In the film's record of that now-recovered tradition, we see the gathering and then the dispersal to members of the community of the kind of ceremonial gifts that have always accompanied a potlatch (button blankets, for example, and copper plaques), but more modern items are distributed as well: packets of salt and pepper, silver and copper bracelets, paper money, and—most striking—eleven thousand sacks of all-purpose flour piled on pallets in the back of the tribal lodge. Comments one onlooker, "That's what we call a mountain of gifts." That is a sentence spoken in the present tense, as is Wayne Alfred's declaration of his core understanding, that the "potlatch system is the glue that keeps our people together."
The three other examples of gift exchange in McKenna's film are also very much of this moment. One of them is Burning Man, the annual end-of-summer "temporary city" in the Black Rock Desert of northwest Nevada. Burning Man is an experiment in community and art, guided by a set of principles that includes gifting: "Burning Man is devoted to acts of gift giving. The value of a gift is unconditional. Gifting does not contemplate a return or an exchange for something of equal value." Once one has arrived at the site of the gathering, only two things can be found for purchase, coffee and ice; everything else is to be exchanged as a gift. "If you forget something vital, your best bet is to make friends with your neighbors," the literature says. "In order to preserve the spirit of gifting, our community seeks to create social environments that are unmediated by commercial sponsorships, transactions, or advertising. We resist the substitution of consumption for participatory experience."
I confess that until I studied the example presented in McKenna's film, I had some reservations about Burning Man. This is a ticketed event (as I write, prices range from $210 to $1,400), so a moment of commercial mediation intervenes before the unmediated pleasures can begin. More than that, seen from a distance Burning Man appeared to me to have the structure of classic carnival, a time-limited period of ritual inversion and playful release that (or so the theorists of carnival tell us) actually has the effect of reaffirming and solidifying the normal practice that goes on the rest of the year. Perhaps Burning Man is the place where commodity traders go to let off steam so that they can return to their desks refreshed.
All that said, McKenna's film tells the story of one "Burner" in enough detail to soften my skepticism. For one thing, it becomes clear that Burning Man is not time limited for those who participate. We follow a woman who calls herself Smallfry. A social worker by day, Smallfry is also a brewer of mead, that slightly alcoholic beverage made of water and fermented honey. Her plan is to build a large bee-shaped art car and take it to Burning Man loaded with jugs of mead that she will offer as gifts to her fellow Burners.
Smallfry puts her plan in motion by posting a request for donations of honey. One of the men who responds turns out also to brew mead, and soon the two of them are collaborating, sharing honey, mead, and conversation. The building of the art car is cooperative as well. Having little mechanical skill herself, Smallfry relies on friends who meet with her at a local "artist incubator space" in Oakland, California, that provides artists with shared tools and space. In short, much as the 'Namgis Nation potlatch celebration is the culmination of years of preparation, what shows up at Burning Man is the fruit of a long background of freely given mutual aid. If a community arises as a result, here too gift exchange has been the glue.
McKenna's other examples of current gift exchange are modern inventions, but the 'Namgis ceremony is not. It is simultaneously contemporary and ancient.
In yet another of McKenna's modern cases, gifts don't just create a community, they protect one. In 2011, in one of Rome's industrial neighborhoods, an Italian anthropologist named Giorgio de Finis came upon an abandoned salami factory occupied by hundreds of homeless migrants and out-of-work Italians. Intrigued by the building and by the precarious status of the squatters, de Finis set out to create a unique contemporary museum known as MAAM, the Museo dell'Altro e dell'Altrove di Metropoliz (the Museum of the Other and the Elsewhere). In the years since, MAAM has invited more than 300 artists from around the world to donate their time and their work, to paint murals on the walls and fill the empty spaces with installations, the idea being "to create a protective skin, a shield" against the real estate developers who would like to reclaim the building. "Against the value of real estate, we use the value of art," says de Finis.
"Today culture is no longer culture. It's the society of the spectacle; it's tourism or mass consumption." The default values in all those systems serve to ease the way for any landlord out to reclaim his property for commercial purposes. When I visited the museum in 2018, it seemed likely that the Italian courts would soon let the building's owners do just that. But they hadn't yet. At MAAM, for seven years and counting, the system-jamming presence of art as gift has successfully served as what the inhabitants call a "barricade of art."
In each of these cases, gift exchange is not a theory explaining a past world; it is a performance, a series of actions in the moment. In McKenna's final case, the work of Taiwanese American artist Lee Mingwei, we find that performative element reduced to its bare essentials. In one of Lee's works, The Moving Garden, a museum displays a long cleft rock with cut flowers standing in the fissure. Museum patrons are encouraged to take a flower, carry it into the nearby streets, and give it to a stranger. The film shows the results: a child gives a flower to a man asking for alms; another child approaches a woman who refuses the gift ("You keep it," she says) and then one who accepts it ("Oh my goodness! That's, like, amazing. Wow!"). A nearby street musician ends up with two flowers in his collection tray.
The Lee Mingwei work most fully documented in the film is called Sonic Blossom, a project that arose when Lee was taking care of his convalescing mother. "We found great comfort in listening to Franz Schubert's lieder," he has written. "These songs came as an unexpected gift to us, one that soothed us both and clearly helped with her healing. At another level, seeing my own mother weak and ill made her (and my) mortality suddenly very real . . . One day she—and I—will be gone. Like Schubert's lieder, our own lives are brief, but all the more beautiful because of this."
When a museum hosts Sonic Blossom, an invitation goes out to local opera singers to participate by singing some of Schubert's songs. In performance, one of these singers wanders the museum galleries, approaches a patron at random, and asks "May I give you the gift of song?" As with the flowers in The Moving Garden, patrons sometimes decline ("Oh my gosh! Um, I'm good. Sorry!" one woman says, turning away), but usually they assent. Those who do are led to a prepared gallery and seated in a chair. The singer then stands about 20 feet away and sings directly at the patron. This singing "happens sporadically both in time and location—the folding and unfolding of a Sonic Blossom," Lee says. Like a potlatch, it is a bestowal of wealth—of musical training, of the legacy of song, of the time of all concerned—and the chosen patron who accepts the gift of song simultaneously participates in the ephemeral present moment of this new work of art.
For this third edition of The Gift, I have corrected or amended the text in a number of places, above all by revising the tenses governing my accounts of enduring tribal practice, as with that sentence found in chapter two: "At its simplest a potlatch was is a feast . . ." Such changes could be said simply to move from past to present tense, but that isn't quite right. Rituals that repeat over and over have a temporality all their own. The 'Namgis potlatch as recorded in the film begins not in the tribe's Big House, but at the 'Namgis burial grounds, where tribal elders stand and call upon their ancestors to point the way forward. All of McKenna's other examples of current gift exchange are modern inventions, but the 'Namgis ceremony is not. It is simultaneously contemporary and ancient.
"When we close that door, we're who we are," says Marcus Alfred. "For thousands and thousands of years." The Big House door closes on an ephemeral celebration, but it does so to affirm an identity not at all ephemeral. "The gift goes around in a circle," Wayne Alfred says. "It comes to you, and then you pass it on." In gift exchange, the brevity of individual possession serves to preserve the longevity of the collective. That all-purpose flour will soon be eaten so that the 'Namgis Nation itself will not soon disappear.
At one point in the film we see, in slow motion, an eagle swoop down and lift a fish from the waters of Alert Bay, a background voice saying, "Our people were so, so rich; rich with wealth, not money . . . We had a really good system here that went on since the beginning of time." In cases like that, the verb "to be" ("potlatch is") is best conjugated not in the simple present but in what has been called the "prophetic perfect," a tense that bespeaks a perennial life constantly blooming in the present moment.
———————————————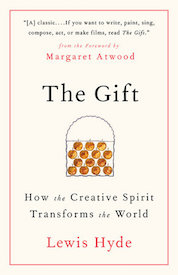 From The Gift by Lewis Hyde. Used with the permission of the publisher, Vintage, a division of Penguin Random House. Copyright © 2019 by Lewis Hyde.
*
The acclaimed documentary, GIFT, inspired by Lewis Hyde's beloved classic The Gift: Creativity and the Artist in the Modern World, and directed by Robin McKenna and produced by Ina Fichman and Robin McKenna will be released in US movie theaters on October 10.
A little about the film: GIFT is a richly cinematic film set on North America's Pacific Northwest Coast, interweaving the stories multiple characters' stories, including a young Indigenous artist and carver who undertakes the elaborate preparations for a potlatch—to make a name for himself by giving everything away. GIFT is a tribute to something that cannot be measured or counted, bought or sold. Exploring the parallels between artists' work and a gift economy, it's a reflection on the creative process, the reasons we "labour in service of our gifts", and a celebration of the imagination. The film brings out the beautiful defense of creativity in a culture increasingly governed by money. Robin McKenna is director, producer and writer of GIFT, and credited cinematographer. You can watch the trailed of the film here.
---