Frances Badalamenti on the Fleeting, Painful Freedom of Youth and Writing as Self-Care
Chloe Caldwell Talks to the Salad Days Author
Ten years ago, I was teaching (my first!) a one-day personal essay class at the Independent Publishing Resource Center in Portland, Oregon. Upon entering, I spotted a person in a bright blue (American Apparel?) T-shirt. I looked at her with the sort of face you do when you recognize someone but you aren't sure from where. She looked back at me. "Yoga," she said, nodding her head towards me in what felt like we'd attended the same classes.
The moment was tiny, but pivotal, because ever since that day, we have been like family. These days, there are online performative friendships, and then there are the friendships you don't see. The phone calls where we are both walking on different coasts, confiding in the disappointments of an agent break-up, a manuscript rejection. The morning before my wedding; when we attended a beautiful yoga class together. The reading of one another's manuscripts in one sitting.
Salad Days is Frances Badalamenti's second novel. My unofficial blurb is: "Salad Days is a novel Noah Baumbach would write if he wrote autofiction novels." My official blurb is: "Salad Days is about those gravy days when stakes are high, choices are fraught, and your friends are your world. Place is the main character in this book, the 90s indie music scene is a backdrop, and the prose will remind you of your own conflicted and spectacular salad days."
*
Chloe Caldwell: Talk about the title. I know "Salad Days" is something you've referenced in our friendship for years. Did you have the title in mind before writing the book? Was it a catalyst? How do you describe salad days, and what it means to you and for you?
Frances Badalamenti: One of my favorite photos is of the DC hardcore band Minor Threat sitting on the porch of a bungalow. It was taken by the photographer Glen E. Friedman who photographed a lot of skateboarders back in the day, and I have always admired his work. That particular image was used for Minor Threat's EP, Salad Days (1985). There's a feeling to that image that epitomizes the meaning of "salad days" for me. It is the time in your life when you are still too young to realize how rad shit really is. You are still struggling a bit with who you are and where you are going, probably pretty broke and definitely fumbling with intimate relationships. But you have amazing friends and you are doing a lot of cool shit. There will come a point in your adult life that you will look back on that time with great nostalgia, a pining for that painful freedom. That was this book for me: those were my salad days. I don't really know at what point that became the title, but it felt like such a vibe fit.
CC: Lately I'm obsessed with the idea of first draft to final. What did the first draft of this book look like? When did you incorporate the Portland and Jersey headers and idea to go back and forth consistently? Sheila Heti says when you release a book there are all of the previous versions the readers will never see. Can you tell us about one or more of those versions?
FB: I remember bringing a short story that was the seed of Salad Days to a Tin House writing workshop in 2016. I had been writing vignettes about working at Maxwell's, which was an independent music venue in Hoboken where I worked as a bartender through a good chunk of my twenties. It was the heart of the 90s. There was this moment when I was working alone at the back bar where the bands played and Archer's of Loaf was playing that night. The room was packed solid. Archer's played the song "Web in Front," which is a really fucking dynamic song and the crowd was going absolutely nuts. I just stood behind the bar in some kind of shock.
For some reason, I couldn't get the memory of that moment out of my mind and I kept writing it into things for a while until I realized that I needed to write a book about that time of my life. But then I also had this narrative about leaving Jersey and moving to Oregon with my ex-husband that I felt also needed to be told. I also kept writing this scene into vignettes and short stories—it's a scene where I am sitting in this crusty bathroom with two girlfriends, also recent Jersey transplants. They are wearing face masks in the tub and I am on the toilet, smoking. Archer's of Loaf is playing in the background. It was this turning point in my life, a true convergence of Jersey and Portland. I was about to leave my then-husband for the person who is now my husband. So honestly there weren't too many other versions of this book. There were vignettes and there were a few drafts of short stories that eventually became Salad Days.
CC: You are the person who turned me into a film-lover. How does your love of film overlap with your autofiction? Over quarantine last year you and I were freaking out over the movie Mutual Appreciation, written by Andrew Bujalski. It feels like a film about salad days as well. Were there any films that inspired or guided you during the process of writing?
FB: I loved that movie so much and was so stoked that you related to it as well. I felt like you and I could be in that movie. It did remind me so much of that time in my life when I was living through my twenties, all the roommate drama and lovers and cheap food. When you make these dumb, somewhat unethical moves because it feels good at the time. I remember not paying my rent but buying a leather jacket instead. And messing around with people who you know are gonna fuck with your head. I fell in love with film when I was around that age—it was true escapism. And of course, I was mostly attracted to films that seemed to touch on something autobiographical. In many ways, film is my first love, even before writing and books and music. I wouldn't say any particular films inspired Salad Days, but I would say that films were such an integral part of my twenties and that definitely informed who I am now as a person and as a writer. But if I had to pick a film, I would say The Squid and the Whale because it's also so much a nostalgic coming-of-age story.
CC: In your acknowledgments, you wrote that you wouldn't be able to write all this shit without your kid. What did you mean by that? How does the experience of parenting overlap with your artistic life? As Remy gets older, how do you connect with him over the arts?
FB: Becoming a parent inspired me to write and to finally identify as a writer. Before I had a child, I was so lost and stoned. I worked in advertising and I was stressed out, sick and unhappy because I wasn't doing what I was meant to do. I was doing what I thought that I should do, which was sit in a cubicle and make money and then go home and drink wine and smoke pot. My life as a parent became the canvas for my writing. When Remy was in grade school, writing provided a perfect structure for my day and a perfect salve for my unchecked mental health issues. At that time, we could afford to get by on one salary, which was a true gift and a tremendous privilege. Having a kid just makes me want to be a better, happier person and a big part of my self-care is expressing myself through writing. And now that he is 13, I get to share some of my creative inspirations with him. We recently watched the entire Wes Anderson oeuvre in preparation for his new movie, The French Dispatch. We watched that Mike Birbiglia movie Sleepwalk with Me when Remy was ten; he loved it and still talks about it. I look forward to sharing so much more with him as he matures.
CC: This is your second book of autofiction. Since I Don't Blame You and Salad Days are the same genre, was there a similar way of approaching them? Also, lately, I feel like I want to be in the middle of writing a novel, but I don't know where to begin. How do you begin?
Having a kid just makes me want to be a better, happier person and a big part of my self-care is expressing myself through writing.
FB: It's pretty straightforward. I take something that happened to me and then I make it more interesting. A lot of my characters and settings are amalgams. I basically write in scenes how I remember something and then turn on my fiction brain and color it in with better shit. I Don't Blame You started out as a memoir, so it's not as fictionalized or as novelistic as Salad Days. Salad Days is pretty fictionalized, but so many of the fundamental scenes were extracted from my life and then fucked with to sound better. Since I write from personal experience, I generally start with a period from my life that I want to write about and then I create a timeline and start filling it in with scenes.
CC: What books guided you for Salad Days? I always have a few I am striving toward in a pile while working on a book. What books would you be stoked to see in a pile with Salad Days?
FB: For Salad Days, there really wasn't much of a pile but there were inspirations. Jessica Hopper's The First Collection of Criticism by a Living Female Rock Critic was definitely an inspiration, as was Please Kill Me: The Uncensored Oral History of Punk by Legs McNeil and Gillian McCain and The Essential Ellen Willis. I read a bunch of memoirs by musicians and watched a ton of music documentaries. Because my book is a lot about music, I needed to figure out how to write about music. The book is about a bartender at an independent music venue. The real me, who my character Ana is based off of, was not a musician so I needed language. Jon Raymond's story collection Livability was an inspiration for the early 2000s Portland parts of Salad Days. And for sure Kelly Reichardt's film Old Joy, which was based off of a story in Jon Raymond's collection.
CC: You've been teaching a course on autofiction at Catapult. How would you describe your teaching style? How has it been sharing your passion for autofiction with students? What has been most surprising about teaching?
FB: I love teaching. My therapist-person has been telling me to teach writing workshops for a while, but I didn't have the courage. I needed to be in my own process, writing and reading a ton—self-study. I use a lot of my counseling training and lean a lot on intuition when I teach. And most important for me is that students feel safe sharing their work, so I work hard to create a safe, but inspiring environment. I am constantly checking in to see how everyone is feeling and of course, being a punk, cracking jokes cause you can take the girl out of Jersey, but you can't take the Jersey out of the girl.
CC: We have that in common; leaning on intuition during teaching. You've published both I Don't Blame You and Salad Days with Unsolicited Press, sans using an agent. I have also published my four books sans agents and on independent presses. Can you talk a bit about your thinking around independent publishers and staying motivated without an agent?
FB: I have engaged with literary agents, but it just never worked out. Plus, I've seen you go through so many challenges with the agents you have been involved with, which has given me pause. I've always been a bit of an outlier and my writing is not super linear or traditional, so I don't know if a literary agent or a more traditional publisher would be able to relate to my work. My current publishers get me and they have been very supportive. I certainly aspire to publish with a larger press, because I would like to make some legit coin, but I am also grateful to be able to publish books and to be able to have a voice. And I stay motivated because I have to write books or else I would feel terrible. It's just what to do and I don't know any other way to be anymore.
__________________________________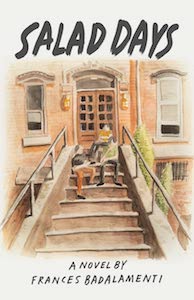 Salad Days is available from Unsolicited Press. Copyright © 2021 by Frances Badalamenti.
---