Fran Lebowitz on the Glamorous Worlds of Camilla McGrath
"I mostly remember the dinners."
Camilla and Earl each had worlds that were normally completely separate. The worlds of rock 'n' roll, of the Italian aristocracy, and of artists. I did not know Earl before he lived in New York, I didn't know him in LA. I must have met them together, but I really don't recall. I don't remember how, but it was certainly in New York. I don't remember where. It's not a lack of memory, but I just was always going out all the time. So when people ask me where I met certain people and I cannot remember, I just say, "I met them at a party." Because I've been to a hundred million parties, so it's most likely. It must have been at their apartment, someone must have brought me there.
When I was young I had the impression that their apartment was gigantic. It probably wasn't, but it was the seventies and I was living in an apartment the size of a shoebox so their place felt gigantic to me. It was not without intent, but it wasn't grandly decorated. I don't remember the furniture at all, but I remember the art. Camilla wasn't trying to make a statement with it. She let it sort of be Earl's apartment.
I mostly remember the dinners, partly because they were delicious and I'm a glutton. I would never deliberately turn down an invitation from them because it was always fun and there would always be people you like, and people you didn't know from another world that you wouldn't meet otherwise because someone was always bringing someone else. Musicians, artists, writers, always pretty girls there, always pretty boys. It was casual, but I would never have gone there uninvited. I am certain, though, that some people did.
When I was young I definitely knew more people like Earl than like Camilla. Most people like Camilla did not live on Fifty-Seventh Street in New York, and have all these kinds of people in their apartment. She retained all of her standards, and you could see she would get angry with certain people's behavior, and I'm not sure Camilla loved it all so much as she loved Earl. You know, if Earl disappeared, I don't think a lot of those people would have been there. That would be my guess. Not that I ever discussed it with her. But you could meet anyone there. There was a guy I met there named Vincenzo Amato who I think is one of Earl's one million godsons. I am guessing he is in his forties or fifties now. One night there someone said, "Oh, he's a fantastic singer." He was an actor and also an artist and he just got up and sang a song in Italian. There were many famous singers there too, and he just got up and did it. And he was a fantastic singer.
There were always people around, sometimes I wouldn't recognize them but then I would ask and find out they were some deeply important artist of the twentieth century.
The evenings were unstructured. One thing about Earl and Camilla is that at that time there would be these dinner parties on the Upper East Side that were black tie in people's apartments, but that was never, ever Earl and Camilla's way. You could always wear blue jeans in their apartment, which really wasn't possible in a lot of other homes then. Some people would come later, some people weren't even invited. You could also get away with that at their parties. I can't think of any other people who had nice apartments and would have parties like this. I knew plenty of people giving parties, but they were making three thousand dollars a year so it wasn't like what the McGraths were like.
Food was not the preoccupation that it is now. If they were serving good food at parties I didn't know about it. But the food at Camilla's was always good because Camilla was a good cook. I don't remember people back then talking about food like they do now, no one was talking about food, thinking about food. People in their twenties ask me now, "When you were my age in New York what restaurants did you used to go to?" and I say "NONE!" We never went to restaurants: (a) we had no money and (b) we never thought about it. I always say to them, "You shouldn't be sitting around at dinners when you're in your twenties. That is a pleasure of middle age." I think it's actually because they are not promiscuous enough. They don't have the kind of sex lives that we had. That's all I thought about. I didn't think every day: Where am I going to eat? What am I going to eat? I hardly remember eating at all. Obviously I did, because I'm alive, but I hardly remember eating at all. We sought different pleasures, and maybe it's because they can't since there are all these diseases and they also have to make so much money just to live. This world of Camilla and Earl's, which was a combination of at least two worlds, just does not exist now at all. It would be very hard to explain this to someone who is twenty-five.
Marlia was a world unto itself. The first time I was there was the late seventies. I had already traveled around quite a bit, but this was unique. The house, Villa Reale, was supposedly built for Napoleon's sister, not just grand, but of a very specific sensibility. Camilla or one of the three other sisters told me that when they were young there were twenty-five full-time gardeners working there. A couple of things there were incredibly riveting. One was this topiary theater. Obviously, it took a tremendous amount of skill and work and patience to keep it because every day it grew out a little bit. That was near the pool. The outside walls of what they called the pool house were collaged with photographs taken by Camilla's mother. Taking photographs all the time was something Camilla got from her mother. So on the walls were these photographs that went from the floor to the roof and one of the photographs was of Nijinsky dancing on this stage. I remember that vividly, it was shocking. I remember thinking that can't really be Nijinsky, and I went to Camilla and asked and she said yes. I don't think there could be many places you could match to that place in terms of the mingling of the arts. There were always people around, sometimes I wouldn't recognize them but then I would ask and find out they were some deeply important artist of the twentieth century.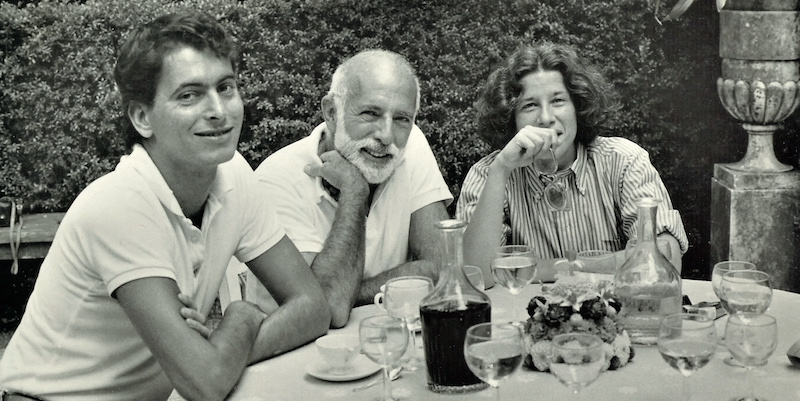 Her mother had somewhere in the house a dollhouse of Villa Reale that included all of the buildings on the property. And it was fantastic. It was so detailed. In one building, there was a little laundry room where the laundress was ironing something and there was a little table, and on the table was a little half-eaten ham sandwich. It was so detailed. I think it was something that Camilla's mother had commissioned. I think it was made for the children, but maybe just as a piece of art. Her mother was also an early collector of Native American artifacts, tons of them, and they would be out all over the place. I know nothing about that sort of thing, but they were fantastic. Shoes, masks, beads, blankets, headdresses. They were all still there in the house.
Then there was the grotto. During the Second World War the father took the family to live in New York and the house was occupied by the Nazis. The Nazis used the grotto as a kind of nightclub while they were living there. And they painted murals on the walls. When the family came back to reclaim the house, which they did—not everyone got to do that—they saw the murals painted in the grotto and they left them there. And once in a while we would have drinks down there. It was Nazi graffiti. Mostly dirty pictures of girls, the sort of thing you might expect young soldiers to paint on the walls.
"My father said after my second brother was kidnapped that he is paying no more ransoms. So I carry the gun just in case I am kidnapped because I'll have to shoot the kidnappers to get away."
There was also a pool that had swans in it, not for swimming, but one day Camilla, Jerry Robbins, Jesse Gerstein, and I were walking around. I don't remember why we were outside but it was raining and Jerry had this thing that he bought somewhere that was like a poncho in a little waterproof envelope so he said to go get that, and I did, and when I came back out it was raining harder so I put the envelope on my head like a hat. I'd seen many swans but had never actually been close to them, so I leaned down to look at one of the swans and the swan, much to my shock, walked out of the pool. I know this sounds ridiculous, because I was not three years old, but I didn't know swans had legs. I think I always imagined that swans floated on top. So there I am with this swan running after me, and Jerry is collapsed with laughter, and I later find out swans are very dangerous and can break your arms. The reason I was scared was not because I knew swans were dangerous, I had no idea. The reason I was scared and running away was because I didn't know swans had legs. I was thirty, and totally terrified. And Camilla took a picture of that. It would be irresistible to take a picture of someone being chased by a swan.
The world of Lucca, the nearby town, was something the other sisters were much more embedded in than Camilla was. One morning at breakfast one of the sisters tells us the so-and-sos are having a dinner tonight. And Camilla didn't want to go, so the sister tells her she has to go to represent "the house." Camilla looks at me and Jesse and says, "You will go and represent the house." So we went to this house, and when we arrived someone was handing out halved playing cards. That was how you found where you were sitting. I was talking to this girl before dinner, and she opened her handbag to get a cigarette and there was a gun in there. A little handgun. I was so shocked and I said, "You have a gun?" and she said, "Of course, as you know, both my brothers were kidnapped." That was the thing about those people. They think you would know. She told me her name, which meant nothing to me but everyone there would know. She continued, "My father said after my second brother was kidnapped that he is paying no more ransoms. So I carry the gun just in case I am kidnapped because I'll have to shoot the kidnappers to get away."
I also remember I went into the house to find the bathroom. I got lost and ended up in this big library, and on the desk in the library were several photos of Mussolini inscribed with great love to the owners of the house. I was quite shocked, so when I came out I told this girl, the one with the handgun, and she said, "Oh, yes, well, of course." Apparently there are some bankers in Paris named Lebowitz and I remember the man sitting next to me at dinner assumed I must be one of them and said to me, "Madame, are you from Paris?" And I said, "No." He couldn't figure out why I was there. It was very annoying to him. I found the whole thing very interesting, but it was a strange, very insular world. Camilla kind of broke out of that, though. She was still interested in it, it was still a part of her, but she broke free from that. And I think if they went to New York and saw her life with Earl they would probably think it was insane. In my estimation Earl was likely not the family favorite. He didn't love going over there, because the sisters didn't treat him very well. Camilla's sisters made no bones about who they liked and who they didn't like. One of the sisters liked nobody but me. Everyone was baffled by it, they all looked at me like why does she like you, she doesn't like anybody. My theory is that I would play bocce with her whenever she wanted and I'd always lose.
I have never been any place that is anything like Marlia. I mean, I'd been to estates, people with huge houses and sprawling properties in Italy with murals on the walls from the Renaissance, and we'd be awestruck by them, but they were in the sensibilities of those people. This house was the sensibility of, I believe, the mother, who was a very unusual person for her time, and so was Camilla. Camilla's mother, I never met her, but she seemed like a one-off. Very eccentric and artistic. And you know, if she had been a man I think she would have expressed it in a different way, but she made her domestic world into this incredible creation. And I loved going there. I think I went four or five times. Every single time I would look at the same things, and they would live on in my mind.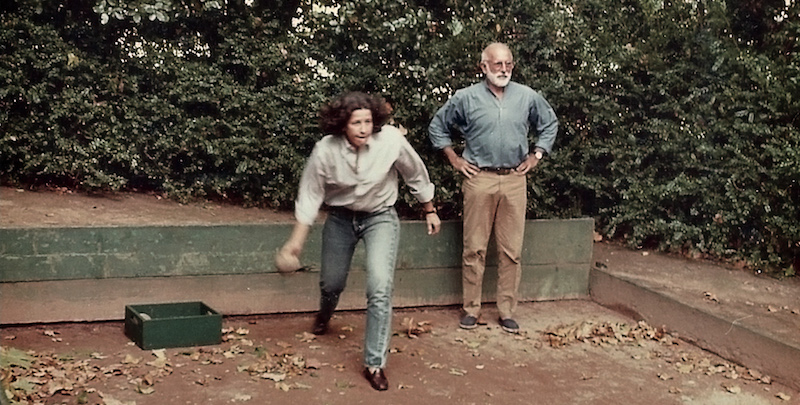 Camilla's connection to American life was Earl. And Earl's life was so unusual. So she had no concept of American life, because most Americans lived nothing like Earl. I remember her telling me that some Americans wanted to rent Marlia for a wedding. She was so puzzled by this, and said, "Why would you have a wedding if it's not your house?" She didn't understand that was how Americans do things. In the world she was from you had your wedding at your home. She was genuinely puzzled. She had just no connection to the average American life. Even if you are very worldly, it's often hard to understand the difference between the presented culture and "real" life. Even for someone like me who thinks she understands her country very well because I'm old now and have seen a lot, the things that people do—that is, my fellow Americans—still just shock me. Time also makes you know the world, not just places. In 2019 if you're twenty, it is a different world than in 1970 when I was twenty. It's always hard to understand different cultures and places, and the situation with Camilla was unique. There were no other people like this. There was one person like this. Her sisters and brother even weren't like her. They were much more traditional than she was. They stayed within their world. Camilla came to this New York that was very different and she was able to adapt. None of her sisters would have married someone like Earl, either.
__________________________________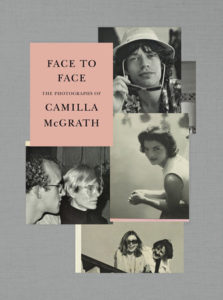 From Face to Face: The Photographs of Camilla McGrath. Used with the permission of Knopf.
---