Foxed, Fuddled, Swallowed a Hare, and Other Words for "Drunk"
From A Pocket Dictionary of the Vulgar Tongue
First published in 1785, A Classical Dictionary of the Vulgar Tongue is one of the first lexicons of English slang, compiled by the artist, militia captain, and antiquarian (and by one account "the greatest porter-drinker of his day") Francis Grose. It collects terms he overheard on late-night excursions in search of adventure through London's slums, dockyards, and taverns—anywhere that, according to his contemporary British writer Pierce Egan, "a 'bit of life' could be seen to advantage, or the 'knowledge-box' of the Captain obtain anything like a 'new light' respecting mankind, he felt himself happy, and did not think this time misapplied. It was from these nocturnal sallies, and the slang expressions which continually assailed his ears, that Captain Grose was first induced to compile A Classical Dictionary of the Vulgar Tongue."
Grose describes the dictionary as drawing from "Cant Language" (basically, criminal lingo), as well as "burlesque terms . . . drawn from the most classical authorities; such as soldiers on the long march, seamen at the capstern, ladies disposing of their fish, and the colloquies of a Gravesend boat." He also collected terms while witnessing executions. Inspired by a French satirical and burlesque dictionary, he felt the English language deserved its own, and pointed to the freedom of thought and speech riding along with such wit.
The dictionary as a whole is invaluable as a cultural record, and notable for the many terms therein that Grose collected as colorful that are still with us today (for example, "birthday suit" for nakedness), some of which I've included at the end here. But many other of the thousands of words and phrases he collected have fallen into disuse, which is a shame. This selection is primarily culled from the 1796 edition (revised and released a number of times, the 1796 edition is the last that Grose oversaw, according to philologist and lexicographer Eric Partridge). It is meant be a LARK, fun and useful–pocket sized, and ready to add a little flair to conversations, or to wield in unfortunate encounters with ADDLE PATES.
–Steve Mockus
Words for DRUNK
CANDY
CHIRPING M ERRY
CLEAR
CORNED
CUP-SHOT
CUT
DISGUISED
FLAWD
FLUSTERED
FOXED
FUDDLED
HICKSIUS DOXIUS
IN HIS ALTITUDES
IN THE GUN
IN THE SUN
MAULED
NAZY
POGY
SWALLOWED A HARE
WRAPT UP IN
WARM FLANNEL
__________________________________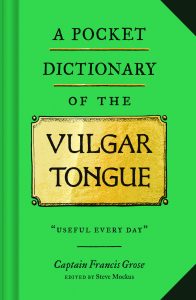 From A Pocket Dictionary of the Vulgar Tongue by Captain Francis Grose, edited by Steve Mockus. Used with the permission of Chronicle Books.
---