Forgotten Civil Rights Pioneers: A Reading List
Jill Watts Recommends Ten Life Stories from a Lost Generation
Most Americans are familiar with the civil rights leaders of the 1950s and 1960s, specifically Rosa Parks, Martin Luther King, and their compatriots. But there was an earlier generation of activists who paved the way for that momentous phase in the black freedom fight. Bridging the gap between early 20th-century leaders like W.E.B. Du Bois and Booker T. Washington, and the later Civil Rights leadership, was a group who took up the mantel of the struggle in the years between 1930 and 1950. They battled during a time when the nation faced two of its greatest tests—the Great Depression and World War II—and their contributions largely went ignored. Some worked from inside the government and others from outside. But regardless their persistence in the face of overwhelming opposition and their contributions in troubled times propelled forward the march toward equality and shaped the later movement. Their life stories stood (and continue to stand) as beacons of hope in times of seemingly unconquerable difficulties.
*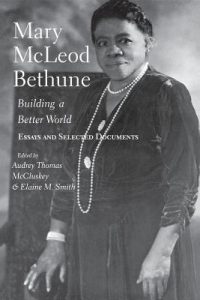 Audrey Thomas McCluskey and Elaine Smith ed, Mary McLeod Bethune: Building a Better World, Essays and Selected Documents
Born to parents who had endured slavery, the dynamic Mary McLeod Bethune (1875-1955) rose from picking cotton to become the founder of Bethune-Cookman University and a leader in the Black women's club movement. She would achieve her greatest influence as the first African American woman to head a federal program, appointed by President Franklin Delano Roosevelt as a New Deal administrator in 1936. During her tenure, she became a driving force in the "Black Cabinet," an informal group and unrecognized by the White House. In her government role she fought for equal treatment for African Americans, especially black women, both in federal relief and American society at large. Bethune's abiding faith in American institutions, and her foundational philosophy of Black feminism, is demonstrated in this edited collection that chronicles her life through her writings and speeches. "Faith, courage, brotherhood, dignity, ambition, responsibility—these are needed today as never before," Bethune would insist. "The Freedom's Gates are half ajar. We must pry them fully open."
Article continues after advertisement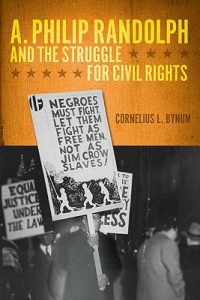 Cornelius L. Bynum, A. Philip Randolph and the Struggle for Civil Rights
While the March on Washington in 1963 is recognized as one of the Civil Rights Movement's turning points, the march's father, A. Philip Randolph (1889-1979), often goes uncelebrated.  Raised in the liberation theology of the African Methodist Episcopal Church, Randolph left the Jim Crow South for Harlem.  Bynum chronicles his evolving intellectual awakening to the power of grassroots activism and the intersectionality of race and class.  In the 1920s Randolph founded the nation's most successful African American labor union—the Brotherhood of Sleeping Car Porters. As the United States readied for war in 1941, Randolph called for African Americans to march on Washington to protest exclusion from defense work. That forced President Franklin Delano Roosevelt to sign an executive order outlawing discrimination in the war industry, a landmark in the fight for equal job opportunities. Randolph called off that march but it remained a blueprint for later civil rights action. He would remind leaders that "power is the product and flower of organization."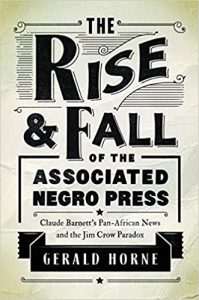 Gerald Horne, The Rise and Fall of the Associated Negro Press: Claude Barnett's Pan-African News and the Jim Crow Paradox
The African American press served as one of the main channels connecting the civil rights movement of the early 20th-century to that of the King years. And of those black newspapermen, Claude Barnett (1889-1967) towered. Gerald Horne's biography reveals the vast influence exerted by Barnett's wire service, the Associated Negro Press (ANP) which supplied stories to African American newspapers across the country. Barnett embraced Pan-Africanism, viewing the African American struggle as part of a larger global movement against colonialism. Yet, he remained a staunch Republican, refusing to join the majority of black voters who moved into the Democratic party. A man of contradictions, he cultivated his status as a dissident while, at the same time, he sought to court powerful white business and political leaders. But Barnett's journalistic contributions to resisting racism and his faith in the power of the free press were critical during a time when the national white media ignored news critical to the black community. In 1942, Barnett pointed out that the African American press was "literally the eyes and ears of" the black community.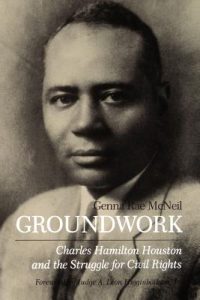 Genna Rae McNeil and A. Leon Higgenbotham, Groundwork: Charles Hamilton Houston and the Struggle for Civil Rights
Mentor to Supreme Court Justice Thurgood Marshall, Charles Hamilton Houston (1895-1950) pioneered the role of the civil rights attorney in an era when African Americans were often excluded from the bar. Born in Washington DC, educated at Amherst College, and a veteran of WWI, Houston confronted racism head on throughout his life. In the 1920s, he received a law degree from Harvard and, returned home to practice. He urged black attorneys to use their training and the courtroom to re-engineer American race relations. McNeil writes of Houston's abiding faith in the American constitution and his years advising civil rights organizations. A brilliant and persuasive litigator, he devised strategies used by the National Association for the Advancement of Colored People in desegregation and voting rights cases. As the Dean of Howard University's Law School, he nurtured an entire generation of future civil rights attorneys. Their challenge, Houston lectured his students, was to act as "the mouthpiece of the weak and a sentinel guarding against wrong."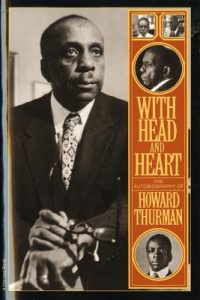 Howard Thurman, With Head and Heart: The Autobiography of Howard Thurman
In this memoir Howard Thurman (1899-1981) chronicles a life journey that was both spiritual and intellectual. He writes movingly of a strict Baptist childhood shaped by bruising encounters with rigid segregation, typhoid epidemics that ravaged black neighborhoods, and limited educational access. It was the generosity of a stranger that allowed Thurman to enroll in a high school; that act of kindness was the beginning of an academic path that took him to Morehouse University, Rochester Theological Seminary, and eventually Howard University where he served as Chaplin. Thurman testifies that a personal meeting with Gandhi during a 1935 trip to India, transformed his thinking about faith and activism. He returned to the United States determined to spread Gandhi's philosophy of societal and spiritual uplift through non-violent direct action. Thurman's influence on Martin Luther King is unmistakable. Gandhi predicted, Thurman recalled, that "through the Afro-American . . . the unadulterated message of non-violence would be delivered to all men everywhere."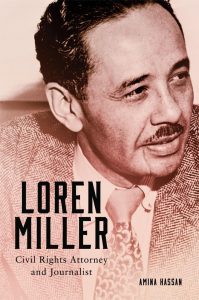 Amina Hassan, Loren Miller: Civil Rights Attorney and Journalist 
The contributions of Los Angeles attorney and journalist, Loren Miller (1903-1967) had a lasting and national impact on civil rights law. A Nebraskan, Miller earned a law degree from Washburn University and later landed in California where he emerged as a tenacious fighter for equality. As a reporter and the co-owner of LA's militant newspaper, the California Eagle, Miller attacked racial and economic inequality. But it was his forceful legal prowess that won over admirers like Thurgood Marshall. Miller's pioneering contributions came in his fight against residential segregation, first in California and then later nationally. In 1948, he played a central role in persuading the US Supreme Court to ban discriminatory residential agreements in Shelley v. Kraemer. Thurgood Marshall later recruited Miller to deploy the same strategy to win the school desegregation case of Brown v. Board of Education. "Either we shall have to make democracy work for every American," Miller argued, "or in the last analysis we shall not be able to preserve it for any American."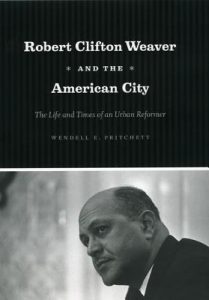 Wendell Pritchett, Robert Clifton Weaver and the American City: The Life and Times of an Urban Reformer
In 1966, Robert Weaver (1907-1997) became the first African American White House Cabinet Secretary, appointed by President Lyndon Baines Johnson to lead the Department of Housing and Urban Development. But Weaver's career in government had begun over thirty years before when he served in Franklin Roosevelt's New Deal and co-chaired the Black Cabinet with Mary McLeod Bethune. Born into an elite black family in Washington DC, Weaver became the first African American to receive a Ph.D. in economics from Harvard University. Pritchett tells a story of a brilliant, principled, and driven public servant. Along with Bethune, Weaver fought to infuse New Deal policy with human rights ideology. During his Roosevelt years, Weaver marshaled federal power to enforce antidiscrimination mandates that ultimately laid the foundation for future civil rights legislation. But national reform through public housing was Weaver's passion. "Not only does the person develop more fully if he is given better surroundings," he insisted, "but society benefits because a better citizen is produced."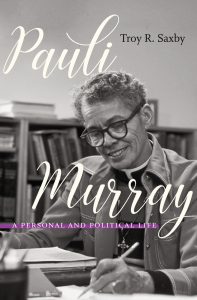 Troy Saxby, Pauli Murray, A Personal and Political Life
Saxby explores the complexities in the life of religious leader, feminist, pioneering queer theorist, and legal activist Pauli Murray (1910-1985). While Murray has captivated scholars, most Americans remain ignorant of her foundational role in the struggle for civil rights. Raised in North Carolina, Murray attended college in the north. She eventually landed a position with the Workers Defense League, an organization co-founded by A. Philip Randolph. In 1940, she was dispatched to Virginia, to fight against the execution of sharecropper Odell Waller who had been convicted of murder by an all-white jury. She failed to save Waller's life but was inspired to pursue a law degree. She wrote a seminal paper laying the groundwork for the overturning of the doctrine of "separate but equal" and later complied a comprehensive study of state discriminatory laws that became a "Bible" for the fight against Jim Crow. Later reflecting on her earlier contributions, Murray observed "I've lived to see my lost causes found."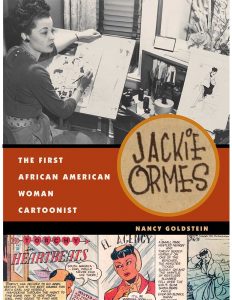 Nancy Goldstein, Jackie Ormes:  The First African American Woman Cartoonist
 One of the unsung heroes of the black press was Jackie Ormes (1911-1985), the first African American woman to have her cartoons run nationally in black newspapers. Her career in journalism began at age eighteen when she was hired by the Pittsburgh Courier, one of the nation's premiere African American newspapers, as a reporter, proofreader, and editor. In 1937 the Courier began running her comic, Torchy Brown, which chronicled a black woman's experience migrating from the south to Harlem. However Ormes' most pointed critiques came in her later series based on two sisters Patty-Jo 'n' Ginger. Through the impish youngster Patty-Jo, Ormes commented on the most important civil rights issues of the day. After relocating to Chicago, Ormes became involved in a number of antiracist organizations. Although her affiliation with members of the left resulted in surveillance by the FBI, Ormes refused to be intimidated. Her work remained a favorite among black readers young and old. "It is a letter to my Congressman," Patty-Jo tells the beautiful and stylish Ginger. "I wanta get it straight from Washington. . .  Just which is the 'American way' of life, New York or Georgia???"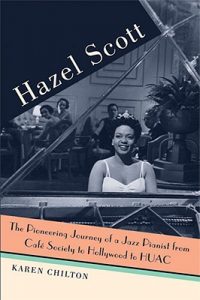 Karen Chilton, Hazel Scott: The Pioneering Journey of a Jazz Pianist from Café Society to Hollywood to HUAC
Dazzling pianist Hazel Scott (1920-1981) made her mark by building both an activist and aesthetic bridge between the earlier and later civil rights struggle. An émigré from Trinidad, Scott began classical training at Juilliard at age eight. Drawn to Jazz, in her teens she evolved a fused style that became known as "swinging the classics." Through Billy Holiday, she secured a place in the Manhattan nightclub scene which ultimately led to film roles where she staunchly resisted stereotyping. In 1950, Scott became the first African American woman to star in a television show. While breaking barriers in entertainment, she spoke out against racism, filed lawsuits challenging Jim Crow, and participated in direct protest. Her marriage (although turbulent) to African American Congressman Adam Clayton Powell placed her in America's most powerful political circles and her support for radical politicians ignited harassment by HUAC. "I think we musicians are emissaries," she observed. "Every time we go before the public, we're there to make converts."
_____________________________________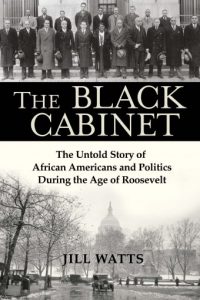 The Black Cabinet: The Untold Story of African Americans and Politics During the Age of Roosevelt by Jill Watts is available from Grove Atlantic. 
---