For the Love of Horses, From Girlhood to Old Age
Tory Bilski Recommends 5 Books for the Equine Set
It was just like the first time I fell in love, only I was forty-one instead of seven. Three instances rekindled that powerful equine love, all of them prosaic: I was on a treadmill at my gym, and the TV was on, soundless and closed captioned. A movement caught my eye on the screen—horses running in a field—that stirred a hazy recognition: oh, horses, I remember horses. The same year, on a visit to Vermont, I felt compelled to see UVM's Morgan horse farm and stumbled upon a broodmare auction going on. Two-year-old fillies burst into the arena full-blooded, neighing, throwing their heads up, showing off their developing muscles, and my heart raced and pounded in my chest. If step one was a percolating recognition, step two was childlike glee—"Horsies!"
All mysteries come in threes. I was sitting at my desk at work, minding my own business, eating my usual pasta salad for lunch. Rain was falling outside; the window light was dusky; I was drowsy from the carb-heavy meal. (See, I remember details of falling in love.) I couldn't concentrate on work, so I skipped around on Google until I found the Icelandic horse, a pixelated photo of a dark beauty on a misty, green tussock, staring directly at me. This third hit was an instantaneous, deeply emotional connection, and it launched my next stage of life, what I not-so-blithely call the Icelandic horse era.
Article continues after advertisement
I'm not the first woman whose heart has come undone by a horse. So what is it about women and horses? Theories abound. Horses are a symbol of freedom, speed, and power. They are flight animals, and we participate in their flight by riding them, though they can also bolt on us, terrifying us. In myths, they fly over sea and sky and are messengers to the other world. They fulfill some fantasy we have of ourselves. On the flip side, they are prey animals, and since women, like horses, have been preyed upon for millennia, perhaps we get them on a deeply intuitive level.
No promises, but here are five books that may help explain the relationship between women and horses, what Maxine Kumin calls "our enduring myth, our repository for love and terror."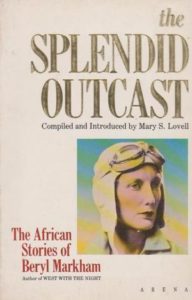 Beryl Markham, The Splendid Outcast: African Stories
Maybe it should come as no surprise that one of the first female aviators was also a horse trainer, in fact, the first licensed female horse trainer in colonial Kenya, where she grew up. The book is a collection of eight stories written in the 1940s that were gathered together for publication in 1987. The first three are pure horse stories, and no one writes better than Markham about her horses and their full-throated personalities. Like the Greek gods, they are prideful, vengeful, jealous, brave. She doesn't leave it there, however; she feels the need to vacillate between anthropomorphizing her horses and then doubting herself for even suggesting such mawkishness.
The story "Something I Remember" ends with her favorite horse returning to the site where years before he was bloodily defeated and permanently wounded in a fight with another horse. Markham writes, "He only stood there like a man with a dream." However, then, she pulls back: "That is only the way it seemed to me. . . .I suspect that he had come there only to catch the last warmth of sun." In the final sentence, she equivocates again: "I don't know, and so I can't be sure. It is only something I remember." She can't be sure: do horses have memory and feelings and a sense of their lives as humans do?
She lived and wrote before Temple Grandin translated how animals think, act, and feel. She also lived in an era where she was referred to as an aviatrix, and as an authoress—as if that feminine suffix came with a warning—reader beware, this is likely to be full of reckless emotionality. Perhaps what she wasn't sure about was the reception of her ideas and the authority of her words.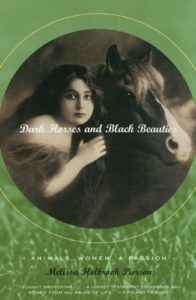 Melissa Holbrook Pierson, Dark Horses and Black Beauties
"Horses are a girl's best friend," and Pierson devotes many pages to describing how she and other women had their love-at-first-sight moments. Typically this happens at two stages of life: either as young girls: prime-age, 4 to 9, and again in middle age, prime-age your forties. (Yes, I am boringly predictable.) However, Pierson rejects any loosely defined horse love: "For every oversimplification there is a corresponding complication." Like all love, it comes in different styles and quirks, and she breaks them down for us: horse as a child substitute, as ego extension, as the Eros object, the power tool, the life companion.
And just when you are feeling quasi-comfortable with the complicated dynamic, she goes dark and brings us to the seamy side of the horse-human relationship. Remember that Premarin, the hormone that menopausal women were routinely prescribe, was shorthand for Pregnant Mare Urine? Up to 750,000 mares were kept continually pregnant, tied up in a cement-floored factory with meager water tubes to lick that kept them thirsty so their pee was more concentrated.
Thought shoeing horses was a relatively harmless and necessary practice? She tells us otherwise: nailing iron into the horses' hooves causes years of nerve pain resulting in eventual numbness from the feet up to its fetlocks. You want it dark? She'll take you there. The horse is a lovely creature, and we subdue it with bits and saddles and spurs and whips. She doesn't let women off the hook, either. The gentle, intuitive, compassionate female handling of horses? Forget it. She gives us examples of women who are as cruel as the cruelest man. In the end, she freely admits that she is confused about the whole woman/horse dynamic. She tells you it is an unsolved mystery. And it is.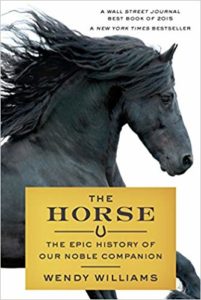 Wendy Williams, The Horse: The Epic History of our Noble Companion
Williams approaches the horse with the coolness of a science journalist. What drives her to write the book is her desire to understand her own horses, a quest that is sparked by observing her horses' sometimes bewildering behavior. She takes us to a few horse cultures throughout the world, but spends a good amount of time looking at horse evolution. She delves into the nitty-gritty of archaeological digs, the fossils of teeth and brain endocasts. The early ancestor of the horse started in the Eocene period 56 million years ago, where they were as small as dogs and ate fruit off trees up. In the Miocene era—considered the epoch of the horse—23 million years ago, the ancestors started three-toed but left the era 5 million years ago as one-toed—a solid hoof.
Williams succinctly joins the natural history of the planet and the horse together: how the eyes, hooves, teeth, and ears of the horse evolved as their environment changed from forests to grasslands as a result of climate change and tectonic plate movements: "What we see by looking into the eyes of the horse is that we are all members of one constantly seething energy system." Knowing the full history gives the reader (and rider) a clear understanding of the human relationship to horses. The next time you can't find your horse in the field, follow the sun, because the horse knows to follow the late-day sun to find the best grass.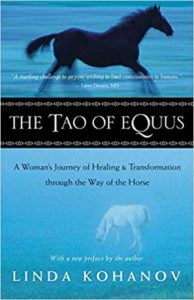 Linda Kohanov, The Tao of Equus: A Women's Journey of Healing & Transformation through the Way of the Horse
Kohanov is an equine-assisted psychotherapist. When her book was first released, she was on the cusp of this movement. The formalized practice of therapeutic riding for physically disabled people had been around since the 1950s, but not until the late 90s did it officially expand and become recognized as a treatment for mental health issues. Kohanov started Epona Equestrian Ranch in 1997 with the concept that whatever is going on with the rider's body and mind, the horse will express it behaviorally: "horses are a mirror." Hers is a gendered approach: horses relate to the feminine perspective of the world, the "yin," and the book focuses on what women and horses give each other—healing and transformation, as the subtitle suggests.
She teaches her clients, many of whom have gone through trauma, how horse and human can find balance together. She begins with mindfulness before it was a buzzword: horses live in the moment, she writes, and humans need to practice mindfulness of the moment; horses don't judge or reject us, but they do get confused and become nervous by people who try to hide their emotions; be honest with horses, and they will lend their support. These ideas are now common in the horse therapy world. Take what you want from this. I have a friend I trust who is licensed in equine-assisted therapy. Her stories about the breakthroughs people make with horses are mind-bogglingly miraculous.
Kohanov also works with traumatized horses and gives credence to therapy based on "ancestral memory." That is when all else fails, and the horse's behavior never improves, and you know the horse has never experienced trauma in its current life, a "medium" steps in. This part is fuzzily described—but somehow the medium intuits the horse's past life trauma that manifests in its present life problems. When I first read this book nearly twenty years ago, I thought, "Now, this is nuts." However, I'm seeing signs of psychic horse readings being mainstreamed. Recently a friend told me his daughter was having trouble with her horse, and it was recommended they bring the horse to a medium to address its past life issues. The father wanted me to know he was skeptical, but said, "We'll do it. Who knows about these things?"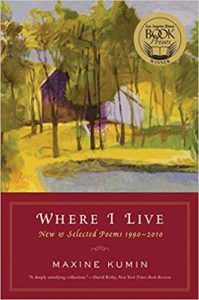 Maxine Kumin, Where I Live: New and Selected Poems 1990-2010
It's always wise to turn to a poet for insight into the elusive nature of the confounding and fascinating relationship between women and horses. Associative, metaphorical, lyrical language will illuminate the nebulous space between myth and fact. Moreover, someone who writes, "oh horse of my heart" makes me tear up.
Since 1973, when Kumin bought a farm in New Hampshire, horses have been a part of her life, and they are comfortably present in her poems: their tails swatting flies, eating with "mouths slobber-full of the last clover," the signs of a mare in estrus. She writes of the many ages of horses, from fillies and mares to a 28-year-old gelding being gently put down by morphine as Kumin drips apple juice into his mouth. She also reminds us that the bond with horses is not only for exuberant young girls or rejuvenated middle-aged women.  A 91-year-old woman visits her farm and while combing a horse's mane says: "It was all horses then. All horses. Heavenly. You understand." Oh, I do.
Kumin came of age during the Vietnam War, and her poems in this collection are intermittently about war, mass killings, and the relentless, degrading mechanism of violence in the world. The poem titled "Women and Horses" starts with the Holocaust, segues into Vietnam, Korea, Afghanistan, and the Twin Towers falling, all within the first stanza. Knowing that horror is a constant in human history, how does one go on living, she asks, what does one do? Her answer, at least in this poem is, we celebrate the other: the songs, the babies, the flowered dresses, the sparrows, the sex, the "jelly-smeared texts." She exhorts us to see life again, in the words of Isaac Babel, "as a meadow over which women and horses wander."
So let's leave it there, with an antidote for cleaning out the uglies of life with an ethereal and vulnerable image. We have been wandering with horses for millennia. They have always been with us, rooted in our history and psyche. We find ourselves with them now by choice, as we bring ourselves close to their musky scent, they bring us close to the importance of the earth, to its grasses, dirt, and stone. And, they provide our flight when we, and where we, want to temporarily leave this world behind. And yes, sorry, I'm back to myth.
__________________________________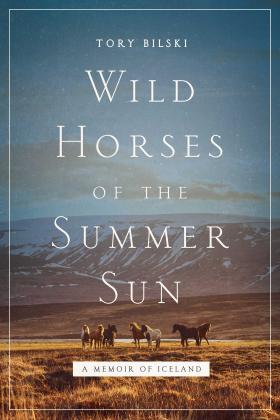 Tory Bilski's Wild Horses of the Summer Sun is out now from Pegasus.
---