For Megan Mayhew Bergman, When It Comes to Showing Love, It's All About Southern Cooking
The Author of How Strange a Season Shares Her Great-Grandmother's Cake Recipe
I should have been a good southern cook like my great-grandmother, but I first learned how to cook while abroad in Italy. Twenty years old, I delighted in the fact that my wine tasting and cooking classes counted for college credit. By day, I learned how to dice garlic cloves and taste olive oil, and by night—every night—I drank a bottle of Chianti and hit the discotheque, dancing until my muscles ached, racing down ancient streets in the early hours of the morning, navigating by the roof of the Duomo.
It was 2001, and I thought I understood how the adult world functioned, including how to cook for a room of people. Only when I was a few years older did I realize the difference in preparing a meal and hosting—that the latter involves a type of warmth in addition to the meal that is plated and served. For me, it is an act of warmth and creativity that also involves tradition.
I tend to cook food loosely connected to a Mediterranean diet, as it's what I learned as a young (tipsy) woman in Florence, and it's conducive to the vegetarian diet I've maintained since I was 12. But when I want to show someone love, I default to staples of Southern cooking.
If I'm meeting someone's children, supporting a friend going through a difficult time, or hosting a large crowd, I love to serve a plate of smoky deviled eggs from our hens. I bake fresh biscuits, concoct a vegetarian version of loaded grits, and produce over-the-top desserts, like Mary Ferguson's chocolate cake (with its secret ingredient of Duke's mayonnaise), or my great-grandmother's American Beauty cake.
(*Get your Crisco ready)
*
NELLIE DODD'S AMERICAN BEAUTY CAKE
Cream together in mixer:
½ cup Crisco (*you can substitute butter)
2 eggs
1 ½ cups sugar
Mix together and add to the above:
2 oz red food coloring
2 tbs cocoa
Sift together:
2 ¼ cups flour
½ tsp salt
Add this alternately with:
1 cup buttermilk
1 tsp vanilla
Fold in separately:
1 tsp baking soda
2 tbs vinegar
Grease and flour 3 cake pans, pour in batter and bake at 350 degrees for 30 minutes.
FOR THE ICING 
5 tbs flour
1 cup milk
Cook until thick, stirring constantly; set aside and cool.
Beat in mixer:
1 cup sugar
1 tsp vanilla
1 cup butter (or ½ cup margarine and ½ cup Crisco)
Fold in flour and milk mixture and beat thoroughly—about 5 minutes at high speed.
*
Like a lot of things from the south, American Beauty cake has a murky, complex genesis point. I know it as a bit of a church cake, something you'd see on a folding card table at a fellowship supper. Some sources indicate that like much of the region's traditional food, the cake has roots in African-American cuisine. Other sources suggest a bored housewife was surprised by a chemical reaction with vinegar or added red food coloring for impact; some say the intense red coloring represents the blood shed during the Civil War or enslavement. My northern friends largely recognize it as constituting the armadillo cake in Steel Magnolias.
My mother remembers her grandmother Nellie Dodd through the cake, holding on to the recipe card that her mother Alice wrote. (My grandmother Alice had to decipher my great-grandmother Nellie's recipe, which she held in her head. I never knew either of them in a meaningful way, but because Alice undertook that act of translation, I can now bake the cake my maternal lineage has baked for a century when my youngest daughter requests it for her birthday.)
Food, when carefully and lovingly prepared, is sometimes just a gateway gesture toward a deeper memory, a poignant conversation…
I've cooked for writers over the years—making spreads for friends in town for the Bennington MFA residency. It's not always a success—I once burned a batch of blueberry scones for a group of writers at my house, while my elderly dog Betsy threw up in the kitchen. But I like to dream up menus and bake, often in times of anxiety or while under deadline, or to delight someone I love.
A few years ago, I hosted my mentors Amy Hempel and Jill McCorkle for a memorable meal in the backyard of my Vermont farm. Truthfully, I don't remember what I served them, just the image of my then four-year-old tucking a bright red poppy into Amy's iconic pale hair, and Jill teaching us the games she played as a child. Food, when carefully and lovingly prepared, is sometimes just a gateway gesture toward a deeper memory, a poignant conversation, like the one I shared with fellow Vermont writer Miranda Beverly-Whittemore last summer. Over a tray of hors-d'oeuvres—including smoky deviled eggs—we talked about how strange it was to parent and release books during a pandemic.
As a fiction writer, I'd say I've spent just as much money on cookbooks as I have novels in the last five years, notably Alison Roman's Dining In, Bryant Terry's Black Food, and Whitney Otawka's The Saltwater Table. I also love my neighbor, Ellen Ecker Ogden's, book The New Heirloom Garden, as it instructs you how to grow the food for your best meals. And I have gifted and taught M.F.K. Fisher's work for years, wholeheartedly agreeing with her perspective in The Art of Eating that "our three basic needs, for food and security and love, are so mixed and mingled and entwined that we cannot straightly think of one without the others."
__________________________________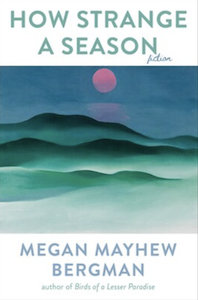 How Strange a Season by Megan Mayhew Bergman was released in March 2022 by Scribner.
---