For Aleksandar Hemon, Writing is a Search for a Form That Doesn't Yet Exist
The Author of The World and All That It Holds Takes the Lit Hub Questionnaire
Aleksandar Hemon is the author of The Lazarus Project, which was a finalist for the 2008 National Book Award and the National Book Critics Circle Award, and three books of short stories: The Question of Bruno; Nowhere Man, which was also a finalist for the National Book Critics Circle Award; and Love and Obstacles. He was the recipient of a 2003 Guggenheim Fellowship and a "genius grant" from the MacArthur Foundation, and the 2020 Dos Passos Prize. He lives in Chicago. His latest novel, The World and All That It Holds, is available now from MCD.
*
Literary Hub: Who do you most wish would read your book?
Aleksandar Hemon: There is a very small number of Sarajevan friends scattered around the world (including Sarajevo) who might read my stuff while I'm still working on it. They don't give a damn about my literary "fame" and would never let me lie about my/our life, about Sarajevo and Bosnia, about our diasporic experience, about obscure details only we can see. They make me or break me.
LH: How do you tackle writer's block?
AH: I just don't write if I don't feel like it. If you are a writer, it is very important to be comfortable with not writing.  Because writing is far more than just generating text. If writing is the way of existing in the world for a writer, then just being is already writing. Proust used to spend hours watching a sun beam move across the room.
LH: What's the best or worst writing advice you've ever received?
AH: I have not cared about writing advice since my early twenties. Any kind of prescriptive advice ("You must catch the readers attention on the first page." "You must never start with a funeral." "Cut the adverbs/adjectives.") is nonsense. Writing is searching for a form that does not exist yet. You can do whatever you want as long as you know what you are doing.
LH: Name a classic you feel guilty about never having read?
AH: I cannot begin to fathom why I (or anyone) should feel guilty about not reading (or reading) any book. I find it weird that in questionnaires like this guilt and embarrassment for not reading (or reading) are often invoked. I don't see how it can be beneficial to anyone to shame people into reading classics. To my mind, a need to read is related to curiosity, and curiosity can take you anywhere. Shaming people into following the prescribed paths (classics!) means castigating them for curiosity. Besides, the world in which one gets social/societal points for reading a book is long gone.
LH: If you weren't a writer, what would you do instead?
AH: I would be a music producer and/or a DJ. I am already producing music (as Cielo Hemon), working on my DJing skills. All I have to do now is quit writing, which is always tempting and will happen, sooner or later.
__________________________________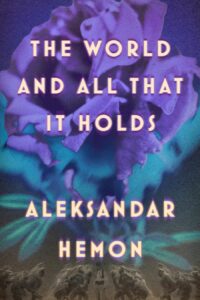 The World and All That It Holds by Aleksandar Hemon is available now via MCD.
---