Following the Paths of the Wild-Walking Women of the Past, from Nan Shepherd to Georgia O'Keeffe
Annabel Abbs on the Literature and Legacy of Women Hikers
Georgia O'Keeffe once described the vast plains of Texas as "the only place that I ever felt I really belonged… that was my country—terrible winds and a wonderful emptiness." The many letters in which O'Keeffe writes about wild landscape fizz with excitement. She loved the heat, the cold, the wind, the vast rugged emptiness. And yet she also recognized this space as "man-land," as a place that belonged to men, writing of her yearning to "be a man," so that she could go "hunting for that big loneness—away from folks." Unsurprisingly, it both lured and frightened her. And, unsurprisingly, she connected the physical freedom and solitude of the wilds with masculinity and autonomy.
The idea of "man-land" has been slow to shift. For those of us that grew up on images of the Marlboro Man, or the lone enraptured poet wandering lonely as a cloud, or the endless male conquests of sea and sky, the wilds remained a place for men to enhance their masculinity, to unleash their creativity, to become masters of their universe and of themselves.
But the wilds have not belonged solely to men. Women have always been there. And while most—particularly the impoverished and those of color—were lugging water, firewood and babies (with neither the time nor the resources to record their drudgery), several were walking remote areas for quite different reasons. Anyone who thinks Cheryl Strayed was the first female to take a hike in the hills is greatly mistaken.
Until I began researching my book, Windswept, I didn't know this. But I suspected it. For years I'd been reading accounts of men-striding-through-nature. But throughout this time I'd also been a distance hiker myself. I'd experienced the extraordinary shifts that accompany a long walk—shifts in how we see and hear, changes to mood and memory, the sense of purification and clarification that accumulate over days of being in the wilderness. Surely Cheryl Strayed wasn't the first woman to write about this? Surely women of the past had experienced this thrilling sense of renewal and catharsis?
Fueled by a compelling blend of fury and bafflement, I began a five-year hunt for wild-walking women of the past. I sought out unpublished accounts of walking tours, and books that had been published decades ago but never reprinted. I scoured letters and journals. I spent far too long in musty archives, in the dim bowels of the London Library, and in the windowless reading rooms of the British Library. And here I discovered that women have been wild-hiking—often alone, often with their belongings on their backs—for well over a century. Moreover, they walked with none of our conveniences—no cell phones, GPS, mountain rescue service, waterproof trousers, adjustable walking poles, or lightweight backpacks. They didn't even have the luxury of wearing a bra.
So why don't we know about them? Why do the genres of nature writing or "literature of the leg" (a term coined by Robert Macfarlane to cover books about walking) include so few women?
Unlike their better-known male counterparts, women rarely walked for adventure. They rarely walked to hunt, shoot, fish, survey, or scale peaks. They didn't walk to be first or fastest. Instead, they walked to reflect, to escape, to understand the capabilities of their bodies, and, above all, to find a voice of their own. Much like Strayed, they walked to free themselves. And now I too wanted to walk myself free.
Anyone who thinks Cheryl Strayed was the first female to take a hike in the hills is greatly mistaken.
When I presented my editor with a list of over 30 intrepid walkers, she wisely suggested I opt for a handful. I selected seven women and set off to walk the routes that had proved most catalyzing for them. I wanted to understand what had driven these women to do something so bold, so disreputable (for the time), so reckless. I wanted to walk my way under their skin. My chosen women—the French philosopher and author Simone de Beauvoir, the artist Georgia O'Keeffe, the Welsh painter Gwen John, the German writer and muse Frieda Lawrence, the Scottish writer Nan Shepherd, and the writing duo from Cornwall, Clara Vyvyan and Daphne du Maurier—became beacons of bravery. Walking in their footsteps, immersed in their life stories, my own life changed.
But I wanted to do more than understand these women's motivation for walking: I wanted to understand how and why their chosen landscape altered them. Like most of us, each woman had a landscape she responded to with particular urgency. For O'Keeffe, it was the vast unpeopled plains of Texas—with their ferocious winds and red dust—that first inspired her. She loathed the gentle green landscapes that I had always loved, preferring the drama and austerity first of Amarillo, Texas, and later of New Mexico. For Gwen John, it was vigorously flowing water—either rivers or the sea. Water stilled her mind like nothing else could. But in the tumult of rushing water, she also recognized something of her own inner turbulence. In some odd way, walking beside water made her feel less alone.
Simone de Beauvoir and Nan Shepherd were gripped by mountains and by everything that accompanies altitude: the vertiginous scree-scrambling climbs, the terrifying descents, the extreme heat and cold, the thin, clean air. Among the mountains of France (Beauvoir) and of Scotland (Shepherd), each woman tested herself over and over: sleeping beneath the stars, navigating hostile territories, hiking in remote deserted terrain for day after punishing day.
Beauvoir and Shepherd found that hills and height offered the chance of a more embodied way of being, and both went on to examine this in their subsequent writing. And yet each woman walked in her own unique way. Beauvoir pushed her body to its limits, often marching for 30 miles in a single day. But Shepherd savored the landscape, digging her fingers into the black earth, plunging her nose into wet birch trees, walking barefoot through damp heather, swimming naked in ice-cold lakes. While Beauvoir shows us how to recast our bodies, Shepherd shows us how to live through our senses. Both modes of walking brought them to epiphanies that had profound effects on how they chose to live.
For Beauvoir, wild space allowed her to put into practice her theories of existentialism. Her long wild walks were testing grounds for her burgeoning self-reliance.
For Beauvoir, wild space allowed her to put into practice her theories of existentialism. Her long wild walks were testing grounds for her burgeoning self-reliance. Beauvoir maintained that the first step to female liberation lay in the ability to plot a walking route on one's own. I doubt she could have written her pioneering tome, The Second Sex, without embarking on the multiple long-distance hikes she did in her twenties and thirties.
For Shepherd, her mountain walks were her life's work. After completing her masterpiece of nature writing, The Living Mountain, she never wrote another book. There was simply nothing left to say. She had—as she explained—discovered what it is "To Know Being."
As I trod the paths of my walking women, I pondered their impressive courage, and I began to understand how their lives and works were shaped by the landscapes in which they walked. I began to understand the difficulty of making tracks within us if we're not allowed to pursue tracks outside of us. I grappled with the complexities of belonging, and with the fraught notion of "home". I investigated the additional psychological burdens that women carry as they walk—from menstruation to the necessity of wearing men's hobnailed boots or ill-fitting espadrilles to the endless fear of assault—and how they too shape us.
When the philosophy professor Frederic Gros wrote his best-selling A Philosophy of Walking (2014), he failed to mention a single woman. Whether this was because women cannot think or because women cannot walk wasn't made clear. And yet my investigations found many, many women capable of both thinking and walking. It's time we knew about these remarkable trail-blazing women.
If I'd known about this astonishing legacy of female hikers, I'd have been less intimidated about setting off on my own, less wary of the wild landscapes that had called to me for so long. I hope that Windswept, and the many new nature and walking books that both feature women's stories and have been written by women themselves, goes some way to bringing us equality in the wilds and to ending the myth of "man-land." Because wilderness is not just for men. The wilds are for everyone.
________________________________________________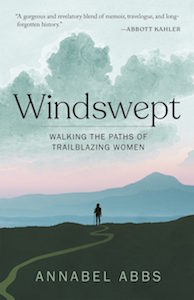 Annabel Abbs' Windswept: Walking the Paths of Trailblazing Women is available now via Tin House. 
---