Flight Patterns: Reading of the Creatures of the Air
Matthew Gavin Frank Recommends Claudia Rankine,
Ross Gay, and More
Cover illustration by Fumi Mini Nakamura
After our sixth miscarriage, my partner, Louisa, and I, traveled to South Africa, Louisa's home country, to conduct a funeral ceremony of sorts at the Big Hole in Kimberley, a gaping open-pit and underground diamond mine that was active from 1871 to 1914. In order to contextualize my grief—however inadequately, but essentially—I became obsessed with the history of the Big Hole which was, after all, the actual context and physical space into which we decided to embed the ashes of our final miscarriage, and, in turn, this phase in our lives. I desperately wanted to know what the Big Hole, and all of the other stories it contained, could tell us about the parameters of our own; to find out, in part, what our grief was made of.
My inquiries led me to the De Beers mining towns on South Africa's notorious Diamond Coast. In a bar there one night, a former diamond diver told me about the methods employed by those who participate in the ancillary "industry" of "illicit" diamond smuggling. One such method involved the sneaking of trained carrier pigeons onto the mine property, affixing diamonds to the birds, and sending them into the air to fly from the mine to the workers' homes. When some workers began affixing too many diamonds to the birds, though, the pigeons began to falter, and to land at random along the beaches of the Diamond Coast. De Beers officials caught wind of this and, having infiltrated the local governments, declared it illegal to raise pigeons in the region. Fixating on this amazing information, and unable to detach myself from it, I began to investigate and write what would become my nonfiction book, Flight of the Diamond Smugglers.
Throughout the writing process, I became interested in the notion of "carriage" itself, and the language we lend to it; the act of loading and sometimes overloading a pigeon with cargo we deem valuable, and the benefits and consequences thereof; the ways in which the labors of the carrier pigeon connect, however lyrically and ephemerally, to problems with the act of carrying, to miscarriage… And so, seeking connection, I turned to some of my favorite books which feature, in some form or another, flying things. I wanted to commune, to find answers, to see how some of my favorite writers were using flight—actual and/or conceptual—as a lens through which to attempt to contextualize, however inadequately, intense and formative human experience.
*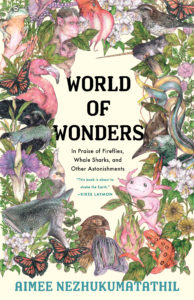 Firefly
Aimee Nezhukumatathil, World of Wonders
Nezhukumatathil's collection of essays, dreamily illustrated by Fumi Nakamura, scratches at the oft-unexamined ornaments of our world—the flamingo, the monarch butterfly, the cara cara orange—until their inner holiness and radiance begins to leak out onto the page. Nezhukumatathil tethers each of her examinations of the natural world to a particular phase or event in her life. I particularly love the moment in her essay on the firefly, wherein the insects' "erratic flashes of light" "sputtering in ditches along the highway," "…lose their light rhythm for a few minutes after a single car's headlights pass. Sometimes it takes hours for them to recalibrate their blinking patters." The moment gathers gravity and becomes an elegy not only for Nezhukumatathil's mother, but also for the languid family vacations of childhood, as well as "those unimaginable nights in the future," while the present remains, like the firefly itself, disoriented and sputtering in the air.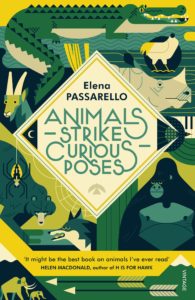 Mozart's Starling
Elena Passarello, Animals Strike Curious Poses
Animals Strike Curious Poses turns the bestiary inside out, fashioning intoxicating and animated meditations on our penchant for ownership via naming, our drive to saddle the world and its creatures with our weary, ponderous patronymics, and the attendant and cockeyed faux-fame. Passarello's essays tell secrets. In "Vogel Staar," one of my favorite essays in the collection, Passarello delights us with an examination of the relationship between Mozart and his avian comrade and collaborator, a darling starling (sorry) whose complex song in part inspired the Viennese composer's musical trajectory. "The bird must have zeroed in on Mozart's mouth," Passarello writes, "as the man whistled the seventeen-note opening phrase from his recent piano concerto… [T]he starling… spat that tune right back at the tunesmith—but not without taking some liberties first. The little songbird unslurred the quarter notes and added a dramatic fermata at the end of the first full measure; we can only guess how long it held that warbly G." And in this way, human brain finds itself "bonding with a bird brain," and though the starling's flight is girdled by its cage, its song and, subsequently, Mozart's ear, and career, soars.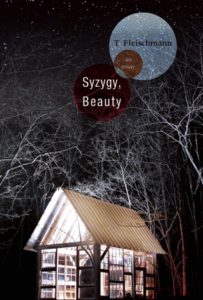 Neutrinos
T Fleischmann, Syzygy, Beauty
As celestial bodies overlap, sharpen, blur, then explode into new forms, so, too, do corporeal bodies in T Fleischmann's fragmented book-length essay. At once a meditation on the evolving impact of art, mathematical and physical conundrums, gender fluidity, the speaker's building of a house, and an entreaty to lost lover, the book culminates with an almost unbearably luminous shout-out to neutrinos, the sexiest of our fermions. "In physics," Fleischmann writes, "Mach's Principle states that the movements closest to our bodies are controlled by all the mass of the universe. Absent the distant cosmos, I would reach for you with new motion. The neutrinos would float undetected through us in a different way than they float undetected through us now." I find myself, every day, still reaching for those hiccupping sparks that tried, and failed, to become our babies… How oddly comforting, though, that we are forever and most intimately bombarded by the tiniest components of the universe writ large, and that we can never feel it, and so can continue ignoring the neutrinos, even as they try their damnedest to burnish our losses.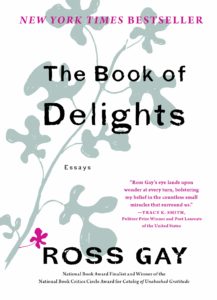 Pigeon (Bird Feeding)
Ross Gay, The Book of Delights
Ross Gay's essay collection, The Book of Delights, teaches us that the act of recording—as a craft choice— can become on the page a lyrical act, a political act, an act of social justice, as well as "a way of renewing of oneself" (to quote James Baldwin). Reading Gay's book compels such questions: what is it to engage the sensual in the age of pandemic-era social distancing?  What fresh "effort" (as Baldwin may say) does it require? In one of my favorite essays in the book, "Bird Feeding," Gay observes that the bodies of a pigeon and a man overlap and seemingly fuse the longer Gay watches the man feed the bird, an act which "was not only kind of romantic but alluded to that original feeding the bird experienced, a mother dropping masticated vittles into the tiny chirper's gaped mouth, which is, after all, the first romance… Goddamn, I thought…" And I was therefore compelled to exclaim to these pages, "Yes! And do you know that pigeons have demonstrated the capacity to recognize all 26 letters of the English alphabet?!" And the book answered, appropriately turning question into exclamation, "Goddamn. How often do you get to see someone slow dancing with a pigeon!" before becoming, ultimately, a bemused statement on the often-unobserved ubiquity of such necessary and tender relationships between people and birds.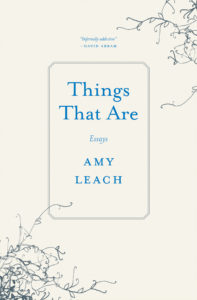 Moth (You Are Going to Fly)
Amy Leach, Things That Are
As if filtering Linnaeus's Systema Naturae through the most delightful of fever dreams, and recognizing the innate whimsy at the core both of our earthly organisms, as well as the quixotic schematics of existence itself, Amy Leach's essay collection, Things That Are, uncovers the ecstasy in taxonomy. After following a moth "that trudged across a whole grocery store parking lot," asking it the very good question, "Why do you waste your wings?" Leach, in the essay, "You Are Going to Fly," considers the fragility of survival and transience of existence, and wonders if, should we map the very human notion of "becoming"—replete with its attachments to a past and compulsions to consider the future—onto the moth, it's possible that the very act of flight may inspire that moth to mourn its past as a land-dweller. What does it mean to mourn such things? And what does it mean to have the ability to be oblivious to such questions, to be immune to silly ambition, to be unaware of our own approaching deaths, to be as present as the pre-moth caterpillar—as-yet ignorant of flight "with powdery, iridescent blue-and-green wings"—swinging from a leaf-stem in the wind, over the creek?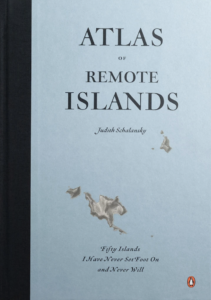 Petrel
Judith Schalansky, Atlas of Remote Islands
Schalansky's book is subtitled, Fifty Islands I Have Never Set Foot On and Never Will, and the 50 paragraph-long meditations braid odd historical accounts of, for example, despairing naturalists or tyrannical lighthouse keepers, with even odder facts about the local flora and fauna, contextualizing each with the sort of dreamy speculation that compels the reader to ponder the overlaps of reality and fantasy, geography and unbearable loneliness. I first read the book when I was in Mindelo, the largest town on the island of São Vicente in Cape Verde, sitting on a blue bench at sunset as a morna band began to play on the street corner: such a tentative melody… Morna is about estrangement, homesickness, the yearning for the non-existent familiar, the sort of melancholy that can't be named.  Much of this sentiment oozes from Schalansky's pages, and as I sat there on São Vicente, I read of another island—so far away: Bouvet Island, which is part of Norway, and which is uninhabited by people, but full of petrels who "take position" and "darken" the skies should any ship approach, circling "in silent, ghostly swoops, like vampires." The petrels therefore protect the island from us, and for so long, explorers considered it to be an illusion, an apparition, a rumor, a shadowy blister in the sea, behind a wall of birds.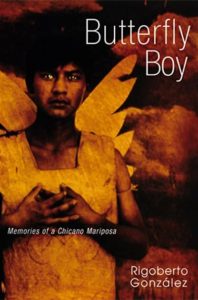 Fly 
Rigoberto González, Butterfly Boy
In this extraordinary, intimate memoir, González traces his coming-of-age as a gay man among a family of migrant farmworkers, frequently crossing the border between Mexico and the U.S. As the book progresses, the border amasses a metaphorical charge, as does the butterfly of the title, as González recounts and celebrates his often-fraught journey toward self-acceptance. And in González's lyrical examination, seemingly ordinary memories take on great significance. González recalls "the infamous fly-swatting incident" wherein, "My grandfather had asked me to kill the flies buzzing around the kitchen." Near-sighted, and slandered by his family members as "clumsy and awkward" for his left-handedness, González renders a painfully slowed-down and unforgettable scene in which he is critiqued for his grip on the swatter, for his aim, and for his "bumbling hand." With each fly that escapes his attempts to kill them—as if mileposts—the men in his family grow increasingly disheartened, and González burrows further into the sense of estrangement that will in part compel him, ultimately, toward self-celebration.
Parrot
Jesmyn Ward, Men We Reaped
Ward burnishes the proverbial caged bird and resets it amid the over-lit grotesquerie of a claustrophobic sitting room which is itself embedded into such sweeping personal, familial, and social tragedy begotten of systemic racism and an attendant cycle of poverty. Ward's book engages the wrenching, cruel, and premature losses of five young men in her life over the span of four years in the community of DeLisle, Mississippi. In one of the book's many memorable scenes, Ward, as a young woman, watches her mother clean the mansion of a wealthy white family, while chatting to the wife—her mother's employer—about what she's learning in school. Ward and the wife lounge in the mansion's sitting room, along with "the family's parrot… kept in a four-foot high cage in a corner [as it] squawked and spread its wings." As the wife speaks—from her inherited privilege—about the quality of Ward's education, Ward's gaze oscillates from her mother to the parrot, allowing for a heartbreaking and disarming overlap: "… I had trouble paying attention to the wife. Why was my mother so silent? Why did she seem so meek? I'd never seen any of that in her. My attention was split between two worlds… The parrot stretched its wings wide again, raising its beak to the air, stretching as if it would fly, but it settled. My mother pushed and the broom shushed its way around the cage." After the wife eventually pays Ward's college tuition, Ward reflects on the ways in which her "eventual ascent into another class, was born in the inexorable push of my mother's hands," and looming over this reflection is the powerful image of that caged parrot, acknowledging its wings before dropping them.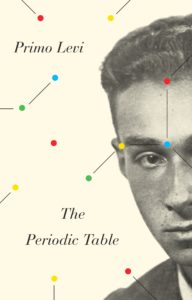 Ventilation Hood (Tin)
Primo Levi, The Periodic Table
Using the elements of the periodic table as an organizing principle, Levi—the Italian Jewish chemist and poet— chronicles his life in 21 short essays. Chemistry becomes a lens through which Levi examines his experiences with some of the more atrocious aspects of Western European history—from the rise of fascism, to his time in Auschwitz, to his postwar struggles as a concentration camp survivor.  Throughout, Levi embeds the horrors he has endured into the delights offered by scientific inquiry, using each as a way to find "meaning" in the other.  In the essay, "Tin," Levi goes into business with a friend, in a slapdash chemistry lab. Upon launching the venture, Levi explores the obligations of his newfound "freedom." Speaking to himself, he writes, "…fly with your own wings: well, you asked for it. So fly now: you wanted to be free and you are free, you wanted to be a chemist and you are one." At the essay's end, Levi stands in the apartment's courtyard watching as carpenters remove a ventilation hood from the lab, lowering it from the apartment window using ropes. "[T]he hood was a symbol," Levi writes, "the sign of a profession and condition, indeed and art." A rope snaps, and the ventilation hood "plunged four floors to our feet and was reduced to shards of wood and glass… In the brief instants of the flight the instinct of self-preservation made us take a leap backward." In this way, Levi recognizes the futility of making plans; how the condition of one's intended future is subject to randomness and, perhaps, random horror. The intact world, at any time, can be rendered to its shards.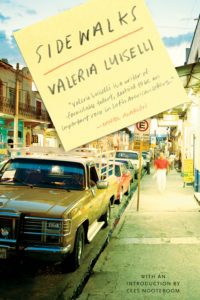 Airplane (Flying Home)
Valeria Luiselli, Sidewalks
In Sidewalks, Luiselli turns her eye to the oft-overlooked anatomies of world cities and uncovers in them ephemeral identities that are as magical as they are elusive. Luiselli's drive to marvel at a city's resistance to be pinned down to an easy, definitive identity further enlivens her meditations on the relationships between body, culture, artifact and an encompassing space/landscape. In the essay, "Flying Home," Luiselli's journey back to Mexico City, her birthplace, becomes an opportunity to consider the secrets encoded in the overlapping cartographies of the ground-level world itself, that same world when glimpsed from a great height (in this case, from an airplane window), and the representation of that world on the little airplane screen, as it traces in a pixilated image, the trajectory of the flight itself, millimeter by millimeter, over a cartoonish globe, icons of oceans and continents. "As surfaces that by nature are immobile and frozen in time, maps don't impose any limitations on the imagination of the person studying them," Luiselli writes, "Only on a static, timeless surface can the mind roam freely." By the essay's end, the body, suspended in flight and, therefore, in space and time, can only weep—simply, obviously—in "resistance to the descent to the future world," and in commemoration to all of the waters and all of the lives that have been absorbed into the "dried up" land down there.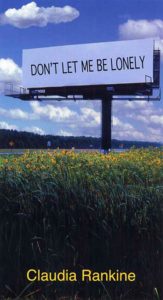 Fear
Claudia Rankine, Don't Let Me Be Lonely
In this contemporary political landscape, and era of the pandemic, it seems as if the airspace is home less to the birds and the bugs and the planes than it is to anxiety, panic, an invisible virus, and fear, fear, fear. Rankine's prescient book-length lyric essay serves as a fragmentary meditation-cum-incantation on isolation and depression (personal and cultural) begotten of guerilla capitalism. Oftentimes viewing contemporary cultural malaise and "sadness" through the lens of racial oppression (historical and current), Rankine arrives at a moment, near the end of the book, wherein the persistent bombardment of data compels us to float—lost, numb, post-hope, and estranged from ourselves and others—as if in a brine of fear. "People are sick and have died," she writes in a seemingly clairvoyant segment, "What should I do?… I should wash my hands thoroughly with soap and water. As the days pass I begin to watch myself closely. The America that I am is washing her hands… Do I like who I am becoming? Is this me? Fear. Fear in phlegm. Fear airborne." Though Rankine published the book in 2004, it seems—as have so many great works of art—to have predicted our current times. What ethical concerns pertain to the recognizing and reacting to that fear? What are the ethics of ignoring that fear; of being alternately amazed and horrified by it, animated or numbed? The fear doesn't care. It meanders all around us, contextualizing us as if history. It gets into our noses, mouths, lungs. It compels us to do horrible or beautiful things with our hands. Sometimes, it compels us to do nothing. It doesn't think. It doesn't feel. It settles on the TV, the billboard, the tallgrass. It turns us into products. It flies on.
__________________________________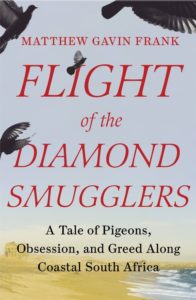 Flight of the Diamond Smugglers by Matthew Gavin Frank is available now via Liveright Publishing.
---