Five Great Books You May Have Missed in October
Bethanne Patrick Recommends Melissa Lozado-Oliva, Max Lobe, and More
Recently debate has raged (well, raged as hard as any debate in literary circles can) about whether or not the names of translators should be placed on book covers, either below or in close proximity to the authors' names. Some consider a translator to be like a musical accompanist, someone necessary who remains largely in the background—the only name needed for promotion is the principal musician. Others believe translators are full collaborators who help to create a new work of art from a work in its first language, to another, and deserve equal billing.
I'm in the latter camp, less due to any protracted thought about the problem than due to having spoken with translators and knowing how hard they work and how carefully and seriously they take that work. While not all of this month's Books You May Have Missed are works in translation, as always, when I do include translated works here, I like to keep the names of the translators on the same line as those of the authors. Thank you, literary translators, for allowing us to read works from around the globe.
*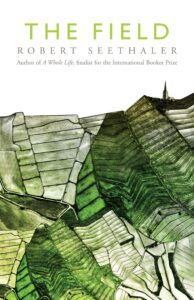 Robert Seethaler, trans. by Charlotte Collins, The Field
(Anansi International)
The Field is a version of a common trope, the "cemetery novel" if you will—an elderly man who sits on a bench each day by the graveyard in Paulstadt becomes convinced he can hear its residents' voices, and before long, they've taken over the book. In the hands of author Seethaler and his translator Charlotte Collins, who infuse equal amounts of melancholia and dark humor into these character tales, The Field comes alive (sorry, sorry, I couldn't help it). Seethaler's previous five novels include the International Booker Prize finalist A Whole Life and The Tobacconist and the thing he does best here is to show not just who once lived in this Austrian town, but how their lives actually shaped its fields, streets, businesses, and current outlook. Since it's an Austrian town, get ready for some tough, sad stories from wartime, but Seethaler remains a master of modulation and provides much of it through perspectives on marital conflict.
Ihsan Abdel Kouddous, trans. Jonathan Smolin, I Do Not Sleep
(Hoopoe)
This shouldn't require much more introduction than "This is the Egyptian Lolita" because, when Kouddous released it in the 1950s, that's how it was received. Both novel and film adaptation caused an uproar, with the narrator Nadia's look back at her 16-year-old revenge behavior scandalous. However, Kouddous's prose deserves more than simple comparisons to Nabokov's. Ihsan Kouddous, trained as a lawyer and employed as a journalist, wrote fiction about the Arab world way ahead of its time, pared down and powerful (he argued for a new literary Arabic that would eschew formalities and flourishes). His Nadia reminds me of Marcy Dermansky's Bad Marie, of Leila Slimani's The Perfect Nanny, of Ottessa Moshfegh's Eileen, of so many women whose function as unreliable narrators is more about the patriarchy than about them—yet those women still have so many flaws.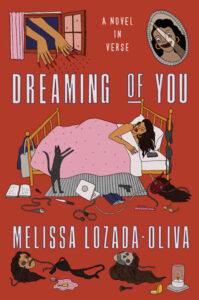 Melissa Lozada-Oliva, Dreaming of You: A Novel in Verse
(Astra House)
Dreaming of You poses a wonderful question: What would happen if a young Latinx poet held a séance to summon forth the spirit of murdered Tejano pop-star Selena? And what if whatever happens becomes a story made up of poems, narrated by different women in that poet's life? And what if those poems aren't sweetly simple paeans to womanhood but deal with violently broken hymens, blind-date murderers, karaoke nights, and a baby named Flor for the resurrected Selena. In other words, this isn't like anything you've ever read before and yet it feels as familiar as watching a bunch of friends pre-game for a night out, as difficult as caregiving for a dying loved one, and as magical as a forgotten lottery ticket worth $5,000. It's an all-female odyssey-cum-Divina Commedia, an epic for modern times but not focused on the white gaze. "How to tell/the end of/a ghost story/when everything/is haunted anyway?" writes Lozada-Oliva. Even if she didn't provide "An Alternate Ending," and she does, the poet guarantees we'll all be haunted by reading her marvelous work.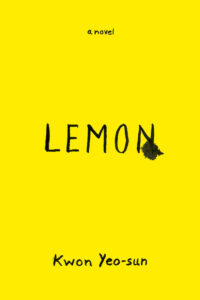 Kwon Yeo-Son, trans. Janet Hong, Lemon
(Other Press)
Lemon will satisfy fans of Steph Cha, Ivy Pochoda, Megan Abbott, and many other maestro of literary thrillers. Nearly two decades after her sister Hae-on was killed in what became known as the High School Beauty Murder, Kim Da-on wants to find answers to the long-cold case. Like the very of-the-moment, Lemon uses violence as a form through which to discuss bigger issues of privilege, class, status, and trauma. Specific to Lemon: There is a great deal of resentment between Da-on and her sister, at least what she understood of her sister. But eventually, time and memory and amateur investigation allow Da-on to discover what really happened on that summer night in 2002 when her sister died.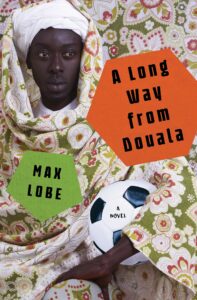 Max Lobe, trans. Ros Schwartz, A Long Way from Douala
(Other Press)
This might be a story about young adults, teenaged Cameroon residents Jean and Simon, but their coming-of-age journey to find Jean's brother Roger in Nigeria involves some grownup negotiations with dangers along the way—especially the Boko Harum forces patrolling North Cameroon. The Camfranglais (a hybrid of French, English, and pidgin) used throughout, combined with Jean's adolescent point of view, makes even the first chapter in which his father dies seem more antic than tragic (the grief, when it comes, will come first from Roger, before he leaves to pursue his dreams of soccer stardom). There's a lot of energy in this novel, energy that derives as much from Cameroonian culture as from Jean and Simon's youth, and Lobe uses it as a springboard for their trip, but also to ultimately trip up readers who haven't been paying attention to those aforementioned dangers. The ending will at once break your heart and convince you that chances still exist for boys like Jean and Simon. Max Lobe, who now lives in Switzerland, is a writer to watch—but you should also read his work now.
---