Five Intense Books For Mother's Day
Brazos Bookstore's Picks Will Make You Love Mom Even More
We asked our friends at Brazos Bookstore in Houston to recommend some warm, fuzzy titles about the love of one's mother, on the occasion of this coming Sunday (for this reminder, you're welcome). They sent the following list of intense, sometimes grim, novels of loss, anguish, and otherwise complicated maternal relationships. We hope everyone's ok down there.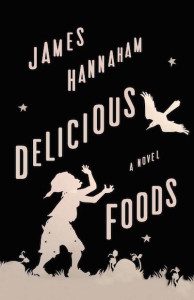 Delicious Foods, by James Hannaham
A whole lot of bad things happen in Delicious Foods, and its opening image—a boy driving down a highway without any hands—screams Hannaham's intent to unsettle. In this powerful novel, a drug-addled mother (crack cocaine narrates occasionally) gets abducted into a forced labor camp, while her son wanders the sketchiest parts of Houston trying to find her. Harrowing in its examination of how the problems of racism are not just ghosts of the past? Yes, absolutely—but more than that, this novel centers of the bond between a mother and a son, and how that bond, even across space and time, makes one feel like the other person's beating heart is always near.
–Benjamin Rybeck, Marketing Director
I'll Give You the Sun, by Jandy Nelson
A brother and sister (twins) take turns narrating the story of their mother—in particular, the story of some traumatic event that has occurred. Where it goes from there, into the depths and secret pains of familial relationships, is raw and relentless—especially for a YA novel. But this book understands the way that parents form their children, and with her gritty language (you can practically feel the California air on your skin), Nelson makes clear the peculiar parallels between family members—how people raised under the same circumstances, and responding to the same troubles, can seem so much alike, yet somehow so different.
–Mary-Catherine Breed, Kids Specialist
The Lost Daughter, by Elena Ferrante
What are things you think that are so horrible, so blunt, you'd never want to say out loud? Ferrante has made these aberrant thoughts the basis of her career, and The Lost Daughter is one of her most transgressive books. In it, a mother on holiday meets a pregnant woman and her family. Of course, the mother doesn't have the fondest feelings for the pregnant woman—or for herself, for that matter. Ferrante turns this into a story of psychological suffering—a story about what happens when a woman worn out by life encounters someone just about to begin her journey through motherhood.
–Ülrika Moats, Gift Buyer
The Reenactments, by Nick Flynn
Anyone who has read one of Nick Flynn's books knows his back-story: that his father abandoned his family, and that, years later, Flynn's mother took her own life, scrawling on the suicide note, I feel too much, again and again—but The Reenactments marks the first time Flynn has that story told back to him in the form of a movie called Being Flynn (based on his memoir Another Bullshit Night in Suck City), whose production he catalogues here. What happens when a son watches an actress pretend to be his mother, pretend to put a bullet through her own body? The son understands that he will never be able to shake his attachment to her—will never be able to stop telling his mother's tragic story.
–Annalia Linnan, Offsite Coordinator
A Tale for the Time Being, by Ruth Ozeki
An author named Ruth finds the diary of a 16-year-old girl washed up on the coast. In this diary, the girl vows to tell the story of her great grandmother, a Buddhist nun. And after that's done? The 16-year-old girl will kill herself. Ozeki's novel is, in some ways, about the absence of mothers—the girl's own mother is barely present, and instead, she finds herself drawn further back into the past to investigate a different kind of maternal bond. Ozeki tells this unconventional story in language so melancholy that A Tale for the Time Being itself feels like something found on a shore—a bit washed-out and sad, but entirely fascinating.
–Jeremy Ellis, General Manager
---