Five Books Making News This Week: Suspense, Sci-Fi, and Single Parents
Flynn Berry, Agustín de Rojas, Dave Eggers, and More
Drumrolls for the upcoming release of Harry Potter and the Cursed Child as a Scholastic magazine flashmob takes over Manhattan on Thursday and bookstores worldwide prepare for midnight parties on July 31. First novelist Clare McIntosh, a former police officer, wins Crime Novel of the Year for I Let You Go at the Theakston Old Peculier Crime Writing Festival. Dave Eggers releases a new novel set in Alaska, multiple award winner Susan Faludi surprises critics with her memoir, Liz Moore's third novel is "smart, riddling," Flynn Berry's first thriller impresses with its narrative voice, and a landmark of Cuban science fiction is translated into English.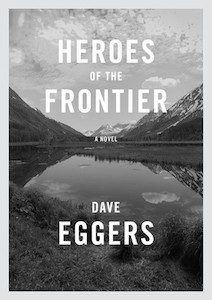 Dave Eggers, Heroes of the Frontier
The much lauded Eggers sends his narrator Josie on a road trip to Alaska with her two young children. His depiction of her two young children draws accolades from critics.
Michiko Kakutani (New York Times) calls Eggers' new novel "a slapdash, picaresque adventure and spiritual coming-of-age tale—On the Road crossed with Henderson the Rain King with some nods to National Lampoon's Vacation along the way." She adds:
What injects Josie's story with heartfelt emotion is her relationship with Paul and Ana, who, like her, are forever changed by their wilderness adventures…That bone-deep knowledge of a child's relationship with a parent informs Mr. Eggers's portraits of Paul and Ana, and their love for and dependence upon Josie—by far the strongest and most deeply affecting parts of this absorbing if haphazard novel.
Barbara Kingsolver (New York Times Book Review) also points to Eggers' depiction of the children as a strong point in the novel:
The common writerly mistake is to slight child characters for lack of a formed intelligence. But by around age 6, the psychologists tell us, we already have the I.Q. and most of the personality we're ever going to get. It's a rich combination—personhood unconstrained by the acquired prejudices of culture—and the author taps it here with impressive results. He likewise nails single parenthood in all its crowded loneliness and moral angst: "The towering tragedy of a single parent is that your eldest child becomes not just confidant but valued counsel."
The heroes of this frontier, she concludes, "are Ana and Paul, a dynamic duo who command us to pay attention to the objects we find in our path, and stop pretending we already know the drill."
Eggers' new novel, writes Carolyn Kellogg (Los Angeles Times), gives us "a woman who's at the end of her rope, in a place of salvation without the wherewithal to seek it, as its promise goes up in flames."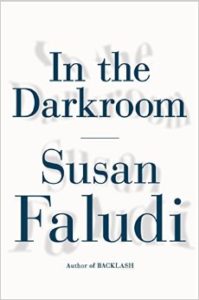 Susan Faludi, In the Darkroom
In 2004 Faludi received an email from her father, who she hadn't seen in twenty-five years. It read, "I have decided that I have had enough of impersonating a macho aggressive man that I have never been inside." Traveling to Budapest, the award-winning author unwinds the stories of a life she could not have imagined. Her first first-person narrative impresses critics.
"Sometimes, reality delivers up not just a remarkable story, but a remarkable story containing a set of parallel motifs that seem too absurdly perfect to be credible. If you read this stuff in a work of fiction, you'd smack the book closed and grumble, 'Enough, already!' writes Laura Miller (Slate) in her review of Faludi's "impressive" new memoir.  "Faludi believes her father's late-life transformation bore some relation to a lifelong affinity for disguises, reinvention, and forgery," she adds.
Michelle Goldberg (New York Times Book Review) calls In the Darkroom "Faludi's rich, arresting and ultimately generous investigation of her father, who died in 2015. It is partly an inquiry into the meaning of gender…But in trying to understand her inscrutable father—Jewish Holocaust survivor and Leni Riefenstahl fanatic, man and woman, a sly fantasist whose tallest tales turn out to be true—Faludi transcends feminist debate. The book, which traces the decimation of her father's prosperous, assimilated Jewish clan during World War II, his improbable survival and then reinvention in Denmark, Brazil and America, and his gender metamorphosis at 76, becomes a complex act of forgiveness."
"That this story should fall into the lap of Susan Faludi was strangely fitting," writes Horatia Harrod (Financial Times). "For the past several decades, Faludi has been an indefatigable chronicler of our shifting ideas about gender. In her first bestseller, Backlash (1991), she wrote about the crushing restrictiveness of feminine identity, and in her second, Stiffed (1999), she explained why traditional ideas of masculinity were just as harmful to men. Her father's change of sex, therefore, presented a double opportunity: to investigate new flowerings of those fundamental questions, and to understand a man she had hardly known."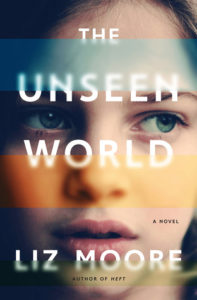 Liz Moore, The Unseen World
Ada Sibelius' single dad is a brilliant computer scientist at a college like MIT, until he begins to show early signs of Alzheimer's. As his memory deteriorates, she discovers he is not who she thought he was. Moore, who was longlisted for long-listed for the International IMPAC Dublin Literary Award with her second novel, Heft, has created a suspenseful story rooted in the early days of the Internet.
 Susan Coll (Washington Post) calls The Unseen World  "an elegant and ethereal novel about identity and the dawn of artificial intelligence, and a convincing interior portrait of a young woman, 'a shadow-girl who could slip imperceptibly around corners and through hallways,' who is conversant in worlds both seen and unseen."
In a starred review, Publishers Weekly described Moore's third novel as "a smart, emotionally powerful literary page-turner."
The Millions includes The Unseen World, a "smart, riddling novel," in its Most Anticipated Books of the second half of 2016.
Flynn Berry, Under the Harrow
In this first novel, Nora, an aspiring writer working in London, discovers the body of her older sister, a nurse, when she arrives at her home in Oxford for a visit. Critics respond to the power of Berry's narrative voice.
Maureen Corrigan (Washington Post) calls Under the Harrow "an exquisitely taut and intense debut thriller ." "There's a subtle strain of Daphne Du Maurier's classic, Rebecca," she notes. "Certainly, the eerie Cornwall scenes here contribute to the association, as does Nora's haunted first-person narration….Enough with comparisons: Under the Harrow is such a superbly crafted psychological thriller, it deserves to be celebrated for its own singular excellence."
The Wall Street Journal includes Under the Harrow in its Best New Mysteries: "Ms. Berry, a first-time American novelist, has written a psychological-suspense work fit to hold its own with many recent best-sellers. And she's done it with a narrator whose possible unreliability is not arbitrary but consistent with this well-wrought book's conception, thereby heightening the considerable suspense."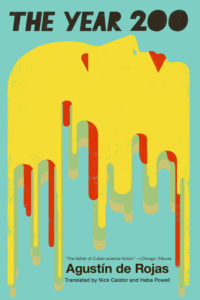 Agustín de Rojas, The Year 200, Translated from the Spanish by Nick Caistor and Hebe Powell.
This is the first translation into English of the third in a trilogy by the father of Cuban science fiction, who was influence by Ray Bradbury, Isaac Asimov, Ivan Yefremov and the brothers Arkady and Boris Strugatsky. His reception is warm indeed.
Geoff Shullenberger (Los Angeles Review of Books) finds The Year 200 "a riveting narrative of espionage and geopolitical turmoil set 200 years after the communist Confederation has defeated the capitalist Empire. In de Rojas's imagined communist future, the human environment is integrated with holographic virtual reality, and advanced cybernetic systems take on most of the functions of government." He adds:
There could scarcely be a more opportune moment, then, for the appearance in English of the late Cuban science fiction master Agustín de Rojas's epic novel The Year 200. This final and most ambitious installment of a trilogy is now being published for the first time in English by Restless Books. De Rojas's book, first published in 1990 as the Soviet Bloc collapsed, has the potential to reintroduce English-speaking readers to the suppleness, complexity, and productive ambiguities of the left-utopian tradition in science fiction. The Year 200 speaks the language of cybernetics, that mostly forgotten ancestor of Silicon Valley futurism, and reveals some of the ways in which it did and did not anticipate our present dilemmas. De Rojas's lucid fictional world intersects with many of our contemporary technological obsessions but charges them with remarkably distinct political valences.
"The Year 200 raises a variety of interesting questions, ranging from the ideological to the sociological to the philosophical, most of which de Rojas leaves nicely open for the reader to ponder—there are few easy answers or prescriptions here," writes M.A. Orthofer (The Complete Review). "A nice touch, too, are breaks in the narrative that are presented as parts of an ongoing test—quizzes of sorts, of a few questions each, regarding what has happened in the story and the reader's reaction to various aspects. It makes for a sort of readers-guide, too—but the questions are more challenging than the usual straightforward ones. These tests are a clever expansion of and on the story, a nice twist that also serves to remind the reader, every hundred pages or so, that they are in a novel-experience, a created fiction … "
---