Five Books Making News This Week: Russia, Reckonings, and Relationships
Sana Krasikov, Joyce Carol Oates, André Aciman, and More
Washington, D.C. will be awash in writers this week, as more than 12,000 show up at the 50th annual Associated Writers and Writing Programs (AWP) conference. The conference features a humungous bookfair and hundreds of events, including a Thursday night keynote address by Azar Nafisi, author of Reading Lolita in Tehran and The Republic of Imagination, and featured writers Chimamanda Ngozi Adichie, Alexander Chee, Ta-Nehisi Coates, Maureen Corrigan, Jennifer Egan, Angela Flournoy, Karen Joy Fowler, Ross Gay, Marlon James, Margo Jefferson, Ann Patchett, and Tracy K. Smith, to name a few. The Costa Book of the Year Award goes to Irish writer Sebastian Barry for his novel Days Without End. It's the second Costa win for Barry (his first: The Secret Scripture, 2008). The Barnes & Noble's Discover Great New Writers Award shortlist includes fiction—Abby Geni's The Lightkeepers, Yaa Gyasi's Homegoing, Jung Yun's Shelter—and nonfiction—Matthew Desmond's Evicted, Hope Jahren's Lab Girl, and Patrick Phillips' Blood at the Root. Joyce Carol Oates' new novel is a triumph of timeliness and empathy, Elliott Ackerman brings extraordinary familiarity with the civil war in Syria to his second novel, Sana Krasikov's first novel reveals the fate of Americanized Russians in Russia, Kathleen Rooney's character Lillian Boxfish is inspired by a Dorothy Parker-ish copywriter, and André Aciman fills five stories with subtle variations.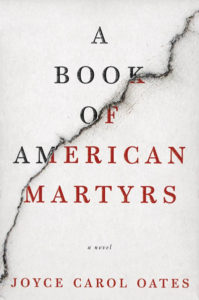 Joyce Carol Oates, A Book of American Martyrs
Oates pits an Evangelical against an abortion doctor in a triumph of empathy (not to mention a feat of timeliness). Her story provides what one critic calls "an ultrasound of the contemporary American soul."
Ron Charles (Washington Post) calls A Book of American Martyrs "the most relevant book of Oates's half-century-long career, a powerful reminder that fiction can be as timely as this morning's tweets but infinitely more illuminating . . . a story whose grasp is so wide and whose empathy is so boundless that it provides an ultrasound of the contemporary American soul."
"Shattering from start to finish, this is a 768-page discourse on abortion in America that perhaps couldn't have been published at a more pivotal time," writes Karen Brady (Buffalo News). "It is also so evenly informed, and balanced, that it presents no discernible point of view."
Steph Cha (Los Angeles Times) writes:
A Book of American Martyrs is successful because she refuses to satirize or dehumanize anyone, even murderous foes of abortion. She spends more than 100 pages in Luther's voice, and repugnant as he is, he has the full weight of a rich, complicated character, totally seen and understood by his author. That same immersive empathy extends to all the major characters, with wonderful results. Dawn—an unintelligent, inexorable young woman who calls herself "The Hammer of Jesus"—is a triumph of fiction writing.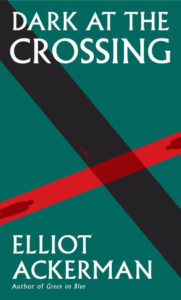 Elliott Ackerman, Dark at the Crossing
Ackerman's first novel, Green on Blue, reflected his tours of duty in Iraq and Afghanistan. In his second, he draws upon his experience covering the Syrian Civil War since 2013. Critics are impressed.
Lawrence Osborne (New York Times Book Review) writes:
One could also argue that the most vital literary terrain in America's overseas wars is now occupied not by journalists but by novelists and even poets: Jehanne Dubrow's Stateside, Brian Turner's Phantom Noise, David Abrams's Fobbit, Nadeem Aslam's The Blind Man's Garden, the stories of Katey Schultz.
Elliot Ackerman is certainly one of those novelists . . . Ackerman, who served in Iraq and is a recipient of the Purple Heart, now lives in Turkey. His second novel . . . has as its setting the intricate, slow-unfolding nightmare of that paradoxical country. Based in Istanbul, Ackerman is familiar with the formidably volatile and increasingly dangerous southern border zones with Syria. Much of this slender novel is set in the once pleasant city of Gaziantep—or Antep—whose texture he renders with economical accuracy and with gathering unease. It's a physical landscape that rarely appears in novels, and Ackerman has learned it well—a twilight world of desolate roads, refugee tents, hordes of scavenging boys, desperados and lethal con men. Beyond it we hear the constant thud of artillery and mortars, a sound "like soda cans crushed underfoot" and a sinister whine of car alarms accidentally set off.
Dark at the Crossing "illuminates the Syrian Civil War, which Ackerman has been covering for years," writes Steve Donoghue (Christian Science Monitor), "but as with his previous book, the focus here is not on battles or governments but on the multifaceted and irresolute actions of a handful of individuals caught up in the chaos of six years of fighting against Syrian dictator Bashar al-Assad."
Brian Turner (Washington Post) concludes, "while Ackerman's experiences surely filter the narrative of Haris Abadi's story, the author's hand fades as we're transported beyond the horizon of our own lives. It's impossible not to consider the millions of people involved in years of conflict in Syria. Dark at the Crossing is not only a fictional meditation on remorse, betrayal, love and loss, but also a journey that returns us to the beautiful and broken world we live in."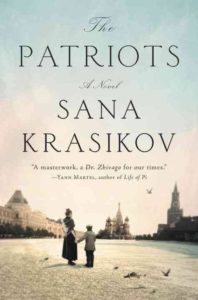 Sana Krasikov, The Patriots
A first novel by a PEN/Hemingway finalist (for her story collection One More Year) draws raves, beginning with a series of starred prepub reviews. (Booklist: "[Krasikov's] fluency in the complex interactions between Russia and America shapes her first novel, an involving, suspenseful, and astute cross-cultural saga.")
"In The Patriots," writes Adam Kirsch (Tablet), "[Krasikov] has given us a remarkable story about the fate of Americans in Russia, and of Russians who return to their homeland after becoming Americanized. That is Krasikov's own story: Born in the Soviet Union and raised in the United States from the age of 8, she has lived as an adult in both Moscow and New York. Her first book, the story collection One More Year, won many accolades, including the Sami Rohr Prize for Jewish Literature. And it is Jewishness—for Krasikov as for [Masha] Gessen, Gary Shteyngart, Lara Vapnyar, David Bezmozgis, and others—that offers the perfect oblique angle from which to observe the two cultures. At home in both and neither, the Jewish writer sees things about them that other observers might miss."
"Globe-hopping, decades-spanning, and generation-clashing, " writes Tim Deignan (Brooklyn Rail), "The Patriots calls to mind Jonathan Franzen's The Corrections, Junot Diaz's The Brief Wondrous Life of Oscar Wao, and Jhumpa Lahiri's The Namesake. Brooklyn, Cleveland, Washington, and Moscow—from the 1930s ­– 2008—are just some of the places we visit."
Nathaniel Rich (New York Times Book Review) points out, "Krasikov had no way of knowing that her novel would be published just as America is witnessing the ascension of a ruler who calls for jailing his opponents, proposes to weaken the First Amendment and uncritically quotes Russian propaganda. But this turn of events gives urgency to her main theme—the insidious influence of totalitarianism on the lives of those trapped under its boot."
Kathleen Rooney, Lillian Boxfish Takes a Walk
Kathleen Rooney's character Lillian Boxfish, inspired by archives belonging to a glamorous advertising copywriter, charms critics.
"This irresistible book is based on the life of Margaret Fishback, who was a Dorothy Parker-ish poet and star advertising writer for Macy's in the '30s—in fact it features Fishback's poems and ads," points out Mameve Medwed (Boston Globe).
"Rooney proves herself to be a tireless puppeteer in Lillian Boxfish—a writer with no apparent end of the cleverly turned phrase, the thoughtful insights into advertising, the intelligent musings on the process of creation," writes Beth Kephart (Chicago Tribune).
Jason Arthur (The Rumpus) concludes:
Lillian believes that walking "has done no less than save my life." She understands the value of unplanned urban interaction:
If one knocks oneself out of one's routine—and in so doing knocks others gently out of theirs—then one can now and again create these momentary opportunities to be better than one is.
The point of such unplanned breaks in routine is never quite civic, always more about the survival of the self than of the city. As Lillian admits, "When I finally left home, my aim was not to bring succor to the oppressed, but rather to find adventure in the wilds of Manhattan." Walking through these wilds during dangerous times, she has taken to reciting a mantra that reasserts her claim to Manhattan Island: "The city is a city … But it is also a house. This city is my house. I live in this city, and this part is being remodeled. … It is still my house."
Which is to say that Lillian's walk domesticates the wilds of Manhattan.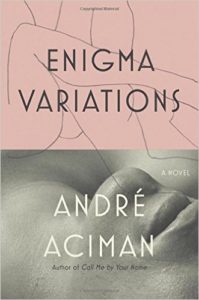 André Aciman, Enigma Variations
Aciman's fourth novel follows one man through a series of relationships in the course of five stories. Critics respond to his themes and subtleties.
Gary M. Kramer (Bomb) kicks it off:
In his remarkable . . . Enigma Variations, André Aciman continues to explore themes of alienation and panic as his characters brazenly explore shameless thoughts about their carnal and emotional longings. The effect is a more relatable understanding of what motivates obsessive, neurotic behavior, and how identities and desires shift to achieve self-worth and actualization. The book takes a prismatic approach to revealing the life of its protagonist, Paul, through five stories that recount his relationship with various men and women over time.
Jeff P. Jones (The Millions) writes, "Progress through Aciman's fourth novel is best calculated not by the number of pages read, but by the strength of readerly connection with the narrator. The project is one of recognition and revelation within the reader: the book wants nothing less than the dissolution of your consciousness into its pixellated moments of psychological precision."
Hooman Majd (Los Angeles Review of Books) concludes:
André Aciman writes authoritatively about love, the title and theme of his most recent work that appropriately includes "variations" in its title, which love inevitably, and almost by definition, encompasses. While each of Elgar's "variations on a theme" is based on an acquaintance, and includes musical references to a particular quirk (such as a stammer), and each variation is labeled with the initials of the friend, Aciman's variations on the theme of love are all one person's, no initials necessary. And while Elgar labeled his variations an enigma, perhaps because the theme of the variations is the enigma itself, Aciman's only X point to the paradoxes that exist in both our definition(s) of love, and, of course,in  love itself.
---