Five Books Making News This Week: Prizes, Presidents, and Pond Philosophers
Adam Johnson, Anthony Marra, Marilynne Robinson, and More
Another banner week for literary culture passes. Marlon James celebrates his Man Booker award by writing about his hero, Toni Morrison. The National Book Awards announces twenty finalists. The Kirkus Book Prizes ($50,000 each) go to Pam Muñoz Ryan's Echo, Ta-Nehisi Coates' Between the World and Me, and Hanya Yanagihara's A Little Life. Coates' book has already made news several times, as has Yanagihara's. Both are on the National Book Award shortlists. Meanwhile, the winner of a first book award writes a surpassing second. An editor, poet and memoirist gathers critical acclaim for her new novel about, yes, competing for prizes. Marilynne Robinson's new essay collection, coming in November, is hailed by President Obama. A fight ensues over a canonical American author. And the Frankfurt Book Fair, Litquake (San Francisco), Twin Cities Book Festival (Minneapolis/St. Paul), Texas Book Festival (Austin) and Litcrawls in Austin, San Francisco, Seattle, New York City, Iowa City, Los Angeles, Portland, London, and Helsinki keep the literary buzz going.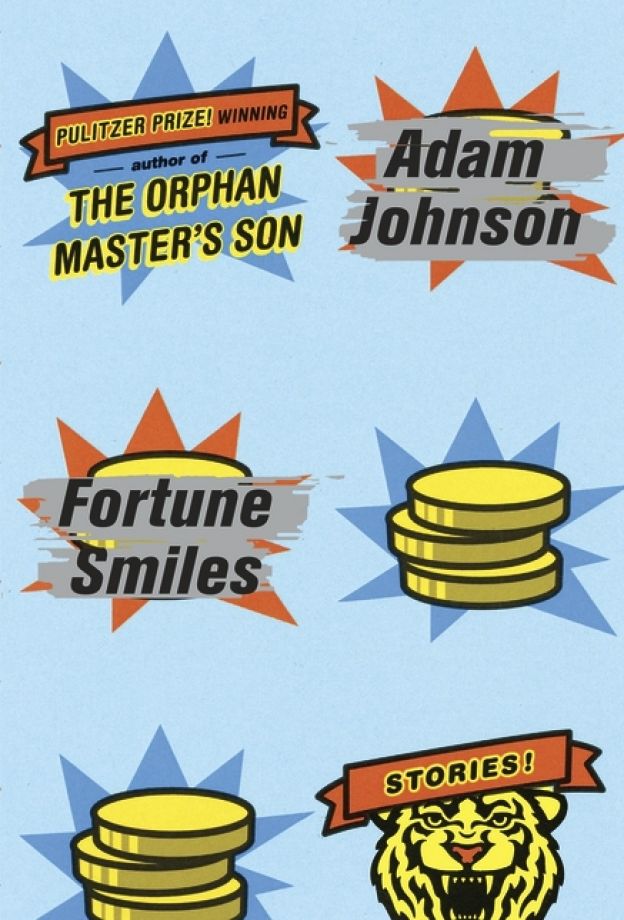 Adam Johnson, Fortune Smiles
Johnson won the Pulitzer Prize for his 2013 novel, The Orphan Master's Son, set in North Korea. This week his new collection, Fortune Smiles, earns the shortlist for the National Book Award.
Lauren Groff (also a newly minted National Book Award finalist, for Fates and Furies, noted here) assesses Fortune Smiles for the New York Times Book Review, remarking on the dark intensity of the collection. "…the stories in Fortune Smiles may be best appreciated when taken out into the sunshine one by one, each allowed to exist as an individual text and left to resonate until the reader forgets the previous story enough to allow the next to speak its piece in full. Adam Johnson's stories certainly deserve this kind of slow and loving attention. As a writer, he is always perceptive and brave; his lines always sing and strut and sizzle and hush and wash and blaze over the reader. Fortune Smiles is a collection worthy of being read slowly and, like very good and very bitter chocolate, savored."
Johnson's stories "will worm into your mind and ruin your balance for a few days," writes the Washington Post's Ron Charles. "From ravaged American cities to abandoned torture chambers, these pieces take place in an uncanny world you recognize but don't. They're all cast in an unsettling twilight of moral struggle, and each one is a miniature demonstration of why his remarkable novel The Orphan Master's Son won the 2013 Pulitzer…"
"If Adam Johnson doesn't write fiction with a knife wedged between his teeth, it would come as a shock," Ted Weesner, Jr. (Boston Globe) speculates. "His stories and novels present as dares. Something like: 'Hey, I bet you can't write something from the point of view of the ex-warden in East Germany's most notorious prison and make us kind of fall in love with the cranky old torturer!' 'Oh yeah?' you hear Johnson mumble. 'Well, watch this.'"
"Johnson's boundary-pushing stories make for exhilarating reading," concludes Don Waters (San Francisco Chronicle). "He may send us across the world, but we feel close to his characters because he gives us intimate access to their inner workings. And his mastery of setting simply wowed me."
Anthony Marra, The Tsar of Love and Techno
Marra, whose first novel about the Chechnyan war, A Constellation of Vital Phenomona, won the National Book Critics Circle's John Leonard award for best first book, gets lots of love from critics for his new collection.
Francine Prose's (Washington Post) take is glowing: "Marra is a gifted writer with the energy and the ambition to explore the lives of characters whose experiences and whose psyches might seem, until we read his work, so distant from our own. Reading his work is like watching the restoration — the reappearance, on the page — of those whom history has erased."
Sarah Lyall (New York Times) raves, "He starts this miracle of a book by showing us how a system can erase the past, the truth, even its citizens. He ends by demonstrating, through his courageous, flawed, deeply human characters, how individual people can restore the things that have been taken away. And if you've been worrying that you've lost your faith in the emotionally transformative power of fiction – Mr. Marra will restore that, too.
So does Tom Beer (Newsday): "…so interconnected are these tales that it might have been called a novel; with its multiple narratives and recurring characters it certainly recalls both Jennifer Egan's A Visit From the Goon Squad (a novel) and Elizabeth Strout's Olive Kitteridge (short stories). By the time you reach Marra's astonishing final story about Kolya, 'The End' — set, a dateline tells us, in 'Outer Space, Year Unknown' — the book has achieved a heart-rending cumulative power."
Jan Stuart (The Boston Globe) calls the collection a "cluster of ingeniously conjoined stories that touch on Russian life over a series of decades," and adds, that Marra's nine stories are "cunningly set out like strewn mosaic tiles that keep self-rearranging until they cohere into a complex, cathartic whole."
"A writer's sophomore effort is usually heavily scrutinized," notes Alexis Burling (San Francisco Chronicle) "More often than not, the slightly too ambitious second novel or unevenly curated collection of short stories pales in comparison to its acclaimed predecessor. Not so with Anthony Marra's The Tsar of Love and Techno. It's nothing short of extraordinary."
Jill Bialosky, The Prize
Bialosky wears many hats: She's an executive editor at W.W. Norton, a memoirist (History of a Suicide), a poet (her latest, The Players, was published in February) and novelist.
"Featuring the landmine-strewn territory stretching between passion and audience, The Prize will strike recognizable chords for anyone engaged in the struggle toward originality and authenticity while also trying to 'succeed' in the marketplace," writes Elizabeth Rosner (San Francisco Chronicle).
"The Prize depicts the machinations of the art world — from aspects of craft to those of commerce—in fascinating detail," writes Hilma Wolitzer (The East Hampton Star).
"This graceful novel finds its gravitational pull in the dissonance between the transcendence of art and the slog of everyday life," writes Susan Kokernot (New York Times Book Review, Editors' Choice). "Bialosky has several books of poetry to her name, and her writing glows with insight…"
"There is a Jamesian aspiration in this novel of bitter rivalries and thwarted passions, which hops between New York, Europe and Edward's home in Connecticut, where he lives with his disengaged wife and daughter," writes Joanna Scutts (Washington Post). "There is a Jamesian aspiration in this novel of bitter rivalries and thwarted passions, which hops between New York, Europe and Edward's home in Connecticut, where he lives with his disengaged wife and daughter. Yet unlike a James novel, this one is totally uninterested in the wider social realities of any of those places, at home or abroad."
"Jill Bialosky delivers a powerful exploration of what happens after one decides unquestionably what the meaning of life is," concludes Allison Rodriquez (Zyzzyva).
And in The New Yorker: "This sharp-eyed novel of the art world follows the fortunes of a partner in a prestigious New York gallery who struggles with the memory of his brilliant but volatile father, the tempers of a high-maintenance artist and her competitive husband, the distress of a rocky marriage, and the temptation of extramarital adventure."

Marilynne Robinson, The Givenness of Things
Robinson's book of essays is launched with her sitdown with President Obama, which goes viral and spurs commentary in the Wall Street Journal and Vogue.
In the first of the two-part critical conversation in the New York Review of Books, Barack Obama hails Robinson's novel Gilead, which won the National Book Critics Circle award and the Pulitzer for fiction: "One of my favorite characters in fiction is a pastor in Gilead, Iowa, named John Ames, who is gracious and courtly and a little bit confused about how to reconcile his faith with all the various travails that his family goes through. And I was just—I just fell in love with the character, fell in love with the book."
Henry David Thoreau, Walden
Critics haven't lost their teeth; the latest head-to-head involves a literary legend, spurs rereading, reevaluation.
Kathryn Schulz (The New Yorker) attacks, in a piece called "Pond Scum: Henry David Thoreau's moral myopia." "Like many canonized works, [Walden] is more revered than read," Schulz writes, "so it exists for most people only as a dim impression retained from adolescence or as the source of a few famous lines: 'I went to the woods because I wished to live deliberately.'" Our image of the man, she continues "has also become simplified and inspirational." Au contraire. "The real Thoreau was, in the fullest sense of the word, self-obsessed: narcissistic, fanatical about self-control, adamant that he required nothing beyond himself to understand and thrive in the world. From that inward fixation flowed a social and political vision that is deeply unsettling. It is true that Thoreau was an excellent naturalist and an eloquent and prescient voice for the preservation of wild places. But Walden is less a cornerstone work of environmental literature than the original cabin porn: a fantasy about rustic life divorced from the reality of living in the woods, and, especially, a fantasy about escaping the entanglements and responsibilities of living among other people."
Levi Asher defends and counterattacks. "This is a stern and angry article, and it seems to add up to a very unfair appraisal. It contains several howling errors, like the claim that Thoreau had no sense of humor. This is sort of like saying that Henri Matisse's paintings have no color. In fact, every page of Walden sparkles with comic insight, and a reader who doesn't hear the dry sarcasm in Thoreau's voice isn't reading him at all."
---