Five Books Making News This Week: Fairy Tales and Furies
DeWitt, Groff, and the Evanescence of #FerranteFranzenism
Summer's end. #FerranteFever continues, as does commentary on Jonathan Franzen's Purity. There's a fresh wave of excitement about new novels from much ballyhooed authors Patrick deWitt and Lauren Groff. Plus a U.S. congressman draws added attention to Ari Berman's Give Us the Ballot.
Undermajordomo Minor, Patrick deWitt   
The Sisters Brothers was shortlisted for the Man Booker prize and is set to film starring John C. Reilly. With his new novel, DeWitt switches gears (and genres).
"DeWitt is not interested in straight naturalism so much as in the mechanics of a particular kind of story, narrative as fairy tale," writes the Los Angeles Times' David Ulin. "In The Sisters Brothers, it was the western, which he deconstructed as neatly as Charles Portis and E.L. Doctorow did. This time, it's the fable, as DeWitt tells the story of a young man, Lucien—also known as Lucy—Minor, who travels from his home village of Bury to become the Undermajordomo (or assistant to the assistant) of one Baron Von Aux's estate in the remote wilderness of the eastern mountain range."
Glen David Gold (Washington Post) notices that deWitt has new influences since The Sisters Brothers —"fabulists mostly, including Calvino, Robert Coover, Roald Dahl, Steven Millhauser and the dangerous and inviting Robert Walser." DeWitt's narrative doesn't quite have Walser's "nimbleness," he concludes.
"Gormenghast meets The Grand Budapest Hotel, with guest appearances from Kafka at his most lighthearted, in this playfully black comedy of dubious manners and a diverse range of invariably intriguing antisocial behavior, including obsessive love," writes Eileen Battersby (Irish Times).
Nicole Jones (Vanity Fair) calls de Witt's new novel "both a sweet and lovely folk tale and a satire of European story tropes, will true love conquer all?"
Michael Bourne (The Globe and Mail) suggests that deWitt is "gifted but uneven." "Page by page, the book is often a hoot, brimming with winningly quirky characters operating by their own twisted fairy-tale logic. But as a whole, the novel is a well-written muddle that founders on its weak central character and choppy plotting."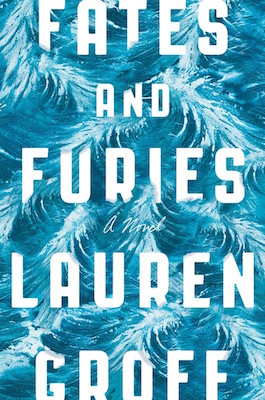 Fates and Furies, Lauren Groff
Groff's first novel, The Monsters of Templeton, was shortlisted for the Orange prize; her novel Arcadia was a finalist for the Los Angeles Times fiction award. Fates and Furies is gathering enthusiastic reviews.
"Even from an impossibly high starting point, Lauren Groff just keeps getting better and better," writes the Washington Post's Ron Charles. He pronounces her novel "a clear-the-ground triumph," adding, "Spanning decades, oceans and the whole economic scale from indigence to opulence, this novel holds within its grasp the story of one extraordinary marriage. Not yet 40, Groff nonetheless captures the complicated ways love blesses, transforms and, yes, deceives us over many years." And it gets better: "Fates and Furies is that daring novel that seems to reach too high—and then somehow, miraculously, exceeds its own ambitions."
Robin Black (New York Times Book Review) calls Fates and Furies a novel of "extraordinary and genuine complexity," "an unabashedly ambitious novel that delivers—with comedy, tragedy, well-deployed erudition and unmistakable glimmers of brilliance throughout."
Edan Lepucki (Los Angeles Times) praises Groff for her depiction of two decades between a husband and wife. "The result is not only deliciously voyeuristic but also wise on the simultaneous comforts and indignities of romantic partnership. Marriage isn't always what it seems, even to those inside it."
Marion Winik (Newsday) admires Groff's "magical" writing and her ability to create "richly interconnected communities of people, then age the whole group over decades."
 The Story of the Lost Child, Elena Ferrante
#FerranteFever continues, with most critics focused on detailing the allure and accomplishments of the beloved Neapolitan novels.
Laurie Muchnick (Kirkus Revews) waited to read all four books in the Neapolitan quartet before making her judgment: "Elena spends years trying to speak up in intellectual discussions among men, until she finally realizes she has something to say that they know nothing about—women's issues, women's lives—and discovers her own voice. In this brilliant, angry, honest series, Ferrante has found her voice and made it heard around the world."
The conclusion of The Story of the Lost Child  "masterfully returns to the opening moments of the first novel," notes Maureen Corrigan (NPR) "'She moves you … , and she ruins you,' says Elena in this novel about Lila. That's also not a bad way to describe Ferrante's power: 'She moves you … , and she ruins you.' Brava, Elena Ferrante whoever you are."
Ferrante's accomplishment in these novels, writes Judith Shulevitz (The Atlantic) "is to extract an enduring masterpiece from dissolving margins, from the commingling of self and other, creator and created, new and old, real and whatever the opposite of real may be. Hers is an old wives' tale in the strongest sense of that term, a rich and haunted folk saga too rooted in lives effaced and genius squandered to be attributable solely to one Elena, or even two Elenas."
Shulevitz reminds us of Dayna Tortorici's n+ 1 essay, which traces Ferrante's lineage, and suggests "the name Elena Ferrante is not a credit but an homage, to Elsa Morante, to the feminist collectives, to the literary tradition before her, to her mothers."
Purity, Jonathan Franzen
This week the Franzen discourse is focused at least as much on content as on the author's celebrity.
Tim Adams (The Guardian) is smitten by Purity, "with its baggy plot and big heart and seductive intelligence." Franzen can be "piercingly brilliant at deconstructing myths the culture tells about itself," Adams writes. "There are many paragraphs in this book that read like inspired op-eds. You don't read him for the polemic, however, but for the way he roots these ideas in his flawed and beguiling characters, and for the smile that haunts sentences that have the authentic cast of joined-up thoughts."
The takeaway from Jennifer Schaffer's tete a tete with Harry Cheadle (Vice): Both are glad Jonathan Franzen is around.
Cheadle: Purity is "a really enjoyable book… the kind of book that's supposed to start conversations, and those conversations are happening all over the internet."
Schaffer: "It feels real; it feels like the internet we know. The internet gets to play its own character in Purity. The way the internet is responding, then, is like a character from the novel is talking back. And that's nothing short of strange, and awesome."
Bret Lott (Boston Globe) emphasizes the rigor Franzen requires. "Reading Purity is pretty heady going, and calls for a willingness to let an avalanche of intellect, politics, psychology, and allusions to high and low culture cascade down upon you." And more: "The reading experience on Purity, with all the logic-tracing it demands, can be exhausting…" Franzen, he concludes, is "a fastidious portrait artist and an epic muralist at once… mapping the self-consciousness we all live within, is in micro what this very macro book is all about: human response, for better and for worse, to human response."
Christopher Sorrentino (Bookforum) judges Purity to be "Franzen's best book: challenging, limber, inventive, full of rue and reflection, and retaining the best of his beloved realism—not book-club realism, but the gimlet-eyed realism of Hardy, Galsworthy, and Fitzgerald."
Joshua Furst (Forward) namechecks Philip Roth, and suggests Purity is Franzen's Portnoy: "…it appears that, like Portnoy, Jonathan Franzen, the most notable purveyor of 'morally serious fiction' of his own generation, no longer wants to be a good boy. Though it's called Purity, the book is primarily about defilement."
Give Us the Ballot, Ari Berman
This week we were reminded by a U.S. Congressman that Berman's book title comes from a speech by Martin Luther King, Jr., delivered in 1957 at the first civil rights rally in Washington, D.C.: "Give us the ballot and we will no longer have to worry the federal government about our basic rights. . .  Give us the ballot, and we will place judges on the benches of the South who will do justly and love mercy, and we will place at the head of the Southern states governors who . . . have felt not only the tang of the human, but the glow of the Divine."
Congressman John Lewis (Washington Post) reviews Ari Berman's increasingly timely book (he calls it a "must read"). Give Us the Ballot, he writes, "should become a primer for every American, but especially for congressional lawmakers and staffers, because it so capably describes the intricate interplay between grass-roots activism and the halls of Congress. Berman evenhandedly recounts how the success of the nonviolent Selma march empowered Johnson to act. But he also discusses the role that violence played in the history of the Voting Rights Act. The Ku Klux Klan murder of Viola Liuzzo, a Detroit housewife who assisted in the Selma march, paved the way for passage of the bill; but the Watts riots, which ignited just five days after the law was signed, fueled a cynical, destructive backlash against the legislation."
His conclusion: "Congress must fix the Voting Rights Act, and Berman's book explains why, without passion or favoritism."
---