Five Books Making News This Week (Plus a Few Extra)
Dave Eggers, Myriam Gurba, Yan Lianke, and More
A quick start to the new year with The New York Times Book Review's new 2018 calendar app, which tracks literary moments (this month, pub dates for Ali Smith, Karl Ove Knausgaard, and the late Denis Johnson), so you don't have to. And a slew of books to anticipate in 2018, including lists from Electric Literature (R. O. Kwon's 46 Books by Women of Color to Read in 2018), The Rumpus, PopSugar's Brenda Janowitz, Ozy's Sarah Ládípọ̀ Manyika and the Irish Times's Arminta Wallace. PEN America announces longlists for its literary awards, including the $25,000 Robert Bingham award for first fiction: Hannah Lillith Assadi's Sonora, Chanelle Benz's The Man Who Shot Out My Eye Is Dead, Venita Blackburn's Black Jesus and Other Superheroes, Marian Crotty's What Counts as Love, Emily Fridlund's History of Wolves, Alex Higley's Cardinal and Other Stories, Carmen Maria Machado's Her Body and Other Parties, Woody Skinner's A Thousand Distant Radios, Cherise Wolas's The Resurrection of Joan Ashby, and Jenny Zhang's Sour Heart.
Dave Eggers' The Monk of Mokha follows a young Yemeni-American on a quest for coffee in the midst of civil war, Myriam Gurba's Mean "calls for a fat, fluorescent trigger warning," Neel Mukherjee's A State of Freedom is intended as "an homage, a conversation," with V.S. Naipaul's In a Free State, Yan Lianke's The Years, Months, Days is cast as a fable set during Mao's Great Leap Forward, Nate Blakeslee chronicles the life and death of the Yellowstone alpha female wolf known as O-Six, a Hungarian writer compared to Gogol offers a new story collection, and Turkish-born Elif Shafak's new novel is "almost clairvoyant."
Dave Eggers, The Monk of Mokha
In Eggers' new work of narrative nonfiction, he follows the life in coffee of a San Francisco-born son of Yemeni immigrants. Mokhtar Alkhanshali sets out to discover the history and potential of coffee from his homeland, only to encounter a civil war.
"Eggers gives his hero a lot of thematic baggage to carry, but it is hard to resist the derring-do of the Horatio Alger of Yemenite coffee," notes the starred Kirkus Review.
Lidija Haas (Harpers) notes, "Against tremendous odds, Mokhtar finds a way to export high-end coffee out of Yemen. Soon a bunch of farmers and workers there are thriving as never before—aside, that is, from the American-made bombs the Saudis are raining down on them and the blockade that is causing dire shortages of food and medicine—and US consumers are learning something adorably non-drone-related about Mokhtar's homeland. Returning to the Infinity for the end of his hero's journey, he finally gets to see its spectacular interior by subletting a room on the thirty-third floor. . . Laughing and crying, with the writer Dave Eggers by his side, Mokhtar literally watches his coffee-laden ship come in."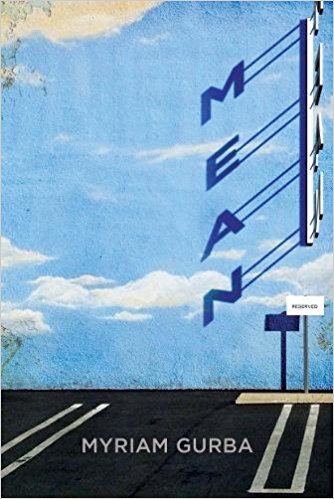 Myriam Gurba, Mean
Gurba's timely memoir of violence and abuse incites a powerful response from critics.
"Mean calls for a fat, fluorescent trigger warning start to finish—and I say this admiringly, " writes Parul Sehgal (New York Times). "Gurba likes the feel of radioactive substances on her bare hands."
M. Milks (4Columns) notes:
"Being mean makes us feel alive," Myriam Gurba writes in her new book…"It's fun and exciting. Sometimes, it keeps us alive." Rooted in her experience growing up a queer mixed-race Chicana in a world structured by whiteness, straightness, and misogyny, Gurba's particular meanness is confrontational, deliberate, and very, very funny. She goes for the throat, then bats the reader playfully on the head.
"Mean demands our attention not only as a painfully timely story, but also as an artful memoir," writes Jonathan Alexander (Los Angeles Review of Books). "It bears striking comparison to Lidia Yuknavitch's The Chronology of Water, a book about its author's own tale of abuse, and Maggie Nelson's The Argonauts, a delicious recounting of its author's own complex erotic intimacies. Like both writers, Gurba turns the complexity of her story into art, claiming that 'what matters is a woman making art out of everything she was born with.' But Gurba makes a distinction between what she was born with and what has happened to her since. While Yuknavitch and Nelson seem to trust a bit more in the recuperative power of art, sifting the self through aestheticized language, Gurba seems a bit less sure of recovery: 'I'd anticipated squeezing a catharsis out of this pilgrimage, but I should've known my dreams of closure would remain dreams.'"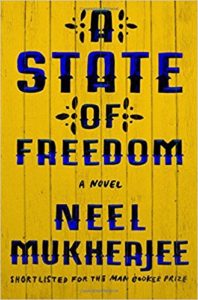 Neel Mukherjee, A State of Freedom
The Man Booker shortlisted author intends A State of Freedom to be "an homage, a conversation," with V.S. Naipaul's Booker award winner, In a Free State, he tells Hanya Yanagihara.
Kirkus in a starred review calls it a "calm, compelling, unshrinking portrait of humanity in transition; both disturbing and dazzling."
"Mukherjee's formal experiment leads to something not so far from the collections of linked stories we've seen recently from Elizabeth Strout (Anything Is Possible) and Joan Silber (Improvement)," concludes Marion Winik (Newsday). "It is a form uniquely suited to depicting the operation of fate and coincidence, and to showing relationships and characters from a variety of angles. Mukherjee's version is unsparing in revealing just how far from free we are."
"One of the most dynamic aspects of Mukherjee's flawed but vital novel is that even while facing up to unhappiness it continues to show an affirming flame," notes Andrew Motion (The Guardian).
Yan Lianke, The Years, Months, Days
Newly translated, two novellas by Chinese writer Yan Lianke, winner of the Franz Kafka award and twice a Man Booker finalist, tell of the Great Leap Forward through fable and satire.
Sam Sacks (Wall Street Journal) sets the context:
In China, public morality is as good excuse as any to activate the censors. But the most surefire way to bring about a crackdown is to write candidly about history. Yan Lianke's 2010 novel The Four Books was banned throughout mainland China for its damning portrayal of Mao's Great Leap Forward. The two novellas in [his] new collection… take place during the same period, but because they make no direct mention of politics, they escaped suppression.
Laura Collins-Hughes (Boston Globe) calls the title story about the old man, known only as the Elder, "vivid and hallucinatory." "Too weary to decamp with his neighbors when they left the mountains in search of a less brutal place to wait out the famine, he has stayed at home to tend a corn seedling, with only his blind dog for company. Though actually, the Elder talks to the plant, too."
Terry Hong (Bookdragon) concludes, "Dexterously rendered by Duke professor Carlos Rojas (Yan's anointed translator), Years, Months, Days again directs the author's unflinching gaze on life's impossible absurdities, exposing a surreal mixture of brutality, openness, even sly humor."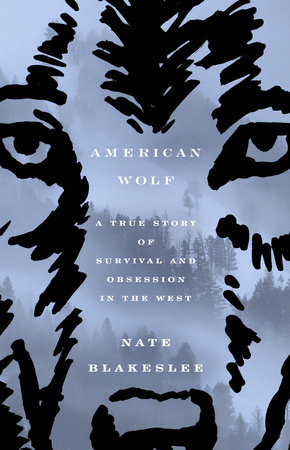 Nate Blakeslee, American Wolf: The True Story of Survival and Obsession in the West
The reintroduction of wolves into Yellowstone Park in 1995 shifted the ecosystem of the West, sparking a decades-long controversy. Blakeslee highlights one charismatic alpha female and the three broods she raises, thanks to access to 15 years' of naturalist Rick McIntyre's notes.
Willy Blackmore (Los Angeles Times) writes:
American Wolf is ostensibly about a wolf and a hunter—a narrative that would be almost primal if the wolf, a charismatic alpha female called O-Six, wasn't regularly being viewed through multiple telemetry lenses by the dedicated wolf spotters of Yellowstone, and if the hunter, Steven Turnbull (a pseudonym), wasn't restricted by a litany of state and federal laws as he stalked his prey. No, the story of American Wolf is far larger in scope: the way we relate—or don't—to wolves is not just symbolic of how we relate to nature, it's symptomatic of what we will allow the construct that is nature to be.
"Our view of the world—still so new to us—is uni-centric, self-centered: one person, one animal," writes Rick Bass (New York Times Book Review). "American Wolf does a good job of portraying the mosaic that is the up-and-down existence of Canis lupus, the Rocky Mountain gray wolf. They were mostly exterminated in the continental United States by the early part of the 20th century: trapped, poisoned, shot…"
Cheryl Oestreicher (Idaho Spokesman-Review) notes, "[O-Six's] grandmother was of the group brought from Canada and reintroduced into Yellowstone. Through the eyes and documentation of Park Service employees and wolf-watchers, Blakeslee chronicles how wolves live, breed, hunt, mate and claim territory. O-Six, an alpha female, was recognized for her strength, leadership and instincts. She epitomized the majestic qualities wolves possess and was beloved by many."
Jason Blevins (Denver Post) concludes, "Blakeslee somehow found the hunter who killed O-Six. Even more impressive: he convinced the hunter to talk. The hunter had never gone public on his legal shooting of O-Six. Blakeslee promised to keep him anonymous, especially after the hunter told him: 'I found her and I can find you too.'
The hunter was pleasant and open, sharing his ethical and intellectual pursuit of hunting. He told Blakeslee he felt besieged after shooting O-Six, a shot heard round the country—thanks to an obit in the New York Times—that called millions to mourning.'She didn't tell me she was famous before I shot her,' he told Blakeslee, showing the writer the enormous gray wolf skin he kept in his cabin. But he knew she was special within seconds of pulling the trigger.As O-Six lay in the snow, breathing her last, her pack gathered around and unleashed a communal howl that rattled even the lifelong hunter who shared no love for wolves."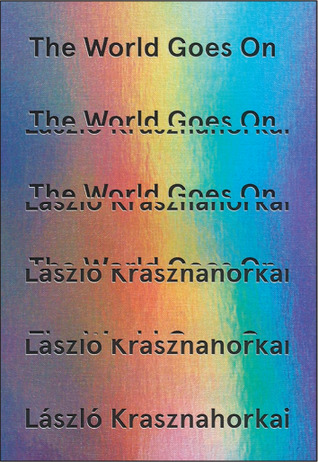 László Krasznahorkai, The World Goes On
The Hungarian author, winner of the 2015 Man Booker International award, offers an idiosyncratic collection of stories.
Krasznahorkai, writes Nathaniel Rich (The Atlantic), "is the rare author with a unified subject matter, style, and theme. He writes claustrophobic prose about entrapped characters who suspect that reality is a cruel labyrinth from which it is impossible to escape… Krasznahorkai's subversions are not unique—he borrows tactics from Franz Kafka, Samuel Beckett, and Yukio Mishima, writers to whom he acknowledges his debt. But his defiance is especially bracing at a time when the literary novel has become an orthodoxy of its own, its rules as inflexible as those governing any other genre."
Ilana Masad (NPR) writes:
Krasznahorkai's new book isn't quite as depressing or hopeless as the author's reputation might lead you to think. And Krasznahorkai does have quite the reputation—Susan Sontag once called him the "contemporary Hungarian master of apocalypse," and he's often compared to masters of grotesquery like Nikolai Gogol. But The World Goes On, while it features an array of disheartening narratives, feels more like a celebration of tiny moments of odd, inexplicable joy.
Anthony Domestico (Boston Globe) notes, "Krasznahorkai's fiction tends to be set in crumbling, strangely ahistorical Central Europe, in villages that look as if they've gone through the end times. But his work also is apocalyptic in the original sense: concerned with the time when ordinary, blinkered perception gives way to revelation, when the veil is rent and we see things in their true and terrifying form."
"Global and local, philosophical and spiritual, clear-eyed and enraptured, pessimistic and optimistic, there is perhaps nothing more appropriate for this season of discontent than these 21 devilish pieces," writes Scott Esposito (Lit Hub).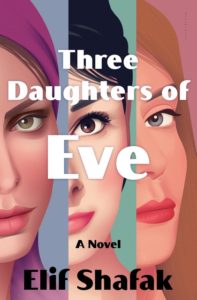 Elif Shafak, Three Daughters of Eve
Shafak's new novel, which she was tempted to title The Last Supper of the Turkish Bourgeoisie, reflects her ambivalence about Istanbul, the city that was once her home.  "Almost like a pendulum, I would leave, and then I would miss the city," she tells NPR's Steve Inskeep. "I would come back. Again, I would feel suffocated. I would leave. And then I would miss the city and come back."
"Elif Shafak's new novel reveals such a timely confluence of today's issues that it seems almost clairvoyant," writes Ron Charles (Washington Post). "Sexual harassment, Islamist terrorism, the rising tension between the faithful and the secular, and the gaping chasm between the rich and the poor—all play out in the pages of Three Daughters of Eve. That hyper-relevance is one of the reasons Shafak is so popular in her native Turkey and around the world. The author, who now lives in London, speaks in a multivalent voice that captures the roiling tides of diverse cultures."
Lanie Tankard (World Literature Today) writes:
The entire novel takes up one night, rather than a thousand and one, but Shafak still plays the role of Scheherazade. As in her novel The Flea Palace, Shafak again shapes the structure as a story within a story, writing in third person. Peri ponders repressed memories the photo triggers while maids serve lavish courses. Present-day Turkey chapters intermingle with Oxford flashbacks and Peri's Istanbul childhood. Leaving a bustling megalopolis for quiet Oxford was a major culture shift.
Bethanne Patrick tweets, "@Elif_Safak's THREE DAUGHTERS OF EVE is a fascinating fictional take on different ways women in the Middle East approach change."
---