Five Books Making News This Week: Let the Franzen Begin
Ottessa Moshfegh, Lucia Berlin, Ivan Doig and More
As President Obama catches up on his reading during his vacation, packing six books (including novels by James Salter, Jhumpa Lahiri and Anthony Doerr and Ta-Nehisi Coates's Between the World and Me), Lee Seigel (Wall Street Journal) waxes nostalgic about the big books of summers past (can Go Set a Watchman measure up to War and Peace)? The books gathering traction this week: a new novel from Ottessa Moshfegh, Lucia Berlin's posthumous collection, Ivan Doig's last book, Diary of a Teenage Girl. And the Jonathan Franzen parade begins…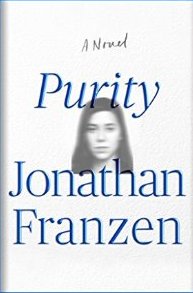 Jonathan Franzen, Purity
Laura Miller got the first word on Purity in her conversation with Jonathan Franzen at BEA in May (more on Miller below). Nell Zink's embargo-breaking July 15 n+1 review was taken down shortly after it appeared (Purity was "fun," she wrote).
This week Ron Charles (the Washington Post) warmed up his audience with a question about the slightly blurred image of a woman on Purity's book jacket in the U.S., a wily stall until the official publication date of September 1. A few other critics dug in early.
"Jonathan Franzen has become a difficult writer to review," writes Benjamin Markovits (The Independent). "The praise and the reaction against the praise have become so extreme that you end up bouncing back and forth between them." So what does Markovits think? He calls Purity "a big novel about big politics that is driven by a handful of small-scale emotional relationships." Franzen reminds him of Kingsley Amis—"another writer with a sharp ear for the way more or less stable people rationalise their screw-ups to themselves, and each other. You can see in this comparison something of the way a writer is shaped by country and literary landscape. Where Amis had a tendency to go small, first into romantic comedy territory, and later into its opposite, Franzen consistently goes big. But their plots run on similar fuel: will the girl get the guy? Or vice versa."
Caleb Crain (The Atlantic) suggests there is a "sameness" to reading Franzen's The Corrections, Freedom, and Purity. "The characters in Purity may be new, but their sardonic, harried, going-for-broke attitude is familiar, and once again they're wrestling with some of the most inflammatory topics of the day."
Sam Tanenhaus (The New Republic) invokes Lionel Trilling's 1948 vision of a future for fiction in his discussion of Franzen's literary inheritance, calls Franzen's homage to Dickens's Great Expectations "ingenious and idiosyncratic ("Franzen's Pip is neither an orphan nor an innocent"), uses the word "genius" and concludes that Franzen "may well now be the best American novelist":
He has certainly become our most public one, not because he commands Oprah's interest and is a sovereign presence on the best-seller list—though neither should be discounted—but because, like the great novelists of the past, he convinces us that his vision unmasks the world in which we actually live.
The multiple, layered narratives of Purity move forward and backward in time, and for long stretches we all but forget Franzen's implicit promise to write a new Great Expectations… We need to be as primed for discovery and revelation in 2015 as Dickens's readers were in 1860. Franzen accomplishes this through the absorbing turns in his story, or stories, which he pursues with unruffled patience. Like the novels of Dickens and his contemporaries (Thackeray and Trollope, for two), Franzen's feel less like tended gardens than like giant organisms, with the author himself functioning as a benign but disinterested god, intervening now and then to remind us who's in charge.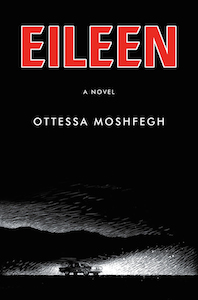 Eileen, Ottessa Moshfegh
"Ottessa Moshfegh's narrators exhibit a curious combination of extreme moral nihilism and a desperate need for violent, unforgettable experiences," notes Clancy Martin in Bookforum. He describes Eileen as "her new and best novel… a love story told by a young woman who doesn't understand love and who is leaving behind the only man she really loves, her father."
"This is a portrait of the most miserable, most bored, most 'nothing special' (Moshfegh's often-repeated words) protagonist you might meet, from looks to spirit," writes Porochista Khakpour (Los Angeles Times).
Zack Hatfield's take in The Rumpus: "The most challenging aspect of the novel lies in whether we should sympathize with Eileen or be revulsed by her habits and mindset. At its most effective, the black magic of Moshfegh's squalid fairy tale allows us to do both."
Lily King (New York Times Book Review) praises Moshfegh's "beautiful sentences":
One after the other they unwind—playful, shocking, wise, morbid, witty, searingly sharp. The beginning of this novel is so impressive, so controlled yet whimsical, fresh and thrilling, you feel she can do anything. You wouldn't care if nothing much ever happened, if it all weren't leading up to a crime. But it is… There is that wonderful tension between wanting to slow down and bathe in the language and imagery, and the impulse to race to see what happens, how it happens.
And Eugenia Williamson (the Boston Globe) speculates: "How will Eileen get out of X-ville? Can she leave unscathed? Why does she keep talking about her father's gun? Though readers will thoroughly delight in the way the answers unfold, they will be left with one lingering question: What will Ottessa Moshfegh do next?"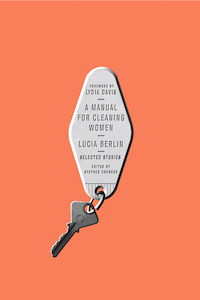 Lucia Berlin, A Manual for Cleaning Women
"Lucia Berlin spins you around, knocks you down and grinds your face into the dirt. You will listen to me if I have to force you, her stories growl," writes Ruth Franklin (the New York Times Book Review) of this posthumous collection.
Marion Winik, (Newsday) calls out Berlin's "vivacity, humor, sorrow, pragmatism and sheer literary star power," and compares her to short story masters Grace Paley and Lorrie Moore.
Leah Greenblatt (Entertainment Weekly) raves: "Every detox ward, dingy Laundromat, and sunbaked Mexican palapa spills across the page in sentences so bright and fierce and full of wild color that you'll want to turn each one over just to see how she does it."
Lisa Shea (Elle) calls Berlin's collection "a miracle of storytelling economy, showcasing this largely unheard-of writer's genius for streetwise erudition and sudden, soul-baring epiphanies."
"Things actually happen in the stories," writes Lydia Davis in her forward, adapted for The New Yorker.
…a whole mouthful of teeth gets pulled at once; a little girl gets expelled from school for striking a nun; an old man dies in a mountaintop cabin, his goats and his dog in bed with him; the history teacher with her mildewed sweater is dismissed for being a Communist—"That's all it took. Three words to my father. She was fired sometime that weekend and we never saw her again.
Is this why it is almost impossible to stop reading a story of Lucia Berlin's once you begin? Is it because things keep happening? Is it also the narrating voice, so engaging, so companionable? Along with the economy, the pacing, the imagery, the clarity? These stories make you forget what you were doing, where you are, even who you are.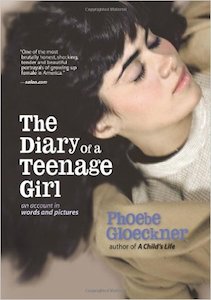 The Diary of a Teenage Girl, Phoebe Gloeckner
Laura Miller co-founded Salon in 1995, and worked there as an editor and staff writer for 20 years. Her move to Slate as a books and culture columnist is a shift in the literary landscape, which makes the first book she reviews for Slate news.
But wait. Her "first-ever piece for Slate," she tweeted, is "kind of a quickie on a long-lost F. Scott Fitzgerald short story."
And her second? Wait, it's a review of a movie, based on a book. Here she is, on Marielle Heller's "exhilarating" directorial debut, The Diary of a Teenage Girl, based on Phoebe Gloeckner's semi-autobiograhical 2002 novel (told in comics and text), which also became an off-Broadway play starring Heller as Minnie Goetze. Miller's essay explores how books and films like Jane Eyre, The Member of the Wedding, American Beauty and The Virgin Suicides explore, and obscure, the sexuality of teen girls. "Desire can make a girl feel… impressive and powerful, whatever alarming paths it takes her down, but also grotesque, should her wants be dismissed as freakish," Miller writes. "Heller's version of The Diary of a Teenage Girl is several shades sunnier than Gloeckner's," she adds. "Gloeckner, too, had an affair with her mother's boyfriend. But while Gloeckner's Monroe is the initiator of the affair, Heller's version of the character serves more as a willing participant, albeit one who eventually lets Minnie down by refusing to fulfill her romantic dreams." Gloeckner's book was reissued last month.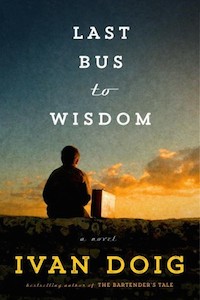 Last Bus to Wisdom, Ivan Doig
Jim Carmin (Minneapolis Star-Tribune) says the last novel by the National Book Award finalist, who died in April, puts to good use Doig's "old-fashioned traditional storytelling skills." Doig, he writes, "deftly mixes wild yarns into a lively narrative, inserting stories and homegrown local expressions into the tale of 11-year-old Donal Cameron's adventures of traveling alone by bus in 1951 from the Montana Rockies to Manitowoc, Wis., and heading westward again, ending eventually in Wisdom, Mont."
Tim McNulty (Seattle Times) calls Last Bus to Wisdom "a deeply humane coming-of-age tale set in the early 1950s. It draws from the author's rich personal history and ranges across much of his storied American West." With his final novel, McNulty writes, "Doig aptly crowns a luminous literary legacy."
---