Five Books Making News This Week: Huck, Horror, and Highjinks
Robert Coover, Samanta Schweblin, Han Kang and More
The National Book Critics Circle announces its 30 finalists in six categories today [disclosure, I'm an NBCC board member]. Also news: Margaret Atwood wins the NBCC's Sandrof Award for lifetime achievement, Michelle Dean is named Balakian winner for excellence in reviewing, and Yaa Gyasi's Homegoing wins the NBCC's fourth John Leonard award for best first book. Postmodernist Robert Coover is back with a reframing of Huck Finn, Granta Best Young Spanish-Language Writers author Samanta Schweblin's 2014 first novel is newly translated, Man Booker International winner Han Kang's second novel in translation takes on a massacre of students in her hometown, and maverick publisher Barney Rosset's memoir, 30 years in the making.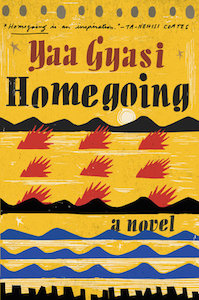 Yaa Gyasi, Homegoing
Yaa Gyasi's Homegoing is awarded this year's National Book Critics Circle's John Leonard Award for best first book. The novel, published in June 2016, captured the attention of a wide range of critics (check out early reviews here and here).
One early fan was Ta-Nehisi Coates, who tweeted in November 2015: "Finished Yaa Gyasi's 'Homegoing' yesterday. Thought it was a monster when I started. Felt it was a monster when I was done."
Roxane Gay (Entertainment Weekly) weighs in early in 2017: "The last book that made me cry is Homegoing by Yaa Gyasi, a devastating novel about the middle passage."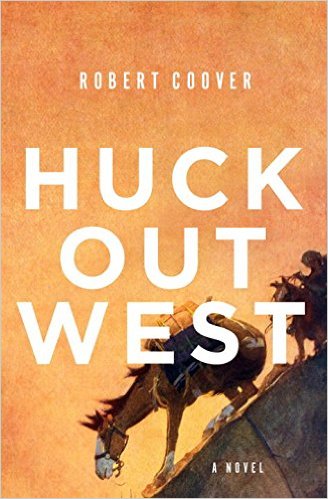 Robert Coover, Huck Out West
Coover's eleventh novel reframes an American classic, giving us a fresh take on Huck Finn. Critics reward him.
"Coover, one of the grand old men of postmodernism, is not writing a rousing adventure yarn, any more than Twain was," writes Colette Bancroft (Tampa Bay Times). "Twain's 1885 novel may be mistaken for a children's book by some, but it is in fact a journey to the heart of America's darkness, the story of an innocent abroad in a culture rife with violence, racism and greed."
Gene Seymour (Newsday) notes, "Coover's speculations on what happened to Huck Finn after he broke free of his Missouri hometown make for a spacious-skies frontier ripsnorter that stands alone as a wildly funny, violently imaginative Western yarn with flamboyant plot turns and caustic humor Twain himself might have appreciated, if not envied."
Ron Charles (Washington Post) concludes, "Among the many elements that Coover imitates so well is Twain's misanthropy, his macabre sense of humor and his perpetually offended innocence. 'That was a sad thing,' Huck says, 'to think that even Tom Sawyer was a-growing old.' Indeed, everybody seems to be growing old except Huck, who remains a voice of perplexed kindness, and Coover, who, at 84, is still a miraculously sharp writer."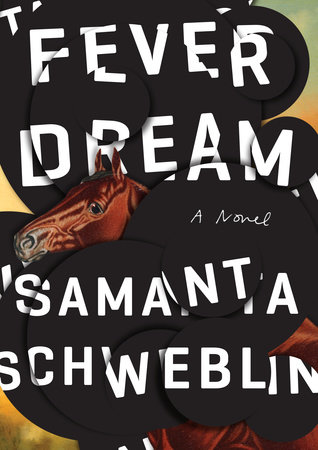 Samanta Schweblin, Fever Dream
Schweblin, who is based in Germany, was born in Argentina and named one of Granta's best young Spanish-language writers a few years back. Megan McDowell's translation of Schweblin's 2014 novel Fever Dream is a triumph.
Jia Tolentino (The New Yorker) leads off at fever pitch:
Hundreds of novels have flooded me with heartbreak or compassion, but very few—maybe none—have made me feel libidinous or spooked.
No previous book, at least, has filled me with unease the way Fever Dream did…. It's a slim book, and it belongs to the category of short, impressionistic novels best consumed in a single sitting. (Alejandro Zambra's graceful The Private Lives of Trees, also translated by [Megan] McDowell, is a standout within this group.) I picked up Fever Dream in the wee hours, and a low, sick thrill took hold of me as I read it. I was checking the locks in my apartment by page thirty. By the time I finished the book, I couldn't bring myself to look out the windows.
"Latin American literature has an excellent tradition of short and creepy novels," notes Lily Meyer (NPR). She compares Schweblin to Mexico's Juan Rulfo, Chilean masters José Donoso and Roberto Bolaño, and present-day Mexican stars Valeria Luiselli and Carmen Boullosa. "Schweblin writes with such restraint that I never questioned a sentence or a statement. This is the power of the short novel: Stripped down to its essentials, her story all but glows. Which makes sense, after all. It's toxic."
Manuel Roig-Franzia (Washington Post) concludes, "After reading Fever Dream, I wanted Schweblin to let the rope out more. Not because Fever Dream isn't an almost perfect short novel—because it most certainly is. But because I wanted to see what Schweblin could do when she went deeper into the place where she so skillfully had taken me."
Han Kang, Human Acts
The Korean novelist won the Man Booker International Prize for The Vegetarian, her first novel translated into English. She follows up with a visceral fictional rendering of the crackdown on protests in her birthplace, Gwangju.
Human Acts, writes Steph Cha (Los Angeles Times), is "torturously compelling, a relentless portrait of death and agony that never lets you look away. Han's prose—as translated by Deborah Smith—is both spare and dreamy, full of haunting images and echoing language. She mesmerizes, drawing you into the horrors of Gwangju; questioning humanity, implicating everyone. The book is filled with state violence—murder and torture, as well as the softer oppressive tools, like censorship and imprisonment—and its disempowering, dehumanizing effects. An ex-prisoner imagines the calculation behind the government's campaign of brutality: 'We will prove to you that you are nothing but filthy stinking bodies. That you are no better than the carcasses of starving animals.'"
"The world of this novel revolves around the South Korean government's brutal suppression of a student uprising in the city of Gwangju in 1980," writes Thrity Umrigar (Boston Globe). She continues:
Ghosts, both living and dead, inhabit this bleak, violent novel. In one of Kang's signature moves, the souls of some of the massacred students look down at their bodies—repeatedly described as "lumps of meat"—and talk to their corporeal selves. Through their monologues we understand the shock and naiveté of these heroic but innocent young people.
And then there are the living dead, those who survived the soldiers' bullets but cannot shake off the trauma and guilt they carry. Many of these characters also remain shackled to memories of the torture they have survived and the suicides of their comrades.
Sun Yung Shin (Minneapolis Star-Tribune) notes, "Han uses her talents as a storyteller of subtlety and power to bring this struggle out of the middle distance of 'history' and into the intimate space of the irreplaceable human individual."
"Human Acts is, in equal parts, beautiful and urgent," concludes Nami Mun (New York Times Book Review). "Though it might not have been Han's intention, her novel reads not only as a lyrical post-mortem on violence but also a call to counter that violence. So, how do we keep humanity 'as one thing and not another'? If humanity is under assault, and violence, oppression and authoritarianism rise to the surface, then is it not our human responsibility to act and resist, however forcefully, with everything in our power?"
Barney Rosset, My Life in Publishing and How I Fought Censorship
Barney Rosset, who bought Grove Press in 1951 and became a major champion against censorship over the decades thereafter, published Henry Miller, Samuel Beckett, Jack Kerouac, Frantz Fanon, The Autobiography of Malcolm X and Victorian erotica. His memoir, 30 years in the making, draws critics back to his life.
Rosset's book, writes Louis Menand (The New Yorker), "is the work of several hands. Rosset had planned an autobiography, and he enlisted many helpers, but he was never satisfied, and, when he died, in 2012, the book was unfinished. The editors have managed to pull together a memoir using material in Rosset's papers, and have produced a book that has the charm and some of the truculence of the man himself."
Kurt Wenzel (East Hampton Star) writes, "This memoir is mostly written in a declarative, perfunctory style that lacks the famous vim and vigor of its author. The flesh-and-blood Barney Rosset was by turns irascible, devilish, and highly mercurial, and it is head-scratching that this memoir only occasionally manifests that personality. Nevertheless, the story recounted here is a colorful and important one."
Wenzel adds, "It may be that no single person has done more to knock down the doors of censorship in art and literature in America than Barney Rosset… It is interesting to note that at one point he owned more than 100 acres of prime land in East Hampton, only to sell off parcel after parcel to pay for each impending court battle. It is not an exaggeration to assert that the war over censorship in America was literally paid for with East Hampton real estate."
Rachel Shteir (Tablet) notes that Rosset's publisher, John Oakes, says "The book is a metaphor for Barney himself." She tracks the book's 30-year history and concludes: "Rosset's real story has yet to be told. His biography is romantic, one of the great stories of 20th-century Jewish protesters of Victorian mores. But My Life in Publishing is disorienting. Not just because it's not clear who wrote it. It's not clear who it's about. You cannot fathom the man."
---