Five Books Making News This Week: History, Hilltops, and Horses
J. Gerald Kennedy, Matti Friedman, C. E. Morgan, and More
Our collective bookish focus turns to Chicago tomorrow, where the annual BookExpo America begins with a Bloggers Conference and builds up to a Book Con open to the public on Saturday. There will be live streaming, a gazillion Tweets, and appearances by scores of authors, including Sebastian Junger, Terry McMillan, Louise Penny, and Colson Whitehead. Meanwhile, just in time for the Kentucky Derby May 7 comes a horse racing saga that seems to be in the running for the Great American Novel. A Best Translated Book Award goes to Yuri Herrera's novel about crossing borders, a literary historian's take on Edgar Allan Poe offers insights into the rise of a certain orange-haired politician, a former Israeli Army soldier writes of his grueling years in Lebanon, and more kudos for Don DeLillo.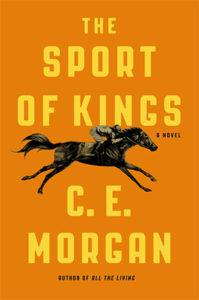 C.E. Morgan, The Sport of Kings
Morgan has already gathered laurels—Whiting and Windham Campbell awards, plus a National Book Foundation 5 under 35 listing. Reaction to her second novel augurs well.
The Sport Of Kings is about racing, but also about race: about the original American sin of slavery and its ongoing consequences," points out Kathryn Shulz (The New Yorker). Schulz sorts through Morgan's influences—"Mad Uncle Melville," Faulkner, Harriet Beecher Stowe, Twain. As for her jockey Reuben, "her epic imp": "He is Caliban, Chaos, Br'er Rabbit, John Kennedy Toole's Ignatius J. Reilly, Cormac McCarthy's Judge Holden." She calls the novel "enormously flawed, ceaselessly interesting, and strangely tremendous, its moral imagination so capacious that it overshadows its many missteps." It "hovers between fiction, history, and myth," she concludes, "its characters sometimes like the ancient ones bound to their tales by fate, its horses distant kin to those who drew the chariot of time across the sky."
"C.E. Morgan's majestic, sorrowful new novel transforms the saga of two families into a vast drama encompassing all of American history," writes Wendy Smith (Newsday). "Personal choice and random chance," she writes, drive Henry Forge, his daughter Henrietta, and African-American Allmon Shaughnessy, a newly released inmate from Blackburn Penitentiary hired to train the filly Hellsmouth, toward "separate but conjoined catastrophes; all three are as bound by their blood and breeding as any thoroughbred."
"The book starts at a fever pitch and remains there," writes Elizabeth Hoover (Dallas Morning News). "Everything from Allmon and Henrietta's love affair to a day at the races is a high-stakes battle of identity and legacy. Given the diversity of America, the idea of the Great American Novel has perhaps outlived its usefulness. How could one author capture this sprawling nation? That being said, The Sport of Kings is a worthy contender and tells a story about America that is challenging and inclusive."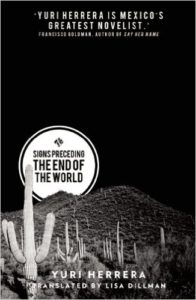 Yuri Herrera, Signs Preceding the End of the World, translated from the Spanish by Lisa Dillman
The fiction winner of this year's Best Translated Book Awards, in competition with translated works by Elena Ferrante, Clarice Lispector and Per Petterson, Herrera's novel is "a great book that's also incredibly timely," notes BTBA founder Chad Post. "It's set on the U.S.-Mexico border and deals with borders—between countries and languages—throughout." BTBA judge Jason Grunebaum calls it "a transformative tale of a young woman's trip on foot from Mexico to the U.S. to deliver a package and find a brother. This novel of real pathos and unexpected displacement in self, place, and language achieves a near perfect artistic convergence of translator and author, while giving readers an urgent account from today's wall-building world."
Signs Preceding the End of the World  "holds you in rapture," writes P T Smith (Bookslut).
Signs is a novel of language, meant to be translated because it is so aware of the journeys language takes, from one to another, and within their boundaries. Makina is at the center of that, working as the switchboard operator for the only phone in her village. It's a job of relaying messages, but also makes her a speaker of tongues, knowing "native" and "latin" tongue, while also speaking "anglo," and more importantly, knowing "how to keep quiet in all three." She is aware that how people say things matters as much as what they say. To the knowing power and transformations of a trickster figure, Makina adds goodwill and kindness, looking out for others, even those that have wronged her.
Aaron Bady (The Nation) calls the novel "a deceptively small book—barely a hundred pages, with generous margins—and its prose is baked dry and hard, picked clean like a body left out in the desert." He adds, "But just as, on the first page, the ground opens up beneath its protagonist—an interpreter, a hard-boiled go-between, and a pilgrim named Makina—Herrera's novel contains uncharted depths beneath….as she sets off into the northern underworld to find her lost brother, she is revealed as a Mexican Orpheus." Bady compares Herrera's work to Dashiell Hammett, Rahmond Chandler, Walter Mosley, Juan Rulfo.  
"Although this compelling heroine travels light, intent on 'coming right back' for her younger sister, the U.S. has a siren call," writes Maya Jaggi (The Guardian). "She is drawn to the 'intermediary tongue' of her compatriots living in the north, which inhabits 'a nebulous territory between what is dying out and what is not yet born.' Yet Herrera's metaphors grasp the freedom, and the alarming disorientation, of transition and translation. Faced with shedding her name, home and tongue, Makina whispers to herself, 'I've been skinned.'"
Jaggi concludes with praise for the translation:
Translator Lisa Dillman has found a language both blunt and lyrical for Herrera's many neologisms, notably jarchas, a verb he created from a Mozarabic noun meaning both "exit" and (in Arab Andalusian verse) "end couplet". Rendered as "to verse", meaning to leave, this word, like the novel itself, "creates its own strange poetry."
J. Gerald Kennedy, Strange Nation: Literary Nationalism and Cultural Conflict in the Age of Poe
A scholarly look at 19th Century literary lions Washington Irving, James Fenimore Cooper, Catharine M. Sedgwick, and Edgar Allen Poe, who detested literary nationalism, feels surprisingly timely during this presidential election year. And the counter-narratives by rebellious women, fugitive slaves and Native Americans offer a refreshing balance.
"The experience of reading Strange Nation is marvelously tonic, producing that rare, exhilarating feeling of new perspectives," concludes Michael Lindgren (Washington Post).   A "shock of recognition, of jarring topical relevance, runs through the book like an electric current," he adds. "Time and time again, we are struck with passages that seem to unlock the inner meanings of our own turbulent times. To put it bluntly, anyone who is puzzled by the rise of a certain orange-haired politician would find the phenomenon perfectly understandable after reading Kennedy's book, with its observation that 'nationalism excites the greatest vehemence when it is most uncertain of itself.'"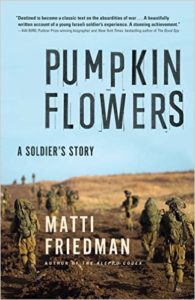 Matti Friedman, Pumpkinflowers
During the late 1990s in southern Lebanon, Canadian-born Friedman served in the Israeli Army in a security zone dubbed the Pumpkin, a lonely hilltop fortress in hostile territory. (Military lingo for casualties was "flowers.") His memoir chronicles its final days and a secret visit he took to the hilltop as a civilian in 2002.
Friedman's "sober and striking new memoir," notes Gal Beckerman (New York Times Book Review), "is as much about Friedman's time in Lebanon as it is a narrative of the Pumpkin's final years, and especially the young soldiers who fought and died to defend it. Friedman is haunted by the deaths. By the 1990s, the rationale for Israel's continued presence in Lebanon — a remnant of its 1982 invasion — had worn thin. When a midair helicopter collision near the border in 1997 took the lives of 73 soldiers on their way to the security zone, grieving mothers began a movement demanding that Israel evacuate, which it did in 2000."
Jennifer Senior (New York Times) finds the most the "most involving passages" in Pumpkinflowers are the author's personal war stories:
An infantryman's experience of battle is invariably at odds with the official record, which is linear, vectored, clear. But a truly fine war memoir — and Pumpkinflowers is certainly one — almost always shows just how disorienting and ambiguous combat can be.
For example: Are those armed men fighters from Hezbollah or Lebanese civilians on a hunting expedition? (Civilians, the soldiers decide — probably looking for pheasants.) Are those red lights in the distance tracer fire or fireworks from a wedding? (Fireworks. The red lights are followed by blue, yellow and green.) Is that sound an approaching enemy or the rustle of a plastic bag? (Bag.)
War means making mistakes — absurd, perverse mistakes. Like the time Mr. Friedman goes on a night mission to track down three guerrilla fighters supposedly spotted along the ridge of the Pumpkin. He climbs into his tank, which later sets off a crude I.E.D.; miraculously, he survives. The next day he discovers the truth: Those were not guerrillas he and his brethren were chasing. They were wild boar. The hoof prints mock them in the sunlight.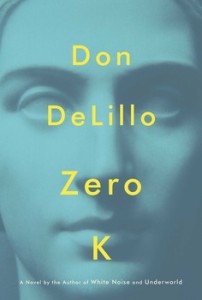 Don Delillo, Zero K
DeLillo's new novel, which explores a cryogenic future that promises the possibility of immortality, gathers steam and superlatives. And he submits to more "rare" interviews, with The Guardian, the Los Angeles Times, and NPR.
"DeLillo, the most perceptive (almost occult) chronicler of contemporary life, has not invented the Convergence out of whole cloth," writes Joshua Ferris (New York Times Book Review). "Its DNA comes from an old evangelism dressed in a new rhetoric and streaming out of Silicon Valley. 'Death makes me very angry,' Larry Ellison, the founder of Oracle, told his biographer, perhaps to explain why he has given nearly half a billion dollars to medical research to halt human aging. Pierre Omidyar, the founder of eBay, together with his wife, has given millions of dollars to the research of biological resiliency. Then there is the Breakthrough Prize, founded by Sergey Brin, Mark Zuckerberg and other tech luminaries, with an annual pot of $3 million going to researchers who make discoveries that extend human life. And there is Larry Page's founding of Calico (or California Life Company), an anti-aging research center in San Francisco, with a multimillion-dollar investment from Google. The list goes on."
"I finished [Zero K] stunned and grateful," Ferris concludes. "DeLillo has written a handful of the past half-century's finest novels. Now, as he approaches 80, he gives us one more, written distinctly for the 21st."
"Zero K may poke fun at life extension, but it gives us the warmest depiction of a DeLillo novel yet at the intimate reason for this perpetual Icarus complex," writes John Freeman (Boston Globe). "Yes, there is greed, and there are ways our culture encourages us to pursue our technocratic existence for eternity — in terrorism, in art, in culture, in finance. Social media. But ultimately, the most powerful reason for this desire for transcendence is love, and as Zero K so poignantly reminds, love is one element that does not survive at subfreezing zero kelvin."
---