Five Books Making News This Week: Franzen Part II
On Purity, Frost, Kissinger and Revelations About Autism
Purity's pub date is September 1; early reviews are popping up, along with the usual foot-in-mouth Franzen quotes, like his comment in The Guardian that he once considered adopting an Iraqi war orphan, which triggered a couple of days of Twitter trending and spin-offs in The Atlantic and Salon, among others. Fellow Pulitzer-winning novelist Adam Johnson is back with a story collection this week, David Orr launches what promises to be a popular poetry offering, and two books re-evaluate the legacy of Henry Kissinger and the definition of autism.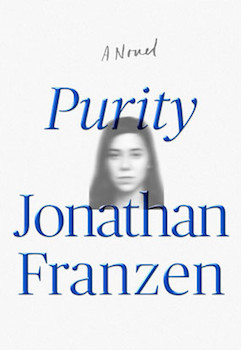 Purity, Jonathan Franzen
Ron Charles (the Washington Post) kicks off his review of Purity with remarks on Franzen's public persona: "Who else has ever worn the mantle of 'The Great American Novelist' so uncomfortably, so unable to relish his fame or renounce it? Even as we've largely dropped literary writers from the pantheon of celebrities, Franzen, who never shot a rhino in Africa or even stabbed his wife at a party, remains stuck in the spotlight, wincing through those black-framed glasses."
Charles delves into the novelist's "Dickensian ambition" and his depiction of women as "harpies from hell." "The matriarchs in this one are particularly toxic," he writes, "an encyclopedia of Oedipal horrors: grasping, seductive, delusional, trumpeting their 'moral victimhood,' " and inspiring "blistering rage." Franzen's conclusion, he concludes, is "neat, a little too small."
Michael Upchurch (The Oregonian) calls Purity "an existential screwball comedy on an epic scale." The novel, he writes, "plays up the parallels between the invasiveness of the Internet and that of any totalitarian state. It dissects the dodgy ethics of Wikileaks-style whistleblowing and mainstream journalistic practices. It dives tormentedly into how close feelings of hate and love can be in a toxic marriage. It thrives on paradox, perversity and preposterous coincidence. Murder, porn and a rogue nuclear warhead also figure in its mix."
Franzen "cements his place in the ranks of the realists," is Radhika Jones's judgment in Time magazine.
"This isn't novel writing, it's MSNBC," Jonathon Sturgeon (Flavorwire) jabs.
"Purity is largely what you would expect from Franzen, an absorbing multi-character fun-house mirror held up to the contemporary world, soaked through with a bittersweet irony, a delightfully bumpy ride with characters each trapped in their own eccentric behavior patterns carved out largely by secrets and lies," writes Wallace Bain, who covers the arts scene for Franzen's local paper, the Santa Cruz Sentinel. Franzen will launch the novel, which begins and ends in nearby Felton, at Santa Cruz High School on August 31.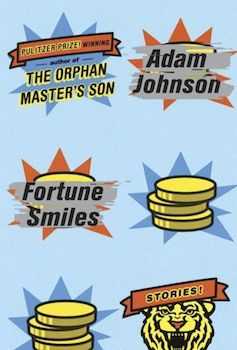 Adam Johnson, Fortune Smiles
"Each of these stories plants a small bomb in the reader's head," writes Lauren Groff (New York Times Book Review) of Johnson's first book since his novel The Orphan Master's Son won the 2013 Pulitzer. "Life after reading Fortune Smiles is a series of small explosions in which the reader—perhaps unwillingly—recognizes Adam Johnson's gleefully bleak world in her own."
Michael Schaub (NPR) finds flaws in two of the six stories. "Hurricanes Anonymous" and "Fortune Smiles," are "beautifully written, but… a little incomplete." But even so, "The best stories in the collection are nothing less than brilliant, even if the worlds he creates aren't necessarily ones we want to live in. But great literature isn't about making the reader comfortable; it's about coming to terms with the truth, whether it's beautiful or ugly. "
Ron Charles (Washington Post) says the stories "will worm into your mind and ruin your balance for a few days… From ravaged American cities to abandoned torture chambers, these pieces take place in an uncanny world you recognize but don't. They're all cast in an unsettling twilight of moral struggle."
Elysa Gardner (USA Today) calls it a "haunting, harrowing new collection," says Johnson brings "a stringent soulfulness and an astonishing eye for detail" to vastly different stories, and concludes, "Johnson's writing is as rich in compassion as it is in invention, and that rare combination makes Fortune Smiles worth treasuring."
Leah Greenblatt (Entertainment Weekly) gives Fortune Smiles an A. "Every [story] carves out its own little corner of weird, indelible humanity."
"If Adam Johnson doesn't write fiction with a knife wedged between his teeth, it would come as a shock," writes Ted Weesner, Jr. (the Boston Globe). "In the six almost-novellas contained in the book, a reader bears witness to a highly literary writer willing to take risk after risk after risk."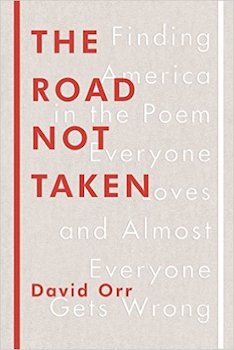 The Road Not Taken: Finding America in the Poem Everyone Loves and Almost Everyone Gets Wrong, David Orr
How can a book of poetry criticism make news? When it's written by David Orr, a New York Times Book Review poetry columnist whose talents were first recognized with the 2004 National Book Critics Circle Balakian award, and who now teaches literary criticism at Cornell. When it concerns one of the best-known poems in American history, first published 100 years ago this month in The Atlantic Monthly. And when the subhead announces the author's contrarian view loud and clear.
Orr's book is catnip for critics. A chance to reevaluate Frost, unpack a century's worth of lines (from Lionel Trilling, Howard Moss, Helen Vendler et al), and side with or square off against a prominent poetry critic.
The poem "has not aged well," writes Matthew Kassel (the New York Observer) "That's no fault of the poem, which exists on its own terms, but the countless ways in which its complex meaning has been mangled and codified through the years, both by poetry scholars who see it as a satire of the illusion of individual choice, and by commencement speakers who regard the poem as a sunny celebration of free will."
Of Orr's contrarian opinion, that the poem's last lines should not be taken at face value, Kassel notes, "To high school English teachers and self-help authors, this is no doubt a radical interpretation. "
Michael Andor Brodeur (the Boston Globe) finds that Orr makes a "convincing" argument that Frost's "Two roads diverged in a yellow wood," often read as a "paean to triumphant self-assertion," is not so clear-cut at all." Orr is "simply reading it the way Frost hoped… with attention, and an openness to seeing grand answers sprout from specific questions," Brodeur writes.
Parts of The Road Not Taken are "thin," writes Anthony Domestico (the Christian Science Monitor). In the book's most exciting sections, he adds, "Orr uses a powerful critical tool: the counterfactual. Again and again, he asks, how might this poem have been written differently? What if Frost had chosen this word instead of that?"
Adam Plunkett (New York Times Book Review) has the most positive take: "David Orr has written the best popular explanation to date of the most popular poem in American history."
Orr… is the first person to argue this at length for a popular audience, and he's persuasive enough to give us good reason to hope that his ­interpretation will lodge a toehold in conventional wisdom. This holds for the poet as well as the poem. If Frost's most famous poem is representative, and if Orr is right about it, we should see Frost not as the earnest Yankee sage beloved by junior high school teachers or the dark jokester expounded by college professors, but as an artist able to evoke and clarify the conflicts that follow from the ways we think we understand ourselves.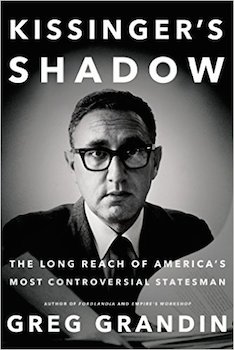 Greg Grandin, Kissinger's Shadow: The Long Reach of America's Most Controversial Statesman
Kevin Canfield (San Francisco Chronicle) calls Kissinger's Shadow a "galvanizing" and "stirring" book. "With an unassailable command of the facts—is it possible that he's read every word ever written about his subject?—Grandin explains how Kissinger's more baleful tactics have imprinted themselves on presidents and policymakers from both parties. And in a particularly urgent chapter, he assesses the devastating toll Kissinger's decisions continue to exact in Southeast Asia." The book, Canfield concludes, demonstrates "the 1970s aren't as far gone as some would like, and the sweep of history matters."
"The picture of Henry Kissinger that emerges in Greg Grandin's new book—of youthful brilliance curdled by an overweening ego and the will-to-power—is not an attractive one," writes Zach Dorfman (Los Angeles Times).  Dorfman quibbles with many of Grandin's positions, including his argument that Kissinger is "one of the unacknowledged intellectual forebears of the modern new right, including its neoconservative varieties." As Dorfman puts it, "it seems to me a stretch to argue, as Grandin does, that Kissinger's praise for President John F. Kennedy's handling of the Cuban missile crisis—he thought Kennedy acted admirably in 'conjecturing' about Soviet intentions instead of relying on facts—somehow prefigured Vice President Dick Cheney's post-9/11 argument about treating a one percent likelihood of a terrorist attack as tantamount to being imminent."
Michael Magras (Minneapolis Star-Tribune) calls the book "an important book and an unsparing portrait of Kissinger's legacy."
For another angle on Kissinger, check out Grandin's "who said it" quiz in The Nation, with questions like this:
11. Who said it, Henry Kissinger, Karl Rove, or Mao?
"You have a responsibility to recognize that we are living in a revolutionary time."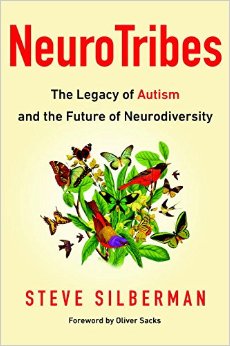 Neurotribes, Steve Silberman
Neurotribes, writes Saskia Baron (The Guardian) "explores in fascinating, near-encyclopedic depth how autism has evolved. It's a gripping narrative written with journalistic verve." Silberman, he adds, combines portraits of autistic individuals with "a forensic exploration of the disorder's history and also delineates the current political and cultural battles that divide professionals and parents, self-advocates and charities."
Elon Green (The Atlantic) describes how Silberman, a writer for Wired, uncovered information that raised questions about the "Asperger-Kanner mind meld," which had, for decades, "been the accepted wisdom of the discovery of autism." Silberman's discovery, he writes, "is not trifling. Not only does it cast serious doubt on the notion that Kanner's discovery was completely independent of Asperger. Of perhaps greater importance, it may help resuscitate the reputation of Asperger—a man whose prescient ideas were long ignored." Green concludes:
But the damage done by Kanner, intentionally or otherwise, is inescapable. For far too long he perpetuated ideas about autistic children that were simply not true. And for too long no one was the wiser. "By burying Asperger in history, Kanner obscured the breadth and diversity of the spectrum," said Silberman. This, in turn, meant "many children who would have been eligible for a diagnosis under Asperger's more expansive model of autism were left to struggle along on their own in a world not made for them."
"The autism pandemic… is an optical illusion, one brought about by an original sin of diagnostic parsimony," concludes Jennifer Senior (New York Times Book Review).
The implications here are staggering: Had the definition included Asperger's original, expansive vision, it's quite possible we wouldn't have been hunting for environmental causes or pointing our fingers at anxious parents. This is, without a doubt, a provocative argument that Silberman is making, one sure to draw plenty of pushback and anger. But he traces his history with scrupulous precision…
---