Five Books Making News This Week: Feasts, Fish, and Front Lines
Jeanette Winterson, Vi Khi Nao, Astrid Lindgren, and More
David Gutkowski is close to wrapping up his ninth consecutive annual list of "Best of 2016 Books" lists, with 1,092 books selected so far. NPR's Book Concierge "Best of" list includes 309. Jeanette Winterson changes it up at holiday time, a bad-boy chef tells all, a book about the black women scientists at NASA  is the basis for the film opening December 30, the author  of Pippi Longstocking witnesses wartime years, and a Vietnamese-born poet etches a portrait of grief.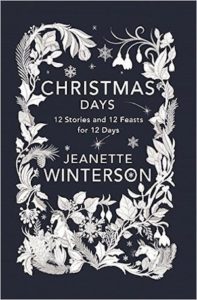 Jeanette Winterson, Christmas Days
Twelve short stories, studded with recipes and personal stories. "When I was putting this book together—because this is really a knit-your-own-Christmas book—the stories were straightforward enough," Winterson tells NPR's Scott Simon. "And then I suddenly remembered that so much of my life has been about either making meals or sharing meals with people that I've loved . . . and so every recipe has a story around it."
"Winterson in essayistic mode, especially when sharing her Christmas research findings, is an undiluted treat," writes Michael Upchurch (Seattle Times).
Keith Donohue (Washington Post) calls the book "unexpected holiday cheer." He adds:
The 12 tales . . . are a frothy mix of fable and ghost stories, all told in a register appropriate to the season. The magical tales are all exuberant and slightly playful, shading toward goodwill, happy endings and lessons learned. Almost anything can—and does—happen.
"For all its feasting," concludes Jenny Rosenstrach (New York Times Book Review) "the proper home for Winterson's collection isn't in the kitchen but in the box that's saved from year to year, the one containing A Christmas Carol, How the Grinch Stole Christmas, the tree angel, the spray-painted macaroni menorah or whatever else qualifies as holiday treasure in your house. So many of the stories in Winterson's book beg to be pulled out on a December night, fireside, and read aloud."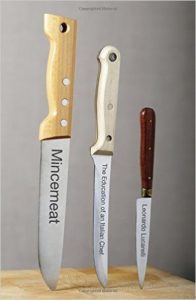 Leonardo Lucarelli, Mincemeat, tr. Lorena Rossi Gori and Danielle Rossi
"Life in the restaurant business was a constant battle," writes Lucarelli in what Kirkus Reviews calls a "wickedly candid memoir." He joins a canon of maverick chefs.
"The bad-boy chef memoir might as well have its own section in bookstores," writes Moira Hodgson (Wall Street Journal). She adds:
Mincemeat places itself squarely in a tradition personified by Anthony Bourdain: The cover has a picture of three knives on its cover, their blade tips stabbed into a cutting board . . . But despite some occasional chest-thumping, Mr. Lucarelli is also a hilariously funny writer. He reminds me of an Alberto Sordi character in a comic film as he buzzes around on a Honda 250 (this is Italy, after all), takes capoeira classes and organizes samba parties. He concocts insane dishes such as chocolate and eggplant strudel. And at the end of a long shift, he celebrates the freedom to "drink like a fish, heat up cocaine in the microwave on porcelain dessert plates . . . and maybe enjoy the favors of a waitress or barman."
Michael Schaub (Men's Journal) picks Mincemeat as one of his seven books for December: "The chef and anthropologist writes about his experiences working in some of Italy's finest restaurants, where employees live hard and wild, but always adhere to an unwritten code of loyalty."
Lisa Shea (Elle) recommends Mincemeat "if you're in the mood for an internationally acclaimed, intellectually captivating memoir with an almost Conradian atmosphere."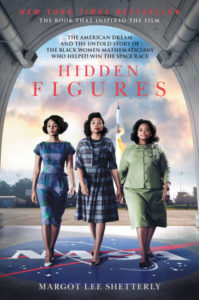 Margot Lee Shetterly, Hidden Figures
Shetterly grew up in Hampton, Virginia; her father worked for NASA, which also employed a group of black women mathematicians. Computing was "women's work," Shetterly tells NPR's Michel Martin. "I mean the engineers were the men and the women were the mathematicians or the computers. The men designed the research and did the manly stuff and the women did the calculations, you know, at the behest of the engineers."  Through her Human Computer Project, Shetterly tracks the women in the space program. Hidden Figures focuses on a handful. The film based on her book, which stars Taraji P. Henson as Katherine Johnson, Octavia Spencer as Dorothy Vaughan, and Janelle Monae as Mary Jackson, opens December 30.
Kate Tuttle (Boston Globe) writes, "Much as Tom Wolfe did in The Right Stuff (though with an entirely different prose style—more aerodynamic, you might say), Shetterly moves gracefully between the women's lives and the broader sweep of history. . . . Shetterly, who grew up in Hampton, blends impressive research with an enormous amount of heart in telling these stories. 'What I wanted was for them to have the grand, sweeping narrative that they deserved,' she writes, and in this genuinely inspiring book, they finally do."
"Hidden Figures shines a much-needed light on the contributions of black women in science and technology that have been vastly overlooked," writes Hope Wabuke (The Root). "In prose that is engaging and compelling, Shetterly refutes the commonly held stereotype that STEM (science, technology, engineering and math) fields are the province of men, specifically white men. Black women have been doing this work for ages. Before desktop computers, black women were the computing machines, using their vast intelligence to determine the orbital trajectories of space flight and accomplish other leading discoveries in aerodynamics and engineering."
Shetterly's book, writes Evelyn Lamb (Scientific American), is "a reminder that John Glenn and Neil Armstrong didn't make it into space and safely back home again by themselves. There's nothing wrong with celebrating their bravery and achievements, but Hidden Figures makes it clear that there were more brave people working behind the scenes, too."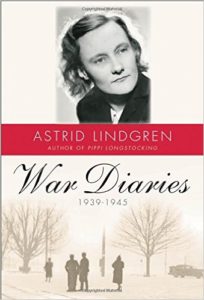 Astrid Lindgren, War Diaries 1939-1945
The Swedish author of the beloved children's book Pippi Longstocking filled multiple volumes of diaries during World War II, bringing a Scandinavian point of view to the war years.
Meghan Cox Gordon (Wall Street Journal) writes, "As a writer, Lindgren was no navel-gazer given to mooning about her feelings, nor as a civilian was she proximate to powerful people pulling the levers of history. She was, however, a vivid observer of domestic affairs and geopolitics who, as her books for children would prove, was keenly alive to life's vagaries."
Laurie Hertzel (Minneapolis Star-Tribune) notes:
In 1940, Lindgren began what she called her "secret defense work" for the Swedish government, censoring mail going in and out of the country. She wasn't allowed to discuss her work, but she did quote from some of the letters in the journal, providing glimpses into life in occupied countries.
In Paris, she writes, "one potato costs 5 francs. There are crows and hawks for sale in the markets."
In Russia, "the poor soldiers at Stalingrad are holed up in dugouts with entrances guarded by Russian marksmen. And it's cold in Russia now. Poor people, I can't help feeling sorry for the German soldiers for having to suffer so terribly, no matter how much I detest Nazism and all the acts of violence the Germans have committed."
"Lindgren is intent on bearing sharp-eyed witness to the real world," writes Ann Hulbert (The Atlantic). "The incongruities are jarring. Chaos spreads in Europe, while neutral Sweden remains a surreal oasis of comparative calm and comfort. In back-to-back entries in 1942, she takes note of "completely lunatic amounts of blood" in Stalingrad and of her cozy family Christmas in Stockholm. Lindgren salutes, but also scrutinizes, her country's refusal to engage."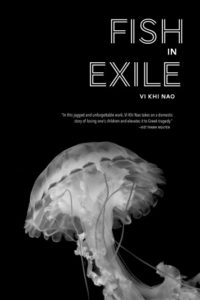 Vi Khi Nao, Fish in Exile
A Vietnamese-born poet weaves a surreal and deeply emotional tale of a couple facing unimaginable grief. Response is strongly positive.
Carmen Maria Machado (NPR) is a fan. "As with so many of my favorite novels, Fish in Exile is less about plot (though there is one, loosely speaking) and more about its immersive experience. It asks a lot from the reader, but rightfully so. Yes, you must pursue meaning through chaos, wring beauty from brutality, grasp for solace among the slow-motion turmoil, but then again, isn't that also how you survive grief?"
Josh Cook (Minneapolis Star-Tribune) writes, "In her strange—and strangely moving—first novel, poet Vi Khi Nao paints a portrait of discombobulated grief. . . . Vi Khi Nao seems the elusive love child of Anne Carson and Samuel Beckett, a preposterous connection that, somehow, in the end, makes a lot of sense."
Fish in Exile, writes Aaron Calvin (The Millions), "never once attempts to explain itself, that immerses the reader in an aquatic underworld of pain and loss. Vi Khi Nao has created a meditation that splits open the numbing and disorienting problems of loss and mourning with language that breathes new life into an old suffering. This in turn brings about the kind of bewilderment one faces when the deeply familiar is made uncanny. In that, there is a kind of solace."
---