Five Books Making News This Week: Criticism, Conservation & Cartography
Lynne Tillman, Michael McCarthy, Rebecca Solnit, and More
Sara Baume has won the Geoffrey Faber Prize for under-40 authors for her novel Spill Simmer Falter Wither, which, the judges write, "does a great deal with what looks like unpromising material—an ageing, lonely man who has lived his whole life at one remove from society, and the damaged, dangerous dog he takes to his heart." Michael Schaub teases out the literary bloodlines in this year's Golden Globes nominations for the Los Angeles Times (Arrival, Elle, My Life as a Zucchini et al).  The gradual loss of some of nature's joys is lamented by an award-winning environmental journalist, a collection reminds us how Lynne Tillman has created her own form with her Madame Realism stories, master writer Charles Johnson shows us how, a new biography of filmmaker George Lucas goes into detail about the digital pioneer, and Rebecca Solnit's third metropolitan atlas is a winner.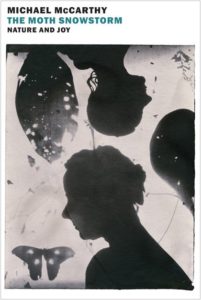 Michael McCarthy, The Moth Snowstorm: Nature and Joy
To honor the winter solstice, our precious natural world, and all those who are trying to save it, this elegaic book from the award-winning British environmental journalist who writes, "Even more than a single species, it's the loss of abundance itself I mourn."
"McCarthy takes his readers on an idiosyncratic and wonderful walk through his joy of nature," writes Andrea Wulf (New York Times Book Review). " . . . it's a personal book that describes McCarthy's own journey while at the same time folding his experiences within a broader context . . . 'The Moth Snowstorm' is an inspiring book, and I salute McCarthy for his boldness. Rather than the dire, dry statistical projections often heralded to make the case for conservation, he turns boldly to joy—to imagination and emotion."
Verlyn Klinkenborg (New York Review of Books) notes of McCarthy's "powerful, sensitive new book":
The Moth Snowstorm is one of the few books I know that tries to grasp how the thinning of nature changes our experience of the natural world. The book takes its name from a visual illusion that has disappeared in England: the way the headlights of a speeding car on a summer night turned moths flying above the roadway into a blizzard of insects. When that happened, McCarthy notes, "the true startling scale of their numbers was suddenly apparent." People in their fifties and older remember the moth snowstorm vividly, once they're reminded of it, "as if it were locked away in a corner of their minds."
Mark O'Connell (Slate) concludes:
It's hard to imagine how a revolution in consciousness might now take place, a broader and deeper version of the romantic and transcendentalist movements of the 19th century, that might act as a stay against our relentless hunger for expansion and consumption and accumulation. How might we all be made to feel the kind of joy McCarthy so elegantly describes? How might we be made to believe and adore, to apprehend the city of God that, for a little while longer, surrounds us? And if, by some miracle, we were to come to such a collective apprehension, would it be enough to save us?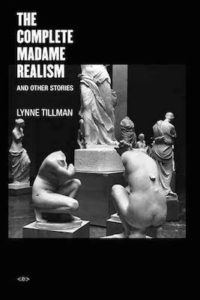 Lynne Tillman, The Complete Madame Realism and Other Stories
Tillman's new work gathers her hybrid of stories and criticism from three decades. She wrote her first Madame Realism in 1983, when asked to contribute to a magazine on Surrealism, she tells the Brooklyn Rail's Jarrett Earnest. "I said no, but I began to think about Méret Oppenheim, who was the first person I ever interviewed and a female Surrealist . . . I began to think about the position of women in Surrealism, which was not great. Then I thought, 'Sir-Realism,' and that's how Madame-Realism happened, as a joke."
"You could think of the form as fiction and the content as criticism," notes Christian Lorentzen (New York), "but a simple conceptual split doesn't account for the effects the two modes have on each other. Think of a centaur, a satyr, or a mermaid. Simple exchanges of anatomy don't account for the hybrid creatures' strangeness." He continues:
The discursive narratives of the Madame Realism stories mimic the experiences of museumgoing and sightseeing and have a disjunctive quality that resembles the fragmentary novels of Renata Adler and the essayistic miniatures of Lydia Davis. They are mood pieces, there are no plots, no drama, just the turnings of Madame Realism's mind as she sees what's in front of her and listens to the voices around her. As criticism they're freed of the burdens of polemic, conscientious exposition, even the illusion of coherence. It's remarkable that Tillman has created her own genre. It doesn't seem to me a genre many could profitably duplicate.
The Los Angeles Times includes Tillmann's latest in its holiday gift guide, noting, "Tillman has made a career out of gleefully ignoring genre boundaries."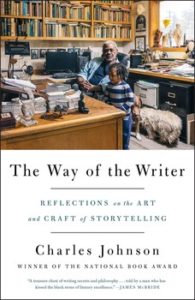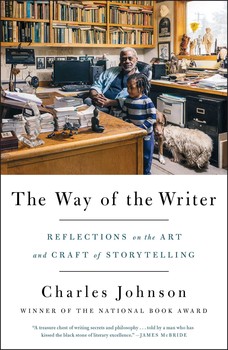 Charles Johnson, The Way of the Writer

Drawing from his own academic training (John Gardner was one of his teachers), his literary predecessors (Jean Toomer, Richard Wright, and Ralph Ellison), his Buddhist training, and his decades of teaching writing at the University of Washington in Seattle, Johnson, who won the 1990 National Book Award for The Middle Passage, boils it down for PW's Eugene Holley, Jr.:  

"You can't teach talent. You can't teach imagination. You can't teach someone to take emotional risks."

Nicholas Dames (New York Times Book Review) writes:

Johnson's book, the record of a single year's email correspondence with his friend E. Ethelbert Miller, is a piecemeal meditation on the daily routines and mental habits of a writer. Johnson describes his study's curated clutter, his nocturnal working rhythms and the intense labor of his revisions, alongside a careful outline of a theory, reminiscent of both Aristotle and Henry James, of how plots emerge from a "ground situation." There is a winning sanity here: Johnson wants his students to be "raconteurs always ready to tell an engaging tale," not self-preoccupied neurotics.

David Takimi (Seattle Times) concludes, "Eloquent, inspiring and wise, The Way of the Writer is a testament to the methods and advice the author espouses, and even if you aren't an aspiring novelist, Johnson's book is a fascinating glimpse into the mind of one of our finest writers."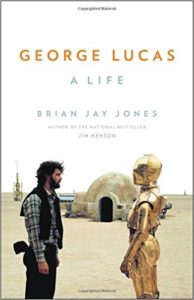 Brian Jay Jones, George Lucas: A Life
This new biography of the filmmaker from Modesto who revolutionized film and created American Graffiti, Star Wars and Indiana Jones, Indusrial Light and Magic and Pixar, focuses on thoroughness, not intimate insider moments. It's a hit for Star Wars fans.
"This biography is 'unauthorized,' but even though Jones interviewed only a handful of Lucas's friends and collaborators, he has mined the literature on Lucas's life and work to produce an admirably comprehensive view," writes Charles Matthews (Washington Post). "He treats the man more as a businessman than an artist, avoiding psychologizing and critical assessments of the films to concentrate on the tangible accomplishments. As a book, it's not so much for Star Wars fans—although even they will probably find something new in it—as it is for those who want to know how Lucas changed an industry."
Kevin O'Kelly (Christian Science Monitor) asks some intriguing questions:
Jones's account of Lucas's life and work leading up to the completion of "Star Wars" has some fascinating cinematic what-ifs. Had Lucas taken up Coppola's offer to direct "Apocalypse Now," the past 40 years of American film could have been entirely different. Not only would there have been no "Star Wars" or "Indiana Jones," but also no Industrial Light and Magic, Lucas's visual effects company that perfected CGI: so no "Jurassic Park" and no "Lord of the Rings."  No Pixar.
And try to imagine a "Star Wars" in which Lucas hired some of the other actors who had shown up to audition: John Travolta, Nick Nolte, and Tommy Lee Jones.
"He does not emerge as the most interesting of men (not operating on as many levels as Coppola, with whom he has had a lifetime of alliance, dismay, recovery and rivalry)," concludes David Thomson (San Francisco Chronicle). "Instead, he proves that an American billionaire can be an odd, brilliant but quite ordinary fellow. Just like Thomas Edison."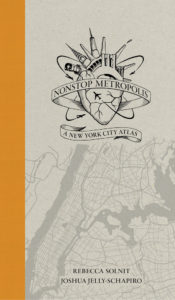 Rebecca Solnit and Joshua Jelly-Schapiro, eds., Nonstop Metropolis: A New York City Atlas
Solnit's third metropolitan atlas (after San Francisco and New Orleans) opens out to includes all the boroughs, and a multitude of voices. Critics approve.
Sadie Stein (New York Times Book Review) explains:
The editors have assembled a remarkable team of artists, geographers and thinkers. There's Luc Sante on experiencing "riots," Sharifa Rhodes-Pitts on gentrification, Astra Taylor on the Occupy movement, Francisco Goldman on the Red Hook neighborhood of Brooklyn. All these descriptors are inadequate; none of these essays can be quite so easily pinned down, delving as they do into the personal, the collective, the political.
The maps themselves are things of beauty.
Nonstop Metropolis, notes Charley Locke (Wired), "includes a diverse array of deeply particular maps. They range from cartographies imagined by a few, like 'Mysterious Land of Shaolin: The Wu-Tang Clan's Staten Island,' to routes traveled by millions daily, like 'Oscillating City,' which tracks New York's many commuters. Essays and interviews accompany each map, with a list of contributors as varied as the atlases themselves: Bronx hip-hop pioneers Grandmaster Caz and Melle Mel. Open City author Teju Cole and book critic Luc Sante,  graffiti artist Lady Pink,  and city planning professor Thomas Campanella."
"When New York is written and talked about, Manhattan and Brooklyn get the limelight," notes Kevin Canfield (San Francisco Chronicle). "But Nonstop Metropolis is just as interested in the city's other boroughs. There's a map, for instance, that shows the correlation between an epidemic of fires in the Bronx in the 1970s and the rise of hip-hop. In a complementary essay, philosopher Marshall Berman, who died in 2013, puts it succinctly: 'Our first rappers know something that Hegel said modern men and women had to learn: they know how to "look the negative in the face and live with it."'"
---