Five Books Making News This Week: Call-Backs and Confessions
George Orwell, Timothy B. Tyson, Rachel Cusk, and More
Arrival, adapted from Ted Chiang's short fiction "The Story of Your Life," snagged eight of the 22 Academy Award nominations going to films based on books this year. Arrival is competing in many categories, including best picture, best director, and best adapted screenplay. Also up for best picture: Lion, based on Saroo Bierley's A Long Way Home  (6 nominations) and Hidden Figures (3 nominations), based on Margot Lee Shetterly's book of the same name. This year's $100,000 Kingsley Tufts Poetry Award goes to Vievee Francis for her Forest Primeval, which POETRY magazine editor Don Share, who chaired this year's judges committee, called  "an intense work, dark, Dantean, dreamlike in its visions. She's reclaiming modernist and feminist legacies of poetry, and it takes great courage to do that, and we can't wait to see where this leads her." The $10,000 Kate Tufts Discovery Award for a first volume of poetry goes to Phillip B. Williams for Thief in the Interior (Alice James Books). The presidential inauguration revives 1984, biographer Patricia Bosworth writes frankly of 1950s life in Manhattan, a new biography of a beloved children's book author who lived a bold life, a historian's book on the 1955 Emmet Till murder case makes news, and more Rachel Cusk.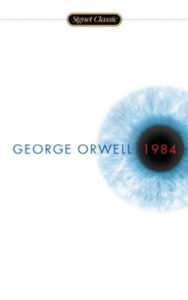 George Orwell, 1984
Within days of the Trump inauguration, Orwell's 1948 dystopian classic is the country's top seller.
"Soon after senior adviser Kellyanne Conway said on Sunday that the administration was issuing 'alternative facts,' Orwell's classic novel spiked to No. 1 on Amazon," writes Ron Charles (Washington Post). "Like officials from the Ministry of Truth, Conway and White House press secretary Sean Spicer doubled down on Trump's fanciful contention that his inauguration drew the 'largest audience ever,' despite a Web-full of photographic evidence to the contrary. The Twittersphere responded with allusions to 1984, and Penguin announced plans for a special 75,000-copy reprint, noting that since the inauguration, sales for the novel have increased by 9,500 percent."
"Not surprisingly, 1984 has found a nervous readership in today's 'post-truth' era," writes Michiko Kakutani (New York Times). "It's an era in which misinformation and fake news have proliferated on the web; Russia is flooding the West with propaganda to affect elections and sow doubts about the democratic process; poisonous tensions among ethnic and religious groups are fanned by right-wing demagogues; and reporters scramble to sort out a cascade of lies and falsehoods told by President Trump and his aides—from false accusations that journalists had invented a rift between him and the intelligence community (when he had compared the intelligence agencies to Nazis) to debunked claims that millions of unauthorized immigrants robbed him of a popular-vote majority."
Sophie Gilbert (The Atlantic) adds to the list.
1984, which warns against the tyranny of government propaganda and historical revisionism, seems to be a fitting novel to read in this moment, if not an entirely escapist one. But it isn't the only book enjoying a revival in the current political climate. Works by Hannah Arendt [The Origins of Totalitarianism], Sinclair Lewis [It Can't Happen Here], and John Steinbeck [The Winter of Our Discontent] have seen a measurable boost in both sales and the public interest over the last 12 months. Despite the fact that the new president seems less interested in literature than his predecessor, many people seem to have faith that reading is the best way to understand him, his voters, and his administration.
Adam Gopnik (The New Yorker) writes, " . . . the single most striking thing about his matchlessly strange first week is how primitive, atavistic, and uncomplicatedly brutal Trump's brand of authoritarianism is turning out to be. We have to go back to 1984 because, in effect, we have to go back to 1948 to get the flavor . . . And he adds, " . . . rereading Orwell, one is reminded of what Orwell got right about this kind of brute authoritarianism—and that was essentially that it rests on lies told so often, and so repeatedly, that fighting the lie becomes not simply more dangerous but more exhausting than repeating it. Orwell saw, to his credit, that the act of falsifying reality is only secondarily a way of changing perceptions. It is, above all, a way of asserting power."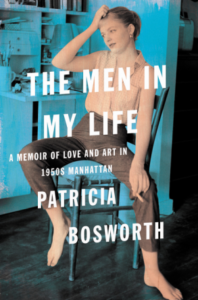 Patricia Bosworth, The Men in My Life
Bosworth is a biographer (Montgomery Clift, Diane Arbus, Marlon Brando, Jane Fonda) and memoirist (writing movingly of her childhood as the daughter of attorney Bartley Crum in Anything Your Little Heart Desires). Her new memoir intrigues critics with its stories of her life as a model, actress, and member of the Actors Studio, which she tells NPR's Scott Simon, was "an amazing place . . . Elia Kazan . . . called it a zoo. It was open 24 hours a day. Projects were always going on. It was a very kind of sexy atmosphere about the place—lots of affairs going on and also a lot of arguments."
"We tend to think of the 1950s as a puritanical era," writes Moira Hodgson (Wall Street Journal). "For Patricia Bosworth—a one-time actress and the biographer of Montgomery Clift, Diane Arbus and Marlon Brando—they were anything but. Her life was a dramatic saga of ambition, sex, love, affairs, heartbreak and abortion. She courageously reveals it all . . . "
Although Bosworth's new memoir is set in the 1950s, notes M.G. Lord (Los Angeles Times), "it is urgent and essential reading, especially for young women. Parts of it are also terrifying . . . In charting her young adulthood during the 1950s—and examining the suicides of her brother and father—she paints a harrowing portrait of a decade that, because of the recent election, is no longer a quaint horror in the distant past. Washington's current regime seems ready to restore the values of the 1950s. In her brisk, candid tale, Bosworth shows how crippling and destructive those values were."
Dwight Garner (New York Times) concludes:
In her journals, Plath asked, "How can you be so many women to so many strange people, oh you strange girl?" A similar question lingers over Ms. Bosworth's memoir. Daughter, lover, wife, mistress, actress and finally writer—she throws herself into role after role.
She succeeds at each but can't escape a sense that these are precarious and deeply provisional successes. At each rung of the ladder, she pauses to take a long look down.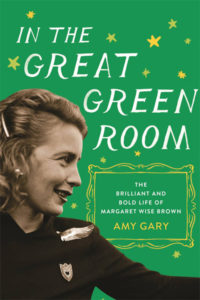 Amy Gary, In the Great Green Room
The author of a treasured children's book lived a "brave and bold" life.
"Why has Margaret Wise Brown's picture book Goodnight Moon sold upward of 48 million copies?" asks Laura Miller (Slate). "To the adult eye, it's appealingly illustrated but oddly written, with rhymes that seem improvised and a meter that turns itself off and on. It has none of the virtuoso wit, rigor, or invention of, say, Dr. Seuss. But generations of parents can attest to this little book's soothing powers. Like most of the hundreds of children's books, poems, and songs Brown wrote during her short life, Goodnight Moon is less a story than an incantation. It summons a cocoon around reader and listener, a sensation of being pulled out of the hurly-burly of the world into a pocket of charmed tranquility. Amy Gary's new biography . . . replicates this spell for adult readers."
Karen MacPherson (Seattle Times) writes, "Brown's turbulent personal life . . . was hardly the stuff of a children's book. Born into wealth and privilege in New York in 1910, Brown was beautiful, athletic, adventurous and restive. She had relationships with men and a woman . . . Gary's new biography brings renewed attention to the contrast between Brown's private life and her status as a celebrated children's author. Drawing on personal letters and diaries, she draws a colorful—if oddly speculative—portrait."
Barrie Hardymon (NPR) concludes, "for a new parent, cradling a bath-damp child in her arms—[The Runaway Bunny] describes the paradox of child-rearing in a disturbingly precise way. It is a call to action. Can you be the mother rabbit? Steadfast, long-suffering, resourceful—ever-present? And more importantly, should you be? In the end, the answer may lie in Margaret Wise Brown's own brave and bold life: The world is measureless and vast. Live in it with curiosity and intensity. And bring snacks."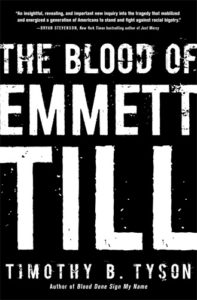 Timothy B. Tyson, The Blood of Emmet Till
Historian Timothy B. Tyson makes news when he reveals that the accuser in the 1955 lynching murder of Emmet Till confesses in interviews that she gave false testimony in the case.
Sheila Weller (Vanity Fair) writes, "Tyson's book . . . was preceded by the definitive study of the case, Devery S. Anderson's masterful Emmett Till: The Murder That Shocked the World and Propelled the Civil Rights Movement, which was published in 2015 by the University Press of Mississippi. (Last week, John Edgar Wideman's meditation on Till, Writing to Save a Life, was named a finalist for a National Book Critics Circle Award.) Still, no author save Tyson has ever interviewed Carolyn Bryant Donham. (Her ex-husband and brother-in-law are both dead.) 'That case went a long way toward ruining her life,' Tyson contends, explaining that she could never escape its notoriety. His compelling book is suffused with information that Donham, over coffee and pound cake, shared with him in what he calls a 'confessional' spirit."
"What sets Tyson's book apart," writes Joseph P. Williams (Minneapolis Star-Tribune), "is the wide-angle lens he uses to examine the lynching, and the ugly parallels between past and present. Emmett, he argues, is the ancestral father of the Black Lives Matter movement, and America, which followed the Obama era with the election of Donald Trump, has steadfastly refused to reject white supremacy, or account for its original sin. Through research and his little-known interview with the late, elderly Carolyn Bryant—the purported 'victim' of the boy's advances—the author sweeps in unsung heroes, puts minor figures in the spotlight, underscores the ground-shaking strength of Emmett's grief-stricken mother and gives depth to familiar villains. That includes Mississippi, a grotesque Southern caste system, unequal justice and a nation ambivalent about lynching until Mamie Till-Mobley forced it to look."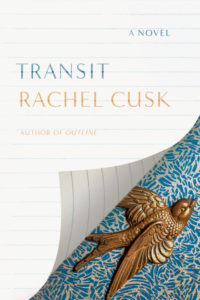 Rachel Cusk, Transit
Critics continue to find the second novel in Cusk's post-divorce trilogy provocative.
"When the trilogy began, Faye was reeling from a divorce, in a foreign country, her sense of self so effaced that she could only be a conduit for other voices," writes Katy Waldman (Slate).
"But in this new novel, she rebuilds a flat and tries to find her footing. She no longer believes, as she tells a dinner date, 'that it was only through absolute passivity that you could learn to see what was really there. My decision to create a disturbance by renovating my house had awoken a different reality . . . I had started to become . . . angry.'" That romantic dinner, though, which comes almost at the end of the book, is a revelation. Instead of narrating the man's conversation, Faye can't stop talking about herself. She says she 'desires power.' It's as if the transformation the book has teased from the first sentence has finally, a few pages from the back cover, started to take. The scene feels immensely satisfying, and almost too late. At very least, it whets the reader's appetite for the third chapter."
"The second novel in a trilogy has a difficult role to play," points out Ruth Franklin (The Atlantic). "It must advance the narrative while nonetheless remaining incomplete, a bridge to another destination as yet unknown. This state of limbo suits Transit, which, even more than Outline, deals in paradoxes and reversals. The warmth and calm of a beauty salon are shattered—literally—by an act of destruction. A man loses his girlfriend's beloved dog and finds that his carelessness brings them closer together. The place in which Faye is trying to make her new home turns out to be a scene of horror: The tenants who occupy the basement apartment beneath hers menace her at every opportunity, banging broomsticks on the ceiling at the slightest sound and snarling at her when she emerges. They live in a state of squalor and chaos, with a ruined yard full of garbage through which Faye must pass in order to reach her own garden."
Adam O'Fallon Price (The Millions) concludes, "The peripheral narrative construction of Transit—the feints and evasions and elisions—is finally peripheral to the central pleasure:  spending time with the book's animating intelligence.  The slipperiness of this intelligence—the refusal to express itself in banalities like plot and conflict—can be frustrating at times, but is also integral to its character. It is a perceptual mode that is necessarily elusive, and it builds something up into the air like a tower that is all crossbeams, a tree that is all branches."
---