Five Books Making News This Week: Biographies, Bohemians, and Bruce
Robert Kanigel, Eimear McBride, Born to Run, and More
"As Frederick Douglass said, 'Once you learn to read, you'll be forever free,'" notes new Librarian of Congress Carla Hayden at this weekend's National Book Festival. She welcomes Stephen King as this year's Literacy Champion, calling him "an individual who not only gives back to his readers, but ensures that the number of readers grows." ("Great guy and he's not scary," she tweets later.) MacArthur Genius grants go to Claudia Rankine, Maggie Nelson, Gene Luen Yang and Laura Redniss. "The prize is being given to the subject' of race in America," Rankine tells the Los Angeles Times' Carolyn Kellogg. Bruce Springsteen puts on a literary show, Eimear McBride's second novel continues her winning streak, Mark Greif disses contemporary obsessions, Anuradha Roy's novel reveals "the endless, treacherous hypocrisies of Indian society," and a new biography of Jane Jacobs launches to mixed reviews.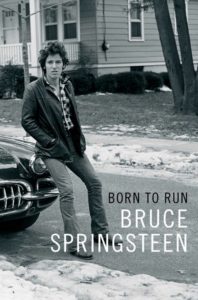 Bruce Springsteen, Born to Run
The Boss's voice comes through in his memoir, as do many personal revelations that surprise and impress his critics.
Richard Ford (New York Times Book Review) leads off his review with a fan's exuberance:
For most of us nine jillion Bruce Springsteen fans who've stood through years of his barn-burning, bombs-dropping, ceiling-­cracking, ozone-splitting three-hour mega-­extravaganza concerts, in all manner of nasty weather and good, who've bought and rebought album after album, who've pored over lyrics, mused over his complex musical and band life, as well as his privacy-shrouded marital, familial and psychic forays, and who've demarked sovereign occasions in our own lives with the strains of "No Surrender" running through our hectic brains—for all of us in his global audience—the perpetual fascination of Bruce (I've never, I give you my word, shouted that out at a performance) is simply: How the hell do you get from Freehold, N.J., to this in only 50 short years?
"The headline news in Born to Run, to judge by the early news media tweets, is that Mr. Springsteen…has suffered periodically from serious depression," writes Dwight Garner (New York Times). "I will admit that this information shook me. If Bruce Springsteen has to resort to Klonopin, what hope is there for anyone? But these sections are not the reason to come to Born to Run. The book is like one of Mr. Springsteen's shows—long, ecstatic, exhausting, filled with peaks and valleys. It's part séance and part keg party, and then the house lights come up and you realize that, A) you look ridiculous dancing to 'Twist and Shout' and, B) you will be driving home in a minivan and not a Camaro."
Richard Williams (The Guardian) concludes,
But this is a man who, after watching other rock'n'rollers respond to material success by losing touch with reality, became determined to make his own music "a search for meaning and the future". He gave his services to righteous charities and themed entire albums in response to unemployment in the post-industrial wasteland, the 9/11 attacks, the Iraq war and the delinquency of Wall Street. Perhaps that sense of mission—alongside sophisticated medication, the company of his family and the sharing of energy with his concert audiences—is playing a part in repelling the bouts of depression that have continued into his 60s. As he writes: "I was never going to be Woody Guthrie—I liked the pink Cadillac too much—but there was work to be done." And still is.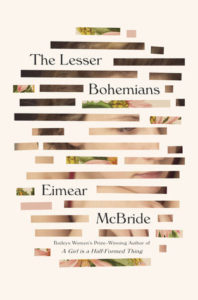 Eimear McBride, The Lesser Bohemians
It's not easy to follow up on a first novel ballyhooed as A Girl Is a Half-Formed Thing, which won the Bailey's Women's Prize for fiction. But McBride is on a winning streak. She was once a drama student in London, she tells NPR's Scott Simon. "That was really the beginning of the novel for me, remembering being a teenager coming to the big city."
C.E. Miller (Bustle) describes The Lesser Bohemians as "a novel about two people of different ages and at very different junctures in their lives, who manage to meet each other in exactly the same space of transformation—one that acts as a jumping-off point for the kinds of lives they were always meant to lead. And yeah, who have some pretty great, and pretty terrible, sex along the way."
Toby Lichtig (Wall Street Journal) concludes,
In one sense, The Lesser Bohemians is a simple melodrama, filled with misconstruals and missed opportunities, the timeless story of a tumultuous love affair. Then again, in one sense Madame Bovary is a simple story of adultery. For a second time, Ms. McBride has channeled the mental life of a narrator with an intensity, a lack of mediation, that few authors can achieve. The Lesser Bohemians is a full-on sensory experience—and another superlative achievement.
Annalisa Quinn (NPR) compares McBride's narrator Eily to Clarissa Dalloway, and praises her inventive language:
Eily's live, wriggling words construe themselves without the pens of grammar. She often inverts the verb and subject (walk I) which gives a kind of precarious immediacy to her sentences, like grammar can't stand up straight under the weight of the narrator's wild wants. By sacrificing grammatical precision she gets emotional and psychological sense—even as those things are in themselves impossibly and inherently imprecise, like light or color.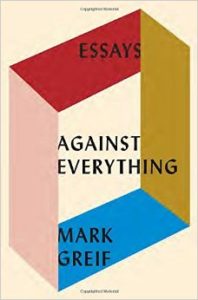 Mark Greif, Against Everything
The co-founder of n+1 delivers a collection of essays that disses everything from "technicized food" to the gym and the American obsessions with "self-discovery," which, he writes,  "puts a reflecting wall between the self and attention to the other so that all energy supposedly exerted in fascination, attraction and love just bounces back, even when it appears to go out as love for the other."
Gideon Lewis-Kraus (Bookforum) considers Greif's "strange, uncategorizable essays," along with the early writing of Elif Batuman, "the most distinguished, original, and consequential body of work to have come out of n+1's first decade." He continues:
The individual pieces have been grouped into five sections: one on the basic necessities of food, sex, and exercise; another on varieties of pop music; a third on reality television, YouTube, and the evolution of the epithet hipster; a fourth on police and war; and one loose, interpolated sequence on Stanley Cavell and Thoreau and the "Meaning of Life." Most of the essays appeared in n+1 and reflect the journal's general complexion—academically current but free of jargon; discontented but free of resignation; gladiatorial but free of truculence; sincere but free of gentility."
Malcolm Harris (Village Voice) writes, "Here is a learned adult man who takes nothing for granted, which ends up turning him into a kind of guileless existential detective. He is a bona fide graduate of Harvard, Oxford, and Yale who observes, while watching Keeping Up With the Kardashians, 'Kim flaunts a booty of rare size.'"
Adam Kirsch (Tablet) calls Against Everything "a brilliant exercise in hope" and concludes, "An intellectual's job is to provoke thought and argument, and this Greif does as well as anyone writing today."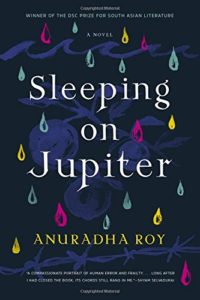 Anuradha Roy, Sleeping on Jupiter
Roy's novel, which explores wartime violence and sexual assault of women in India, was shortlisted for the 2015 Man Booker Prize and won the 2016 $50,000 DSC Prize for South Asian Literature.
Manil Suri (New York Times Book Review) calls the opening section of Sleeping on Jupiter "striking" and "a model of economy."
In brisk, almost breakneck strokes, Roy depicts the violence of a war that suddenly engulfs the citrus-scented birthplace of its central character, Nomi, brutally claiming her father, then her brother and mother, and leaving Nomi to be consigned by boat to an unknown future.
The next section is even more arresting. Three older ladies strike up a conversation with a young woman on a train from Kolkata, then watch in horror as she tries to escape the lustful advances of two men on the platform outside at a stop. Their last glimpse, of one of the men closing in as the train pulls away, conjures all the ghastly headlines of violent sexual assault against women in India.
"Roy's chiselled prose allows her to expose the endless, treacherous hypocrisies of Indian society," writes Meena Kandasamy (The Guardian), "bare-bodied priests who make a fuss about women's clothing; tourism that celebrates erotic carvings on temple walls while remaining in denial about the sexual abuse of children; holidaying old women tired of domestic drudgery who jump at the first opportunity to pass harsh judgment on each other and everyone else; the 'progressive' man who can share a cigarette and whisky with a woman but is still ready to hit her when an argument gets out of hand. Violence and misogyny, as Roy drives home, is the norm here."
"Sleeping On Jupiter depicts a complex world beneath the surface of a tourist-trap town," concludes Reneysh Vittal (The Rumpus). "This is an India laid bare and un-romanticized. Roy's characters are frustrated by poverty, inequality, and religious reverence. Their anger shakes the temple walls, only to be pacified occasionally by the silly songs of the seaside tea-stall owner. The destination for these characters is uncertain, but like the train that brought them, they travel on."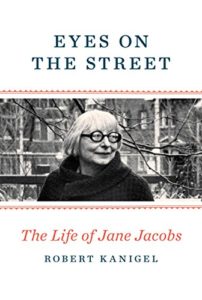 Robert Kanigel, Eyes on the Street: The Life of Jane Jacobs
The centenary of urban activist and journalist and activist Jane Jacobs inspires exhibits, talks, and books, including an expansive new biography.
Adam Gopnik (The New Yorker) concludes that Kanigel "has found the right tone for his subject, light but serious," and reminds us of some of Jacobs' revelations, including, "cities are their streets…. Second, urban diversity and density reinforce each other in a virtuous circle." 
John Buntin (Wall Street Journal) writes, "Thinking about the city was the core of her intellectual career practically from the moment she moved from Scranton to New York City in 1934, at age 18. By 1955, she was a full-time writer at Architectural Forum, where she established herself as a leading voice in the new field of urban planning. Mr. Kanigel tells this story well. Yet at precisely the point when the tale should deepen and gather force, he makes a curious narrative decision. He skips over Jacobs's emergence as an activist and public figure in the late 1950s, focusing almost exclusively on her writing…"
Dwight Garner dismisses Kanigel's book as "a word heap." "His book somewhat finds its feet in its second half, as Mr. Kanigel increasingly gets out of the way and lets Jacobs's story tell itself. Many readers will have already returned to their apartments, run their fingers through some gin and ice, and slammed the door."
---